Other Links
Editorial Board
Editor - Bill Kenny
London Editor-Melanie Eskenazi
Founder - Len Mullenger
Google Site Search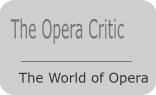 Price Comparison Web Site
SEEN AND HEARD CONCERT REVIEW

Aldeburgh Festival 2008 (2) : Schubert : Robert Holl (baritone), Rudolf Jansen (piano) Blythburgh Church, Suffolk, England. 15. 6.2008 (AO)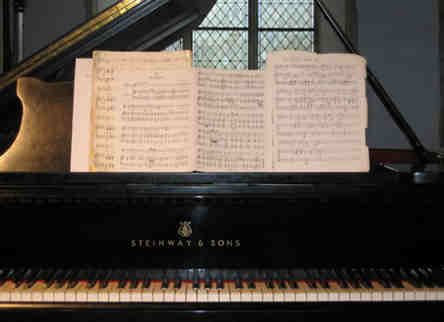 Not far from Blythburgh is a hamlet called Dunwich. It was once a prosperous port but was destroyed by storms in the 14th century. On quiet nights, it's said, the bells of Dunwich's submerged churches can still be heard, tolling from under the sea. Dunwich could have inspired great things from German Romantics. In this environment, this Schubert programme was especially poignant.

It was brave of Holl to choose these songs with their images of gloom, death and fate. In Totengräbers Heimwehe, a gravedigger stares longingly at a grave he's just dug for someone else. Im Leben da ist's ach ! so schwül ! Ah, he says, life's so oppressive, Im Grabe so friedlich, so kühl !, It's so much more nicer to die. His wish is instantly granted and he drops dead, singing blissfully. "Ich sinke…ich sinke…ihr Lieben…ich komme !" It's not a cheery choice for a summer Sunday afternoon. Wigmore Hall audiences are used to this repertoire, but Aldeburgh audiences are less specialist, less attuned to Romantic fascination with death. So it was apposite to have this concert in Blythburgh Church, with its crypts and memorials to people long deceased.

The song moves in several stages. First, it's tense and oppressive. The gravedigger has to work fast because the dead won't keep. Holl's dark baritone captures the grim mood. Then the gravedigger reflects on his loneliness and there's a transition in the music. As he dies, the gravedigger has visions of ecstasy, Suddenly the register goes up, and the darkness is transformed. Rudolf Jansen played the "starlight" figures lucidly. The "eternal light" that beckons the gravedigger at the moment of his death is beautifully realised. Gradually even the stars disappear, and the song fades into silence.

Many of these songs are settings of Schubert's personal friends which gives another frisson, as these minor poets would probably not be remembered today had Schubert not preserved them in song. Several are settings of Johann Baptist Mayrhofer, an eccentric depressive who committed suicide. Holl also included settings of Johann Senn, another friend, exiled from Vienna for his political radicalism, thwarting his youthful promise. Selige Welt, with its images of drifting at sea, without destination, seem particularly apt on the wils Suffolk coast. In Schwanengesang, the final line stands out distinctly from the rest of the song to emphasise its finality. "Das bedeutet des Schwanen Gesang !" Holl soared emphatically on bedeutet, the operative word in the song. "That's what the swan's song means !"

Even the rakish Franz von Schober was represented here by Todesmusik, music, heard at the moment of death. Holl is more of a bass baritone than a lyric baritone, so this choice of material worked in his favour, so it was interesting to hear Der Winterabend. It's about a winter night where snowsfalls steadily. Muffled silence is of the essence here, for snow deadens sound. The poet is alone, thinking of his dead wife. Because the song is strophic, and the material is, by subject, quite monotone, this puts more on the performer's ability to create nuance and variation. Holl's voice became more fluid and agile, expressing the quiet sense of contemplation.

Surprisngly, the triumph of the concert was the long Mayrhofer ballad, Einsamkeit (Solitude). .It lasts nearly twenty minutes, verse after verse set strophically in barely varied metre. In Schubert's time, marathon ballads like this were much enjoyed, but modern audiences can find them a challenge. Again, it was brave of Holl to try this with an audience unused to such material. The text is particularly awful. A monk is tired of solitude so he goes out into the world, and falls in love with a pretty girl. No happy ending though. Instead he decides to become a soldier like his ancestors. Then he discovers that war is not a good thing, and grows old preferring solitude. This isn't true Lieder because it's not introspective or intense, but that can be an advantage as it's less stressful to perform. There's no need to concentrate on subtle nuance as longs as the story is told. It's liberating in its own way. Holl relaxed, and his voice loosened and became more flexible, freeing his higher register. Songs like this tend to make listeners bury their noses in the text, following word by word. It's a pity as this text really isn't much. Holl and Jansen were far more interesting, to watch and listen to, as they were so expressive.


Anne Ozorio

Ba
ck to Top
Cumulative Index Page