Other Links
Editorial Board
Editor - Bill Kenny
London Editor-Melanie Eskenazi
Founder - Len Mullenger
Google Site Search
SEEN AND HEARD INTERNATIONAL OPERA REVIEW

Verdi, Aida: Soloists, Orchestra and Chorus Gran Teatre del Liceu de Barcelona. Conductor. Daniele Callegari, Gran Teatre del Liceu de Barcelona, 27, 28 and 29. 11. 2007. (JMI)

Production: Liceu Barcelona and Festival Santander.

Director: José Antonio Gutiérrez.
Sets: Josep Mestres Cabanes.
Costumes: Franca Squarciapino.
Lighting: Albert Faura.

Casts:

Aida: Hui He, Micaela Carosi, Hasmik Papian.
Radamés: Roberto Alagna, Marco Berti, Piero Giuliacci.
Amneris:Elisabetta Fiorillo, Marianne Cornetti, Larissa Diadkova.
Amonasro:Joan Pons, Ambrogio Maestri, Alberto Mastromarino.
Ramfis: Carlo Colombara, Andrea Papi, Giorgio Giuseppini.
Il Re: Giorgio Giuseppini, Stefano Palatchi.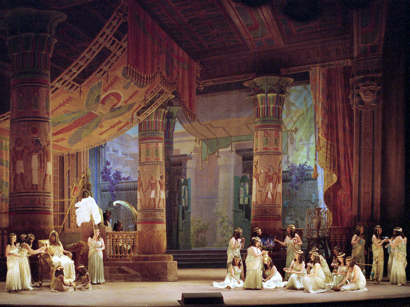 Barcelona's Liceu has programmed these performances of Aida with four different casts. The last one will be presented in January and will have Norma Fantini and Dolora Zajick as new features. It is not at all easy to assemble casts for Aida these days, so it is fair to recognize the enormous effort required to stage four different ones all with first rate singers.

These performances take a genuine jump backwards in the history of the opera and allow us to enjoy the art of Catalan painter Josep Mestres Cabanes, the set designer, first seen in this same theater in 1945 and miraculously saved from a big serious fire at the Liceu. The work of Mestres Cabanes contains truly magical illusion, obtained by means of clever perspectives, in paintings of great beauty. The sets include seven different scenes, five interiors of palaces and temples, one outdoor scene near the Nile and the Tebas Gate, all of them consisting of painted flats: in total there are 120 paintings of different sizes, every one attractive and beautiful. Scene changes are always surprising; each is like a miracle revealing how a flat surface of paper, with the aid of a suitable illumination, can create such realistic impressions of volume and depth. This is a gorgeous display, really magical for which Liceu should be congratulated since allows us to see an artistic reconstruction of the first order. Bright costumes very much in accordance to sets and very good lighting completes this beautiful production. The stage direction is not exceptional, but it is necessary to recognize that spectator interest is necessarily primarily focussed on the sets in this production.

Daniele Callegari is a regular conductor in this theatre, although it is not always easy to understand why. His reading was generally uninteresting, particularly in the firs two acts, with very slow tempos, most probably due in part to the presence of Mr Alagna, since in the other performances Mr Callegari was a little faster. Having just listened to Parma's orchestra in Bilbao last Saturday, it is fair to say that Verdi was not well served in Barcelona this time as the Liceu Orchestra was much better in the hands of Josep Pons a few weeks ago. There was excellent work from the chorus however, directed by José Luis Basso.

Fiorenza Cedolins reported ill, and cancelled her Aidas in Barcelona to be replaced by the Chinese soprano Hui He. I saw Ms Hui as Aida in Bordeaux two years ago and found her then to be mostly a lyric soprano. She confirmed this impression here, offering a pleasant voice rather lacking power in the lower register, She's a good singer but a limited actress who provided interesting and valid substitution, but I believe she is more a Liú than an Aida.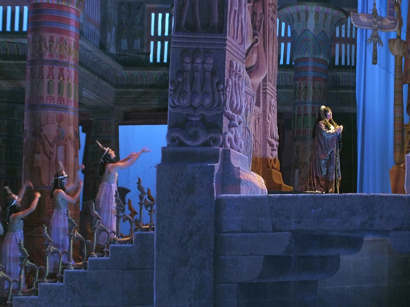 Italian Micaela Carosi was seen in this same production in Oviedo, replacing Norma Fantini. I found her then an insipid and problematic interpreter of the role with a shouted high C. Now she is much more interesting. The voice does not great beauty, but it is very well suited to the needs of the role, with a middle range of sufficient weight and a high register much more secure and firmer than in Oviedo. She has improved as an interpreter clearly and she has abandoned certain diva gestures from past interpretations: now, she is a good choice as a Verdi soprano.

The last Aida was Hasmik Papian. She is a lyric soprano, or perhaps just a little bit more, and is a reliable singer, capable of singing piano when the occasion requires it, but she is rather an impersonal artist. The voice is not bad at all, but there is rather too much unevenness to it, often within the same register. She had no problems with her high C, although somehow she broke the line to prepare for it. A strong element in her favour is that she cuts a nice figure on stage.

Roberto Alagna was a none too adequate Radams. His 'Celeste Aida' lacked brightness, and he finished ' Vicino al Sol ' with the lower variant, as he did at La Scala on the night of the scandal. This is just a way of avoiding ending with the high B flat in pianissimo and I do not believe this to be to the audience's. In the Nile scene he lacked weight enough for the more heroic outbursts, but improved in the Act IV.

Marco Berti was better adapted to the needs of the role. He is a good singer whose voice has quality, homogeneity and brightness and sufficient vocal weight. His biggest problem is that he is unable to sing softly in upper high register. His Celeste Aida began very well, but little by little the quality diminished until finishing with a high B flat that was too short and extremely loud. He did improve in the Nile Scene, better than the two last Radamés I've heard, i.e. Alagna and Licitra but was less noteworthy in the last Act.

Piero Giuliacci was the last Radamés so far and he is one of those tenors who would have a grander career with a better figure. His voice has an ample middle range, not very bright and with problems of projection admittedly, but his upper register has a good squillo and power. He is a more than a decent singer, able to sing piano, but his figure and poor skills as an actor, sadly prevent him from shining. Although a spectator from the gallery booed with some force after 'Celeste Aida,' I must say that he was more acceptable than his colleagues in the role, finishing on a tied high B, which if not a true pianissimo, at least was no louder than one f. Although not too credible in the Nile Scene, he produced his best quiet singing therte and his rendering of "Sacerdote ,Io resto a te" probably was the best of all the three tenors. His last act fairly average.

Elisabetta Fiorillo was a problematic Amneris. A convincing interpreter, outstanding at the bottom of the range, her voice offers little interest in the mid-range and above. Marianne Cornetti was the best Amneris of the full run, simply because her voice has a freshness far greater than Fiorillo's and she is much easier than Larissa Diadkova with the higher notes: nowadays Ms .Cornetti has become a Verdian mezzo of much interest. Larissa Diadkova, seems to have has lost the high notes needed for the role, which is a pity, because hers continues to be an excellent voice with a low registers difficult to fault. Unfortunately, it seems that only Mrs Quickly and Ulrica are valid Verdi characters for her just now.

Of the Amonasros, Joan Pons was very reliable, sounding as if he had a cold and showing some evident vibrato in the upper range. Ambrogio Maestri was also good: his voice has definite quality and he is a fine singer. Alberto Mastromarino has a poweful baritone, but his upper register is slightly dull sounding. Even so, it is difficult to find three better heavy weights than these.

In order of excellence, Carlo Colombara was a suitable Ramfis, showing his habitual problem on the high notes, Giorgio Giuseppini was adequate and Andrea Papi was rather poor. Little remains of this younger promise. Giorgio Giuseppini and Stefano Palatchi shared the King, while Josep Fadó was a good Messagiero and Begoña Alberdi a perfectly correct Sacerdotessa.

The theater was packed every single night, which means that Verdi continues to be a top seller. There were no particular successes for anybody and isolated boos were dedicated to Roberto Alagna. Every night there were some empty seats after the third intermission, which is too many, although in this case, as this was a revived historical production, the situation is understandable.

José M. Irurzun

Pictures © Antonio Bofill