Other Links
Editorial Board
Editor - Bill Kenny

Deputy Editor - Bob Briggs
Founder - Len Mullenger
Google Site Search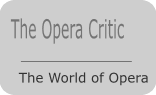 SEEN AND HEARD INTERNATIONAL OPERA REVIEW
Verdi, Il trovatore:
Kitsap Opera, soloists, cond. Leone Cottrell-Adkins, dir. Therese Diekhans, set designer Richard Washek, costumiers Holly and Lavender Oehler-Sandras, stage manager and choreographer Theresa Ballew, technical direction and lighting design Mark Thomason, Admiral Theater, Bremerton, WA, 7.6.2009 (BJ)
All you need to ensure a satisfactory performance of Il trovatore, Enrico Caruso declared, is the four greatest singers in the world.
Well, I am not about to assert that that is what we were presented with in this staging of Verdi's great piece of operatic blood-and-thunder. Nevertheless, Leone Cottrell-Adkins had managed to secure four principals who offered a deal of fine singing.
I have had occasion to admire tenor Gino Lucchetti and soprano Barbara Smith Jones more than once in the past. As Manrico, Lucchetti again showed himself to be a better singer than some I have encountered on the most famous operatic stages in the world. The voice is attractive in timbre, and beautifully produced throughout its range. Ms Smith Jones did scarcely less well as Leonora, floating her voice with often caressing delicacy, and Charles Robert Stephens, a baritone new to me, brought solid vocal virtues to the difficult role of the Count di Luna, as well as matching Lucchetti in the matter of Italian diction-an area of expertise in which the chorus clearly needed better coaching. Of the principals, only the Azucena seemed to me less authoritative of voice, though Victoria Chaussee made the ill-fated gypsy an eminently touching human figure, and the rest of the cast, including Friedrich Konstantin Schlott as Ferrando, Sharalyn R. Bechtel as Inez, and Zander Martin as Ruiz, fulfilled the demands of their parts very competently.
Of course, the "four greatest" line-up is not something audiences anywhere often get to enjoy. But Caruso's comment has a point besides mere cuteness, that point being that this opera depends more than most operas on the quality of the four principals, and less on the visual aspects of any given production. In this one, Therese Diekhans marshaled the characters on stage efficiently, the costumes were up to the company's usual excellent standard, and the set was good enough, though an excess of lighting made Leonora's supposed failure to realize that she was talking not to Manrico but to the Count somewhat improbable.

Once again Ms Cottrell-Adkins, the founder and artistic director of this intrepid local company, led her largely amateur forces to impressively crisp and exciting effect. She really is a marvel. And so, despite obviously lacking the full measure of the later Verdi's musical sophistication, is the heart-wrenching story the composer put before us in this most direct and vivid of pre-verismo music dramas.

Bernard Jacobson