IAIN KENDELL - 1931-2001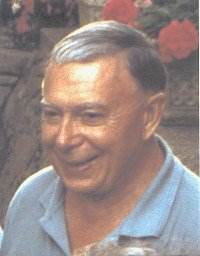 Iain Kendell died suddenly of a heart attack on 28 February 2001 at his home in Swanage. Born in London in 1931 he retired to Dorset in 1985 after a distinguished career, first as a concert pianist and then in music education and composition. He leaves behind a large body of work, especially for his own instrument, the piano.
From the age of ten he studied at the Royal Academy of Music where he won the Hine Gift for Composition. Called up for National Service he worked at B.F.N. Radio Station in Hamburg, coming into contact with many prominent German conductors and musicians. Giving over 50 broadcasts as a pianist and conductor he was already well-known in Germany by the time he made his debut as a pianist in Hamburg's Musikhalle in 1952. On returning to England he was active in London's musical life giving concerts at the Wigmore and Festival Halls and broadcasts on the B.B.C. He won the Harriet Cohen Medal in 1958. In 1957 he began composing and after a concert of his works at Leighton House he was published by J. & W. Chester Ltd. From 1962 he combined composing with an academic career in Music Education - from 1965 within the Universities of London, Reading and Surrey. Gaining a Ph.D (Learning Processes of Young Children in Music) he was given recognition as an educationalist, researcher and composer for children. The main body of his compositions, however, has always been for an adult audience. Since 1985 he worked solely as a composer and pianist, contributing to the musical life of Dorset.
The sources of inspiration for his works were often the natural world and landscapes in particular. The scenic beauty of Wales, and later, Italy and Dorset were the basis of the creation of many of his compositions. Poetry was also a creative spur. A fine interpreter as a pianist, especially of Debussy and C.P.E. Bach, he made great use of the sonority of the piano in his own works for that instrument.
Sadly, his educational works have all now disappeared from print. They include several large cantatas - Spring Cantata, Song of Summer, The Sea, A Song of Praise, On Such a Night, Hymn to the Sun - many commissioned; as well as the wonderful Junior Music series of graded works, by himself and other composers, to be performed by Primary age children. Each is a term's work culminating in a performance, combining to provide a structured two year music programme. The words of many of these works were written by his companion and collaborator - Steuart Allin, who also provided, through his poetry, many of the texts to individual songs and song-cycles. Steuart Allin also wrote the stories and libretti for the 'Time for Music' programme under the auspices of the School's Council, published by E.J. Arnold. This work was the basis of his Ph.D. dissertation and resulted in a music programme for young children from Nursery School through to Primary School. Its aim was to teach children instrumental and vocal skills, together with notation and increase their listening ability. It is, again, long out of print.
He received many commissions, not only for works for schools, but also by other bodies including the B.B.C. Works for them include Gilgamesh, Once Paumonok and The Lark. His cantata Petrus was commissioned for the Millennium of St. Peter's Collegiate Church in Wolverhampton with a libretto written by Steuart Allin. Other large scale choral commissions include The Hymn of Light, Song of the Suburb and Mass of the Earth. This latter, beautiful choral piece is extremely relevant for our times and deserves a proper professional production. Perhaps his local orchestra, the Bournemouth Symphony Orchestra would consider putting it on in his memory. David Hill would make a wonderful interpreter of the work.
His works are lodged at the British Music Information Centre, The Royal Academy and the University of Reading. It is to be hoped that members of the younger generation of performers, many of whom will have performed his educational compositions while at school, will take up his works, and open up his unique voice to a wider audience.
A memorial concert is to be held at St. Mary's Church in Swanage on Saturday 16 June 2001 at 7.00 pm and will include several of his works including the first performance of his String Quartet by the artists for whom it was written.
Robert Field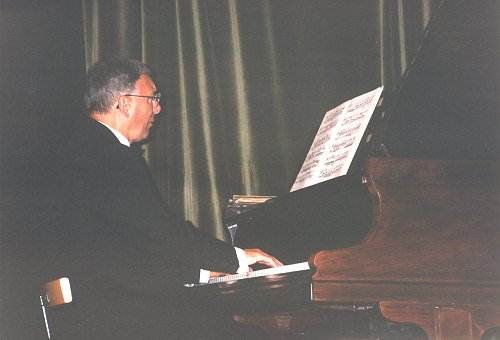 IAIN KENDELL: List of compositions (excluding Educational works)
ORCHESTRAL MUSIC & LARGE CHORAL WORKS
Symphony No. 1 for full orchestra 2000
Music For Strings for solo string quartet & string orchestra 1964
Variations On A Lakeside Theme for clarinet in Bb & string orchestra 1993
Hymn Of Light A Choral Symphony for S.A.T.B., children's choir & chamber orchestra with words taken from the Hymns to Aten, the Psalms, and the New Testament, selected and paraphrased by Steuart Allin 1963
Mass Of The Earth for S.A.T.B. choir, soprano & tenor solo, organ, flute & percussion (Libretto by Steuart Allin) 1971, revised 1982
Song Of A Suburb for S.A.T.B. choir & organ with libretto by Steuart Allin 1973
Petrus - A Cantata of St. Peter (Libretto - Steuart Allin) for tenor & bass soloists, choir, children's choir, organ & orchestra, 1993-4
SHORTER CHORAL WORKS
The May Magnificat SSA text Gerald Manley Hopkins 1965
O Magnum Mysterium SSA 1968
Three Epitaphs SA & Piano text 17th century epitaphs from churches in Devon 1970
What Shall We Bring Him? middle voices and organ/piano, a carol (text by Steuart Allin) 1994
Lodi Di Dio Altissimo SATB text St. Francis of Assisi 1985
Shepherd's Carol SATB text Steuart Allin 1993
Three Easter Anthems SATB 1. Oh Hearts that Grief has Laden (Steuart Allin) 2. Song of Mary Magdalen (Steuart Allin) 3. Easter Hymn (A.E. Housman) 1993
CHAMBER MUSIC
Sogno Sul Lago for violin, cello & piano 1995
Piano Trio No. 1 for violin, cello & piano 1997
Musica Per Amici for violin, viola, cello & piano 1995
Piano Quintet (The Four Elements) for string quartet & piano 1995
Transitions for flute, clarinet in Bb, violin & piano 1973
Pastorale for violin (or flute) & cello 1974
String Trio for violin, viola & cello 1994
String Quartet No. 1 for two violins, viola & cello 2000
Variations On A Lakeside Theme for clarinet in Bb, two violins, viola, cello and optional double-bass 1993
A Dorset Suite for three treble instruments (or 2 Treble & 1 Tenor Recorders) 1959
Collages From "The Lark In The Morning" for three violas 2000
Four Autumn Haiku for solo flute 1972
Sonatina for flute (or oboe) & piano 1972
Episode for clarinet & piano 1962
Sequence for clarinet & piano 1968 (or Harmonica)
Sonata no. 1 for clarinet & piano 1970
Sonata No. 2 for clarinet & piano 1986
Sonata no. 1 for violin & piano 1961
Sonata no. 2 for violin & piano 1986
Sonata no. 3 for violin & piano 1996
Two Elegies for viola & piano 1976
Sonata no. 1 for viola & piano 1987
Sonata no. 1 for cello & piano 1958
Sonata No. 2 for cello & piano 1989
PIANO MUSIC
Solitaire (Seven Bagatelles) 1959
Variations In Search Of A Theme 1961
Derivations - (12 Studies in Resonance &Tonality) 1961
Grafitti 1961
Inscapes 1962
Piano sonata no.1 (Homage to C.P.E. Bach) 1967
Five Dialogues 1969
Five Haiku (From Winter to Spring) 1970
Piano sonata no.2 (The Fibonacci) 1973
Piano sonata no. 3 (In Memoriam) 1977
Four Aspects Of Winter 1979
Piano sonata no. 4 (Acceptance brings its rewards) 1980
Risonanze Di Roma 1981
Five Etruscan Vases 1982
Piano sonata no. 5 (Pasqua in Toscana) 1982
12 Preludes (Book 1) (Impressione d'Italia) 1983
Piano Sonata No. 6 (Sonata d'Assisi) 1983
Piano Sonata No. 7 (Intervals in Landscape) 1984
12 Preludes (Book 2) (Impressione d'Italia) 1987
Welsh Landscapes 1988
Four Nocturnes 1988
Piano Sonata No. 8 (Modi vivendi) 1988
Piano Sonata No. 9 1989
Three Idylls 1996
Zodiac Variations 1998
SONGS
The Windflower - A Cycle of five Songs to Poems by Steuart Allin for Mezzo-Soprano & Piano 1957
Five Songs From "Urania" Settings of Poems of Ruth Pitter for Mezzo-Soprano & Piano 1959
Four Elizabethan Songs Tenor & Piano 1960
Seven Songs Of Innocence Settings of Poems by William Blake for Tenor & Piano 1983
The Echoing Green Setting of a poem by William BlakeTenor & Piano 1987
The Windflower - A Cycle of five Songs to Poems by Steuart Allin for Baritone & Piano 1957
Aus Dem Stundenbuch A Cycle of five songs to poems by Rainer Maria Rilke for Baritone & Piano 1958
Peter Quince At The Clavier A setting of a poem by Wallace Stevens for Baritone & Piano 1960
Three Songs From "The Book Of The Dead" transcribed by Steuart Allin for Baritone & Piano 1961
Night Sounds Setting of a poem by Steuart Allin for Baritone (or Mezzo-Soprano), Clarinet in Bb & Piano 1973
Songs Of Summer Settings of six poems by Steuart Allin for Mezzo-Soprano, Violin, Viola, Cello & Piano 1987
MUSIC FOR RADIO PROGRAMMES
MISRULE (1976) - Play by Alec Reid
ONCE PAUMANOK (1981) - A Portrait of Walt Whitman by Steuart Allin
eye (1981) - A portrait of e.e.cummings by David Ossman
GILGAMESH (1983) - Play by Alec Reid
WILD MAN OF ORROVILLE (1983) - Play
THE LARK (1984) - A Collage of Poetry and Prose selected by Steuart Allin
SONS AND MOTHERS (1988) - Poetry and Prose selected by Anne Harvey
Other programmes broadcast on Radio 4:
ANCHOR & HOPE
LET IN THE DARK
RIDE ON IN MAJESTY
LOVE, THE UNIVERSAL MIGRAINE
He also acted as consultant, but did not compose music for:
WHAT HOPE FOR THE YOUNG MUSICIAN

EDUCATIONAL WORKS

TIME FOR MUSIC
Schools Council Project ŒMusic Education of Young Children¹ at the University of Reading
Was published by E.J. Arnold & Son Ltd
All the items below were published by J & W. Chester Ltd
Junior Music - Stage One
THE SHEPHERDS TALE/CAEDMON - Words by Steuart Allin
KING IN A MANAGER - words by Steuart Allin
THE TREE - words by Steuart Allin
SIR GEOFFREY¹S BOOK - words M.K. Richardson
GETTING ABOUT - words by Steuart Allin
Junior Music - Stage Three
ON SUCH A NIGHT - Christmas Cantata - words by Steuart Allin
HYMN TO THE SUN - Cantata - words by Steuart Allin freely based on Ancient Egyptian Hymns
THE SEA - Choral Symphony - words by Steuart Allin
A SONG OF SUMMER - Choral and Orchestral Theme and Variations - words by Steuart Allin
A SPRING CANTATA - words by Steuart Allin
A PRAISE OF GOD IN HIS CREATURES - words by Steuart Allin
DAWN VICTORY A cantata for Easter - words by Steuart Allin
MEET EDWARD HONEY BRUIN BEAR - words by Steuart Allin
SEVEN VARIATIONS ON A LONDON STREET CRY for 3 recorders
CONCLAVE for 3 treble melody instruments
MASS OF ST. THOMAS OF CANTERBURY
A MUSIC TEACHER¹S HANDBOOK