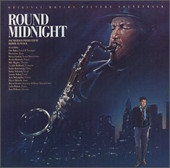 Various Artists: Round Midnight - Original Motion Picture Soundtrack
LP/CD: Columbia CK 40464
Tracks & Composers
1 Round Midnight (Hanighen, Monk, Williams)
2 Body and Soul (Eyton, Green, Heyman, Sour)
3 Bérangère's Nightmare (Hancock)
4 Fair Weather (Dorham)
5 Una Noche Con Francis (Powell)
6 The Peacocks (Rowles)
7 How Long Has This Been Going On? (Gershwin)
8 Rhythm-A-Ning (Monk)
9 Still Time (Hancock)
10 Minuit Aux Champs-Elysées (Renaud)
11 Chan's Song (Never Said) (Wonder, Hancock)
Hutcherson on tracks 5 & 10 only

Personnel
Dexter Gordon, Wayne Shorter (ts); Freddie Hubbard (tp); Chet Baker (tr, vo); Bobby Hutcherson (vib); John McLaughlin (g); Herbie Hancock, Cedar Walton (p); Ron Carter, Pierre Michelot (b); Billy Higgins (d); Bobby McFerrin, Lonette McKee (vo)
Recording Date & Location
1985 (?), Epinay Sur Seine, France & Paris, France
Notes
Hutcherson also has a minor acting role in the movie.
Commentary
I went to see Round Midnight when I was a freshman in college, when I was first discovering jazz. I'll always associate the movie with that time. The film is about the friendship between a French jazz fan and an expatriate American jazz musician. Dexter Gordon earned an Academy Award nomination for his role.
The soundtrack is superb--even better than the movie. Hutcherson only contributes to two of the tracks. But he plays beautifully, especially on "Minuit Aux Champs-Elysées," a duet with Hancock.