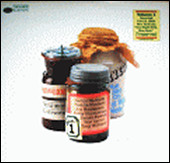 Various Artists: One Night With Blue Note, Vol. 1 [Also reissued as Town Hall Concert]
LP: Blue Note BT 85113
CDs: Blue Note 46147 (One Night With Blue Note, Vol. 1) and Blue Note 97811 (Town Hall Concert)
Tracks & Composers
1 Canteloupe Island (Hancock)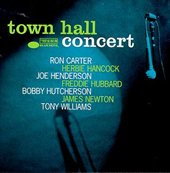 2 Recorda Me (Henderson)
3 Little B's Poem (Hutcherson)
4 Bouquet (Hutcherson)
5 Hat and Beard (Dolphy)
Hutcherson on all tracks except 1

Personnel
Herbie Hancock (p); Freddie Hubbard (tp); Joe Henderson (ts); Bobby Hutcherson (vib); James Newton (fl); Ron Carter (b); Tony Williams (d)
Recording Date & Location
22 Feb 1985, New York, NY
Notes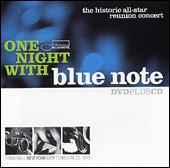 This concert was issued recently as a CD / DVD combo package: One Night With Blue Note. "Hat and Beard" is not included on this CD / DVD release.
Commentary
These performances are good, even if they don't quite equal the impact of the originals. The best thing about these performances is you can watch them on the DVD release.
Not exactly essential, but definitely fun.
DVD release:

CD release: