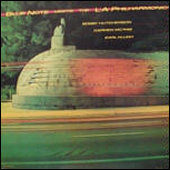 Various Artists: Blue Note Meets the L.A. Philharmonic
LP: Blue Note BN LA870-H
Tracks & Composers
1 National Anthem (Key)
2 Slow Change (Hutcherson)
3 Now (Hutcherson)
4 Hello to the Wind (Chambers, McDaniels)
5 Now [Reprise] (Hutcherson)
6 Star Eyes (DePaul, Raye)
7 The Man I Love (Gershwin, Gershwin)
8 Sunday (Conn, Krueger, Miller, Styne)
9 With One More Look at You (Williams)
10 Cabo Frio (Klugh)
11 The Shadow of Your Smile (Mandel, Webster)
12 Angelina (Klugh)
Hutcherson is on tracks 2 through 5 as a leader. These four songs have been reissued as bonus tracks on the Now CD reissue.

Personnel (Tracks 2 - 5 only)
Emanuel Boyd (ts, ss); Bobby Hutcherson (vib); George Cables (p); James Leary III (b); Eddie Marshall (d); Bobbye Porter Hall (per); Dale Oehler (arr); Calvin Simmons (cond); Los Angeles Philharmonic Orchestra
Recording Date & Location
13 Aug 1977, Los Angeles, CA
Notes
Other featured performers on the LP: Carmen McRae and Earl Klugh.
Commentary
Coming soon.