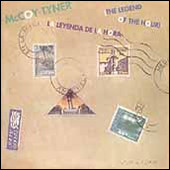 McCoy Tyner: La Leyenda de la Hora

LP: Columbia FC 37375
CD: Koch 7866

Tracks & Composers
1 La Vida Feliz (Tyner)
2 Ja'Cara (Tyner)
3 La Habana Sol (Tyner)
4 Walk Spirit, Talk Spirit (Tyner)
5 La Busca (Tyner)


Personnel
McCoy Tyner (p); William Fischer (cond); Paquito D'Rivera (ss, as); Chico Freeman (ts); Marcus Belgrave (tr, flugelhorn); Hubert Laws (fl); Harold Kohan, John Blake, Karen Milne, Elliot Rosoff (violin); Jesse Levine, Julien Barber (viola); Kermit Moore, Jonathan Abramowitz (cello); Bobby Hutcherson (vib, mar); Avery Sharpe (b); Ignacio Berroa (d); Daniel Ponce (per)

Recording Date & Location
1981, Englewood Cliffs, NJ

Commentary
This album doesn't deserve its relatively obscure status. Perhaps it's not mentioned more frequently because it was originally released on Columbia, not a label usually associated with Tyner. They've never reissued it. Fortunately, Koch Records has. About the music: It surges and thrusts in the grand Tyner fashion—this time with a Latin vibe that reminds me a bit of Gato Barbieri's early 70's Flying Dutchman and Impulse recordings. The soloists are excellent, but the churning Latin rhythm and the compositions make a bigger impression rather than any particular soloist. Also, an eight-person string section adds a touch of warmth to a couple tracks. This is tastefully done.

Strongly recommended.