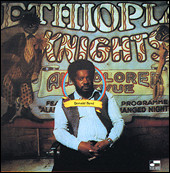 Donald Byrd: Ethiopian Knights

LP: Blue Note BST 84380
CD: Blue Note 54328B

Tracks & Composers
1 The Emperor (Byrd)
2 Jamie (Byrd)
3 The Little Rasti (Byrd)


Personnel
Donald Byrd (tp); Harold Land (ts); Thurman Green (tb); Bobby Hutcherson (vib); William Henderson III (p, el-p); Joe Sample (org); Don Peake, Greg Poree, David T. Walker (g); Wilton Felder (el-b); Edward Greene (d); Bobbye Porter Hall (congas, tamb)

Recording Date & Location
25-26 Aug 1971, Los Angeles, CA

Commentary
Ethiopian Knights is more funk than jazz, very much a product of the times. The album consists of two churning marathon tracks, "The Emperor" and "The Little Rasti," plus one cheesy shorter tune, "Jamie." This is good stuff, but there's nothing mind-blowing here. Both Miles and Herbie were turning out more unbelievable funk-driven jazz around this same time. Even so, Ethiopian Knights is enjoyable. Bobby's vibes are prominent on the long first cut, "The Emperor"; he also contributes a sinuous, interesting solo. Harold Land's tenor sax sounds good too. On tracks 2 and 3, Hutcherson's contribution is negligible (no solos).