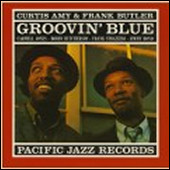 Curtis Amy & Frank Butler: Groovin' Blue

LP: Pacific Jazz ST 19
CD: Toshiba-EMI PJ0019 (Japan); also included on Mosaic Select: Curtis Amy (MS-007)

Tracks & Composers (Original LP)
1 Gone Into It (Amy)
2 Annsome (Amy)
3 Bobbin' (Amy)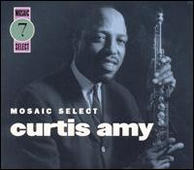 4 Groovin' Blue (Amy)
5 Beautiful You (Amy)
6 Very Frank (Amy)


Personnel
Curtis Amy (ts); Carmell Jones (tp); Bobby Hutcherson (vib); Frank Strazzeri (p); Jimmy Bond (b); Frank Butler (d)

Recording Date & Location
Date unknown (released 1961), Hollywood, CA

Commentary
Hutcherson's first full-length album was Groovin' Blue, led by the Texas tenor-man Curtis Amy and drummer Frank Butler. (Incidentally, it was the also the first recording by trumpeter Carmell Jones.) The album is a no-nonsense hard-bop date in the Art Blakey mold. All of the compositions are by Amy. They're interesting tunes, if not terrifically memorable; however, they serve as solid frameworks for soloing. Hutcherson solos prominently throughout, and he's the featured soloist on the lush ballad "Beautiful You," where you can clearly hear the healthy influence of Milt Jackson.

John Williams Hardy's liner notes offer the following insightful comments about Hutcherson:

"Vibraharpist Bobby Hutcherson rounds out the sextet. A highly promising young musician who made his record debut with Les McCann's trio, Bobby swings hard but reveals in addition a gentle melodic gift that blends well with the blues that are the core of his invention. A quiet youth of mature demeanor, he seldom spoke or asked advice at these sessions but calmly found his place, mastered the difficulties of the charts and blew to the grinning satisfaction of all his companions."

Mosaic recently reissued Groovin' Blue in a "Mosaic Select" set dedicated to Amy's Pacific Jazz recordings.