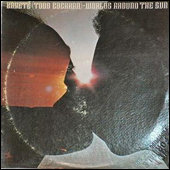 Bayeté (Todd Cochran): Worlds Around the Sun

LP: Prestige PRST-10045

Tracks & Composers
1 It Ain't (Cochran)
2 Free Angela (Cochran)
3 Njeri (Cochran)
4 I'm on It (Cochran)
5 Bayeté (Cochran)
6 Eurus (Cochran)


Personnel
Fred Berry, Oscar Brashear (tp, flh); Wayne Wallace (tb); Dave Johnson (ss); Hadley Caliman (ts, fl); Bobby Hutcherson (vib); Todd Cochran (p, syn, clav); James Leary III (b, el-b); Thabo Vincar (d)

Recording Date & Location
26 June 1972, Berkeley, CA (?)

Commentary
Surprisingly, Worlds Around the Sun is nowhere near as effective as Hutcherson's album of Cochran compositions, Head On. I love the latter album, but the music on this LP seems to noodle along without going anywhere.

The LP can also be difficult to find. It has never been issued on CD.