LP: Blue Note BNLT-1044
CD: Blue Note 7243 8 33583 2 8
Tracks & Composers
1 Patterns (Chambers)
2 A Time to Go (Spaulding)
3 Ankara (Chambers)
4 Effi (Cowell)

5 Irina (Chambers)
6 Nocturnal (Chambers)
7 Patterns [alternate] (Chambers)

Personnel
James Spaulding (as, fl); Bobby Hutcherson (vib); Stanley Cowell (p); Reggie Workman (b); Joe Chambers (d)
Recording Date & Location
14 Mar 1968, Englewood Cliffs, NJ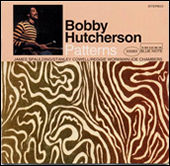 Notes
The LP was first issued in 1980.
Commentary
Patterns is another in Bobby's string of fantastic albums from the Sixties. It doesn't include any compositions by Hutcherson. Instead, Joe Chambers contribute three fabulous pieces; James Spalding and Stanley Cowell each contributing one more. Both Chambers and Cowell would go on to perform and record frequently with the recently-formed Bobby Hutcherson - Harold Land Quintet.
Listeners should note that the packaging on the 1995 Patterns CD release lists the songs in incorrect order. Apparently, the songs on Side B of the LP appear first on the CD, but the packaging lists them in the original order. The following table should clear up any confusion:
| | |
| --- | --- |
| Incorrect Order (as appears on packaging) | Correct Order (as appears on CD itself) |
| 1. Patterns | 1. Effi |
| 2. A Time to Go | 2. Irina |
| 3. Ankara | 3. Nocturnal |
| 4. Effi | 4. Patterns |
| 5. Irina | 5. A Time to Go |
| 6. Nocturnal | 6. Ankara |
| 7. Patterns [alternate] | 7. Patterns [alternate] |
For me, the highlight of this session is Chambers' haunting "Nocturnal," which features Spalding's beautiful flute playing and luminous vibes work by Hutcherson. Spalding's pensive tribute to MLK, "A Time to Go," is another excellent composition that contributes to the album's predominantly gentle impression. Cowell's piano work is particularly affecting.
Like the preceding album, Oblique, Patterns was not released until long after it was originally recorded. But once again the delay has nothing to do with the quality of the music. Unfortunately, the album has lapsed out of print since being issued on compact disc. Blue Note should reissue it.