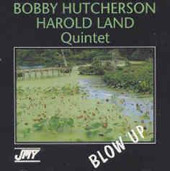 Bobby Hutcherson-Harold Land Quintet: Blow Up

CD: Jazz Music Yesterday JMY 1005

Tracks & Composers
1 Spiral (Chambers)
2 Blow-Up (Hancock)
3 Herzog (Hutcherson)
4 Maiden Voyage (Hancock)
5 Man on Mercury (Land)


Personnel
Bobby Hutcherson (vib); Harold Land (ts); Stanley Cowell (p); Reggie Johnson (b); Joe Chambers (d)

Recording Date & Location
25 July 1969, Antibes, France

Notes
Recorded live at the Antibes Jazz Festival.

Commentary
I have not heard this bootleg CD. It is out-of-print and very difficult to find.

If you have the CD, and you're willing to trade a copy, please let me know.