All photographs and art work © The Hoffnung Partnership. Please respect this copyright.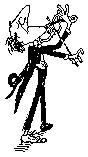 In 1956 appeared The Hoffnung Music Festival containing brilliant sections on conductors of the time. Adrian Boult with shackled wrists performs Non Troppo. Naturally, Elegantmente, had to be Malcolm Sargent: Beecham performs Maestoso: Stravinsky illustrates Preciso by conducting with a metronome, while Barbirolli sharpens the tip of his baton with a pencil sharpener. Under the heading Bel Canto a magnificent tenor enhances his performance by adjusting knobs attached to his waistcoat labelled on and off, sob, wobble and pppfff, while a piano accompanist sits under an umbrella to protect himself from the vocalised aerosol of an over-large soprano. Vocal ranges of the prima-donnas also appear somewhat alarming!

Under Mainly instrumental we find a piscatorial Trout Quintet casting fishing lines into the grand piano and a quartet for Hoovers and optional floor polisher (later to be realized in Malcolm Arnold's Grand, Grand Festival Overture scored for these very instruments and full orchestra and written for the first Hoffnung concert of 1956). Haydn is discovered playing the timps in his Surprise Symphony and a sad percussionist, incarcerated behind his tubular bells sheds a lonely tear.



In 1957 Hoffnung gives his new book the dignity of alphabetic sequence. The Companion to Music is a lexicon bursting with musical ideas. Under C for Concert-goers, are some teasing sketches of the avid score reader, the over-enthusiastic applauder, the loud and uninhibited cougher, the irritating time-beater and also of the lady with clicking needles who somehow manages to produce a beautifully knitted trumpet. Also under C are some wonderful lampoons of Critics. J for Jazz treats us to pages bursting with rhythm and syncopation. In a section headed Orchestral Thoughts instrumentalists are given the opportunity to publicize ways in which to settle old scores with their conductor, while in similar vein under V for Volante a carefully directed cello lands on a startled conductor's rostrum, piercing his score, dart-like. Attached to it is a luggage label marked BEWARE!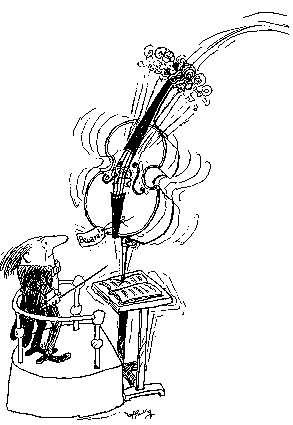 ---
---
Return to MusicWeb International
---