All photographs and art work © The Hoffnung Partnership. Please respect this copyright.

| | |
| --- | --- |
| | |
| In 1952 Hoffnung illustrated a series of captions by James Broughton, a Californian writer, that formed the narrative of a book called The Right Playmate, published simultaneously in the USA and in Great Britain. "Without a playmate," the first caption read, "No one can expect to grow up properly." "And to find a playmate everyone has to learn the proper way to play." The illustrations express with glorious parody the confused problems and tribulations of a growing boy trying to find his right playmate. | |



The First ever Hoffnung music book, published in September 1953

The year 1953 saw the publication of the first of six little books of humorous musical drawings, which quickly became best sellers. The Maestro is a simple parody of all conductors. Almost every mood and tempo associated with Italian musical terms is caricatured, from the first Alerto pose to the the Finale Furioso and the tumultus applause.

A London critic remarked, "Gerard Hoffnung's caricatures of an orchestral conductor are preciso, con anima, never serioso, always vigorosa, and compel the reaction of bravo bravissimo."
A second book, The Hoffnung Symphony Orchestra followed close on The Maestro. Here, in his inimitable style, Hoffnung gently teases over sixty instrumentalists and their instruments, benevolently poking fun at their foibles and eccentricities. We see a long suffering cymbal player with bandaged nose, a timpanist tuning his drums with a stethoscope, a glamorous female pianist performing on a boudoir grand piano complete with mirrors, trinket drawers and perfume bottles, the Serpent swallowing his player, and the cor-anglais surprising everyone by laying an egg. In full glory as end papers to the book, sits the mad and ridiculous complete Hoffnung Symphony Orchestra, assembled, it must be admitted, for laughter rather than the making of fine music.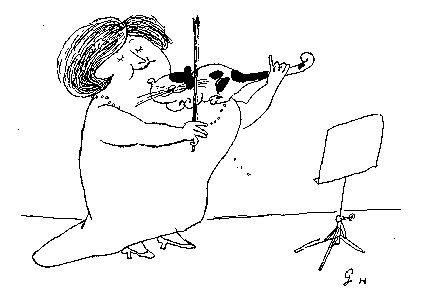 ---
---
Return to MusicWeb International
---