When, in July 1942, I walked off the deck of HMS Welshman over-laden with the accumulation of nearly two years personal possessions including several musical MSS, overjoyed with the prospect of being ordered to join "Roedean School in plain clothes" I must have thought that I was saying 'goodbye' to the Welshman for ever. Instead I am happy to say that my old ship has haunted me all my life, reaching a climax of a few days ago when Angela and George Evenett brought some members of their society of survivors and their wives to meet us at the very house from which I had started out to join the Royal Navy in 1940.
My first rude awakening was at the turn of the year when I was faced with the list of casualties from the disaster to my old ship. Practically every member of my old mess had been lost. All the men I had been living with, eating with, conversing with for over a year of my life had suddenly gone including Ernie Rye and Harry Beavis who had a little son whom he adored and who adored him.
I was to hear of a parallel case much later. A little girl of six adored her father who was lost in the Welshman. Her whole childhood was ruined by this event. However I am glad to say that this little girl - June Parker - is now happily married to Graham. What makes her story hard for me is that her beloved father was the very man who took my place in the Victualling Office on board The Welshman. It only shows how little we know about each other and how intricately involved our lives can be.
Some years ago Angela and George Evenett had the bright idea of forming a society for survivors from the Welshman if only to see how many there were who might be glad to meet their old comrades even if they did not know them when on board.
The Welshman Society was founded on February 1st 1993, the fiftieth anniversary of the sinking of The Welshman.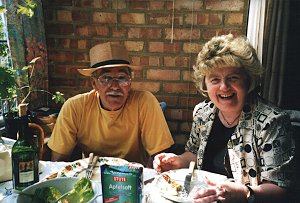 George and Angela Evennett
Angela tells me that she had great difficulty in locating me, though I am in the London telephone directory. She found me eventually by consulting one of the music handbooks. George's brother Norman, who sadly was lost, and I must have joined the ship at the same time though we did not know each other. We sailed down the Tyne together out into the North Sea for the ship was launched in 1940, though not commissioned until 1941. We sailed up to Scapa Flow, where we lingered for quite a time, then down to Kyle of Lochalsh, which was to be our base. I was glad to see this beautiful place again, for I had spent a holiday there only a few years before, but most of the ship's company took great exception to it, saying "Give me civilisation", by which they meant the atmosphere of Portsmouth.
The Welshman was one of the four fastest warships and could do 40 knots when laden and hold 160 mines.
Soon we found ourselves sailing down to Milford Haven where we filled up with mines on our way to lay them on the Breton Coast. I have described elsewhere how we were passing down the Cornish coast on one occasion I made a vow that if ever I got free of this situation I would have a little place on those beautiful cliffs over there, which I knew so well from childhood, and how I have managed to keep this vow, as described in my chapter on Trylewyth.
I did not know at the time that every Mine-Layer carries a reel of piano-wire on its stern - piano-wire because it is strong enough to withstand the use to which it is put in the process of mine-laying. I knew that our navigating officer used to cast down a little anchor when we slowed down to take our bearings between Land's End and the Scillies but I did not know at the time that it was piano wire that he used. On one occasion the piano wire, chosen specially for its endurance, happened to snap. Our Navigating Officer was terribly worried but managed to improvise an anchor-perhaps by putting a twist into the wire, so that we knew pretty well how far we had gone.
Jim Burgess was an Able Seaman and acted as a Quartermaster and helped in the steering. Jimmy the One Runner (called so because he used to run messages for the First Lieutenant), assures me that he remembers me, largely because I was instrumental in getting off a certain petty officer from being court martialled. A wedge had been left between the mines and he was blamed but the case was dropped. At one point it got round that I was a barrister-at-law and a considerable number of the ship's company came trooping up to me to learn about the possibilities of getting a divorce. It was surprising how many of these young husbands were interested in divorce proceedings. Of course I knew noting about divorce, not having taken the subject in my exams, but the more I assured them that I knew nothing about divorce the more they pestered me for my advice, but I think this was why I gained the reputation of being able to help in a legal capacity, though I could not have done so, and perhaps this was the reason why I was reputed to have got the Petty Officer off the hook, though I actually cannot remember anything about it. After our first leave, in the summer of 1941 (and we had waited long enough for it) we started off again as a commissioned ship, though no one told us "You are now commissioned" and I only learnt later that we were commissioned in 1941, but apart from going to Africa to fetch back some gold bullion, we found ourselves used as a troop-carrier taking airmen and supplies to Malta instead of loading up with mines. It was after two of these journeys that I was sent to become a Naval schoolmaster with the Royal Marines at Chatham.
Jim Burgess has given us a vivid account of the last hours of the Welshman and Bob Ferry has given us another account which supplements it. Apparently they were always hopeful, until the end that they would be able to save the ship by shoring up the damage done by the torpedoes, so that there was never any order to "abandon ship", in fact there was an order "Port \ watch to \ supper" not long before the ship went down. But this heroic attempt to save the ship must have caused considerable loss of life in the end. Even the ship's boats were not lowered until it was too late. If they had been lowered, they might have saved a considerable number of people from being drowned.
Reg Cook, who was working with Bob Ferry on telegraphic communications found himself in the end standing on an almost horizontal ship's side wondering what to do next (for he could not swim) when a kindly wave swept him overboard and he managed to find something that could give him a holding. Bob Ferry lost consciousness and only came to life on board the destroyer that rescued him. George's brother, Norman Evenett was not so lucky. He was one of the engineers and at the last moment was ordered below to try to shore up one of the bulk heads. Jim Burgess was in the drink some four hours before he was picked up by a whaler, but perhaps the most interesting case I heard of was that of Tom Fuller. He was a good swimmer and he decided to swim away from it all, but in the end he lost consciousness, perhaps through the cold and only came to life on the operating table of his rescuer. Sadly there were many badly injured airmen. Some with severe burns who were on the ship on stretches when she went down. They were on their way to Alexandria.
We never had anything in the way of "division" a naval term meaning a religious service or religion until a preacher was detailed to visit us and give us something in the nature of a sermon. The harmonium was brought out laid at my feet. I gathered that I was expected to play something while the ship's company assembled and the preacher prepared to deliver his address. I had never been a church organist, nor was I ever any good at improvising. However, I did my best by playing something from Moussorgsky's Boris Godounov and no one seemed to notice that it was opera rather than sacred music. The preacher gave his address - an extremely good one, and it seemed to rouse considerable religious fervour from this most unlikely audience. At the end he suddenly broke into "God Save the Queen" in a rich baritone. Luckily I knew that the usual key was G, and when I tried it out I found, to my great relief, that he was dead in tune, so I was able to accompany him and the whole ship's company to the end, but it made me wish that we could have had something in the way of Divisions as a regular feature of our lives. It might have proved a great boon in the end.
In St. George's Centre at Chatham which was once the Church of the Barracks, Angela and George Evennett, who founded the Society of Survivors have arranged for a bronze plaque to be set up in memory of H.M.S. Welshman and all its members. This plaque was unveiled by the Worshipful Mayor of Gillingham, Councillor K.W. Webster in the presence of His Excellency Mr. S.J. Stellini, the High Commissioner for Malta, survivors and their relatives, as well as relatives of those that were lost. This remains as a permanent memorial for H.M.S. Welshman. Angela and George Evennett have told me that up until this year they have seen Mr. Stellini attending the annual Cenotaph service in London.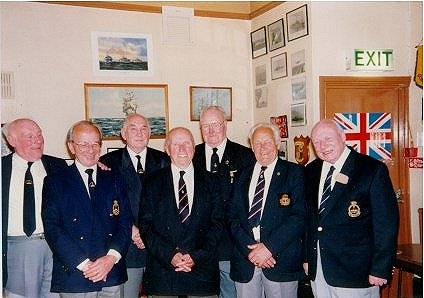 1997 reunion of some Welshman survivors