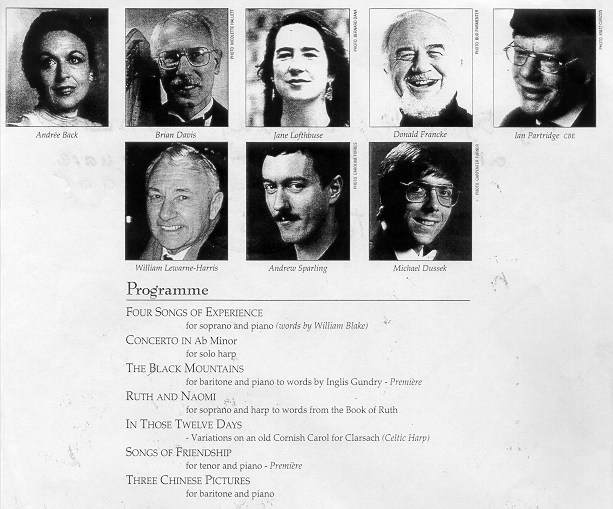 Many artist friends contributed to the success of this Concert, and many friends and relatives came to hear the music as well as many whom I did not know. The Deputy Grand Bard, Ann Trevenan Jenkin, came from Cornwall. Mrs. Vaughan Williams represented her husband, with whom I had studied so happily. Mrs. Antony Benskin came up from Devon, her husband being unable to join her for health reasons. From Cornwall also came Mr. Donald Rawe, a particular representative of Cornish culture. From Ireland a whole contingent including, of course, my younger daughter, Penny with her husband Philip and his parents Eric and Eve Beck, together with their friends, the architect and musician, Mr. and Mrs. Brendan Chawke. Our older daughter Suzie was also there with her husband, Peter, his father, Desmond, Aunt Jennifer and brother Christopher.
I had arranged for my singer friend, Donald Francke, to introduce proceedings, which he did in a very lively fashion which set everybody in a good mood.
The first artist to appear was Jane Lofthouse who came on to sing my Blake Songs, accompanied by Michael Dussek, Hear the Voice of the Bard, The Sunflower, The Sick Rose and The Tiger. They had been broadcast some forty years ago by Wilfred Brown accompanied by Frederick Stone. Jane had sung the first of these several times before, including a very successful performance I remember at St. Michael's Mount when I was first introduced to her brilliant accompanist, Michael Dussek.
Next came Brian Davis to play my Concerto in A flat minor for solo harp.
I have explained in the programme notes that this was a work like Bach's Italian Concerto written for an instrument like the harpsichord that could do all sorts of different things like sweeping chords (in the case of the harp), harmonics, filigree patterns, repeating the same note on different strings, glissando and can therefore play a concerto with itself, without the need of an orchestra.
The first half ended with a song cycle sung by Donald Francke accompanied on the piano by William Lewarne Harris called The Black Mountains.
"These mountains of mourning
Are mountains of the morn.
Is gladsome, is glowing
What looked to be forlorn."
The sadness, the blackness is changed to glow and light throughout these baritone songs. I am particularly proud of the third song which was added later to the group from a pastel I had been painting when on holiday with my friend Pat Simpson (see earlier in this book).
After the interval came some samples of my settings for soprano and harp. Andrée Back with her sweet voice, sang my Ruth and Naomi cycle which she and Brian Davis have made almost famous. There are six songs, the first sung by Ruth, the second by Naomi, then the third Ruth Gleaning, by Ruth again. The fourth is sung by Naomi again. She gets all excited by the prospect of Ruth making a conquest of Boaz. In the fifth song it becomes clear that this has happened. (I particularly liked the old men sitting at the gate ready to act as witnesses, such as I had observed in Cornwall.) The last song explains all six. It is about Naomi's grandchild, Obed, the grandfather of King David and the sole reason why the Book of Ruth is included in the Bible. If it had not been for Ruth's child, Obed, we should probably never have heard of Ruth or Naomi - one of the most attractive books in the Bible. It is also an interesting point that King David was not a pure Jew, for his great great grandmother was a Moabitess.
Next, Brian put aside his concert harp and took up his clarsach which he had made up from a kit, the small Celtic harp which is much older than the Concert Harp and probably dates, in some form or other, from the days of King David.
On this he played my In Those Twelve Days, Variations on an Old Cornish Carol. This work was specially written for the clarsach, which has difficulties in changing key and the quick use of sharps and flats. So I have specially composed a work that has no changes of key at all but relies on changes of rhythm for variety.
It starts with the simple carol in unison, then proceeds through all the time signatures, including 5 and 7 and 8-time (different from common time.). It has some difficulty with ten and eleven time, then steers into well-charted waters with 12 time and ends with a simple repetition of the carol in unison.
Then came the group of songs that I had been working on most recently, Songs of Friendship. These songs were originally written for Baritone - the voice most associated with friendship, and recorded by my friend Michael Channon accompanied by Geoffrey Corbett. But as I found that they were becoming more and more associated with love, I transferred them to tenor, rewriting several of them entirely. As such they were excellently sung by Ian Partridge, brilliantly accompanied by Michael Dussek.
There are seven songs in this group and I am particularly proud of finding the words of the first song, which I think no-one else might have found. They come from the much-maligned ancient Greek philosopher Epicurus (BC 342-270). I found them in a book of Fragments edited by Cyril Bailey, one of the Dons at Balliol College while I was there.
"Friendship goes dancing round the world of man
Heralding with a fanfare for us all.
Awake to love, arouse to the most blest.
Friendship is immortal when knowledge fails."
The second song is a translation from one of Cicero's Letters to Atticus, which I was fortunate in being able to do myself.
Rome, 28th January B.C. 26.

"I was so pleased to hear
that you were in Italy ... "
It was an invitation to Atticus and his "familia" to spend their first day back in Italy with him and his "familia". In those days, when there were no police, it was customary for the well-to-do to surround themselves with a "familia" consisting not only of themselves and their immediate family but of slaves, freedmen and hanger-on generally.
"So fly to us in the conviction
that you have our love,
as we have yours.
Mind, the day when you arrive
you are my guests,
You and all yours beside."
This I dedicated to my wife's life-long friend, Sue Jordan, who has become my life-long friend and is the life-long friend of my whole family.
The third song, The Reunion, is dedicated to my dear friend, Geoffrey Corbett, who has died recently. He conducted the first performances of a number of my operas: The Partisans, Avon, The Tinners of Cornwall and The Prince of Coxcombs. I wrote the words of this song myself and it dwells on our reunions when he came back from conducting abroad. I dedicated it also to my cousin, Hélène Gundry, who has always been very dear to my sister Phyllis and myself. When the War came, she was caught by the Germans in France and we could not hear from her for several years, but when the War ended and we met again, it was as if we had never been parted, hence the allusion in the song.
After this comes the quarrel between Brutus and Cassius which ends in a reconciliation of friendship, and I dedicated this to my friend of College days, Douglas Lilburn. The next song is called The Broken Friendship. I wanted to express the situation in which two friends break apart for some reason or another, only to find that their relationship was too strong for the break to be permanent. This happened between myself and my friend Pat Simpson. We parted for a time, but the link was too strong for it to be permanent. Both Ian Partridge and Michael Dussek said that they liked this song the most of the group.
The sixth song The Friend of Friends is a quotation from the Bible, and the last song a quotation from Robbie Burns John Anderson, My Jo, John. This seemed to be the best expression of married friendship that one could find and the tune was so familiar that it could not be entirely avoided, so I compromised by giving it a variation in five-time.
The concert ended with my Three Chinese Pictures, which I had composed when I was a student at the RCM in 1936. I found them at the Chinese Exhibition in 1936. Tung Fang So, or The Peaches Of Longevity, Fishing on a Snowy Day, Busy Being Idle or The Big Toe. They had not been performed for sixty years, but I'm glad to say they were as fresh as a daisy. Donald Francke sang them particularly well, accompanied by William Lewarne Harris on the piano and Andrew Sparling on the clarinet.
All this was enthusiastically received by the large audience. There were speeches afterwards and the audience went away in an atmosphere of glowing friendship.
After that I finished my fifteenth opera, Galileo and spent my time on this autobiography. A year later when I was losing my ability to write music. I was asked by John Turner, who had been put in touch with me by my friend Rob Barnett, to write a "little song" for Soprano, Recorder and Piano to help celebrate Peter Crossley-Holland's 80th birthday. I had just finished my own 90th birthday celebrations when I was asked to help celebrate someone else's 80th birthday celebration. Of course I was very pleased to do this because it meant getting in touch once more with an old friend whom, I had not seen for some 40 years. Now I knew that we were some eleven years apart when I had always thought that we were contemporaries. He had helped me with my opera Avon and had led me in the direction of Cornwall, for which I was always very grateful.
So, with failing sight, I set to work on something that was going to be a labour of love.
To make things as easy as possible for me I chose a Cornish carol, which I knew would appeal to Peter. It was one of the Cornish carols that had been sent to Davies Gilbert too late to be included in his last publication. The manuscript has been handed to me by his great-grand-daughter, Minnie Davies-Gilbert and some of the carols had been published by the O.U.P. but I altered the carol by changing the time to triple time which I thought more suitable for a very old melody which would certainly have been in triple time originally.
With the aid of my friend W.L. Harris, I was able to present John Turner with a not unworthy contribution to the Crossley-Holland celebration, which brought me in touch once again with an old friend whom I thought I had lost.