Gerald Finzi in a Nutshell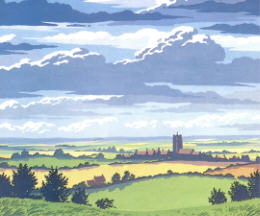 Brief Biography
Born in London on 14th July 1901.
Moved to Harrogate and had lessons with Farrar and Bairstow.
Moves to Painswick in Gloucestershire.
Composes his first Hardy setting – By Footpath and Stile.
Moves to London and meets Ralph Vaughan Williams, Edmund Rubbra, Arthur Bliss and Howard Ferguson.
1930-33 Teaches at the Royal Academy of Music.
Marries Joyce Black and settles in Aldbourne in Berkshire
Begins work on Ivor Gurney's musical & literary estate.
Moves to Ashmansworth near Newbury.
Works for the Ministry of War Transport
Hodgkinson's disease diagnosed
Dies at Oxford on 27th September 1956
Five Key Works
Dies Natalis – for tenor or soprano and string orchestra (1925/39)
Earth & Air & Rain – Song Cycle for Baritone & piano (1928-1932)
Clarinet Concerto – for clarinet & strings (1948/49)
Intimations of Immortality – for soloist, chorus and full orchestra (1938/1950)
Cello concerto – for solo cello and full orchestra (1951-1955)
Key Biography
Gerald Finzi – an English Composer – by Stephen Banfield (1997)
Gerald Finzi – a bio-bibliography – by John C. Dressler (1997)
If you can only listen to two CDs of Finzi's music:-
The British Music Collection - Gerald Finzi Decca CD 4688072
Includes In Terra Pax, Dies Natalis, For St Cecilia & Earth and Air and Rain
Cello Concerto - Gerald Finzi Naxos 8.555766
Includes Grand Fantasia & Toccata and the Eclogue for Piano and Strings.
And finally if you have only time for one work –
The Cello Concerto on the Naxos disc above. This is a fine performance by Tim Hugh & the Northern Sinfonia of Finzi's masterpiece.

Return to: Gerald Finzi Home Page
Classical Music on the Web