Gerald Finzi - A Brief Biography.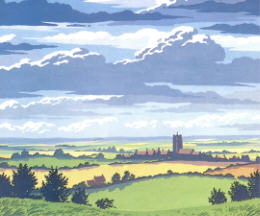 From Decca Record Sleeve 425 660-2 For St Cecilia etc.
Gerald Raphael Finzi was born into a fairly prosperous family on 14th July 1901. His father was a successful London shipbroker. There were four other brothers and sisters. He was descended from Italian Jewish ancestry and his parents were, at that time practising Orthodox Jews. The composer never really acknowledged this religious heritage. In fact he wrote a number of distinctively Christian works including fine setting of the Magnificat.
Finzi was educated privately. However during the First World War his mother moved the family to Yorkshire. There Finzi studied with the young composer Ernest Farrar. After Farrar had received his call up papers, Finzi completed the first part of his musical education with the great organist at York Minster-Edward Bairstow.
It was during his early life that Finzi first became aware of the transience of life- one of the major themes of his music. In the space of a few years his father and three brothers died. Ernest Farrar was killed on the Western Front. This sudden realisation of the harshness of the world recommended the poetry of Thomas Traherne - the great Platonist poet who dwelt on the innocence of the soul of a child and of course William Wordsworth's Intimations of Immortality.
In 1922 he moved to the Cotswolds and lived at the village of Painswick. This was part of the landscape beloved by Elgar, Howells, Gurney and Ralph Vaughan Williams. It was to have a profound effect on his life and music.
The works of this early period include the withdrawn work - By Footpath and Style, a somewhat neoclassical Violin Concerto, and the Severn Rhapsody. He also worked on a Requiem da Camera that was dedicated to his deceased composition teacher. This last work was only heard in its complete form in 1990.
In 1926 he was advised by the conductor Adrian Boult to move to London and take counterpoint lessons with R.O Morris. It would also put Finzi in the centre of musical activities. He taught for a period in the Royal Academy of Music. He became friends with many of the leading composers of the day - including Edmund Rubbra, Gustav Holst, Arthur Bliss and Ralph Vaughan Williams. It was during this period that Finzi began to compose some of his best song cycles.
In 1933 Gerald met Joyce Black at Lye Green in Sussex. He was on a working holiday and was staying in a cottage belonging to a certain Mrs. Black. There were two beautiful daughters. The elder of the two was interested in the arts and it was inevitable that she was attracted to the thirty-two year old composer.
Gerald and Joy Finzi built a lovely home at Ashmansworth on the Berkshire Hills overlooking a large stretch of typically English countryside towards Winchester. This was to be the family home until the composer's death. One of the interests the composer had was the cultivation of apples. He introduced many rare species into his orchard. It is said that he saved a number of them from extinction.
There was a period in the late 1930s and early 1940s when Finzi wrote virtually all his chamber music. This is a relatively unknown, yet extremely interesting part of his catalogue. Here are different sonorities than listeners had come to expect after hearing the earlier orchestral works. The String Trio is actually quite a bleak piece with none of the warmth of the Romance for Strings.
There was the literary side to Finzi's life. He loved much of the heritage of English literature; especially Thomas Hardy, Thomas Traherne and William Wordsworth. These interests are well represented in his settings for choir and for song. Certainly more than half of his songs are to words by Hardy. However he showed a liking for Robert Bridges and Edmund Blunden. The great choral works In Terra Pax and For St Cecilia are settings of words by these two great English poets.
He amassed a huge Library of precious books over his lifetime. It covered many topics including Poetry, Philosophy and Prose. On his death it was bequeathed to Reading University Library.
He was not like a number of composers who cannot see any good music apart from their own. He did much to put Charles Hubert Hastings Parry's manuscripts into some semblance of order. A major project embarked upon by Gerald and his wife Joy was the editing of the poetic works by Ivor Gurney. They were the driving force behind the Music & Letters 'Gurney' special issue in 1938. He expedited the publication of that composer's song settings. Perhaps the curious thing is that Gerald Finzi never actually met Gurney. Yet when one listens to the works of both composers there is quite definitely a stylistic relationship. Ivor Gurney could have had no better executor of his artistic estate.
Another of Finzi's interests was the editing of early music. He published a number of works by John Stanley, Charles Wesley and R. Mudge. He founded the Newbury String Players who were able to play many of his realisations from the 17th century.
After the Second World War Finzi wrote some of his most adventurous orchestral works. The ever-popular Clarinet Concerto of 1948/9 and the Grand Fantasia and Toccata for Piano and Orchestra based on earlier sketches for a piano concerto.
The last major work was the Cello concerto, in which Finzi was pushing the barriers- not only was it considerably longer than anything he had previously written (apart from the Intimations) it was more passionate and intense. There were new harmonies and part writing here.
Gerald Finzi was diagnosed as having Hodgkinson's Disease in 1951. In 1956 he and Ralph Vaughan Williams went on a walking trip up Chosen Hill in Gloucester. They visited the local sexton's cottage for tea. Unfortunately there were children with chickenpox in the house. Finzi contracted the disease. Due to his weakened state it caused severe brain inflammation. He died on 27th September 1956, aged 55 years. Strangely this was the very day after the first performance of his Cello Concerto.
It is difficult to sum up Finzi's achievement in a few words. He seems to have been at his best writing small-scale works. However, his two masterpieces are in fact his two longest. He had no problem in developing ideas.
His general musical style is elegiac. His music is frankly sad and autumnal. There is little that is light hearted or joyous. He is not afraid to write in a basically tonal style. However, in later works there is a considerable use of midland sometimes even harsh dissonance – especially in the Cello Concerto.
But perhaps his greatest legacy is his ability to set words to music. Few composers have equalled his achievement in any century. It is perhaps his songs that remain the most perfect of his creations.

Return to: Gerald Finzi Home Page
Classical Music on the Web