Last month you might remember we reviewed new albums for Deep Blue Sea and The Iron Giant and I complained about the scant time given to the original music of Trevor Rabin and Michael Kamen. Well, just to confuse everybody, this month we have two more albums for Deep Blue Sea and The Iron Giant but this time comprising fuller scores from the two composers. Film Music on the Web deplores this trend which is becoming more and more prevalent. Similar CD booklet designs don't help either (particularly in the case of Deep Blue Sea). We wonder what the Trades Description people might make of it all?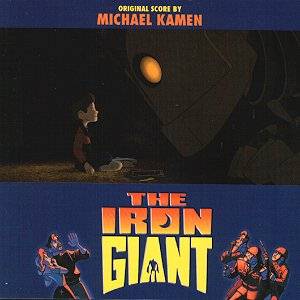 Kamen's music has a fresh and invigorating mastery of tune and texture. This is freshly conveyed in the present score for an animation fable of man meets colossal machine. The information in the insert is typically sparse but from the cue titles and the stills this seems to be a BFG type story with plenty of opportunities for Nutcracker and Brother Grimm style enchantment and macabre chills. The score is high, wide, symphonic (no synthesiser nonsense here!) and handsome with sound to match. The cues are predominantly short but four run over 4 minutes.
There are no complaints in the orchestral department. The producers ran to one of the world's great orchestras and let Kamen direct them. The score's athletic vigour is no barrier to moments of Copland-like warbling (The Giant Wakes) and serious nightmare (Come and Get It). Throughout, the solid squat brass sound is reliable and adds to the colourful panoply. The calmness of the Bedtime Stories track has someone drifting off to sleep in lulled safety. There is an exuberant sense of threat in His Name Is Dean. Track 14 (Space Car) has a jolly Williamsy stomping heroism flashing straight into Varèse-like bell sonorities. Kamen runs to some particularly eerie shivers for He's A Weapon. Trance-Former (nice wordplay by someone) echoes chaotic violence and quiet, high and threatening violins.
The final cue (of 23) sounds like one of those 1950s 'duck and cover' popular songs used to reassure the US population that a nuclear explosion could be a rather jolly affair provided you ducked and took cover.
In summary then we have here 22 excellent symphonic tracks showing Kamen in ripest style and resisting the temptation to treat this animation as anything other than a grown-up commission. The film's producers are to be congratulated for selecting Kamen whose music mounts from strength to strength.
Reviewer
Rob Barnett