Music Webmaster Len Mullenger

---

FILM MUSIC RECORDINGS REVIEWS

---

May 1999 Film Music CD Reviews

Part 2
---
For those wishing to print these reviews without graphics there are scrolling copies available

© Film Music on the Web 1999. All rights retained. Reviewers retain copyright on their reviews. Disclaimer

COMPETITION WIN a CD of your Choice

---
John DEBNEY My Favourite Martian Music

conducted by the composer

(contact: Kraft/Benjamin/Engel Management (310) 247-0123)
This is an entertaining, generously-filled album: 35 brief tracks of very varied music. It embraces cool and slinky jazz numbers, bongos-led Latin music (including a Martian Mambo), ravishingly romantic melodies, scampering comic capers, fast-paced chase music, dark dramatic material and sci-fi Star Wars fantasy adventure stuff . Influences range from Dukas to Rimsky Korsakov; from John Williams to Danny Elfman (with the Edward Scissorhands-type choral treatments and the general quirkiness) – as well as from many other leading film composers. There is even a direct quote from the opening of Richard Strauss's Also Sprach Zarathustra for a cue entitled 'Toilet Trouble' – the mind boggles. The sound is stunning.

Once again the documentation is woefully inadequate – not even a booklet; just a single sheet with endless credits to obscure production people. Now I appreciate that this is probably a promotion album intended to focus attention on Mr Debney's talents and to promote more contracts for him but I will once again make this point of principal - when will the record companies create booklets that cater for the public instead of indulging in this sort of endless navel-gazing?!?

Enquiries about this album should be directed as indicated in the header.

Reviewer

Ian Lace

---
John OTTMAN Cable Guy. Fantasy Island OSTs JOCD –01 [51:00]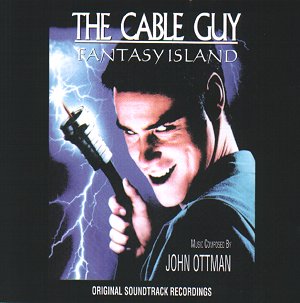 Quoting John Ottman, himself, writing about his music for Fantasy Island, in the CD booklet notes – 'I was feeling dreary after writing scores to one intense and dark film after the next, so when this show came along, it was one of those battery-charging experiences. I actually looked forward when getting out of bed towrite for Mr Rourke and his questionable world.' Well Ottman's release certainly shows for this is a very enjoyable twenty-minutes or so suite with a very catchy theme. The music evokes a tropical island paradise with exotic orchestrations. The material may often be whacky, or spooky and eerie but it is all written with a light touch with none of the threats associated with the more serious action/dramatic movies – there's hardly a cloud around. There are: waltz figures, chase motifs, fairground-like passages, music that suggests scampering among the tree canopies; and there is slow meditative stuff too.

Ottman's score for Cable Guy is, to some extent, very similar for what is really a black comedy. In this instance, however, it does not have such a memorable theme. The music is often manic paralleling the eccentricities of Carrey. The whackiness is very reminiscent of Elfman particularly when one considers the sentimental and saccharine children's chants (very similar to those in Edward Scissorhands except that in Cable Guy they are used as a reminder of the Carrey character's disturbed childhood). There are plenty of demonic slitherings but they are created with tongue in cheek. A few cues impress: 'Turn of Events' seems to suggest mechanical clockwork toys gone amuck; 'Spiders and threats' is – very spidery; 'Moving on' impresses it's a racy, jazz-orientated track, and some respite is allowed with the warmer nostalgic material that is 'Memories'.

A pleasant undemanding album.

Reviewer

Ian Lace

Fantasy Island


Cable Guy


---

Angelo BADALAMENTI Arlington Road (with additional music by Tomanandy) OSTs Milan 74321 65152-2 [67:54]

WARNING - it may seem like this album will never end ! Let me be upfront and say that I had a lot of problems with this score in the movie. Several times it actively worked against the picture. The reason for this is actually rather shocking. I have recently learned that studios are now so into the idea of the youth market that if they think a score might not appeal, they'll employ a popular DJ to work on top of the score with samples and rhythms. Arlington Road bears the frightening credit: "Additional Music by Tomandandy, using the Evolution System".
Milan's typically sparse packaging gives no indication where they end and Badalmenti begins. It is rather easy to make educated guesses however. All the orchestral and vaguely melodic work will be the composers and that constant crashing, drowning cacophony all around it must be the techno boys' work.
I have no intention of pointing out cues since any microscopic moments of interest last all-too briefly to be of any significance (OK - so the last 2 cues are reasonable). I suspect there was once a well-thought out score up against the film - Badalamenti usually delivers something of worth.

Now I'll be lambasted by someone who writes to tell me this was actually a well-crafted collaboration between them!

Reviewer

Paul Tonks



Ian Lace adds:-
I entirely agree – need I say more.



Visitors will note a new symbol

which is occasionally attached to our reviews. Some CDs we receive give us headaches in various degrees of severity. The music might just be inferior, or the recorded sound below standard, or consistently over-loud - or there may be too little variety so that we suffer from repetitive strain. This symbol awarded as

Slightly uncomfortable;


uncomfortable; and



distinctly uncomfortable - avoid.
---
James HORNER – Mighty Joe Young

OSTs

edel/Hollywood 0100902HWR [73:06]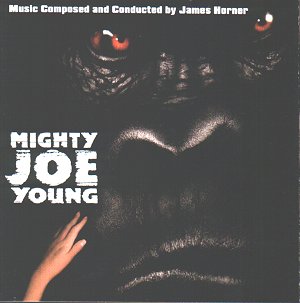 Yes, we have reviewed this CD before – in our January 1999 reviews collection. So why are we mentioning it again now – well because it appeared on another label at that time – Hollywood HR-62172-2. Fortunately, the CD cover artwork is the same for both editions.

At that time I rated it and commented –

'This album does little to dispel the disappointment of Horner's bland score for Deep Impact..the biggest disappointment is the lack of a really memorable theme…On the credit side it is often very thrilling and sometimes quite overwhelmingly scary…Horner's richly textured score, written for a large orchestra includes a vast array of drums ethnic and conventional – spread right across the sound stage to wonderful effect …to evoke the sounds of the jungle.

Ian Lace

---
Terence BLANCHARD – JAZZ in FILM OSTs SONY SK 60671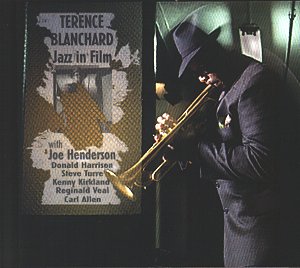 Having been so successful with his film score for Clockers, it seemed like a good idea to have Terry Blanchard produce his interpretation of the music written by people like Duke Ellington, Elmer Bernstein and Andre Previn for other films. Whoever's idea this was, it was a stroke of pure genius. This is one of the most interesting additions to the Jazz Library in years and establishes Terry Blanchard right up there with those legendary composers and arrangers mentioned earlier. This is an album that could only have been made by someone from the jazz fraternity, who could get the mixture right, the right musicians, with a top class score, but with space for individual expression.
All the arrangements are by Terry Blanchard, a monumental piece of work! Blanchard was born in New Orleans in 1962 and came to prominence with Art Blackey's Jazz Messengers in 1982. His partner in the front line of that Band was another young musician from New Orleans, Donald Harrison whose top class Alto playing blends so well with the leaders Trumpet. The experience of touring with a Band like the Jazz Messengers always has a great influence for good on young musicians. Tenor Saxophone player Joe Henderson is well known to most jazz fans, he has led his own Quartet for many years after working with Horace Silver,Herbie Hancock and for a time with Blood Sweat and Tears. He is one of the most influential and gifted of modern jazz saxophone players. Trombone player Steve Turre is another top rate musician who has already recorded several albums under his own name.
The late Kenny Kirkland on piano is a real inspiration, in his sleeve note Terry Blanchard said he waited to record the album, until Kenny was available it is easy to see why. the Bass playing of Reginald Veal and the Drumming of Carl Allen are totally sympathetic to the needs of the front line, how I wish it was always thus!
In an Album of this type there are usually some tracks that you like better than others, in my case I just thoroughly enjoyed the whole thing and I am left hoping that there will be a follow up very soon.
This is a five star album, of that I have no doubt! If I was on Desert Island Disks it would be one of my choices.
Reviewer
Don Mather

1. A Streetcar Named Desire
2. Chinatown
3. The Subterraneans
4. Anatomy of a Murder
5. The Pawnbroker
6. Taxi Driver
7. Degas' Racing World
8. Man with the Golden Arm
9. Clockers

---
John BARRY - Playing by Heart Chet Baker, John Barry and Chris Botti DECCA 466 275-2 [57:20]
Remembering Chet; Playing By Heart; Game of Hide and Seek; Tenderly; I Didn't Love You Less; A Place Inside Alive and Well & First Take; Scene Unseen; You Go to My Head; I Want to Stay the Night; Good Night Moon; Mark's Graveyard Site; Thees Foolish Things; Playing By Heart

.

This is film music of the finest quality, you can almost feel how it will be used in the film, but it stands alone as an excellent piece of musical composition and performance.

Willard Carroll the writer and director of the film 'Play by heart' felt that a number of the classic recordings by Chet Baker, a West Coast jazz legend of the 1950's, was the kind of music the film would need. John Barry was chosen to write the score, John is a Trumpet player anyway and by coincidence an admirer of Chet Baker.

Baker was a man who had everything and lost everything. He was very handsome as a young man and he played the Trumpet with a unique and immediately identifiable style.

In 1952 he joined the Gerry Mulligan Quartet, a group which was to become one of the all time jazz greats and within six months jazz fans world wide were aware of Chet Baker!

In 1954 he formed his own Quartet with influential pianist Russ Freeman and continued to be in world wide demand. He lost everything and probably his life as well, due to his drug addiction, he was beaten up by hoodlums in San Francisco and lost all his teeth in 1968. He recovered however and continued to play beautifully. His death, which may have been narcotics related, was from falling from a hotel window in 1988 when he was 59. There was always a sadness in his playing, even songs with happy lyrics sounded like sad songs when played or sung by Chet Baker.

The Trumpet playing on the CD is by Chris Botti whose work has been mostly heard backing rock artists such as Bryan Ferry, Jane Silberry and Sting. He studied at the prestigious Indiana University with David Baker and later in New York with Saxophonist George Coleman and the late Trumpet player Woody Shaw. Chris catches the Chet Baker mood perfectly, but there is much more to this man than a mere imitator, he is a very fine musician in his own right and I intend to look out for his name on future jazz releases. I rate him very highly indeed.

John Barry's score is evocative and having read the plot it is easy to see how he has caught the mood of the film so well. In the UK, John is best known for his band the John Barry Seven, he played the Trumpet in several Big Bands however before forming his own outfit.

Film music however has always been his first love and he studied with teachers as diverse as Dr. Francis Jackson from York Minster and Bill Russo from the Stan Kenton orchestra.

You don't have to be a jazz buff to like this record, if you are there is a bonus for you, but even if the jazz talents of Chet Baker and Chris Botti are not your bag, this is wonderful mood music. There is a flavour of bitter-sweet sadness which pervades throughout, but this music is not depressing; it is just the kind of thing that helps when the world does not go exactly the way you would like it to......................BUY IT!

Reviewer

Don Mather

---

Neil SIMON, Carolyn LEIGH and Cy COLEMAN Little Me New Broadway Cast Recording VARÈSE SARABANDE VSD-6011 [59:07]
Let's be clear: There are Hollywood musicals which are worth everyone's attention. Stephen Sondheim's musicals/operas are musically and intellectually satisfying and truly moving. There are predecessors of similar standing but no-one so consistently packs Sondheim's punch.

The present musical is not in the Sondheim league. While pleasant and with the occasional hit (e.g. Real Live Girl) this is a slice of Broadway eclair: fluffy but with little nutrition. The brightly inconsequential Broadway-medley overture says it all: brash and superficial. The notes refer to the clever rhymes and with that I would agree. The dominating central role of Belle Poitrine (with frontage to match!) is superbly sung by Faith Prince but she is wasted on the musical material which is suffocatingly conventional. This does not detract from Faith Prince's (and, Martin Short's) performance and I was impressed with tastily turned avoidance of cliché-ed word patterns.

Full notes (English only) with the plot given in all its resplendently convoluted detail. No lyrics. The notes claim that this recording was made in February 1999 and I am reviewing this on 30 March 1999. Did they mean 1998?

Reviewer

Rob Barnett

---
**************************************************************

Editor's Recommendation

**************************************************************
George and Ira GERSHWIN Oh, Kay! Broadway Cast recording with Barbara Ruick; Jack Cassidy; Allen Case and Roger White SONY SK 60703 [52:12]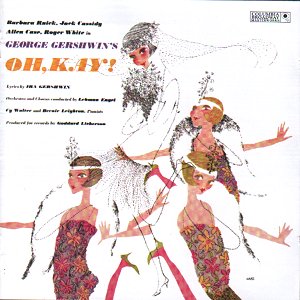 The LP version of this album has long been a treasure in my collection. With fine refurbished sound and now with bonus tracks and with great informative booklet notes by Gershwin expert, Edward Jablonski plus Broadway cast illustrations, it is an essential part of my Gershwin CD shelf. Although no film (as far as I can discern) was ever made of Oh Kay, the songs featured in the show were used in may others ('Clap Yo' Hands', for instance, was used in that wonderful Fred Astaire/Audrey Hepburn Gershwin musical, Funny Face). Barbara Ruick will be remembered for her role as Shirley Jones's friend who serenaded Mr Snow ('When I Marry Mr Snow') in Carousel. Here she distinguishes herself with her expressive romantic and ironic-comic singing.

Oh, Kay! opened on November 8th 1926 and ran for more than 250 performances (excellent for those days and the longest run for a Gershwin musical up to that date. Wonderful, classic Gershwin hit tunes follow each other in profusion: 'Don't Ask'; the witty and ironic'Dear Little Girl' in which the hero salutes not one but all his dear little girls; 'Maybe'; 'Clap Yo' Hands'; 'Do, Do Do'; 'Fidgety Feet' and, of course 'Somebody to Watch Over Me'

For Gershwin enthusiasts this album is a must, must, must!

Reviewer

Ian Lace

---
**************************************************************

Editor's Recommendation

**************************************************************
Stephen SONDHEIM A Little Night Music Original Broadway Cast Recording SONY SK 65284 [68:28]
The 1977 film version of Stephen Sondheim's fabulous Broadway musical was a somewhat fumbled affair. It starred Elizabeth Taylor as Désirée and Diana Rigg with members of the original Broadway production including Hermione Gingold. One of the numbers of the film, a reworked (by Sondheim) 'The Glamorous Life', is included as a bonus track at the end of this album.
Sondheim's A Little Night Music is more than just a musical it has stature and can compare with the best of operetta. This original Broadway Cast Recording consists of 16 numbers each one a perfect gem – a perfect fusion of bitter-sweet, ironic music and words. A Little Night Music is based on the Ingmar Bergman film, Smiles of a Summer Night. It is set in turn-of-the-century Sweden and it is a light confection of complicated romantic liaisons. Briefly, middle aged lawyer, Frederik has married a girl (Anne) his son's age. She is still a virgin after 11 months of marriage. Frederik's son, Henrik, lusts after Anne. Frederik has sentimental feelings towards his old flame Désirée who still lusts after Frederik. Désirée is lusted after by Count Carl-Magnus who has to cope with his long-suffering wife, Charlotte. Observing this tangle is Désirée's elderly mother-with-a-past, Madame Armfeldt. It is she who alerts her granddaughter - and us - to watch for the summer night to smile: "It smiles three times – first, for the young, who know nothing; second, for the fools who know too little; and, third, for the old, who know too much."

A Little Night Music is clever and sophisticated; and innovative. It sparkles. The music is very much based on the waltz - appropriate to its fin de siecle setting. The Overture (and Night waltz) begins in a novel fashion with a quintet of principals singing la-la-la before the music breaks into the engaging Viennese Waltz that has that certain Ravelian touches that vaguely disturbs. Then another interesting number follows - the 10½ minute, 'Now… Later… Soon' in which Frederik, Henrik and Anne all state their own agendas: Frederik (Now) muses on the problems caused by his new marriage; Henrik is concerned with flirting with the maid and moaning about being perpetually frustrated in love (Later); while Anne promises Frederik she will allow him to consumate their marriage (Soon). All the themes are cleverly dovetailed, and progressed against their varied conflicting interests, as the number proceeds.

Of the other numbers I must mention two or three. Frederik who has just met Désirée again after a long interval, tells her 'You Must Meet My Wife'. The verbal sparring between the two is delicious; here's a sample: 'She flutters' – 'how charming.' 'She twitters' – 'my word.' 'She floats' – 'isn't that alarming; what is she – a bird?' 'She makes me feel...' 'Like an old man? 'Yes – NO!' 'No?!? - I must meet your Gertrude; Sorry your Anne.' 'The point is that she's really simple.' Yes, that much is clear.'… Then there is the inimitable Hermione Gingold recollecting her 'Liaisons' as she sings 'Liaisons what's happened to them?…What was rare champagne is now just an amiable hock. What once was a villa, at least, is now digs. What was a gown with a train is now just a simple frock. … At the Duke of Ferrara's castle I acquired some position and a tiny Titian…'

Then of course there is Désirée's famous number 'Bring on the Clowns' which Glynis Johns sings with such pathos when she thinks that Frederik will not abandon his child wife for her. It is reprised when he does just that and they both realise they have both been clowns. All, of course, ends happily with the lovers paired off satisfactorily.

A hugely delightful album that will make repeated visits to my CD player.

Reviewer

Ian Lace

---
The SONDHEIM Collection VARÈSE SARABANDE VSD-6012 [71:36]
Glynis Johns sings 'Send in the Clowns' (A Little Night Music); Jane Krakowski sings 'Sooner or Later' (Dick Tracy); Jennifer Simard sings 'More' (Dick Tracy); Guy Haines – 'What Can You Loose?' (Dick Tracy); Judy Cuhn - 'You'll Never Get Away From Me' (Gypsy); Lindsay Ridgeway and Sarah Chapman - 'Mama's Talking Soft' (cut from Gypsy); Liz Calloway – 'I Remember' (Evening Primrose); Laurie Beechman – 'No One is Alone' (Into the Woods); Petula Clark – 'Children Will Listen' (Into the Woods); Amy Rider, Malcolm Gets, and Adam Heller – 'Old Friends – Part II ( Merrily We Roll Along); The Trotter Trio – 'Opening' (Follies); Harry Groener and Lynnette Perry – That Old Piano Roll' (cut from Follies); David, Patrick and Shaun Cassidy – 'You Could Drive A Person Crazy' (Company); Christiane Noll – 'Marry Me A Little' (Company); Michelle Nicastro – 'Loving You' (Passion); Kaye Ballard, and Sally Mayes – 'There's Always A Woman' (Anyone Can Whistle); The Trotter Trio – By The Sea' (Sweeney Todd); Emily Skinner and Alice Ripley – 'Every Day A Little Death' (A Little Night Music); Liz Calloway – 'Goodbye for Now' (Reds).

A glance at the line-up above shows the riches of this album. Glynis Johns makes a fine, poignant Désirée summoning the clowns from A Little Night Music, Jane Krakowski (Ally McBeal's snoopy secretary, Elaine) sings huskily and sexily 'Sooner or Later'…you're going to be mine…sooner or later I always get my man' from Dick Tracy. Petula Clark charms as she sings so expressively – 'Children Will Listen'. The latter song reminds one of what the booklet notes express so eloquently, '…And those words! In the history of musical theatre there has been no finer lyricist. And, to quote again: 'His melodies are always perfect for his words, whether beautiful and soaring, or tart and searing.'

Of the 19 songs, I would just mention two or three. There is Lindsay Ridgeway and Sarah Chapman singing the little girls' cautionary 'Mama's talking soft' in which they declare: "Mama's seen a man, mama's blushing pink, mussin' up her hair, mama has a smile and when she has a smile, no one has a prayer!" There are two great swinging jazz instrumental numbers from The Trotter Trio; and there is a a hilarious, blistering, bitchy number from Kaye Ballard and Sally Mayes who rue that 'There is Always A Woman' in which they complain, 'It's always a woman who causes confusion… we must lunch; there's always a woman, the ant at the picnic, the fly in the ointment … ring me soon." Finally there is the dreamily romantic, 'What can you loose', again from Dick Tracy sung with great panache by Guy Haines.

A splendid entertainment.

Reviewer

Ian Lace

---

Astor PIAZZOLLA (1921-1992) Tango Ballet; Concierto Del Angel; Tres Piezas Para Orquesta De Camara. Gidon Kremer (violin) with Per Arne Glorvigen (bandoneon); Alois Posch (double bass); Vadim Sakharov (piano); Marta Sudraba (cello) and Ula Zebriunaite (viola); and Kremer ATA Baltica TELDEC 3984-22661-2 [53:52]
Astor Piazzolla studied with Alberto Ginastera and, in Paris, with Nadia Boulanger. It was she who persuaded him to devote himself to the tango rather than to classical music. Piazzolla interpreted the popular music of Argentina as Bartók, Stravinsky and Gershwin did the music of their countries. And the tango is Argentina! Piazzolla took the tango and produced classical music. Hearing the jazz musicians in Paris and being impressed with their swing and wealth of ideas, he decided to free the tango from its traditional patterns to give it more nuances and make it more complex.

In 1956 Piazzolla wrote Tango Ballet for a short film. His music was welcomed but not the film. It is a difficult work. It made big demands on the octet's musicians at the time, so much so that it was not performed again until 1989. In Tango Ballet classical music, tango and ballet all merge into a composition of unique originality. In this transcription, Gidon Kremer is featured together with his chamber ensemble Kremer ATA Baltica which consists of young musicians from Estonia, Latvia and Lithuania. Kremer grasps the opportunity to show off his impressive virtuosity without compromising the essential spirit of the composition. There are six movements: Introduction – La Calle (The Street); Encuentro (Meeting); Cabaret; Soledad (Solitude) and Calle final. Cabaret – pure tango, has a particularly catchy tune; the mood of Soledad is, in contrast, darker and tinged with melancholy. Encuentro – Olvido has an engaging sexy sultriness, with a sense of mystery and danger.

In 1958, Piazzolla was inspired by the cool jazz of New York and he assembled his first quintet with an instrumentation of bandoneon, piano, double bass, electric guitar and vibraphone. Later, the vibraphone was replaced by a violin. Piazzolla was concerned to create tango music that would give voice to the concerns of the modern city of Buenos Aires since the city had a new rhythm and had become cosmopolitan. He brought the tango to a new audience: students, young workers, avant-garde artists, jazz and Bossa Nova fans. Among the numerous works of his fruitful 1960s was the 'Angel' series that revolved around the subject of an angel. Four of these are included in Concierto Del Angel for violin, bandoneon, double bass, piano and string orchestra. They are: Introducción al Angel; Milonga del Angel; La muerte del Angel and Resurrección del Angel. The music attracted great attention for it sounded new, unusual, evocative and sensitive. Introducción al Angel describes the mysterious path of the angel who appears in a block of flats in Buenos Aires in order to cleanse the souls of the inhabitants in music that is quietly mystical but also intensely passionate. La muerte del Angel begins with a three-part tango-fugue followed by a passage which depicts the desperate struggle between the villain and the angel whom he kills – the music here is again passionate with a strong melodic line. Milonga del Angel is more slow and sentimental while Resurrección is proud and haughty and rather Ravelian in character. Kremer and his players play with real power and conviction.

Finally, for piano and string orchestra, there is the three-movement Tres Piezas Para Orquesta De Camara. Preludio: Lento is an atmospheric piece that opens dramatically and menacingly before its brooding melts into a lovely romantic melody. Fuga:Allegro, one of the most captivating numbers on the album is a bouncy, vibrant fugue with a catchy melody. Finally the Divertimento: Allegro molto is a sunny jazz-inspired confection.

An inspiring tour of the tango in thrilling performances.

Reviewer

Ian Lace

---
Adopted from Heinrich HOFFMANN's Struwwelpeter -Martyn JACQUES - SHOCKHEADED PETER A Junk opera . The Tiger Lilies WARNER/NVC ARTS 3984 26522 2 [40:46]

There are 11 tracks - a song each. The songs are strung around the story of Struwwelpeter by Heinrich Hoffmann (1844). Shrill worn out comedy soprano effect and then in arch comedy BBC 'auntie' singing, shrieking, whispering and shouting in shrill pantomime style all resonating in a reverberant acoustic. The voice is recorded distantly or very close. This unaccountable 'event' is inventively done with much odd effect wrung from very few instruments including the accordion, double bass, cello, violin, trombone, banjo, clarinet and side-drum. Styles of music vary from Rocky Horror Show, cliché-ed East-End pub singalong (Chas and Dave), music hall, Austrian lederhosen band, vaudeville, light entertainment, Gypsy band and the Goons.

The words (English and German) are fully set out in the fold-out leaflet. However in terms of musical joy there is little to be harvested. It may well mean more to those who have seen the production by West Yorkshire Playhouse and Lyric Theatre, Hammersmith. Star marking for being unusual but not funny, not noticeably satirical, not rewardingly musical. You may find more in it. It may be my loss that I found it scant entertainment.

Reviewer

Rob Barnett

---
Combined Book and CD review
The Book Review:
DEAR ROGUE - A Biography of the American Baritone, Lawrence Tibbett.By Hertzel Weinstat and Bert Wechsler Amadeus Press - ISBN 1-57467-008-5 $34:95.

Largely forgotten today except by keen opera fans, Lawrence Tibbett rose from obscurity in 1923 to unprecedented success in opera, film and radio in the 1930s.

This book, published to commemorate the 100th anniversary of Tibbett's birth, traces his life from the obscure poverty of his youth in the American Wild West, taking in his years of wealth and fame in New York and Hollywood, up to his tragic vocal decline and alcoholism, and to his death, in July 1960 at the age of 63, resulting in a fall while under the influence of alcohol.

The authors tell a story that would make a Hollywood script seem far-fetched. His father was killed in a western-style gun battle leaving his mother to bring him up. He married a possessive woman and largely ignored her and her children as his career took off in New York. His second marriage to a New York socialite led him into a whirl of non-stop parties and alcohol dependence. Although he was egotistical and easily forgot those who helped him on the way up, he was nevertheless kind to up-and -coming artists and was a diligent founder and President of the American musicians union. Yet, he was an inveterate womaniser chasing his film co-stars and embarking on numerous affairs. Sex, drug overdoses, stabbings and shootings were all part of his world. Coupled with a fabulous singing voice, was a marvellous acting talent. He threw himself with gusto into all of his roles so much so that he often caused injury to his colleagues. In one production, he drew blood with a prop sword. Although the wound was superficial the victim died from ensuing complications.

The book details all Tibbett's singing achievements (and the embarrassing defeats as his career faded). They include a full description of the performance as Ford in Verdi's Falstaff that brought him to fame. "The time had come for Larry, and what occurred was one of those extraordinary moments that can only take place in an opera house…Larry began, and in the words of veteran critic Oscar Thompson, he 'took fire. He sang like a demon possessed. He hammered the table angrily and threw a cup so hard that it smashed into a multitude of pieces. Unlike most singers, Tibbett did not look at the conductor or prompter for directions. Instead, his gestures and his singing had a freedom that only veterans acquire. His passionate voice startled the audience and held it spellbound." Afterwards Tibbett retired to his room blissfully unaware that the audience was calling for him, demanding him. Taken aback themselves, the management thrust him onto the stage and the huge audience rose to its feet and, with a roar, applauded even louder. The incident was reported in the national press, and Tibbett became a celebrity overnight.

The book incorporates exclusive interviews with members of Tibbett's family, friends and colleagues and it includes short critical analyses of existing Tibbett recordings, the commercial releases and privately recorded operas and his films. There are numerous photographs and the volume also includes the impressive list of Tibbett's Second World War benefit appearances; a bibliography and a compact discography. (One or two of the CDs listed are no longer available. For instance, I would like to have had a copy of the Nimbus collection 'Lawrence Tibbett from Broadway to Hollywood' to review for Film Music on the Web but this collection had been deleted.)

A good read about a fascinating character and a wonderful singer/actor.

Reviewer

Ian Lace
The CD Review:
Lawrence TIBBETT in Opera NIMBUS Prima Voce NI 7825 [77:14].
Arias from: Pagliacci, Carmen, Tosca, Un Ballo in Mascherra, Il Barbiere Di Siviglia; Die Walkure; Rigoletto; Otello; and Simon Boccanegra.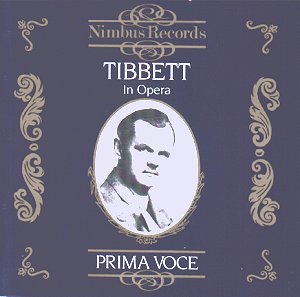 Largely unknown by younger film fans or forgotten by older fans, Lawrence Tibbett, the American baritone, is still revered by opera enthusiasts as one of the world's greatest singers. He made six films between 1930 and 1937: Rogue Song (30); New Moon (30); The Prodigal (31); Cuban Love Song (32); Metropolitan (36) and Under Your Spell (37). At the time of the debut of this Metropolitan Opera singer, Louella Parsons commented: "The long-awaited successor to Rudolph Valentino has arrived!" Tibbett's singing of operatic arias was an important feature in each of his films.

This historic collection of popular arias dating from 78s dating from 1926 to 1939 demonstrates the power and sensitivity of his singing.

The programme opens with the Prelude to Leoncavallo's Pagliacci (recorded in 1926). One is at once aware of the richness of the voice, the perfect diction and the sensitivity to interpret shades of character so that a commanding presence and a vulnerablity sit side by side almost in the same bar. Then in Carmen (rec. 1929) he makes a dashing, swaggering Escamillo as he boasts about his prowess in the bullring. As Scarpia he is all sinister malevolence as he sings 'Tosca, You Make Me Forget God' in the Te Deum of Act I of Puccini's opera (rec. 1929). Anger, frustration and fury mix in Tibbett's Eri Tu from Verdi's Un Ballo in Maschera (rec. 1930) when Renato discovers his wife's infidelity.

But it is the absolute command of Rossini's breathtakingly fast Largo al factotum from The Barber of Seville (rec.1930) that really impresses; this really is vocal risk-taking and listen to how much varied characterisation he squeezes into the line Figaro., Figaro as a motley bunch of citizens shout for the barber's services.

Romance, sentimentality and heroism – all are caught in Valentine's aria from Gounod's Faust (rec.1934) as the soldier bids his sister farewell and marches off to war. Tibbett's seamless silken singing lifts Wolfram's ode to the evening star from Wagner's Tannhäuser (rec. 1934). In one of his most famous roles, Rigoletto, Tibbett singing the aria 'Cortigiani, vil razza dannata' spits out all his spleen against the courtiers who have conspired to bring about the ruination of his daughter by his employer the libertine Duke.

Three Iago arias are included from Verdi's Otello (rec 1939). In the 'Brindisi' drinking song Tibbett thinly disguises malevolence behind bonhomie as he plots the downfall of Otello's handsome young lieutenant, Cassio. In 'Credo' Tibbett is diabolical and scornful as he states his demonic creed in this monologue. In 'Era la notte' he is all oily spite wrapped up in mincing good intent as he tells Otello that he has heard Cassio dreaming about Desdemona.

Another of Tibbett's major operatic roles was that of Simon the Doge in Verdi's Simon Boccanegra (rec.1939). In the aria 'Plebe! Patrizi! Popolo', he is commanding as he quietens the mob and in an emotionally charged plea, calls for peace and an end to civil strife.

Then there is the impressive 18 minute item: Tibbett's majestically tender interpretation of Wotan's Farewell from Wagner's Die Walkure (rec. 1934 with Stokowski conducting the Philadelphia Orchestra.)

Although the background sound often crackles, the refurbishment is first class. This is a wonderful collection and a marvellous musical experience.

Reviewer

Ian Lace.

---

Anna Russell - Again? More musical spoofs SONY SFK 60317 [77:43]
Anna Russell, the female equivalent of Gerard Hoffnung, here gives us a hilarious send-up of many types of music, pop as well as classical - and the advertising industry.

Her programme begins with 'A Practical Banana Promotion.' Anna is engaged to give a recital to delegates at a fruit promotion conference – but then decides her recital should enter into the spirit of the conference which has the theme 88 - 88 being the number of calories in a medium sized banana! Well, what she does with her bananas… is for your delectation! We are told that marketing should make the banana over to suit us or if that is not possible we should be made over to suit the banana. After a dissertation on the history of advertising including the tale of the ancient advertising agency, J Walter Belshazzar who put the 'Writing on the Wall,' she sings some typical commercial jingles. For the concert-goer, for example, she suggests the soft sell with the image of a grand piano because it has a connection with the product – the banana has 88 calories and the piano keyboard has 88 keys. So, when the audience hears a piano duo they will have a craving for babana splits! For those who resist advertising, she recommends subliminal advertising – by inserting commercials between each line of a lieder so that when the listener hears – 'I knew you loved me…' they also hear subliminally – 'in my Maidenform bra!'

We then proceed to the section A Square Talk on Popular Music or The Decline and Fall of the Popular Song. Anna begins: 'People in the Pop world take an interest in classical music – for instance they have taken Tchaikovsky's Piano Concerto No. 1 and made it into 'Tonight We Love' … so I don't see why I shouldn't, from my point of view, louse up popular singing. After all, we mustn't be chauvenistic must we? First of all, you have to use a microphone because the popular singer does not believe in developing the voice because that in turn develops other things and you have to be, above all, a dish if you're a popular singer. And then it distorts the sound and the more your voice sounds anything but human the more popular it's liable to become.'

Anna then proceeds, with relish to demolish eight forms of popular song.

Finally, she also manages to deflate the mannerisms of singing from Madrigals to Modern opera. A hilarious 77 minutes and warmly recommended.

Reviewer

Ian Lace

---

Mychael DANNA Regeneration OST (Music with the war poetry of Siegfried

Sassoon and Wilfred Owen) VARÈSE SARABANDE VSD-6005 [41:51]

Mychael Danna is a new name to me. The sleeve notes (a single double fold) give no biographical information and little else apart from stills from the film and a reasonable level of detail on the discographical side. Though the disc times out as above there is in fact just over thirty minutes of original music by Danna. The remainder is made up of circa eight minutes of poems and one track from an ancient 78 presumably contemporary with the Great War. There is also a wild Gaelic dance comparable with that in Titanic at track 21. The poems are read with steely restraint.

Outstanding are the Wilfred Owen poems read by Stuart Bunce. His masterful account of Dulce Et Decorum Est and the final poem The Parable of the Old Man and the Young left a distinct shudder and a prickling of the hairs on the back of my neck.

One of my intended reads has been the Pat Barker trilogy. The way things are going I expect that the film will be my introduction to the sequence which takes as its focus the poetry of Wilfred Owen killed in the last year of the war and Siegfried Sassoon who survived both wars and died in 1967.

What of the music: Subdued, elegiac, pastoral? Yes, sorry to be predictable but Danna's music is summed up by those adjectives. The music is a step away from the music of Geoffrey Burgon for BBC's Testament of Youth (on a Silva Screen CD). Danna displays an eloquent Holstian reserve. Sad bugle calls echo across the shires and are dimly heard amongst the rumbling thunder of the Somme, Bapaume and Passchendaele. Danna strikes a consistent unity of mood but the whole suffers from insufficient variety. The music's elegiac tone is reinforced by the wonderful and (thank heavens!) youthful voice of Lucia Mrazova whose part is a vocalise which inhabits a number of the tracks where it is used as a humanising instrumental thread. I hope we will hear more from her. She would be wonderful in Gorecki 3 of Nystroem Sinfonia del Mare. Not so much a Symphony Of Sorrowful Songs as a Symphony Of Tragic Elegies.

Just a passing thought: the Great War has been a dominating seam in the British arts. Did the involvement of the USA (albeit from 1917 onwards) spark an equivalent stratum in the arts of the USA?

You will know if you want this disc. It is too unvaried for general recommendation but is secure in its mood of celebrating sorrowing and remembering aching loss - a loss which is still alive in those living today.

Reviewer

Rob Barnett

---

---

JOHN BARRY Zulu - New digital recordings of music from 17 of Barry's film scores City of Prague PO/Nic Raine Crouch End Festival Choir (some tracks) SILVA SCREEN FILMXCD 305 Specially priced 2 CD set CD1: 49.56 CD2: 51.40 Total 110+ minutes

Zulu (1964) (newly recorded 20 minute suite) and other music from The Cotton Club (1994), The Deep (1977), The Specialist (1994), King Rat (1965), The Last Valley (1970), Mercury Rising (1998), Midnight Cowboy (1969), Frances (1982), King Kong (1976), Love Among The Ruins (1975), Dances With Wolves (1990), plus world premiere recordings of The Tamarind Seed (1970), Hammett (1982), Mister Moses (1965), My Sister's Keeper (1986)

John Barry is remarkably successful and hardworking. His music is well known, often with typically long and undulating themes of ultra-romantic sympathy. Few composers combine prolific industry with such a plethora of good (and better) musical ideas.

Barry's biography has been published recently and his orchestral work The Beyondness of Things, inspired by the sea, has been recorded by Decca. There have even been a couple of sell-out English Chamber Orchestra concerts (consecutive nights in April 1999). I have been keen on Barry's work since I became aware, as a very young teenager, of the urgently molten music for You Only Live Twice and more recently the score for the film Swept From the Sea.

Now Silva have done it again! The music selected is from 17 classic Barry films spanning the years 1964 to the present day. These are all new digital recordings although some have appeared previously in other themed collections. Perhaps it is only one of the tracks? I certainly recall hearing the Kong prelude and its luscious love theme in Silva's treasurable Monster album, sandwiched within a medley of Kong music by two other composers. Silva are well known for resourcefully 'cutting the cake' at several angles to make satisfyingly attractive anthologies.

It is at Silva's usual twofer price which makes a welcome bargain but is not as generous as Silva's other releases might have caused you to expect. Its circa 100 minutes are still pretty good value with some happily sunlit and dramatic performances; technical dimension to match.

The most important sequence is the complete (there is only circa 20 minutes of original music) score from Zulu, the classic 1964 film starring Michael Caine. The music is suffused with grunting threat and foreboding apparent from the first bars and then rarely far away. The sequence includes two cues not previously recorded: Bromhead's Safari and You're All Going To Die. The stuttering minatory main theme gains an increasingly bleak dominance. Impressive stuff and a similar epithet can be applied to the choir's singing of Men of Harlech which is given with cliff-edge definition.

Silva have previously issued the original mono soundtrack of Zulu but promised themselves they would do better. They have!

The collection is full of treasures although the music for the Sunsilk commercial fails to entrance. What a contrast when you come to The Cotton Club suite. You can almost see and smell the jazz club atmosphere and the sleazy walls with damp running down the wallpaper. Long undulating lines (the Barry trademark), romance and even a soft-shoe shuffle are here as also is an in-style saxophone and trumpet dialogue.

The King Rat march starts out like Addison's derring-do music for A Bridge Too Far. It is taut enough but rather low key in comparison.

I expected the suite from The Tamarind Seed to be more romantic but instead we get a cousin of the Zulu theme stuttering tense with the atmosphere artfully and gradually racked up. Hardy's Wessex sounds incongruously not far distant.

The Last Valley music is grim like the cloud-blackened start of Finlandia. Love Among Ruins sounds like love rather than murder. The Orient Express's sweeping waltz is there as is a harpsichord part which plays a quite distinctive role.

Mercury Rising's end track is a clarinet serenade - heartbeat-pulsing, extended and perfectly romantic. This contrasts with the sheer commercial fluff (surely what was intended given the part of the film illustrated) that is the Florida Fantasy of Midnight Cowboy.

Then comes the track you have to play if you can only sample one section and want to hear the very best: the music for King Kong. At first this is very Bond-ey and cataclysmic. Then comes a chirpy wondrous love theme complete with faintly chittering woodwind. Superb!

The Frances theme at first swoops and slurps in sub-Rach syrup but soon finds a more reserved and sturdy tone evolving into a captivating romance for piano solo with strings.

My Sister's Keeper evokes the languorous heat of the Deep South with piercing strings, darker and colder undercurrents and a surprising harmonica part.

Hammett is another 'tec film noir celebrating, arching and stretching in slow and sulking romance.

The Buffalo Hunt from Dances With Wolves has a wide-open prairie theme in which the horns call out magnificently. This track has considerable dynamism and lightning-strike brash chords. This contrasts with the theme from The Deep which is typically romantic.

Mister Moses opens in African jungle mode (and ends there as well). In fact there is something of Zulu in the initial pages. Also Herrmann's percussion-infested score for White Witch Doctor is likely to have been an influence. There are strange animal cries and exotic bird song aplenty. It all ends rather regally with calling brass and surging string choruses.

The custom-arranged suites were assembled by James Fitzpatrick who also produced the album.

At a rather trivial level I do wish that the minor typos (some repeated from one Silva album to the next) could have been removed. I am rather weary of seeing 'micronsonics' and 'compatable'. 'Verison' and 'sophisicated' are other examples. I would be pleased to proof-read their copy myself; if only to import my own beloved mistakes! Fogey-type aside now ended!

The slim, single-width case economically houses the two discs. This is a blessing as virtually everyone is short of storage space.

Geoff Leonard and Pete Walker are to be congratulated on the (English only) notes which are typically efficient and informative and follow David Wishart's style sheet to the micron! They concisely give lead cast-lists, dates etc.

By now, with Silva, we are used to the insignificant absence of stills from the films. A small loss beside so many gains!

Full recording and orchestral information is given including the names of the principal Czech soloists - a much appreciated touch.

Anyone wanting to build a representative collection of film music would do well to buy this and similar economically-priced composer or generic collections issued by Silva Screen. The company goes from strength to new zeniths with each issue. As for the Prague Orchestra it is pretty consistently on style under the guiding intelligences of Paul Bateman and Nic Raine.

Reviewer

Rob Barnett

Rob Barnett

See also Paul Tonks review

MAJOR FILM CREDITS INCLUDE (list courtesy of Silva Screen):

1959 - BEAT GIRL (U.S. WILD FOR KICKS)

1960 - NEVER LET GO

1962 - DR.NO

THE AMOROUS PRAWN

(U.S. THE PLAY GIRL & THE WAR MINISTER)

THE L - SHAPED ROOM

1963 - FROM RUSSIA WITH LOVE

ELIZABETH TAYLOR IN LONDON

1964 - ZULU

SEANCE ON A WEST AFTERNOON

MAN IN THE MIDDLE

GOLDFINGER

1965 - THE IPCRESS FILE

MISTER MOSES

KING RAT

THE KNACK

FOUR IN THE MORNING

THUNDERBALL

SOPHIA LOREN IN ROME

1966 - THE WRONG BOX

THE CHASE

BORN FREE

THE QUILLER MEMORANDUM

1967 - YOU ONLY LIVE TWICE

DUTCHMAN

THE WHISPERERS

1968 - DEADFALL

PETULIA

BOOM

THE LION IN WINTER

1969 - ON HER MAJESTY'S SECRET SERVICE

THE APPOINTMENT

MIDNIGHT COWBOY

1970 - MURPHY'S WAR

WALKABOUT

1971 - DIAMONDS ARE FOREVER

FOLLOW ME (U.S. THE PUBLIC EYE)

MARY QUEEN OF SCOTS

THEY MIGHT BE GIANTS

1972 - ALICE'S ADVENTURES IN WONDERLAND

1973 - A DOLL'S HOUSE

LOVE AMONG THE RUINS

THE GLASS MENAGERIE

1974 - THE DOVE

THE MAN WITH THE GOLDEN GUN

THE TAMARIND SEED

DAY OF THE LOCUST

1976 - ROBIN AND MARIAN

KING KONG

ELEANOR AND FRANKLIN

THE DEEP

1977 - THE BETSY

THE WHITE HOUSE YEARS

1977 - WAR BETWEEN THE TATES

THE GATHERING

YOUNG JOE - THE

FORGOTTEN KENNEDY

1978 - GAME OF DEATH

STARCRASH

THE CORN IS GREEN

1979 - HANOVER STREET

MOONRAKER

THE BLACK HOLE

NIGHT GAMES

WILLA

1980 - TOUCHED BY LOVE

SOMEWHERE IN TIME

INSIDE MOVES

RAISE THE TiTANIC

1981 - LEGEND OF THE LONE RANGER

BODY HEAT

1982 - HAMMETT

FRANCES

SVENGALI

1983 - HIGH ROAD TO CHINA

THE GOLDEN SEAL

OCTOPUSSY

MIKE'S MURDER

1984 - UNTIL SEPTEMBER

THE COTTON CLUB

1985 - A VIEW TO A KILL

JAGGED EDGE

1986 - OUT OF AFRICA

MY SISTER'S KEEPER

THE LAST VALLEY

PEGGY SUE GOT MARRIED

HOWARD THE DUCK

THE GOLDEN CHILD

1987 - THE LIVING DAYLIGHTS

HEARTS OF FIRE

1988 - MASQUERADE

1990 - DANCES WITH WOLVES

1992 - RUBY CAIRO

CHAPLIN

1993 - INDECENT PROPOSAL

MY LIFE

1994 - THE SPECIALIST

1995 - THE SCARLET LETTER

ACROSS THE SEA OF TIME

CRY THE BELOVED COUNTRY

1997 - SWEPT FROM THE SEA (aka AMY FOSTER)

1998 - MERCURY RISING

1999 - PLAYING BY HEART

THE WHITE BUFFALO

See also Paul Tonks review

---
© Film Music on the Web 1999. All rights retained. Reviewers retain copyright on their reviews.

COMPETITION WIN a CD of your Choice

---

Search the Crotchet database from here
Discs on these pages are offered for sale. There is also a page of search engines from a selection of on-line retailers here.
Please support this web-site by buying your discs here.
Disclaimer: Every effort is made to make sales links to the correct disc but, in the end, you must take responsibility for checking that what you are purchasing is what you want.
Some of these discs were not actually available for sale at the time of posting but a link has been made in anticipation of their forthcoming availablility.
Return to

Film Music on the Web
e-mail Len Mullenger len@musicweb.force9.co.uk
---