Music Webmaster Len Mullenger

---

FILM MUSIC RECORDINGS REVIEWS

---

May 1999 Film Music CD Reviews
---
For those wishing to print these reviews without graphics there are scrolling copies available

© Film Music on the Web 1999. All rights retained. Reviewers retain copyright on their reviews. Disclaimer

COMPETITION WIN a CD of your Choice

---
**************************************************************

EDITOR'S CHOICE – CD of the Month May 1999

**************************************************************
---
Collection: STRANGELOVE – Music for the films of Stanley Kubrick SILVA SCREEN FILMCD 303 [78:01]
RICHARD STRAUSS 2001 - A Space Odyssey JOHANN STRAUSS II Beautiful Blue Danube ALEX NORTH Spartacus - Main title BEETHOVEN Ode to Joy (synthesised) TRADITIONAL Barry Lyndon: Women of Ireland; HANDEL Sarabande ABIGAIL MEAD Full Metal Jacket: Themes; FRAZIER/WHITE/WILSON/HARRIS Surfin Bird GERALD FRIED: suite from early films: The Killing main title and robbery; Killer's Kiss; Fear and Desire Meditation on War, Madness; Paths of Glory - patrol; Day of the Fight - march; WENDY CARLOS The Shining: Theme Midnight the stars and you BOB HARRIS Lolita Love theme LAURIE JOHNSON Dr Strangelove - Bomb Run; PARKER/CHARLES We'll Meet Again
This album had been in production over the last two years and so what had been planned as a celebration of the films of Stanley Kubrick has now, sadly, become a memorial. But what a splendid production it is! It spans all the master's films and takes in many different musical styles to comprise a very satisfying musical experience. It commences with a robust floor-board quaking reading of the opening of Richard Strauss's Also Sprach Zarathustra used to such great effect for the opening sequence of 2001: A Space Odyssey. I must say that I have always felt that Kubrick was right to ditch Alex North's not-too-inspired music in favour of source material from the classics. Later on in the album we also hear Johann Strauss's The Blue Danube which once again was such an apt choice for the space station sequences. The final two selections in this album represent another inspired bit of album programming. Both are deeply ironic cues, considering the release of the doomsday machine at the end of Dr Strangelove: 'The Bomb Run' based on 'When Johnny Comes Marching Home'; and Vera Lynn singing her World War II hit, 'We'll Meet Again'

Following the opening selection, Also Sprach…, we have a wonderfully chilling reading of Alex North's increasingly dissonant and brutal Main Title music from Spartacus, followed by an equally crushing and jaunty synth version of Beethoven's 'Ode to Joy' finale from the Choral Symphony as used in A Clockwork Orange. The beautiful cinemaphotography of Barry Lyndon was a vital part of its success, particularly the early scenes in Ireland when Barry looses his innocence and his fortune. From the film the traditional Irish air, 'Women of Ireland' is given a magical rendition while the percussion part of Handel's Sarabande is heavily emphasised to underline Lyndon's growing insensitivity and cruelty. Abigail Mead's brutal and barbaric themes for Full Metal Jacket are heavily accented towards snare drums, bass drum and heavy synth percussion (with synths cleverly lampooning the in-training soldiers chants as they run-march).

Wendy Carlos and Rachel Elkind supply some wonderfully synth grisly, ghostly figures (much more interesting and imaginative than the norm) entwined with a distorted Die Irae for The Shining. The other excerpt from this Jack Nicolson chiller is source music: 'Midnight, the Stars and You' with the Ray Noble Band and Al Bowly used to underscore the 1920s party in the haunted hotel. A warmer but slightly edgy 'Love Theme' for Lolita by Bob Harris, looks back to the sort of surging late romantic music one associates with Rachmaninov.

A major highlight of the album is a very impressive six-movement suite of music by Gerald Fried who scored Kubrick's earlier films. The compelling, obsessive Main Title music from The Robbery opens the suite followed by the mix of swirling and staccato robbery music. Punctuated by rasping and sardonically commenting brass, it grows in intensity when the tension mounts as things start to go badly wrong. Killer's Kiss has an extraordinarily sinister march with glissandos that sound like fingernails dragging screeching, down glass together with bitterly neighing brass – an amazing creation. Fear and Desire is represented by two tracks: 'A Meditation on War', a sad, demented visualisation, and 'Madness' in which the revulsion is further developed with a demonic Stravinsky-like (L' histoire du soldat) violin solo. Paths of Glory is represented by 'The Patrol', a cold, grotesque, merciless, completely percussion-orientated cue ending in a crushing tam-tam crash. Finally, we are reminded of barbaric Roman splendours and gladiatorial combat in March of the Gloved Gladiators from Day of the Fight.

A splendid collection – one of Silva's best - with The City of Prague Philharmonic on top form, captured in stunning sound.

Reviewer

Ian Lace

Rob Barnett says :-
This is a treasury album packed with a rewarding and often surprising selection of music. Represented here are both aspects of Kubrick's attitude to scores for the big screen. He had a place for both original scores and his own discriminating selection of classical music. 2001 is an example of an instance where his first choice of an original score commissioned from Alex North (since recorded) was discarded and in its place substituted a very famous selection of classical pieces which sold the LP in tens of thousands and which arguably pushed Richard Strauss back out into the popular spotlight. As for Johann Strauss I wonder how many people were introduced to The Blue Danube by the film and the space-station ballet enacted against the background of Strauss's music.
The CD mixes original tracks licensed from others with re-recordings by the Prague orchestra. The licensed tracks include popular tracks: Vera Lynn in We'll Meet Again (well known in the UK but used with devastating effect to point up that no-one would be meeting again at the end of Dr Strangelove), Ray Noble (suavely crooning) etc in Midnight The Stars and You and Surfin Bird (Full Metal Jacket) raucously scatty.
Electronics also played a part in Kubrick's scores. The Beethoven Ode to Joy from A Clockwork Orange synthesised Beethoven in a way entirely appropriate to the sadly desolate landscape of the film. Abigail Mead's themes from Full Metal Jacket are janglingly effective in much the same way as Wendy Carlos's electronic score from The Shining.
Alex North's whooping scarifying brass romp and shout across the epic landscape of Spartacus's main titles. The war cries alternate with a Shostakovichian (Leningrad) march all quiet, purposeful and full of bitter menace. This is a truly glorious track.
This disc surprised me by reintroducing me to a piece of music which I heard many years ago and by which I was completely enthralled. This I the traditional tune Women of Ireland from the film Barry Lyndon. It is given the full symphonic treatment unlike the Chieftains track by which I first came to know the piece. It is however done with restraint and taste and the tune emerges in full tear-stained flight though not at all mawkish. You might have feared that the tune would be stifled by the full orchestra - on the contrary it spreads its wings wide and deep! When the full orchestra enters you are taken to the very borders of Richard Rodney Bennett's Dorset (Far From the Madding Crowd) or at least reminded that the Irish counties gave something to Dorset or that Dorset gave something to them.
Then comes six tracks of music from Kubrick's collaborations with composer Gerald fried whose notes about the recording session are included in the 12 page booklet. The brusquely energetic titles for The Killing contend competitively with Rózsa for the laurels for film noir music. Eerily high violins and squat brass serenade each other discordantly in a celebration of menace (Killer's Kiss). Fried wrings threat from battlefield fanfares in Fear and Desire. Bats fly out from the eye-sockets of the death's head in Madness from the same film. The Patrol from Paths of Glory is a tension-filled tone poem for percussion alone - an orchestration decision taken from choice not budgetary necessity. The suite ends in shabby sardonic bombast with March of the Gloved Gladiators.
Bob Harris's music for Lolita is a slightly 'gloopy' film piano concerto which might well have found a comfortable place amidst Naxos's fine 1998 collection of film piano concertos. Laurie Johnson suitably hollow victory march Bomb Run from Dr Strangelove. This deploys Johnny Comes Marching Home - and of course he doesn't!
Fine notes from David Wishart although I wish someone would ask me to proof read them to pick up a small scattering of typos.
No complaints about short playing time on this single CD volume! This is a very fine volume and should attract music lovers of all types.
Reviewer
Rob Barnett
Paul Tonks says :-

Hopefully there's no need to point out that this isn't a tasteless marketing exercise. What it is however, is an intriguing showcase of just how fussy the late Kubrick was. Collected together this way it really goes to show what eclectic tastes he had, and knowing even a little of how adamant he always was about his own choices really makes this a curiosity to have.

Some pretty obvious inclusions are here: Strauss' "Also Sprach Zarathustra" and "On The Blue Danube" from 2001, "We'll Meet Again" from Dr Strangelove, and Beethovens' "Ode To Joy" from A Clockwork Orange. It's great to see Silva throwing the classics about, but the other fun precedent is the use of song. Licensing the likes of The Thrashmen's "Surfin' Bird" from Full Metal Jacket and "Midnight, The Stars, and You" from The Shining are an indication that the Silva compilations may be about to take an even more diverse turn - which will open all sorts of doors for them.

The CD's 'middle' section is probably of most interest to collectors. Gerald Fried collaborated on the inclusion of a suite from 5 of the early films Kubrick kick-started his career with. It has to be said that The Killing and Paths of Glory are classics that predictably stand out, but Killer's Kiss is surprisingly eerie in places. Sandwiched as it is however between dramatic highs, the 'suite' is a little turgid and mis-matched to consider a successful whole.

There's something there that translates to the disc as a whole. It comes down to which side of the fence you stand upon one particular point - does Kubrick's diversity play well to the ear ? Can you admire that diversity for what it is, or is it all too much of a throw-together ?

Personally I have nearly always appreciated abrupt changes in style on disc. Sometimes the sequencing can work wonders with such changes. I think the transition from Mark Ayres' electronic noodling with A Clockwork Orange to the gorgeous solo fiddle of "Women of Ireland" from Barry Lyndon is delightful. To me it's perhaps a little tongue-in-cheek to make that jump, but the real point is the director's insatiable desire never to repeat himself.

To which end you can expect this album to be a complete one-off. Don't listen with your ears wide shut.

Reviewer

Paul Tonks

---
**************************************************************

EDITOR'S CHOICE (Historical) May 1999

**************************************************************
TOSCHA SEIDEL – the RCA Victor Recordings and FRANCK Sonata in A Erich Wolfgang KORNGOLD Much Ado About Nothing Suite Dimitri TIOMKIN arrangements of Strauss Waltzes plus music by Mozart; Wagner and Brahms etc. Erich Wolfgang Korngold (piano); Toscha Seidel (violin) and other artists BIDDULPH LAB 138 [73:31]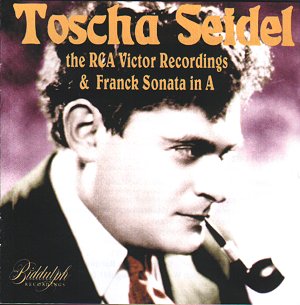 Korngold, himself, at the piano playing his own Much Ado About Nothing Suite, in collaboration with the renowned viloinist Toscha Seidel, is the highlight of this wonderful album. This twelve-minute, or so, Much Ado… Suite consists of four movements. There are the lovely romantic 'Bridal Morning', and 'Intermezzo (Garden Scene)' movements with their beguiling melodies. Dogberry and Verges (March of the Watch) anticipates the jolly bombast of the Sherwood Forest music from The Adventures of Robin Hood; and the suite concludes with the merry Masquerade (Hornpipe). Sheer magic.

Toscha Seidel was born in Odessa in 1899. He settled in California in the 1930s and made his career in Hollywood. He led the MGM studio orchestra for many years and featured in the soundtrack for the Ingrid Bergman and Leslie Howard film, Intermezzo. Provost's Intermezzo (one of those tunes we all know but cannot put a name to) was the film's title track and it is included in this collection.

Seidel had studied with Max Fiedelmann before joining Leopold Auer's violin class at the St Petersburg Conservatory. Jascha Heifetz, already in Auer's class, had been dubbed the "Angel of the violin" but Toscha Seidel was soon to be called "Devil of the Violin" due to his intensely vibrant sound and impassioned style – ideal for the world of film music.

Film music connections are prevalent throughout this collection. Bakaleinikoff's Brahmsiana concoction was performed in the RKO film Melody for Three. But the other highlight on this disc has to be the sparkling arrangements by Dimitri Tiomkin (with words by Oscar Hammerstein II) of three Strauss Waltzes featured in The Great Waltz, MGM's 1938 biopic of Johann Strauss Jnr. Here Seidel accompanies the glamorous coloratura soprano, Miliza Korjus.

These recordings vividly capture Seidel's glorious tone and reveal a mastery of the instrument and sensitive musicality. There are his amazing trills in the Mozart Minuet in D, for instance, and his ravishing reading (with pianist Harry Kaufmann) of Cesar Franck's Violin Sonata in A. This is a complete performance and it is the most substantial work in this generously filled compilation. It was recorded in the early 1950s for Impressario Records).

Seidel may be little remembered today but in the period before the Second World War he was regarded as one of the most gifted violinists of his day. George Gershwin immortalised him as one of the four brilliant 'oriental' fiddlers in the Gershwin song "Mischa, Jascha, Toscha, Sascha. "

This is an album to treasure.

Reviewer

Ian Lace

---
**************************************************************

EDITOR's Recommendation

**************************************************************
WOODY ALLEN – standup comic RHINO R2 75721 [76:03]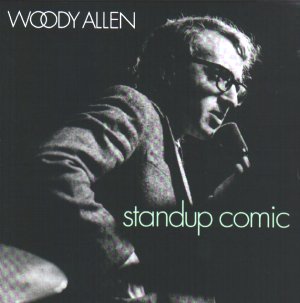 This is the album Woody Allen fans have been clambering for! Originally issued on vinyl by Casablanca Records in 1979, Standup Comic is available on CD for the first time.

The 25 tracks here – Allen's only recordings as a standup comedian are taken from three live performances recorded in 1964, 1965 and 1968. Woody was then honing the persona that would bring him world fame through his films. Standup Comic, like his later films, is frequently autobiographical, touching upon such themes as sexual neuroses, disfunctional families and life in New York that were portrayed so memorably in films like Annie Hall and Manhattan.

A few examples of Woody's inspired humour:-

"I was breast-fed from falsies – I was scarred emotionally!"

"My Rabbi became a TV personality…he tried to name the Ten Commandments but ended up naming the Seven Dwarfs."

"I cannot tolerate alcohol. Once, after two martinis, I tried to hijack an elevator and fly it to Cuba!"

"My sunlamp rains on me and my clock goes backwards."

"I had a really deep cavity in a tooth – my dentist sent me to a chiropodist!"

"I am always polite and non-combative. A guy hit my fender. I said to him 'Be fruitful and multiply' - but not in those words."

On income tax – "I tried to put my analyst down as a business expense but the government said it was entertainment so we compromised on it as a religious contribution."

"My grandfather was very reserved. His hearse followed all the other cars"

"I was kidnapped. When the news reached home, they let my room. The kidnappers told my father they wanted $1,000 in a hole in a tree; the $1000 was OK but he got a hernia carrying the tree."

"I played softball for neurotics – bed-wetters vs naiI-biters"

Much of the material is inspired, particularly the saga of the moose. Woody shoots and thinks he kills it, straps it to his fender and ends up taking it to a fancy dress party where it is miffed when a couple dressed as a moose wins!

I will confess to being an incurable Woody Allen fan, hence the top marks

Reviewer

Ian Lace

---
André PREVIN A Streetcar Named Desire - An opera based on the play by Tennessee Williams Renée Fleming; Elizabeth Futral; Rodney Gilfrey; Anthony Dean Giffey San Francisco Opera conducted by André Previn DG 459 366-2 [161:53]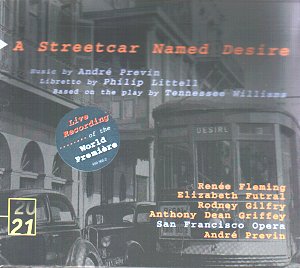 Elia Kazan' film version of Tennessee William's play, A Streetcar Named Desire, was made in 1951. It captured Oscars for Vivien Leigh (Blanche) Kim Hunter (Stella) and Karl Malden (Mitch) and Oscar nominations for Tennessee Williams, himself as screenplay writer; director Kazan; and Marlon Brando (Stanley); and, of course, Alex North. Alex North's ground-breaking, jazz-based score is justly celebrated. Therefore, with André Previn's considerable experience of film music (he worked on more than 40 films between 1949 and 1973), this recording is of considerable interest to the serious student of film music. Commissioned by and for the San Francisco Opera, this is Previn's first opera. He has, however, accumulated considerable experience in writing music for the stage. In 1969, he wrote Coco – a musical for Broadway and, in 1974, another musical for the London stage, The Good Companions. He also wrote, in collaboration with Tom Stoppard, Every Good Boy Deserves Favor, a work for actors and orchestra that was premiered by the Royal Shakespeare Company and the London Symphony Orchestra in 1976. [Many film enthusiasts will recall that Claire Bloom made a memorable Blanche on the London stage.]
Previn's music is essentially more 'classical' than the score composed by Alex North but the jazz influences are nonetheless very apparent in creating the necessary atmosphere of hopeless degradation and sleazy madness. Previn says: "Everyone knows that I've played a lot of jazz in my lifetime, so people are bound to say that there is a jazz influence in the harmonies or the rhythmic patterns. I like to quote Aaron Copland who replied to questions about jazz in his work by saying, 'I didn't grow up in a vacuum.' I did not set out to write a jazz-influenced score, but I didn't set out not to do so either." Previn commented that he also decided to stick closely to the speech patterns. Many singers have noted the musicality of Tennessee Williams's writing.

The opera is, of course, dominated from the start by the character of Blanche DuBois, and Renée Fleming is very compelling. At the start of the opera, she arrives in New Orleans to stay with her younger sister, Stella, who lives in a cramped apartment with her brutal husband Stanley Kowalski (made famous by the moody magnificent Brando). Blanche berates Stella for living in such squalor, graphically portrayed in the orchestra. Later, putting on her airs and graces, Blanche sings of her former genteel existence that has been shattered by impoverishment caused by relations dying and leaving nothing. Previn's sleazy jazz figures and almost ghoulish accompaniment tells us a different story, however, one of depravity, sex and booze, that becomes only too clear in Act III. As Blanche gazes at herself in the mirror, Previn allows her some sympathy and pathos. When, in Act II, she sings 'Soft people have got to shimmer and glow', he protects her with soft-focus music that is almost Delius-like, warm and impressionistic, before a few intrusive concluding bars remind us of Blanche's self-delusion. Later in the same Act, as Blanche recalls the tragedy of her first love and marriage to a homosexual who later shot himself, the music becomes increasingly hysterical distorted and grotesque. Blanche only feels secure in her dream world as she tells Mitch in her ACT III aria "Real! Who wants real?…I want magic!" As Previn says, "This aria is sultry and torpid and you can feel the heat and humidity, as well as understand Blanche's desperation and her special grace." In Act III after Stanley has raped her, off-stage, to a most gritty, evocative, three-minute Interlude, Blanche descends into madness. Her final, poignant aria 'I can smell the sea air' is very moving, as is her last line as she is led away by the doctor, 'Whoever you are, I have always depended on the kindness of strangers.'

Rodney Gilfrey as Stanley cannot displace the Brando image, but that is not to say that Gilfrey fails to convey the complexities of his character: ignorant, insensitive and brutal but also tender and vulnerable. The scene in which he opens Stella's eyes to Blanche's delusions as he ransacks Blanache's trunk is sardonic and vicious enough he makes the Act III denouement with Blanche before he rapes her quite riveting. Anthony Dean Griffey is a sensitive Mitch, mother's boy and too weak to make a satisfactory saviour for Blanche. His Act II aria, 'I'm not a boy…' shows us his humble humanity but also his own romantic self-delusion. Self-delusion is a character trait that is shared by the otherwise sensible Stella, splendidly portrayed by Elizabeth Futral. Stella can forgive the beating that Stanley has inflicted on her and cradle him like a lost child afterwards when he has sobered sufficiently to be remorseful.

'Not a brilliant success, the unrelenting decadent harrowing story and theme tend to grind the production down, but it is certainly a most dramatic and intensely musical experience.

Reviewer

Ian Lace

---

Jerry GOLDSMITH Patton Frank DeVoL The Flight of the Phoenix Film Score Monthly SILVER AGE CLASSICS FSM Vol 2 No 2 [76:17]
This is another of Film Score Monthly's invaluable restorations from the Silver Age (the 1960s and 1970s).

There are three recordings of Jerry Goldsmith conducting his Patton score, including his 1997 Varèse Sarabande album; but, for me, this has to be the best; it has bite and immediacy. Unlike the new VS recording, this wonderfully refurbished OST recording (on CD for the first time), features the original echoplex trumpet sessions meticulously overlaid into the brilliant studio performance as heard in the film.

The album contains 15 memorable tracks from the 1970 film – most of them dominated by Goldsmith's famous echoed trumpet triplet theme. The Main Title music played over an empty battle field introduces this theme with flutes percussion and a sickening-sounding growling figure for brass as we see vultures devouring the bodies of dead soldiers. In cue two, 'The Battle Ground', as Patton pauses to reflect on battles over 1,000 years ago (he was intensely religious and believed in reincarnation). We hear eerie glissandi effects with organ underpinings. The material develops into religious music very much in the Gregorian mode. (I immediately associated this music with Respighi; and imagery of not only the church but also Rome and its historic splendours – all very apposite to the screenplay and a tribute to the skills of Goldsmith). This richness and complexity of texture is maintained throughout the score making us see the paradoxes of war, the glory the pity and the horror. The famous Hospital sequence, where Patton abuses a shell-shocked soldier thinking him to be a coward, draws music of such complexity - sympathy mixed with misplaced brutality. Goldsmith's music carries us forward through Patton's desert campaign, through to his push towards Berlin. Contrasting the exhilaration of victory, is the more dissonant music of the German successes in their winter offensive. The rousing Patton March that made up the interval music is also included.

Frank DeVol's score for The Flight of the Phoenix (1965) while not as memorable as Patton, is interesting enough. It is romantic and dramatic and particularly strong on characterisation – very important in a film where clashes of temperament in a hostile environment is a key element in the screenplay. There is poignancy too in a well-judged inclusion of source music – Connie Francis singing Senza Fine which is heard over the radio by the mortally wounded Gabriela and the occupants of the wrecked aircraft that has come down in the Sahara. Another highlight is the tension-filled music DeVol creates for the preparations for flight and the take-off of the Phoenix built from the wreckage of the downed plane.

As usual Jeff Bond contributes full articulate track-by-track notes with observations about the films and the composers. There are also many film stills in the 16 page booklet

Reviewer

Ian Lace

---
Dominic MULDOWNEY Nineteen Eighty-Four (1984) OST AIRSTRIP ONE AOD 1984 [54:31]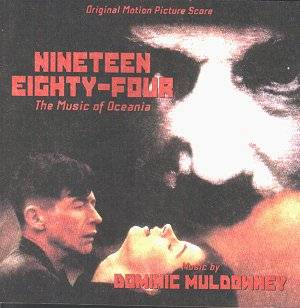 This is an intriguing album. It brings us another score in the annals of those written and never used. The birth and incredible expansion of the CD catalogue has brought us recordings of discarded scores by Schurmann (The Gambler), Walton (Battle of Britain) and many others. Clearly, a deal of pain hides behind the liner notes from producer Michael Radford. The end-result was that much of Muldowney's score was not used and in its place there were songs by Eurhythmics.

Muldowney is a leading name in the classical music field and may be unfamiliar to followers of film music. He is a British composer born in Southampton in 1952. He was music director for the National theatre and there composed eighty scores. His film music credits include Betrayal (1982) and Ploughman's Lunch (1983). For TV there are scores for six seasons of the Sharpe series (excellent music), Emma (1997) and King Lear (1998). His concert music includes concertos for violin and saxophone.

The present score was written in 1984. The overblown patriotism is extremely well portrayed by Muldowney. The aria Oceania 'Tis For Thee and Hiking Song (all words are reproduced in the booklet) is a hymn to the state's glory and victory. Like much else including some grandiloquent marches it is done with conviction but not so much that you lose the message that this music represents an oppressive regime in bloated celebration. I thought a little of Salammbo's aria (Bernard Herrmann - Citizen Kane) when hearing the Oceania song. Haunting desolation stalks many of the pages of this score although more human and 'man-sized' music is evident from the sections where Winston Smith is in the 'underworld' inhabited by the proles. In summary then the style is melodic and approachable with a political overlay and … well … if you warm to the occasionally Stalinistic bombast don't reproach yourself too much. Ultimately the score suggests tired but strangely satisfying resignation; not at all out of keeping with Winston's state of mind at the end of the book. His world view has changed.

There are excellent notes (English only) spanning 12 pages. Plenty of stills, posters, pre-production drawings and all presented on tastefully done matte paper. Full technical information is given and it is good to see there the name of John Harle (solo saxophone).

Recommended.

Reviewer

Rob Barnett

---
Craig ARMSTRONG Plunkett & Maclean OST Virgin 7243 8 47350 29 [50:46]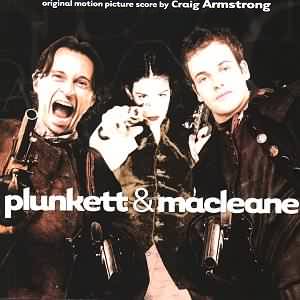 This is an extraordinary score: a heady mix of choral and orchestral baroque pastiche, heavy rock and synth styles. It begins unusually with the cue Hymn which is self-explanatory and devoted to a cappella choral singing. From heaven we descend to the opposite extreme for the following colourful, kaleidoscopic cue 'unseen' full of subterranean growling from synths and cellos and basses, drowning out the choir. At one point in this cue a persistent cantering rhythm from some electronic source seems to suggest a whinnying cantering horse. The orchestral music is mostly led by the lower strings moving forward slowly with a melancholic tread underpinning the choir singing in Requiem Mass mode. Two cues named 'Ruby' and 'Rebecca' introduce warmer more lyrical and romantic material, the latter with piano. 'Rochester' is something of a pastiche of classical Baroque orchestral forms. 'Robbery' brings a startling contrast for the instrumentation is Indian and Far Eastern – exotic and eerie with a large array of percussion instruments plonking over creepy strings; it works surprisingly well. The sounds of the Age of Enlightenment soon give way to the head-bashing modern day rock music for 'Ball' – too long this track by half. 'Chance' brings electronic hokum with synthesised choir sounding distorted and ghostly; I was reminded of the modern choral music Kubrick used for 2001: A Space Odyssey.

'Business' is really three variations on baroque rock. In 'Love declared' the choir is upbeat and triumphant. The jubilation is continued in 'hanged' but the accompaniment is given over to the rock band in 'escape'. But it is the track 'resolutions' which stuns. It is as though the choir has been cast down into some deep pit in which their singing sounds muffled and echoing. Simultaneously one might imagine an iron grid roofing with a metal ball bouncing over it overwhelmed by a morass of eerie evil sounds. The album ends with as song that suggests ghostly unrest over 1,000 years and the final cue 'childhood' brings some sort of peace and serenity.

Extraordinary, adventurous and well worth trying – as for repeated listening value, that's up to the listener but for me it would be somewhat limited.

Reviewer

Ian Lace

---
David NEWMAN Critters Conducted by David Newman INTRADA MAF-7044 [47:33]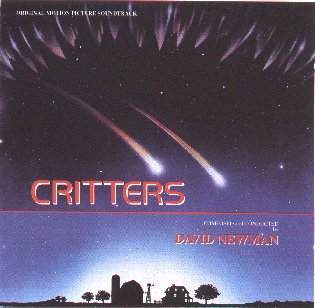 Essentially over-sized, cackling, drooling, extra-terrestrial hedgehogs with pug faces, the title... umm... critters (called 'Crites' in the film) are positively disgusting enough to warrant a series of films chronicling their destruction. That some may say the film series itself is only slightly less vile is another matter, though I will suggest that should a "Critters 5" ever appear, it absolutely must contain footage of the Crites consuming select rolls of film from earlier instalments.

The original film, like the others, made me wonder whether the composer saw

it as so basic as to be a breeze to score, or so uninspiring as to be difficult... "Critters" features a soundtrack by David Newman (son of Alfred, nephew of Lionel & Emil, brother to Thomas & Maria, and cousin to Randy) that appears to be a compromise; Mr. Newman made the score as serious as the movie would allow.

The soundtrack opens with an electronic soundscape not too dissimilar to the opening of Jerry Goldsmith's "Legend" (which came the year before). This general effect repeats, now with orchestra, throughout virtually the entire score as serial music mixed with a slightly Herrmann-esque motif lays stress on the carnivorous little monsters and their fatal lack of table manners. A basic rising, vaguely heroic motif, sounded most often in the brass, represents the somewhat bumbling bounty hunters from outer-space who seek to destroy the venomous creatures. The location of a mid-western town called Grover's Bend and the presence of a simple, likable farming family inspired Newman to write the lightest idea presented on the soundtrack, a deftly refined theme in Americana style that frames the silly carnage.

A side note: The end credit music by David Newman and John Vigran is but a

small cut above the typical '80s fare, with hokey drum machine and synthesizers blaring. I nevertheless caught myself in the disturbing (to me, anyway) position of enjoying it in spite of myself. Maybe I am slipping.

There is little here that would set the world alight, but although not a film music masterpiece, David Newman's score is okay for a small budget film and, as I discover as I play it again while writing this review, useful as background music. That is part of what it is all about.

Reviewer

Jeffrey Wheeler

---
Nicholas PIKE Critters 2: The Main Course Conducted by Nicholas Pike INTRADA MAF-7045 [47:33]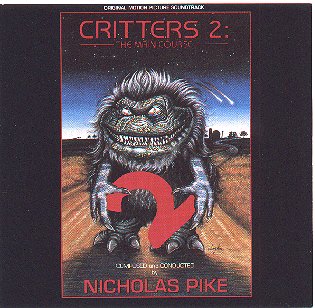 Not quite as cerebral as David Newman's score to the original, but far more entertaining. Whereas Newman opted for a strict approach, Nicholas Pike goes

full out for an easily accessible, jocose, melodic score that is simply and properly enjoyable to listen to. Think of Jerry Goldsmith's scores for Joe Dante's films and you get the idea.

It is almost certainly the best score to a "Critters" movie. It delves neither too far into synthesized effects nor dull, cliché horrors, but accentuates the film's streak of sick humor and wide-eyed worldview. Consider the scoring of an Easter Sunday in which the Crites ferociously encounter a guy in a rabbit costume (track titled 'Bunny Attack'). Yes, folks, the Critters kill the Easter Bunny, and Pike chooses to score the

scene with a bouncy sort of chaos that seems to cluelessly cry, "Oh, how unexpected!" Other action scenes include a variation on the traditional Dies Irae that makes the resemblance to John Williams' "Close Encounters of the Third Kind" less distasteful than divertingly ironic. The Crite theme is evidently a hyperactive parody of Newman's original!

Then there is the new theme for Grover's Bend, a shamelessly Aaron Copland-esque airy melody to inspire visions of trees and crops waving in the wind. The bounty hunters from the first film return with an even more directionally confused theme, conceivably alluding to the bounty hunter with an identity crisis. And the action music is typically direct -- 'Setting the Trap' for example -- but some of the action scoring has that Copland flavor to it, bringing to mind "Billy the Kid" and "Rodeo" (particularly the cue 'Night').

The liner notes (by the composer) mention that the score won 'Best Music' at the Spanish festival for 'fantasy cinema.' It sounds as though it probably deserved it. There is little here that would set the world alight, but although not a film music masterpiece, Nicholas Pike's score is atypically fantastic for a small budget film...

Reviewer

Jeffrey Wheeler.

---
Ray COLCORD Paper Brigade OST CITADEL STC 77122 [47:20]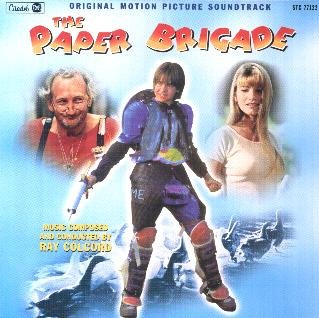 There is so much enthusiastic energy in this musical three quarters of an hour, that there's no mistaking it for a happy-go-lucky kids movie. "Into the Trap" opens the disc and puts an educated listener in a quandary as to whether John Williams or Elmer Bernstein is the intended referential style. You know you're in safe territory assuming quotes and homages are intended since there are so many incorporated source themes later on (count them off in "Final Battle"). If you're familiar with Robert Folk's Toy Soldiers, that ought to put you in mind of the universe this film and score occupies.

Snare drums constantly inform of the pseudo-militaristic aspect of the boys' grouping and adventures. "Operation H.A.D." starts on fluttering flutes, but soon bursts into the enjoyable dramatic edge perpetuated throughout most tracks. Concord hasn't been afraid to embellish the orchestra either. There are lots of subtle electronic touches (a tinkling sound featuring on many cues), as well as funky riffs from acoustic and electric guitar (both "The Rookie" and "Ping Pong and Walkies" are very groovy !).

Another easy way to describe the picture painted by the music is of the classic cartoon. You can 'see' that the music is following very specifically timed comedic action. That said, there are thankfully some unexpected interludes. "First Morning" is almost funereal in being sombre with an effective time-marking metallic clang, before shocking with a Psycho shower murder pastiche.

It's just an enormous amount of fun that gets a hearty recommendation.

Reviewer

Paul Tonks

---
Christopher YOUNG Urban Legend

Promo CD96008 [45:13]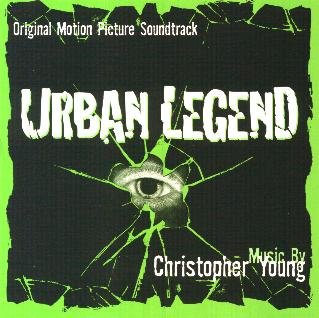 I have to confess to not 'getting' the adulation for this score - although I like it very much. My problem is that the pop-culture teen slasher creation / revival seems to demand a clone score to match each new clone entry. After the Scream movies, the Last Summer movies, and H20, there is quite obviously a sound studios want emulated - Marco Beltrami's. Right from the start that's pretty much what I hear in Urban Legend. The familiar strains of Beltrami's other scores (including Mimic) are spot on for the movie of course. Yet if you're at all familiar with the music from those others it's a huge distraction. H20 suffered from this enormously on screen. Studios just don't seem to have realised.

This promo disc shows the score to have legs beyond its limited screen pairing. Its real highlight being the lullaby performed by a breathy sighing female chorus in the initial cue and "The Lucky One". Here there's more of the Young of horror days gone by. As soon as cue 2 ("Sexual Ax") explodes though, it's an all-too familiar ride.

I really want to say this is a great score in isolation. From Young it's an extended voice that is of interest in itself. As someone closely appreciative of its predecessors however, I'm just reserved for the sake of saving others from the pangs of deja vu.

Reviewer

Paul Tonks

---
John OTTMAN Apt Pupil RCA Victor 09026-63319-2 [45:20]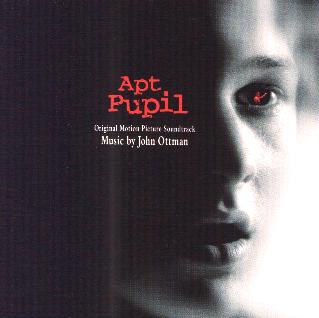 Surprise extras are always a treat. Your first is the brief but neat "Phoenix Pictures Presents" logo jingle. Then in closing you get Liane & The Boheme Bar Trio crooning the highly appropriate "Das Ist Berlin". In-between comes a score recorded in October of '97, and which has sat awaiting distribution interminably since then. Thank goodness the wait is over.

Apt Pupil is the second big screen between Ottman (as composer and editor) for director Bryan Singer. Their other was the masterful The Usual Suspects. Everyone on the planet will be making that same connection in any analysis, but what occurred to me was how musically the opening of both films share some commonality as well. Cyclic harp motif, and then a string bridge into a very lush wash of sound. A solo violin plays with piano. Am I making this up ? Suspects' title theme is almost concert piece in its development however, so there the similarities (if any) end. Pupil follows a small wild ride from the lush beginnings into dangerous undertones that speak of the McKellan character's Nazi background.

The body of the score is largely divisible into two distinct styles. The first and more accessible stems from the innocent theme introduced in the "Main Titles". It often begins by violin solo before moving into full orchestral splendour ("I want to hear about it"). Style Number Two would be the crashing walls of sound effects generated by innovative use of the orchestra. "The Chamber" stabs with some enormous hits of atonality and dissonance. Here we are simply following the trademark shocks of author Stephen King which always translate into gory spectacle on film. Since this was penned under his Richard Bachman pseudonym, it is actually a little more of a cerebral affair than his other popcorn reads. Singer optioned the script looking to get into the morality clashes brought up by a teen fascinated with war atrocities. So the echoing bombast in many of these cues is not merely 'hitting' shots of the 'sudden corpse' tradition. There is an entire subtext of sanity and psychological horror that it represents.

Be prepared for one seemingly out-of-place surprise. "Cat Bake" features the almost Carry On movie school of comical scoring with an extract from a Larry Groupe piece - "Cat Dance". Without spoiling the effect too much, if you consider this cue's title and thereby ascertain what' happening on screen you can see that every attempt is made to curtail musical expectations here. That is the score's success story. The album might leave you a little cold if you don't have the film in mind to recall. For the first grouped style of innocence it is definitely worth any secondary chill however.

Reviewer

Paul Tonks

---

Mark ISHAM At First Sight OST MILAN 65510-2 [49:34]
At First Sight is about a man regaining the sight he lost as a child, but more it is about redefining relationships and coming to terms with a real rather than an imagined world. Mark Isham responds with a sensitive score in his well-practised manner. It is all very charming but Isham has presented us with this kind of material before. The trembling, glistening, rustling figures, the slow measured piano passages, the moods sentimental, nostalgic cosy, caring and compassionate. It is all warmly presented and no doubt it works well for the film but this score tends to wash over one as though its some innocuous easy listening album. Nothing seems to stick; there is no outstanding theme; no big melody. In fact, it is not until we get to tracks 9 and 10 ('Our Eyes Aren't What Make Us See' and 'Love is Where You Are') do we meet anything like a melody. One feels that there is a lovely tune about to burst through the texture but instead all we get are tired components and a routine tune. If I appear harsh in my judgement of this score it is because I admire the work of Mark Isham and I hoped for better. The slow-moving music is relieved by two tracks 'To Share A Feeling' and 'A Seeing Journey' which seem to suggest The Val Kilmer's childish wonder at being able to see so many wonders. The album also includes songs by Louis Armstrong, Ella Fitzgerald, and George Shearing.

Reviewer

Ian Lace

---

George FENTON You've Got Mail OST VARÈSE SARABANDE VSD-6015
I got the impression that George Fenton really loved working on this score a lot of enthusiasm and sincerity shines through. It sparkles; it bounces and it's high-spirited and good-humoured. I am sure this music helps to make the slight tale (again from Nora (Sleepless in Seattle) Ephron) seem more credible than it really is; it's about the romantic misunderstandings involving two e-mail correspondents, based on the 1940 James Stewart/Margaret Sullivan classic The Shop Around the Corner).

Most of the music is essentially trad jazz-based with a honky-tonk piano and banjo. A tuba and a rasping muted trumpet seem to be often bickering through the score. It's rather like the Tom Hanks and Meg Ryan (I will admit that she is my favourite film star and can do no wrong – well very little wrong!) characters in the film, i.e.- when they are not meeting via their computers. There are some nostalgic touches, plenty of perky-quirky comic capers (one cue is roughly a cross between Elfman's Pee Wee and Rota's music for Fellini's films) and a bit of Latin (complete with castanets). There is also some lovely heart-catching romantic material, a lovely melody meltingly orchestrated.

I enjoyed this album very much – goofy but glorious.

Reviewer

Ian Lace

---
George FENTON Shanghai Vice Debonair CDDEB 1009 [36:12]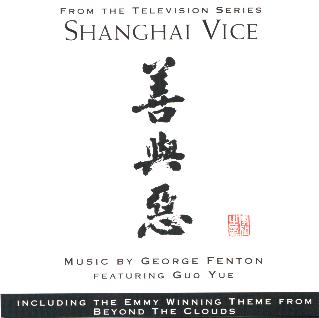 This is a 'sister' TV show to the hit that was Beyond The Clouds. A fact capitalised upon by the inclusion of that theme on disc as well as largely advertising it on the cover. That really leaves you with determining whether or not you liked the theme, because Fenton has basically expanded upon the material and style for all that is included.

There has always been something about the 'Hollywood-isation' of Chinese music that makes me feel like I'm swimming underwater. The whole of this disc carries that graceful sense of floating and leaves you feeling quite serene and tranquil from its cooling effects. The featured soloist putting the calming spell upon you is Guo Yue, playing Bao-Yo and Chinese flutes.

It is a rather all-too-quick experience, but perhaps further exposure to such dreaminess might induce sleep itself.

Reviewer

Paul Tonks

---
Carter BURWELL The Corruptor OST VARÈSE SARABANDE VSD-6014 [42:17]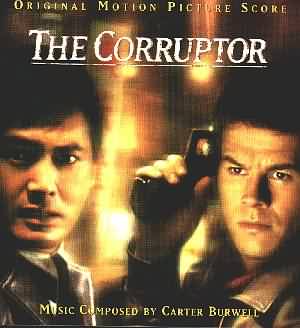 The genre of films that concentrate on the spectacle of blood, broken bones and bruises is represented by Corruptor. This film is a violent gutsy police drama set in New York City's Chinatown, It has several more rounded characters than you would normally expect in a film of this type with Hong Kong actor Chow Yun-Fat's Chinatown cop and Mark Wahlberg's trainee as the pivotal players. It achieves a visual quality of merit within the Chinatown locations and director James Foley combines the colour of the locations with an equally colourful expression of the story line.

Although we have seen the buddy film in many guises now ad nauseum this film talks about the changing loyalties amongst the villains and police alike and some interesting comparisons can be drawn from the behaviours of the law enforcers and the criminals.

The composer of the music for the soundtrack of the film is CARTER BURWELL . He counts "ROB ROY" as his third collaboration with Michael Caton-Jones, having previously scored "This Boy's Life" and "Doc Hollywood." He has also composed, arranged and produced the scores for a number of diverse projects, including the award-winning HBO telefilm "And the Band Played On," and the features "It Could Happen to You," "The Hudsucker Proxy," "A Dangerous Woman," "Kalifornia," "Buffy, The Vampire Slayer," "Storyville," "Barton Fink," "Raising Arizona," "Psycho III" and "Blood Simple."

In addition to his screen work, Burwell has written and performed music for several New York stage productions, including "Mother," "The Celestial Alphabet Event" and "Mother Courage." He also wrote and performed the music for "Widows" at the prestigious Williamstown Theatre Festival.

The music on the Corruptor CD has many oriental influences and captures effectively the changing pace and mood of the Film.

The CD opens with The Corruptor theme , this is a haunting melody using cadence to open the listener to the expectation of what is to come. Within the textures created by Burwell are distinctive, almost Celtic anthems hinting at great age and history. The use of indian tabla against breathy and strung instruments is effective and unusual. Beneath The streets repeats the thematic haunting melody of earlier with chinese percussion counterpointing cellos and the building of tension. Release comes through the explosion of sound in a chinese festival. Lamp Store Shootout again has the same build of tension with closed cymbals, chinese orchestra and deep bass leading us into a soft descending ending. Panty Raid brings some nicely articulated string parts reminiscent of a zither with note bending. The central instrument complemented with breathy flute sounds drops into Ginza shooting, where Burwell interweaves the preceding themes across a more indirect cross rhythm. The Old Man is my personal favourite on the CD, although only 1:02 in length there's such an intensity of feeling in the first few strummed chords that it grabs and retains my attention. Drug Raid, Death Drives Through Chinatown, He takes The Hook, A Plum, Chen Betrayed, To The Ship, Human Cargo, Chen Shot, Funeral in Chinatown, Old Happy and Corruptoid finish the track listing.

I enjoyed listening to this soundtrack and what I like particularly is the inventive way the main theme is put into variation throughout the piece. Burwell has incorporated some good guitar chops too, although I don't know who is playing them. They remind me a bit of Joe Satriani's playing in between his good bits! The overall sound and production of the work and the mix of oriental percussion, strings and breath instruments is effective and interesting to listen to.

Sit down with your beer and some prawn crackers and enjoy Carter Burwell's sweet and sour interpretation of the film. This is one to take away.

Reviewer

Warwick Mason

---
Stephen ENDELMAN Jawbreaker OST VARÈSE SARABANDE VSD-6013 [30:07]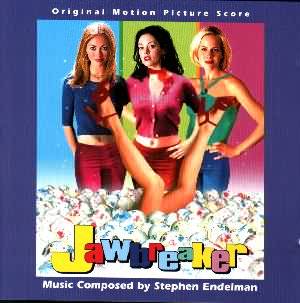 Darren Stein's comedy is about American prom queen society and is a sour reflection on what can go wrong with a practical joke. On the morning of her seventeenth birthday, Liz is kidnapped by her three friends (with friends like this who needs enemas) who plan to torture the birthday girl with a breakfast of pancakes. They tie her up and throw her in the trunk of a car. In the process Liz has been gagged - literally, with a Jawbreaker and duct tape. When the girls open the trunk, they find Liz dead. The character Zach (Ethan Embrey) is Reagan High School's most prominent actor, so he's called a "fag" by the "in crowd." Speaking of Reagan, did they ever find his brain? Zach becomes a catalyst for change when he falls for Julie (recently ostracised from the Flawless Four), because she threatens to tell the authorities the truth behind the death of Liz.
I have to admit to a yawning disinterest in the content of U.S.A. prom films, if they all vanished without trace the world would be a better place.
Scores are eventually settled, but not at the police department or even in the principal's office. The world of Jawbreaker begins and ends at school, and the prom is such a handy device for exacting revenge (yawn, yawn, oh my, I didn't see that one coming…..).
The soundtrack for the film is a brave attempt by Stephen Endelman to capture the girly, sassy atmosphere required and I suppose as a composer, he has achieved the objectives commissioned for the film.
For me the mixture of sugary, tinkly musical allegories with the pop beat of MTV culture and some nods at Hitchcock and Twilight Zone-type motifs made my teeth itch.
The vocals of "ah-ah-ah-ah-ah-ah….ahhhh" on the notes A,B,A,B,A,B and G sharp are "featured" in several tracks and I now have those notes blocked out on my guitar so I never, never, never, ever hear them ever again. This is not bothering me at all, I can review objectively, honest. Look out! Here's a two-note piano "scary bit" (goodness somebody's gonna get squished) that has me so scared I nearly blinked.
HOWEVER! Come on, wake up, pay attention! I did like the version of "Young at Heart" with a slow rap drum part, strummed guitar and flute. It was an entirely inappropriate arrangement of course but it is quirky and "different". Connie Petruk's vocal is cutesy in a subtly malevolent sort of way and she carried the tune with a softness and innocence that is engaging.
Overall as a soundtrack it gets the job done but I would have preferred to listen to it with tape over my ears….(now that sounds like an idea for a movie…).
Reviewer

Warwick Mason
---
Richard HARTLEY Alice in WonderlandOST VARÈSE SARABANDE VSD-6021 [71:07]
I have been rather out of touch with TV recently so am not sure if this has been shown on British TV yet. From the sketchy information it seems probable that this is a loose adaptation of the much-loved book. (Much-loved … yes … but I wonder how many people have read it?)

Anyway, to help identify the production, this one features the usual star-bolstered cast including Whoopi Goldberg as 'Cheshire Cat-Face', Tina Majorino as Alice, Miranda Richardson as Queen of Hearts, Gene Wilder as Mock Turtle, Heathcote Williams as Mr Eaglet, Ken Dodd as 'Mr Mouse', Robbie Coltrane as Tweedledum and George Wendt as Tweedledee.

The music, of which there is oodles (to use a technical phrases meaning lots), is magical and very strong. Inevitably this orchestral score is eclectic, drawing on many sources and styles though not so many that it loses consistency. Malcolm Arnold's woodwind writing, especially for the oboe, is an obvious influence (note Arnold's lively and poetic Oboe Concerto), the fey Celtic 'oirishry' of the Titanic score is noticeable, Danny Elfman's romantically snowflake-swathed Edward Scissorhands is also a benevolent presence as is a dreamy impressionism (straight out of Ravel's Introduction and Allegro) so suited to the subject. Track 31 Into the Book has the galloping drama of the music for The Magnificent Seven and is a surprising but also commanding moment.

The songs (of which there are ten among forty tracks) are charmingly sung by Tina Majorino, Gene Wilder (Mock Turtle), Martin Short (Hatter), Ken Dodd (Mr Mouse!) and Elizabeth Spriggs (not Springs as quoted in the liner note!) as the Duchess.

This is a very strong score orchestrated with taste and recorded with lucidity. Altogether this is an atmospheric score well able to hold its head high in the company of scores for the big screen. I hope that the Hollywood moguls are aware of Hartley. For now snap up this superb release from Varese-Sarabande. Do not let the fact that this was written for TV put you off.

Reviewer

Rob Barnett

---
THERE IS MORE >>>>>>
---
© Film Music on the Web 1999. All rights retained. Reviewers retain copyright on their reviews.

COMPETITION WIN a CD of your Choice

---

Search the Crotchet database from here
Discs on these pages are offered for sale. There is also a page of search engines from a selection of on-line retailers here.
Please support this web-site by buying your discs here.
Disclaimer: Every effort is made to make sales links to the correct disc but, in the end, you must take responsibility for checking that what you are purchasing is what you want.
Some of these discs were not actually available for sale at the time of posting but a link has been made in anticipation of their forthcoming availablility.
Return To May99 index page
Return to

Film Music on the Web
e-mail Len Mullenger len@musicweb.force9.co.uk
---