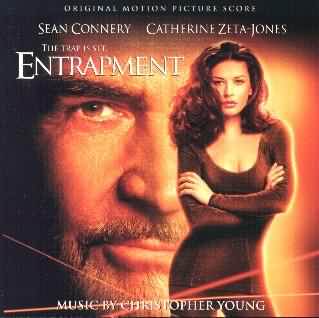 There's so much of a sense of aching familiarity with this score that whatever its merits on screen and off, the distraction might prove too much. By familiarity I don't mean as in purloined from elsewhere. The predictability is what makes for the deja vu. Young writes some cracking good scores, but when merely cruising - it shows.
The title cue has a nice enough introductory task with the primary theme (doubling throughout as a love motif too), but descends into what will mar many of the cues - dodgy synth patches that seem to date the whole thing. Maybe this all has something to do with the ludicrous on-going attempt to portray Sean Connery as a far younger man. Maybe the idea is to create a soundscape redolent with slightly past-it effects that take you back a few years. (Maybe not though)
Grudgingly I'll cite "Blackmail" as an exciting action cue, and "Kuala Lumpur" as an interesting concoction of percussion and brass, overlaid with ethnic piping. Otherwise, you'd do far better with his own Species or The Man Who Knew Too Little as recent examples of a terrific composer at work.
Reviewer
Paul Tonks
[Paul had forgotten he also reviewed this in June; nice consistency!]