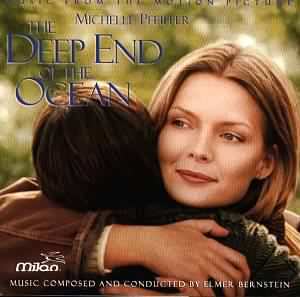 I can do no better than begin my review of this album by quoting the composer's notes in the CD's booklet:-
"Deep End of the Ocean is a film about a family being held in a very delicate balance after the abduction of their youngest son. This causes a dysfunctional relationship between husband and wife and mother and the remaining two children.
"Because the central character in this film is an absent child, much of the music and its instrumentation suggests child-like memories. There is a great presence of harps, bells and musical sounds which conjure up images of childhood. Although there is a general and, in my opinion, regrettable trend toward synthesised music, such sounds would be inappropriate in a film which is about people and people's anguish. Therefore, the orchestration leans on musical sounds we associate with people rather than machines. Because of the fact that there is a delicate balance in the relationships, the score is subtle and unobtrusive in an effort to support rather than disturb that balance."
I found that I was writing practically all those words on my notepad as I was listening to the music, and before I read Elmer Bernstein's notes (honest!) which only goes to show how well his music communicates. This music is fragile, vulnerable, nostalgic as well as being lively and exuberant - all the feelings we associate with childhood. In a way Bernstein is revisiting his To Kill A Mocking Bird score. It is closely related in many ways. There is the same darkness and sense of hidden threat and isolation - the music is sometimes disturbing, abrupt and antagonistic. Sometimes it seems isolated and remote. But there is much more which sets it apart as a considerable score in its own right. It is, above all, melodic and captivating. I would mention one track 'Home Again' in which a guitar is prominent in its opening pages. You are immediately struck by the music's close resemblance to Rodrigo's Concierto de Aranjuez. This particular cue has a haunting quality and the music passes through some varied and interesting colorings suggesting a wide variety of moods and situations.
This is Elmer Bernstein in deeply personal mode. He delivers a memorable score
Reviewer
Ian Lace