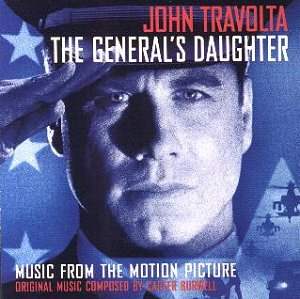 Like the director, let's take this as a score in two parts. One concern is to not be area specific. It's largely set in the American deep South, and he really wished to skip the good ol' slide guitar cliché. It's a stretch, but his alternate take goes for its own sub-category division. He got field worker songs from the '30s and '40s sampled and mixed with contemporary rhythms. For the result made into a song opening and closing album and film - "She Began To Lie" - it's a weird feeling of Portishead style vocals and dance music.
The sourced music continues in this "Gothic South" style through a couple more mixes. Then there's a very poor choice of using both "Amazing Grace" and "O Fortuna." Will they never stop killing these poor pieces with over-use ?
Part two of the director's pre-determined bid for uniqueness was to get Burwell to fuse 2 of his recent sounds. That of Fargo and Conspiracy Theory. No prises then for working out what the resultant score sounds just like ! There is a nice poignant theme introduced in "Exercise In Darkness" - just as requested. There is plenty of jazzy upbeatness to the drama ("The Conspiracy") - also as requested.
Maybe sometimes getting what you asked for doesn't get you what you necessarily wanted...
Reviewer
Paul Tonks