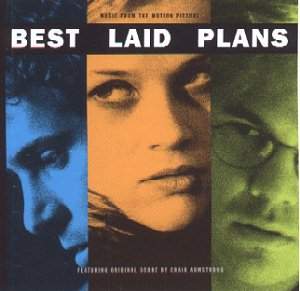 Skipping past the unfortunate collection of songs (performed by Neneh Cherry, Mazzy Star, Patsy Cline, Massive Attack, Eagle Eye Cherry, and Gomez; are 'songtracks' a social requirement now?) leaves approximately 19 minutes of a score with interesting moments, though not much else.
Craig Armstrong's score is emotionally effective, but rather like a scattershot hybrid of Christopher Young's "Judicial Consent" (which itself essentially improved upon John Williams' "Presumed Innocent") and an exceedingly unassertive pop mentality. Particularly dull is the cue 'Father and Son,' its clichéd synthesized doodlings and percussion hits doing absolutely nothing worthwhile, comparing quite unfavorably to the more dynamic tracks. Placing style over substance is a common problem, yet the infrequent reverse is nearly as irritating. Here, the score provides substance utterly devoid of style.
The soundtrack's greatest advantage is the 'Lissa' theme, a melody that owes something to Danny Elfman's main title theme in "To Die For," but holds its own and ultimately follows a disparate path. Since it acts as a solid foundation for the score, it works well to counterbalance the less thrilling sections. The themes are a bit of a treat, actually (of course, the mere presence of recognizable motifs is a gratifying change... from certain contemporary soundtracks).
The orchestrations, principally for strings, are neither elegant nor innovative, but have a fair amount of passionate energy. The title track is a fine example, as are pieces of the 'Lissa Montage.' There is also an excellent piano solo as part of the 'End Titles' track, though regrettably brief. Alas, the overall assessment of the score is that it is average, perhaps slightly above average were I in a state of sympathetic depression.
Reviewer
Jeffrey Wheeler


Reviewer
Jeffrey Wheeler