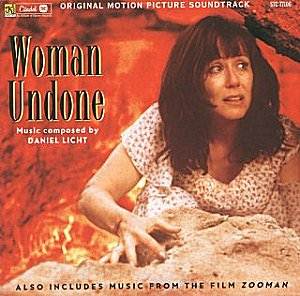 Here we have music from a couple of very obscure films. Hands up everyone who has seen Woman Undone or Zooman. OK, hands up anyone who has even heard of them. The cover is no more promising. With no enthusiasm whatsoever I pressed play. Surely this was to be an exercise in barrel-scraping? What possible reason could there be to transfer these scores to disc and hope to sell them? And how wrong I was.
In my defence I shall maintain that both are simply terrible titles. Woman Undone sounds like it should be a routine TV movie, while Zooman summons visions of a straight-to-video superhero flick. But then a look at the Internet Movie Database reveals that they are both TV movies, even though the packaging strongly implies they are 'real' cinema films - certainly that's what I think most people take the legend 'Original Motion Picture Soundtrack' to mean. However, TV movies or not, they are not the sort one might expect. Woman Undone is dark Hitchcockian mystery thriller, while Zooman is a serious urban drama adapted from an off-Broadway play.
Woman Undone is largely an exercise in atmosphere, with a deeply reverberant piano, wordless soprano voice (Kris Gould) and glittering percussion creating a mysterious, otherworldly soundscape. Strings describe distant portent and finally offer moments of restrained uplift, while throughout there is much effective suspense and a finely sustained suspense-action set-piece in 'The Trial Starts/Desert Light'. It is the sort of thing that might work very well with one of Brian De Palma's less commercial films, brooding, accomplished and elegantly crafted. The distant voice, and mournful, elegiac air summons visions of lonely marshes somewhere between The Snow Goose and Great Expectations. In fact, in terms of sound this score has much in common with Peter Salem's fine work for the BBC's most recent interpretation of Dicken's classic.
Many soundtrack albums would simply stop here, so it is good to see Citadel offering good value by reviving the old cinematic format of the contrasting double bill. Of course this is not the first time this has happened. There is a fine GNP disc CD which offers transfers of two original Jerry Goldsmith LPs, Capricorn One and Outland. That disc has a reversible insert book, so the disc can appear to be the soundtrack of either film, and the same has been done here. Turn the insert around and Woman Undone becomes Zooman.
The clichéd image of a black man pointing a handgun at the head of another black man does nothing to inspire confidence. However, the film appears to be rather more cerebral than another tale of ghetto slaughter. Zooman director Leon Ichaso told Daniel Licht that he wanted a contemporary version of a 60's urban jazz score. Fortunately Licht is an ex-jazzman, and as a single soprano voice brought great character to Woman Undone, here the trumpet of Jeff Beal serves the equivalent purpose. This is a sombre, moody, score. The obvious touchstones are Miles Davis' Lift to the Scaffold, and Johnny Mandel's The Sandpiper, a score which was itself influenced by Davis' Sketches of Spain. That said, this is both more varied and more urban than The Sandpiper, though without such a distinctive central theme. Dark string writing is more to the fore, and there are passages with intense electronic effects mixed with the orchestra and late night trumpet which summon nothing so much as visions of Angelo Badalamenti's Twin Peaks. Licht's work does however assimilate these influences completely, giving the score a more compelling character all its own.
Citadel are to be commended for putting two such fine scores on a single disc, and Daniel Licht should be given the opportunity to score major theatrical releases as soon as possible. This is a most unexpected jewel in film music's crown and it would be a shame if film music fans passed it by in favour of the many better-known but often inferior albums on the market.
Reviewer
Gary S. Dalkin


Reviewer
Gary S. Dalkin

---
---
Reviews carry sales links
but you can also purchase
from: