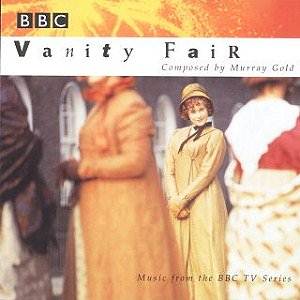 This really is a strange one. I didn't see the BBC television serial from which this music comes, so I can not say how, or even if, it worked. Suffice to say, I have my fears that it didn't. Vanity Fair is the acerbic social satire by Thackery, and the producers has the laudable aim of avoiding the 'pretty costume-drama' rut into which it is so easy to fall. Therefore composer Murray Gold and director Marc Munden decided to do something different. Which is admirable, except that there are reasons why people do things a certain way. It is because they work.
Deliberately anachronistic scoring can be most effective - there were no symphony orchestras in the time of the Roman Empire - or it can be tremendously irritating, coming across as no more than a gimmick - a classic example being Chariots of Fire. With Vanity Fair there are no electronics, but out of the chamber orchestra sized ensemble, brass is very much to the fore, including saxophones long before their time. Murray Gold mixes, to quote his notes, "...jazz, Spanish folk, New Orleans funerals, Klezmer, classical and a bit of Kurt Weill for good measure." The only question is why? What has any of this to do with early 19th century England?
Gold flits from style to style with considerable invention and confidence, sometimes throwing utterly disparate elements into the space of a single piece and letting them fight for supremacy. It is often witty, vibrant, fun, brash and cutting, and may well be a lot more enjoyable away from the programme than with it. A recommendation is difficult: this is bold, iconoclastic scoring which some will adore and others passionately loath. In all honesty it is not something which I can see myself playing often, yet it is an elegantly straightforward presentation of a striking score. If you liked the music in the serial, I doubt you will be disappointed by the album.
Reviewer
Gary S. Dalkin


Reviewer
Gary S. Dalkin

---
---
Reviews carry sales links
but you can also purchase
from: