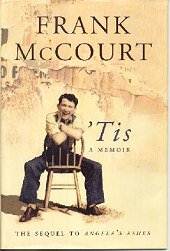 After all the laughter and tears of Angela's Ashes, I could not bear to await the arrival of the paperback edition of its sequel 'Tis. So, with a local bookshop offering copies at less than £10 each, and feeling particularly sorry for myself because I had a really vicious and pernicious species of virus, I took the plunge.
'Tis continues the saga of Frank McCourt's misfortunes through his life in America. With red, scabby eyes and redder blush-filled cheeks, and blackened teeth, McCourt blunders his way through menial jobs in New York's Biltmore Hotel courtesy of the kindness of a passing straying priest and the Democrat Party. McCourt is subsequently drafted into the army to become a dog handler then a crack typist in West Germany from where he pays a call to his mother in Limerick. She is hesitant about moving from her slum home into a new house with proper facilities and a garden because she will miss all her friends and Uncle Pat who couldn't care a 'fiddler's fart.'
Back in the Big Apple, Frank describes his education, as a GI, at New York University where he is admitted on a trial basis. He endures tribulation after tribulation as he works at all types of job to fund his education. When he eventually qualifies as a teacher, he has to survive the tough world of New York's high schools. The existence is "somewhere between Goodbye Mr Chips and The Blackboard Jungle" with the emphasis on the latter. All his brothers, as they grow up, follow Frank to New York, as does his mother, Angela herself who rapidly becomes a crotchety, old woman berating her sons to stick to their own (Irish Catholics). Frank's supposedly reformed father comes too but he is shipped back to Ireland, pronto, when he arrives off the ship stinking drunk. Mind you, it appears that Frank is something of a chip off the old block because he often gets the worse for wear from the hard stuff, including a binge on his wedding day which costs him the enjoyment of his nuptial bed.
McCourt's memoirs takes his story up to 1985 to the death of both his parents. On his way, McCourt tells a tale of endurance and survival that is a s hilarious and harrowing as Angela's Ashes. Already, I have heard whispers about a possible filming of this book too. It is interesting to conjecture who might play the grown up Frank McCourt(s) and who might score such a film.
Although this new book is not quite as appealing as the original Angela's Ashes, McCourt's appeal is still very strong and I can guarantee, if you liked his first book, you will not be able to put this one down either.
Reviewer
Ian Lace


Reviewer
Ian Lace

---
---
Reviews carry sales links
but you can also purchase
from: