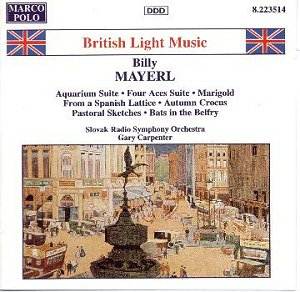 [I suggest that this CD review is read in conjunction with the review of Marigold, the new book on the life and music of Billy Mayerl, included on this site this month.]
This album comprises 21sunny, scintillating numbers many of which will spin around in your head for days. Many were originally written as piano solos. Some have been orchestrated by the composer (which I will asterisk) but most by other arrangers/orchestrators: Fred Adlington, Ray Noble, Hubert Bath, Herman Finck, George Windeatt, Arthur Wood and Alan Nichols.
The concert opens with the work that is always associated with Billy Mayerl, the well-loved Marigold.* But the album also contains a number of other pieces that one immediately recognises even if their names might not be easily recalled, such as the jolly upbeat Bats in the Belfry, and the cheeky Fireside Fusiliers that recaptures the dizzy world of the 1920s flappers.
Marigold (1927) is the earliest piece on the CD. There are three late works from 1956: the charming Minuet by Candlelight*, the equally delightful Waltz for a Lonely Heart* and the ebullient Busybody*, a nice rounded character study of someone who is nosy and boisterous but romantically inclined too (or maybe it's a she?)
The Ace of Clubs Suite (1933) commences with 'Ace of Clubs' that has an appropriate devil-may-care, man-about-town suavity while 'Ace of Diamonds' has a sophisticated, syncopated sparkle. The well known 'Ace of Hearts' has a very appealing tune but the Slovak players seem a little uncomfortable with this one; it sounds just a bit too world weary and it just cannot compare with Billy Mayerl's own piano solo version. The 'Ace of Spades' begins with a magical Ravelian flourish (Mayerl loved Debussy and Ravel) before the tempo picks up and we have syncopations with an oriental flavour - another easily recognisable piece.
The Aquarium Suite (1937) has another well-known number, 'Fantail' - Gershwin influenced, this beautiful fish certainly is very self-aware and rather disdainful with it! Other inhabitants of Billy's aquarium are: 'Willow Moss' a nice slow engagingly romantic jazz-based piece which occasionally ripples and darts about; a decorative 'Moorish Idol' and 'Whirligig'* that's in a real jazzy whirl.
Pastoral Sketches (1928) is a three movement suite that is unusually quiet and restrained in its first movement 'A Legend', and although 'Lover's Lane' seems serenely leafy there is also hints of lovers' quarrels as well as their passion; while 'A Village Festival' contrasts carnival jollity with quieter reflective material.
A Lilly Pond is quiet and whimsical with something of an 18th century elegance about it. From A Spanish Lattice is Spain observed form a distance with much more of Mayerl. Autumn Crocus sweetly lilts and is that Eric Coates peering over the hedge? Parade of the Sandwich Men is full of cheeky Cockney frolics, with the implicit cries of barrow boys.
Although the Slovak players seem occasionally uncomfortable, this is a very commendable and enjoyable album
Reviewer
Ian Lace

Book Review
MARIGOLD - The Music of Billy Mayerl By Peter Dickinson Hardback, 320 pages (with Free CD). Oxford University Press ISBN 0-19-816213-8 £29:95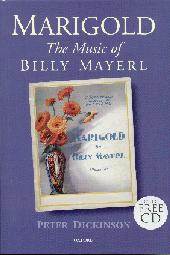 Pianist, composer, educator and celebrity, Billy Mayerl, was one of the most brilliant and popular figures in British music from the 1920s to the 1950s. Beginning his career playing the piano for silent movies, his story could almost be one of the screenplays he accompanied.
Mayerl was born in London in 1902. As a boy he was a fine swimmer and high diver but he also worked at his piano for six to eight hours a day. He entered Trinity College of Music at the age of nine and studied there until 1915 (Barbirolli also studied there at the same time). Mayerl however left because his habit of playing syncopated jazz was considered to be subversive and his love of Stravinsky considered beyond the pale.
According to Dickinson, Mayerl's experience in cinemas as a teenager seemed crucial to his whole musical makeup. "Around 1916 he was paid around £15 (in today's value) a week and played from 6 p.m. to 11 p.m. including Sundays. Describing his routine Mayerl commented, "Most of the films in those days were about cowboys and Indians or about the American Civil War and I had a lovely bit of hurry music that fitted all films of that type - the quick bits of Beethoven's Fifth Symphony. Then I used to play 'Hearts and Flowers' whenever there was a passionate love scene! And when I was in doubt there was always the Mayerl music! After all - that was my reason for being there!" In fact, Mayerl developed a technique of rapid response to the equally rapid on-screen movements and changes of scene and mood, that gave him an approach which his faster music never seemed to loose.
Mayerl also moved around the country playing in local gigs and he was fortunately in the right place at the right time to make the big step that would boost his career. He was playing in a hotel in Southampton, probably in 1922, when he was heard and liked by Bert Ralton who had just arrived in England to form the Savoy Havana Band but without a pianist. Mayerl of course got the job. Dickinson goes on to describe the great success of the Band particularly through the early days of radio (2LO the early predecessor of BBC Radio was conveniently headquartered around the corner in Savoy Hill). The highly popular Savoy Orpheans concerts at the Queens Hall are covered; so too, is the first British public performance of Gershwin's Rhapsody in Blue for which the soloist was Billy Mayerl! Dickinson comments: "Mayerl's performance of Rhapsody in Blue would certainly have been authentic in style since he had heard Gershwin play it, had met him, and was in totally sympathy with his aims." Indeed, when he heard of Gershwin's premature death, Billy was devastated.
Carrol Gibbons, Henry Hall, Zez Confrey, Paul Whiteman and Gershwin himself are just a few of the personalities that cross the pages. Dickinson covers Mayerl's work in the music halls including his many stunts like playing two pianos at once; and the highly successful Billy Mayerl School, founded in 1926, for teaching syncopated piano techniques. Its students included the Prince of Wales (later the abdicated Duke of Windsor) and the Duke of Kent. Its equally successful offshoot, the Billy Mayerl Club, that, amongst its many activities, promoted the playing of Mayerl's transcriptions, is covered too. Mayerl's less successful song writing career is detailed -- and his more popular light music that occupied him increasingly after World War II (during which he played an important role entertaining the troops) when the fashion for syncopated music fell away.
Dickinson's book rightly concentrates on Mayerl's piano compositions, which in quality and quantity are the most significant contribution to the genre of the novelty piano that succeeded ragtime and overlapped with early jazz. The pace of these dazzling, cinematic sketches in rag form perfectly encapsulates the hedonism of the jazz age. But Mayerl also wrote more contemplative pieces belonging to the English pastoral tradition: he was never just the composer of Marigold. Indeed he loved Delius and his work shows that composer's influence and of a number of other English composers - both of light music and more classical forms - including Cyril Scott, John Ireland and Frank Bridge; plus Edward German, Roger Quilter and Eric Coates. His love of Grieg and the French impressionists - Debussy and Ravel -is also very apparent.
Dickinson analyses Mayerl's music and proves its classically-based craftsmanship. The 29 pieces on the accompanying CD all played by Mayerl, show his incredible technique and wide range. The numbers embrace the early Six Pianolettes demonstrating his breathless speed (but delivered with a light touch) through to the less hectic but more romantic Ace of Hearts and the impressionistic and atmospheric Harp of the Winds taking in his immortal Marigold on the way.
[I would just mention, in passing, the paragraph on the Four Aces Suite since it assists in the appreciation of the performance of the Four Aces Suite on the Marco Polo Billy Mayerl Light Music for Piano and Orchestra CD that is also reviewed on the site this month. "The cover design (of its sheet music) is ingenious...It depicts the four playing cards with figures standing on them. The 'Ace of Clubs' is a blindfold ballerina who looks as if she has materialised from above as a result of a magic wand brandished by an acrobat as 'Ace of Diamonds'. The 'Ace of Hearts' is a cherub with a quiver-full of cupid's darts. He is gesturing towards a black, cloaked Mephistophelean figure as the 'Ace of Spades'. Since spades are used to dig graves, he looks like the symbol of death, seen as the ultimate end of all romance."]
The book includes illustrations, the full Queens Hall concerts programmes; an analysis of Mayerl's BBC broadcasts; his Performing Right Society earnings (1926-1998); his Desert Island Discs choice (he was Roy Plomley's 'castaway' guest on 21st April 1958); a list of works compiled by Alex Hassan, an exhaustive Billy Mayerl performance discography compiled by John Watson, and a bibliography. What is missing is an additional discography of recordings of Mayerl works made by other artists, especially Eric Parkin.
For composer, pianist and writer, Peter Dickinson, who is an Emeritus Professor of the Universities of Keele and London, this book is clearly a labour of love. He is meticulous in gathering and presenting his facts almost to the point of being pedantic (some facts have been rendered hazy by time and therefore Dickinson has felt obliged to offer alternative viewpoints of the truth)
As Dickinson points out, Billy Mayerl's magical and essentially happy music - "...acts as a kind of therapy sorely needed as the stresses of modern life reach unparalleled severity and we meet the challenges of a new millenium."
Reviewer
Ian Lace