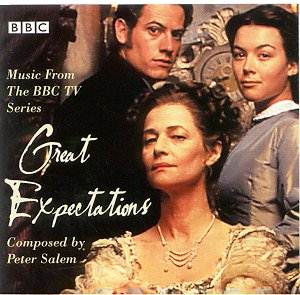 Great Expectations is yet another adaptation of the famous Dickens' novel for the screen, this time in the form of a BBC miniseries. Unlike the recent Great Expectations outing to the big screen though, the BBC version remains true to the original, being the period costume drama it was intended to be. To score the series the BBC chose composer Peter Salem, whose credits include several British television projects as well as providing underscoring to various theatre plays.
Approaching the scoring of Great Expectations, Salem developed three quite different but complementary musical strands, each representing major aspects of the series; the music of the marshes, the music of Satis House and the music of Pip's 'expectations'. The music of the marshes is characterised by its dark nature, depicted by shrilling violin harmonics, first presented in 'Marsh Theme' which permeates the whole film, as Magwitch, the convict saved by Pip, monitors and intervenes in Pip's progress. The theme representing the Satis House is primarily static, and string based.
Suspense is infused by sustained violin notes, bells, and piano motifs such as in 'Mrs Haversham's Room' and 'Walk me'. 'Estella's theme' is partly linked to this brittle piano music. 'Pip's theme', loosely based on period music, is elegantly rendered by piano and layers of strings and can be relished fully-blossomed in 'Pip Becomes a Gentleman'. The score is a reworking and an interweaving of the major themes, similar to the interweaved lives of the characters, often assisted by secondary motifs, refined orchestrations and passing atonal and suspenseful music. The music is quite dark, even in jubilant scenes such as 'The Kiss'. Only in the last two tracks is the mood is elevated as music for the Hall is presented, true to the form of period lounge music.
An appropriately dark score for this costume drama but not being an easy listening experience, probably will not appeal to many film music fans.
Reviewer
Kostas Anagnostou


Reviewer
Kostas Anagnostou

---
---
Reviews carry sales links
but you can also purchase
from: