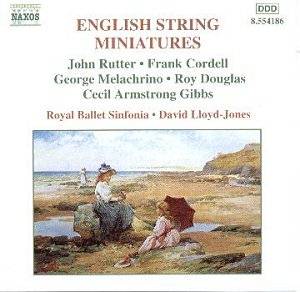 One may well ask why we are including this album on Film Music on the Web? Well, for one thing Frank Cordell's King Charles's Galliard comes from his music for the film, Cromwell (Cordell also scored for other films including Khartoum and Ring of Bright Water). Then Roy Douglas, assisted Ralph Vaughan Williams in his composition, Sinfonia Antartica which itself was based on RVW's music for the film Scott of the Antarctic. [Douglas was Vaughan Williams' assistant and amanuensis from 1942 to 1958]. And Philip Lane is well known to astute readers of Film Music on the Web for his work as a writer and an arranger and reconstructionist of music etc for films. But beyond all of this I have chosen to feature this disc because it is full of wonderful examples of the English sting music tradition, which seems to be fashionable amongst film composers at this time.
This is a delightful album and an adventurous programme for which Naxos should be applauded. David Lloyd-Jones is sympathetically attuned to this idiom and these performances are well nigh perfect.
The concert commences with John Rutter's Suite (for Strings), based on English folk songs, and written in 1973. Both the opening and closing movements have additional counter melodies: the joyful and racy 'A-Rovin' with the more delicate I sowed the seeds of love in the first; and the breezy 'Dashing away with the smoothing iron' with 'The Bailiff's Daughter of Islington' in the last Handelian-like number. In between there is 'I have a bonnet trimmed with blue' - all fluffy, fussy feminine elegance; and the haunting poignancy of 'O Waly, Waly'.
Cecil Armstrong Gibbs is represented by his gentle parody of 18th century and erlier forms, Miniature Dance Suite. There is the mock pomposity of the 'March'; a terribly correct 'Quick Minuet'; a 'Graceful Dance'; mournful 'Sarabande' and a lively 'Jig'.
I have written enthusiastically, elsewhere, about the work of David Lyon an important voice in English Light Music who has skill and imagination in abundance. His Short Suite (1971) is thoroughly engaging, full of vivacity and colour, striking and twisting rhythms and generally novel and exciting harmonic writing. His suite opens with an arresting 'Rustic Dance' proceeds to a 'Gavotte' that cheekily mimics Prokofiev, thence to a spellbindingly beautiful and pensive 'Aria'; and concludes with breezy 'Moto perpetuo' that is a richly complex virtuoso showpiece with some novel pizzicato effects.
Orr's A Cotswold Hill Tune owes much to Delius; while Peter Dodd's Irish Idyll is a lovely treatment of the Irish folk tune, The Lark in the Clear Air. Frank Cordell's King Charles's Galliard, comes from his music for the film Cromwell parodies the music of the time and Peter Warlock seems close-by. George Melachrino, remembered as a sort of British Glenn Miller, is represented by his memorable Les Jeux that is a jolly scamper but with a yearning, sweet sentimental centre. Roy Douglas's Cantilena (1957) has a long serenely flowing tune with some fleeting shadows. Concluding the concert, Philip Lane's student work Pantomime (1971) enchants. The opening 'Alla marcia' is a jolly swagger, the Andante is sweetly wrapped elegance and nostalgia and the Vivace number is a vivacious and playfully scatty cantering. Unreservedly recommended
Reviewer
Ian Lace


Reviewer
Ian Lace

---
---
Reviews carry sales links
but you can also purchase
from: