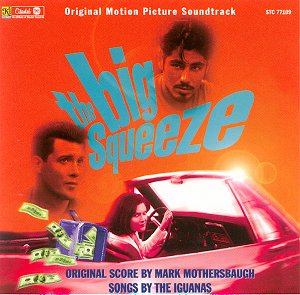 Founding member of new-wave band Devo, Mark Mothersbaugh has written scores for numerous movies including: Drop Dead Gorgeous, Rushmore, and The Birdcage. In The Big Squeeze he tackles a story of new-born love and revenge, as a young bartender tries to retrieve her rightful share from her husband's insurance money, assisted by a small-time crook.
Mothersbaugh drives the score with layers of jazzy undertones, supported by almost never-ending percussion. The score is devoid of highlights; the same jazzy underscore approach seems to daunt every track. Although this treatment might imbue the score with an updated 60-70's feel, it does not sustain listener interest. To make matters worse, in several tracks, like 'Lambshade Ninny' the score drops below the underscore level. Also the Latin songs, performed by the Iguanas, is somehow questionable especially within the overall jazzy colour of the score. Surely, the almost linear quality of the story, doesn't call for a complex soundscape but, still, the score lacks some much needed refreshing sentimental moments to break the sameness and some character-exploration would have been beneficial. Only in 'Flowering Tree' does the composer abandon the jazz idiom to attempt a warm, sensitive theme. It it stands out quite well, providing a short but inadequate breather to the score.
As it is, the score fails to entertain and probably and it probably won't hold your attention for long unless you are mad keen on jazz/Latin music.
Reviewer
Kostas Anagnostou


Reviewer
Kostas Anagnostou

---
---
Reviews carry sales links
but you can also purchase
from: