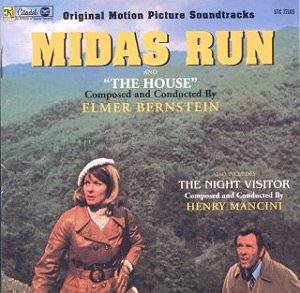 Here we have a triple bill from Citadel, two scores by Elmer Bernstein and a lengthy suite from Henry Mancini. Midas Run was a 1969 thriller staring Richard Crenna, Anne Haywood and Fred Astaire, and the European setting found Bernstein conducting the Rome Cinema Orchestra. The plot revolved around a gold heist, the film losing-out at the box-office to the same year's remarkably similar The Italian Job. The music is a lightweight, jaunty affair, very 60's and rather MOR. An apt comparison would be Mancini's Charade, though without the melancholy kitsch charm of the latter. It is really all so pleasantly superficial that nothing stays in the memory or compels further listening. The music appears to be everything the vacuous film it was written for required.
Much more interesting is The House. This is a seven part chamber music score for a short art film House: After Five Years of Living, made in 1955. The composer himself takes the piano part and is joined by flute, harp and cello. The music is essentially an architectural study and ranges from the pastoral to the jazzy. This was the year of The Man With the Golden Arm and Lust for Life, and either musically or cinematically, both reverences are relevant. This is a charming, melodically rich work with a light, breezy atmosphere that is absolutely delightful. If the spirit of Debussy is rather obvious, this is still an enchanting gem from Bernstein's back-catalogue. Bernstein actually scored 32 short films for the director's of House, Charles and Ray Eames, and it is to be hoped that more of the music will be released in future. It should also be noted that the 1955 stereo sound is quite exceptionally good, being full, detailed and entirely lacking in distortion. There is a warmth which suits the music ideally, and it puts to shame many recordings made twenty years later.
The Night Visitor, staring Max Von Sydow, Trevor Howard and Liv Ullman, was a dark psycho-thriller set in Sweden against a bleak winter landscape. This is not what most expect from the composer of The Pink Panther and other assorted light comedies. Here Mancini, who had composed marrow-chilling music for An Experiment in Terror (a film referenced in many ways, including musically, by Twin Peaks), ventured into Bernard Herrmann territory. He wrote his score not for conventional orchestra, but for synthesiser, 12 woodwinds, organ, two pianos and two harpsichords, one tuned a quartertone flat. The music, sequenced into a single movement suite containing all the significant material from the film, is sparse and cold as the Scandinavian landscape against which the action is set. This is stark, tortured, profoundly unsettling music, presumably excellent film music, but really offering few pleasures in isolation. The biggest compliment I can pay The Night Visitor is to say that it could easily be mistaken for rare Herrmann.
The range from disposable fluff to attractive chamber writing to twisted psychological introspection unfortunately makes this an album of limited appeal. A release for very serious film music enthusiasts who want everything, it is impeccably presented but provides little to interest any but the most committed film music buff. Taken as an archive document, the issue is beyond criticism, though perhaps more attractive would be an anthology of music from the short films of Charles and Ray Eames.
Reviewer
Gary S. Dalkin


Reviewer
Gary S. Dalkin

---
---
Reviews carry sales links
but you can also purchase
from: