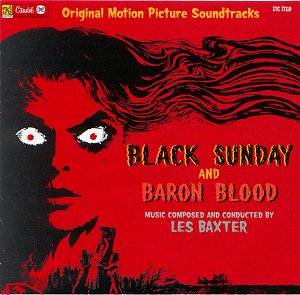 Marking the directorial debut of Italian gothic director Mario Bava, La Maschera del demonio (The Mask of Satan) later translated as Black Sunday, shocked and scared whole generations of viewers. Wrenched images of a mask of spikes being hammered onto a face; an undead henchman pushing through the earth and scrambling from his grave; newly-regenerated flesh crawling on bony remains; all remained imprinted on the minds of viewers and served as a reference for subsequent horror movies. Black Sunday was originally scored by Italian composer Roberto Nicolosi. He followed the Italian tradition and emphasised more the film's romantic aspects rather than its dark, gothic nature.
The task of rescoring was entrusted to Les Baxter, no stranger to the horror genre having scored several low-budget schlock films. This album represents his score in one long suite, along with a suite of another classic Bava film, Baron Blood. In Black Sunday, Les Baxter unleashes every imaginable horror that can be delivered by musical instruments. Ominous strings, plucked violins, shrilling winds, pounding percussion and brass, atonal repetitive statements, bursting crescendos all deprived of every emotion and warmth combined with Bava's powerful visuals; and all managing to scare you witless. The orchestration is highly textured and sharp, and what makes the whole soundscape more eerie is the strategically placed short melodic motifs, fragments of the powerful but also sweet theme that concludes the suite, destined to release the tension before scaring you again and again. This is pure unabridged and relentless horror. If you have managed to sit through the whole suite, you will be rewarded with the already mentioned exquisite theme rendered by strings and brass, which underscores the romantic moments of the film.
Twelve years later, Baxter was summoned again to score another Bava film, namely Baron Blood. In a manner similar to Black Sunday, a sadistic ancestor is brought back to life by a foolish descendant, and confronts the family owning the castle. The score, again compiled as a long suite, bursts open with a call-and-answer orchestration of bass and cymbal as pulsating life comes back to the long dead body of the Baron. A spooky electronic keyboard theme follows driving a chase and a tour of the Baron's dungeons. Not exactly succeeding in maintaining the suspense and powerful horror demonstrated in Black Sunday, the score reverts to underscore status in many occasions, interrupted by short melodic passages. Although the orchestrations are again quite textured and this is emphasised by the good quality of the recording, the music seems washed out and unimaginative. The crescendos are not that powerful, the atonal passages are understated, the pounding piano does not seem to liven up the score, and in general the horrific atmosphere so skilfully built in Black Sunday is somehow lost.
If you appreciate horror scores and love the works of Jerry Goldsmith and Bernard Herrmann, you will certainly enjoy this CD. Although the recording of Black Sunday is old, and it shows, its power and detail will captivate you.
Reviewer
Kostas Anagnostou
Black Sunday




Baron Blood


Reviewer
Kostas Anagnostou
Black Sunday




Baron Blood


---
---
Reviews carry sales links
but you can also purchase
from: