---
November 1998 (Contd)
Discs on these pages are offered for sale. There is also a selection of on-line retailers here.
Please support this web-site by buying discs through us.
Every effort is made to make sales links to the correct disc but, in the end, you must take responsibility for checking that what you are purchasing is what you want.
Alex NORTH Viva Zapata Jerry Goldsmith conducting the Royal Scottish National Orchestra VARÈSE SARABANDE VSD-5900 [32:00]

Crotchet (UK)
Amazon (USA)
Soundstone (USA)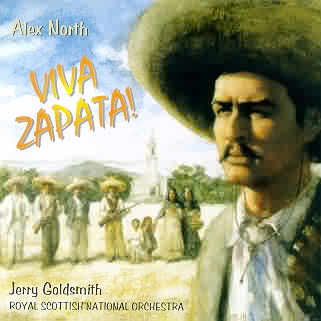 Jerry Goldsmith has at last fulfilled a long-held ambition and recorded Alex North's vibrant Mexican, ethnically-orientated music for Elia Kazan's Viva Zapata. The commitment and enthusiasm Goldsmith and the Scottish players bring to this vibrant, colourful music is testimony to his love of this exciting score. Released by Twentieth Century Fox in 1952, the film starred Marlon Brando in the title role and Anthony Quinn who won the Academy Award for best supporting actor as his brother Eufemio.
Alex North was film music's only true expert on Mexican music. This was because of his personal association with the famous dancer Anna Sokolow, who was invited to perform in Mexico. North accompanied her and although they subsequently split, he chose to remain in Mexico where he studied with Silvestre Revueltos. North absorbed Revueltos's penchant for difficult rhythmic metres and his propensity for couching melodies in dissonant counterpoint. North absorbed these characteristics and like the music of his teacher, his scores are painstakingly precise and melodic. "What I learnt from him was invaluable when it came to scoring Viva Zapata," commented North. "It's important when you write music based on the elements of another country's music to be able to feel it. None of my music for Mexican-based stories and characters would have had the same emotional resonance without my exposure to Silvestre."
Interest in this score was sparked with the recent release of the Nonesuch album of film music by Alex North, recorded by Eric Stern and the London Symphony Orchestra, which included the "showpiece" of the Viva Zapata score - "Gathering of Forces" a very impressive study in crescendo. It rivals Franz Waxman's "The Ride to Dubno" from Taras Bulba (see the review of the Ryko CD also published this month); it has the same sort of thrilling repetitive figures in crescendo and, like, Dubno, the North cue could become another concert piece to rival Ravel's Bolero. Both Stern and Goldsmith give us thrilling readings. I was struck early on in Goldsmith's performance with a short phrase that almost identically pre-echoed "Don't Cry for Me Argentina" of Andrew Lloyd-Webber.
The score opens with a short half-minute Foreword found by producer Robert Townson that was not used in the film - a grand, sweeping statement that had been intended to overlap the Main Title which is a very colourful, vibrant piece with much work for trumpets in typical Mexican rhythm, mariachi band style, and also uses exotic percussion including tambourine and xylophone. Much of North's strongly accented music vividly, violently, patriotically underscores cues illustrating battles, and raids and pillage brought on long-suffering village communities. In quieter mode, North writes some witty music for children's horseplay and a sympathetic love theme for Zapata and Josefa (played by Jean Peters). A rounded portrait of Josefa, in rich harmonies, is given in "Josefa's Love" and "Josefa" - her dedication and suffering as she is abandoned for long periods by Zapata and eventually realises he will be killed in a trap.
Another success for Vàrese Sarabande.

Ian Lace
---
Alex NORTH The Misfits OST; orchestra conducted by composer RYKO RCD 10735 [48:13]

Crotchet (UK)
Amazon (USA)
Soundstone (USA)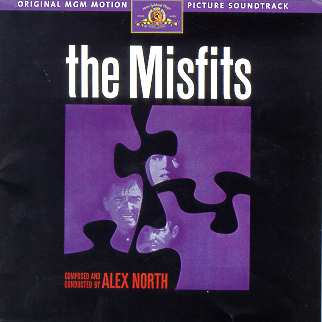 North is, perhaps, best remembered for his ground-breaking, jazz-based score for A Streetcar Named Desire and for his sword and sandals score for the epic film Spartacus. In fact North spent most of 1960 working on Spartacus immediately before writing the score for The Misfits. The insert reminds us that in fact he was best known as a leading exponent of jazz and dance music in film. During the 1930s and 1940s he wrote music for dance artists Martha Graham and Anna Sokolow.
The music cuts violently in but soon subsides into a deep velvet tortured melody with creamy virtuosic piano solo. Highly charged emotion like Korngold without the Viennese composer's (usually) glorious excesses. There is a smoochy "Rendezvous" (2) with clarinet against a soft shoe shuffle background. A perfectly ordinary serenade. The main theme returns (3), shifty and evasive leaning on rich high violins. There is a jazzy big band version (4) of the main theme.
"Love's Reverie" is a dream waltz version of big theme and is resplendently done with many little flourishes and accents to point up what is after all rather a good tune. "Love's Idyll" is more urbane and is like a vaudeville scene with a slight romantic element.
Tracks 7 and 8 return to North's dance milieu. "Paddleball" is a blatant and blarey 1940s jive dance. Reno Bar Dance is a Western rustic dance complete with tinkling piano and Border fiddle.
"Compassion" is a solicitously tender hushed variation of the main theme. The final falling segment of the theme has something of Rozsa's epic romance to it. Track 10 is a prairie-lazy and slightly boozy wander in the sun. The solo violin invokes the shade of Korngold but the track ends in tortured atonalism.
"The Roundup Suite" (track 11) is the longest track at 14:34. There is tender use of the celesta which reminds me of Korngold again but North has his own tougher spin on the music. Rhythms criss and cross cut through the suite with much clinking and clanking. It is, as the notes say, quite modernistic. Interesting that this 1961 film went that far out when in Britain such an approach was very acceptable for horror and war films but verboten in big melodramas. I wonder if I detect more of the avant-garde Henry Brant here than Alex North? The suite ends in shifting rowdily unstable emotional sands - turbulent to the end.
"Trying for Freedom", is an endlessly rocking but uneasy cradle song. The final two tracks (Resolved) boil to a finely emotional conflict with Shostakovich buffeting Copland and then continues in a quieter vein. You are left with a feel that nothing is resolved and the after-taste is regret, ashes and disenchantment.
It is interesting, given the Western locale, how North largely avoids the Coplandesque cliche. The landscape is a psychological one and even in the roundup the violence is convincingly of the mind rather than flatly pictorial.
Great credit must go to the orchestrations by Henry Brant (quite well known in American contemporary classic music circles). He worked with North on Cleopatra (1963), Who's Afraid of Virginia Woolf (1968), The Devil's Brigade (1968), Wise Blood (1979), Under the Volcano (1984) Prizzi's Honor (1985) and The Dead (1987).
Sound quality is good mono. Notes by Kevin Mulhall impeccable. I would however have liked to know something about the orchestra.
When the film came out an LP was issued but this CD is the first and most complete official release of the music. There is much additional music here beyond the vinyl issue.
And yes the insert is another of those damned single sheets folded five times. Enough said.
A fine memento of a fine score. Recommended. The few popular dance sequences were not very likeable but most of the tracks have an inventive splendour which makes the disc highly attractive. I have only recently discovered Alex North and will be listening out for more scores. How long before we get a compilation of North scores from Los Angeles PO and Salonen?

Robert Barnett
---
| | | |
| --- | --- | --- |
| Cliff EIDELMAN One True Thing OST VARÈSE SARABANDE VSD5972 [32:36] | | |
| | | |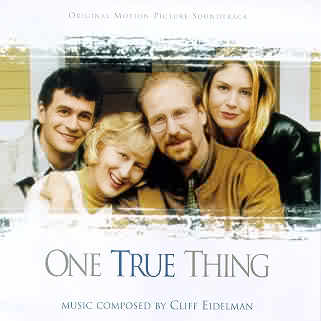 One True Thing is a gentle, nostalgic, romantic/dramatic score and it makes a very pleasant change from the thumping, crashing macho, all-action movie scores that too often come our way. Cliff Eidelman has composed music for such features as Star Trek VI; Untamed Heart; Free Willy 3: The Rescue; and Now and Then. The film, One True Thing, is described as a perceptive, humorous and moving rites of passage drama that examines the confusing, painful and ultimately healing circumstances that occur when an ambitious young Manhattan journalist is forced to move back home to help her middle-aged parents through a crisis. Eidelman responds with music of simple and honest sensitivity with relatively thin textures and few instruments, choosing to focus mainly on piano and strings. Those who enjoyed Thomas Newman's score for The Horse Whisperer will respond to this music; there is a similar quality here; and I am also reminded of John Williams's melancholic but beautiful score for The Accidental Tourist: there is often that overwhelmingly sad, empty feeling associated with bereavement in Eidelman's score.
The opening Main Title cue ("Remembering") is an understated, quietly serene and nostalgic long-flowing melody for piano over strings with subtle woodwind interpolations to suggest bird-calls, so reinforcing the pastoral as well as the homely, nostalgic atmosphere. "Spring", a lovely evocative cue, continues in this warm, peaceful, pastoral vein with long-held, high strings over rippling piano chords and weighted by the occasional cello chord. "New York" is a shimmering evocation and essentially a serene one, as if the hustle and bustle of the great city is being held and viewed at a distance; it seems so unreal. "Journey" is an often repeated simple piano tune as if it is some fondly remembered piano exercise that is irrevocably associated with memories of parents and home. "Suspicion" has an air of sadness and quiet desperation. "A Christmas Wish" is another lovely track, muted, recalling fond thoughts of bygone Christmases. "One True Thing", the title track, is beautifully lyrical with the main theme stated most definitively of all the tracks in the album.
Most of the tracks are slow moving Adagios. The two exeptions are:"Halloween Carnival" which is a perky yet sad little folk dance; and "Press Conference" that has all the busyness associated with such events, with rushing piano figures and some exotic percussion to add colour and urgency. The later cues are all much in the same pleasant vein as those discussed in the preceeding paragraph: "Comeback Inn" is a touching elegy; "Passing Away" features the piano exercise theme again in such a way as to suggest the shock and chill of sudden bereavement while the following cue "Love" conveys a warmer compassion and consolation. "A Passage of Time", feels remote and suggests isolation estrangement and separation (very like The Accidental Tourist music, this cue) while the final "Reconciliation" gradually restores warmth - and reconciliation.
I liked this unpretentious score a lot - it spoke simply and sincerely.

Ian Lace
---
| | | |
| --- | --- | --- |
| George FENTON Ever After OST DECCA/LONDON 460 581-2 [60:40] | | |
| | | |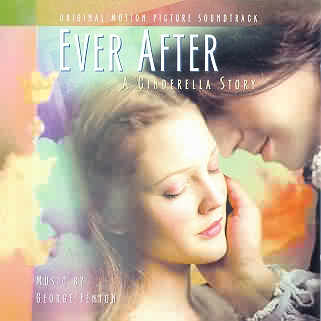 One of the most frequent criticisms that I find I write over and over again on this site is " but this score lacks variety..." Not so in this case; George Fenton has written a magical, romantic score rich in style and mood.
Ever After is described, in its subtitle, as: "A Cinderella Story". While still retaining the essentials of the well loved ancient fairy tale, it has (of course) been up-dated for the 1990s. This Cinderella is more sassy, more of a tomboy who actually saves the Prince herself (we are rapidly becoming redundant chaps!) and the fairy godmother is a fairy godfather in the shape of Leonardo Da Vinci - just as well its not DiCaprio! The film stars Drew Barrymore as Daniella (Cinderella) and Angelica Huston as Rodmilla, the wicked stepmother; with Dougray Scott as Prince Henry.
Britsh composer, George Fenton's previous work for film, theatre and televison has included the music for BBC News, the films: Gandhi; Dangerous Liaisons; White Palace (wonderfully imaginative Main Title music); Cry Freedom; The Fisher King; Groundhog Day; Shadowlands; The Madness of King George and Multiplicity. His scores have won him five Oscar nominations. He has also received several BAFTA and Ivor Novello awards for his work.
The session orchestra made up of some of London's finest players was at times 96 players strong and never less than 70 to 85. Fenton asked for and got a large string section consistent with the requirements of a lush romantic score. As you can see, there is a relatively generous helping of music here (nearly 61 minutes) in contrast to many OST albums. Many of the cues are substantial too, compressing a lot of music of different moods and styles; so, rather than analyse individual tracks, which would take pages and try your patience, I will restrict my comments to a general survey of the CD's content.
The Main Title sets the fairy tale atmosphere - misty and other-worldly - in its opening bars before the introduction of the lush, main romantic theme which is somehow reminiscent of Sondheim and Lloyd-Webber. This is nicely developed in later tracks - it becomes a particularly appealing smoochy waltz for "Proposal", for instance. The mood of wistfulness, and the ardour and yearning of romantic courtship, appealingly pervades such tracks as "Walking on Water", "Trying to Relate" and "The First Kiss." The more daring-do, action tracks have a ring of Korngold (which Fenton himself acknowledges), and Steiner but still retain the composer's own individual style. It should be emphasisied that Fenton is clever enough to avoid clichéd figures and postures. The only jarring element in this context is the inclusion of those Irish Pipes (they seem to get everywhere these days). Original medieval instruments are eshewed but Fenton convincingly evokes the style and atmosphere of the 16th Century. Hunting fanfares and the courtly manners are imaginatively caught in "Cinderella" and "The Girls, The Prince and The Painting" Fenton handles the sinister and the villainy with some original touches and there are nice tongue-in-cheek, darkly comic episodes in "Rescuing Maurice" for instance with imaginative use of the woodwinds. "Your Highness, what a surprise", after those wretched pipes, develops into a memorable study for pizzicato strings. The Choir of Magdalene College, Oxford sing a Kyrie eleison for the cue "The Royal Wedding"
A pity we are brought down to earth with the obligatory song "Put Your Arms Around Me", performed by Texas, which is scored for modern electonics - but then I am old fashioned. Regardless of this crass addition, this is a nice romantic wallow - pass the chocolates and the Kleenex!

Ian Lace
---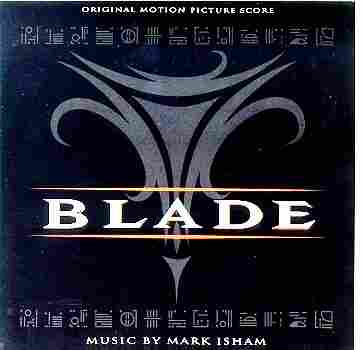 A clangorous, driving, ghoulish score with a black-toned atmosphere matching the plot. This film is a supernatural thriller starring Wesley Snipes as a half-human and half-immortal (how can you do that? - anyway that is what the publicity blurb says). Snipes must stop a race of vampires taking over the human race. Blade is apparently based on a successful series of Marvel Comics of the same name.
Track 1 of Isham's score is driven and driving. Track 2 is out of the Bernard Herrmann school of gloomy threnodies adding what sound like the processed voices of Tibetan monks. Track 3 has more of the same from Track 1 - those ghostly 'knife being drawn across a whetting stone' sounds are becoming a cliché I am afraid. Disembodied voices add a shuddering element to the music which is menacing. Track 5 The Temple of Light is again out of Benny Herrmann's colouring book - dark rumblings, a tinkling piano all opening up strange vistas. There is a dank dungeon-like despair about this score which quickly creates a very strong atmosphere. This film may or may not be a commercial exploiter of the affluent world-wide youth market. The music however has strong character which makes this score worth remembering without being wildly commanding.

Robert Barnett
---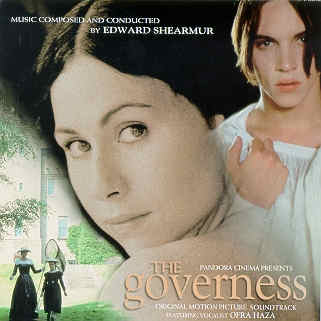 This is a most unusual, intriguing score. One might expect it to be classified as world music if it was divorced from its OST connections. I have not seen The Governess but the CD notes and the information from Sony indicate that it is a romantic drama that stars Academy Award winner Minnie Driver as Rosina Da Silva the ambitious daughter of a happy family in the Sephardic Jewish community of 1840s London. When her father is murdered and her family is plunged into debt, Rosina is forced to make her way in the world outside as a governess.
Edward Shearmur, who won a BAFTA nomination for his score for The Wings of The Dove, researched the musical heritage of the Sephardic Jewish tradition. "These ancient melodies, straddling the divide between Arabic and European musical culture, are a crucial element in the score, and we were lucky in having a wealth of fine recordings from which to draw inspiration.", he says.
To get some idea of the music it is interesting to examine the instrumental line-up as listed in the CD booklet: viola da gamba, recorders, percussion (of the type associated with Egyptian/Arabian music), rebec, lute, harp, piano, viola, cello and violin - with vocalist Ofra Haza. The music is often sensuous, sinuously evocative and provocative. The opening track, "Mary Blackchurch" sets a mood of sultry love more associated with the desert than Victorian London. Many tracks have a quiet and fascinating beauty - like "The Box Camera" cue with its slow plaintive violin melody of yearning and melancholy, and "Passover" - a slow mystical invocation yet ultimately impassioned, featuring solo recorder, tambourine, hand drums and vocalist. Colourful tracks like "Purim Dance" are instrumentally arresting and rythmically irresistible. The music seems to become more and more attractive as cue follows cue. "Fixation" beguiles the ear with softly caressing, lilting, rippling music for harp, lute, violin and piano. "Salome" is a quietly yearning, erotic study for voice, drums and a variety of colourful percussion instruments, bird noises, recorder and viola da gamba. "Love and Loss" is again a melancholy study mainly for lute and violin with a hesitant desolate piano part.
"Photographing Cavendish/Adio querida" impresses: it is a substantial 7½ minute cue. It commences quietly and introspectively with soft, almost Ravelian piano figures before the violin and viola de gamba join in the musings, to be succeeded by lute and harp. The music gradually becomes more animated cascading over itself; then the more rhythmically vital Adio, querida section begins with vocal and percussion joining the lute and violin. But the standout track is "Enr'acte". It is ravishing; it haunts the ear. It is a lovely sultry nocturne with the solo violin in high register, singing over lilting piano chords and beguiling, lazy rhythmic two-note harp interjections. If music can be said to be perfumed then this is so. In the middle of all this music, sits, somewhat incongruously, considering its surrounding tracks - but perhaps in tune with the film's Victorian setting - Schubert's Ständchen.
I think I have said enough to give a flavour of this rare and often bewitching album to give you a flavour of its unusual appeal. A release that continues to grow on me

Ian Lace
---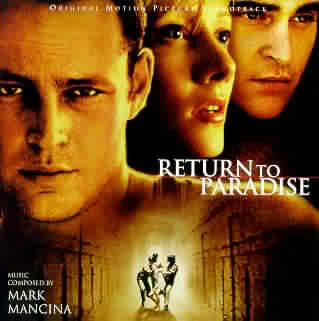 This film centres on a holiday in the Far east by three young men.One of the three is arrested and is sentenced to death. The other two are responsible for this happening. The only way they can secure his release is by confessing and themselves facing gaol.
Mancina has learnt a few things from John Barry in being able to spin long singing lines here closely related to Copland and Dvorák. Track 2 offers gamelan pitter-patter of percussion and bells. The next track returns to the heart-ease of the opening band. The music is strong on minimalist string themes, gamelan noises, breathy panpipes and chorus. The music bubbles, hums and resonates in subdued auburn and autumnal shades. Sometimes its sliding chordal patterns reminded me of the oriental twists and turns of Alan Hovhaness - a composer who represents a major influence on the minimalists and hosts of film music composers. Another blood-brother to Mancina is Michael Nyman. The score for The Piano is an obvious reference point. Track 11 has a wonderful cor anglais solo sinking into a shimmering magical sea of sound. Track 14's twists and turns had me thinking once or twice of Vaughan Williams and it ends in an evocation which reminded me of those Red Indian tribal music 'songs' which entered the charts on the back of the World Music revival a couple of years ago. Track 15 has a thuddingly hard rock beat. The final track [20] emerges from the freezing wastes of Sibelius's Symphony No. 4. The music is undeniably attractive and is remarkably consistent in mood. There perhaps is its challenge because overall as an isolated listening experience it is too unvaried to be entirely satisfying.

Robert Barnett
---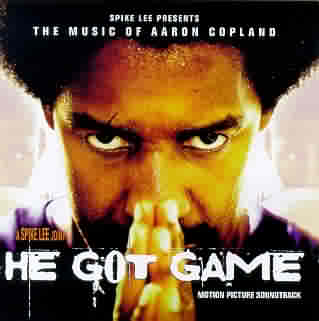 Spike Lee's latest film uses orchestral music by the usually melodious Copland and this disc is a souvenir of the score. The recordings are taken from CBS/Sony's classic catalogue of Copland recordings (1965-71). Many of these tracks are conducted by the composer; others by Leonard Bernstein.
John Henry is a rough hewn score itself drawn I seem to recall from a film is attractively muscular. There is a triptych of movements (the favourite moments) from Appalachian Spring. The Rodeo Hoe-Down is clinkily rustic and close in spirit to the Billy the Kid music from which three tracks are included. A curiosity is the narrator-less score of Lincoln Portrait. I have loved this work for many years. I know some people find it overblown but I warm to it in versions both with and without narrator. A parallel might be the voice-less version of Vaughan Williams' Serenade to Music. Interlude from Music for Theatre was a piece I had not heard before and I was very glad to be introduced to it. In this selection it is as close as you get to Copland's grittier style but it is not hard work. Fanfare for the Common Man is suitably loud, brazen and magnificent. People speak slightingly of Copland's Symphony No. 3 a movement of which uses the Fanfare quite extensively. I rather warm to the Symphony as it makes so much of the fanfare. The Pas de Trois - a strange title in this American company - (from Dance Panels) and Letter From Home are other works I did not recall hearing previously. In their slender, clean-lined and glistening tunefulness they are well worth getting to know. I was rather sorry that Spike Lee had not found a home for Copland's Outdoor Overture which would have made a nice contrast amongst so much reflective music.
Sound quality is fine with an invigoratingly wide sound-spread. Notes are inadequate if you are interested in the music. This CD is valuable as a substantial sampler of Copland's accessible style of music. There is hardly anything from his grittier years. What we get is the touching, vernally fresh, rain-washed music mixed with the Western ballets.
Recommended as a Copland sampler (though there are more generously-filled compilations) and as a souvenir of the film.

Rob Barnett
---
Dennis McCARTHY V: The Series Original Soundtrack. (1984-85) conducted by composer DMCD02 promotional disc [59:15]

Crotchet (UK)
Amazon (USA)
Soundstone (USA)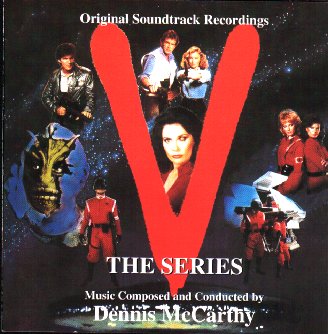 Dennis McCarthy has won Emmys for his work on Star Trek: The Next Generation and Deep Space Nine. He started out as an arranger for Alex North and Glen Campbell. This score, while smoothly skilful, is not quite in the Star Trek league. V (inspired by Sinclair Lewis's novel It Can't Happen Here - fascists take over the USA) was first shown as a four hour TV mini-series on NBC in May 1983. V continued in various formats after that, such was its ratings success. The final episode was shown in the USA in May 1985. The series follows the insidious infiltration of earth by initially benevolent-seeming aliens. Dennis McCarthy's music is orchestral with plenty of homage to Holst's The Planets. a soupcon of Battlestar Galactica and borrowings from Ligeti and Penderecki - but all packaged in a non-intimidating way. There are even leanings towards Close Encounters and a dash of cool jazz. The use of a drum machine with the usual 'oomphy' disco sounds does not help the score, trendy though the sounds were in the early 1980s. The choral contributions step out of Holst's Neptune with additions of small bells, tranquil string noises and harp decoration. This all adds up to a pleasant "easy on the ear" experience but how those damned sampled/processed drums deface the picture. The music has a freshness and occasionally a dynamism as in track 7 which is quite invigorating but is not special in terms of music alone. The music rather unobtrusively underpinned the dialogue, images and actions for the series and did it with some panache but heard alone this is not an engaging experience. Track 12 has a nice dash of menace defused by a brief recollection of Dvorak's Serenade for Strings.
This disc is from analogue master tapes held by the composer. The disc warns that any inherent sound limitations are due to the analogue source. They need not have worried except on the tracks where a breathily close saxophone does sound a little distorted. There seems to be no other audio problem with the sound.
This is for McCarthy completists, Sci-Fantasy fans and V cultists only. I have marked it with an eye to the skill of the writing. Aural background.
Robert Barnett
---
Joe HARNELL V Original Soundtrack Recording (1983-84) orchestration by Don Davis conducted by composer JHCD01 promotional only [58:07]

Crotchet (UK)
Amazon (USA)
Soundstone (USA)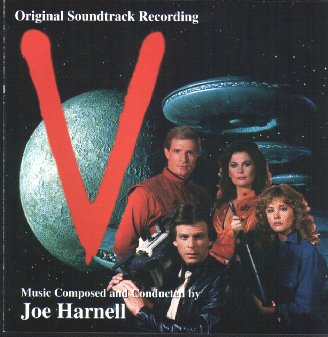 Harnell was a pupil of Copland and was (is?) deeply involved in the classical music world. He wrote the music for such 'classic' TV series (each with cult followings mark you!) as 'The Bionic Woman' and 'The Incredible Hulk'. This shows in the really quite refreshing and romantic music he wrote for V. If Joe Harnell's music for the original V miniseries is littered with cross-references to other pieces at least they are acknowledged in Kenneth Johnson's affectionate notes. This score, unlike McCarthy's for the latter instalments of the various series, is symphonic with choral interventions, making a much cleaner sound. Some tracks are pure 'cheese' as in the gloopy Lizard Love but most are a cut above.The first track is a tribute to Herrmann's title sequence for North by North-West - rather like one of those Godowsky-Chopin arrangements. Later tracks make use of the col legno menace and creepy sweeping tune of Holst's Mars. A pity they spell Holst's name 'Holtz'. Track 11 has a classily smoochy solo violin dipping into gypsy style serenading. Track 12 is a extraordinary meeting of Die Walküre and Herrmann. Over this an heroic horn theme strides confidently. There is more ringing heroism (borrowed from Panufnik's Heroic Overture?) in track 13. Tracks 17 and 18, combining the worst elements of disco and Caribbean band sounds, are worth avoiding but they are there for fun and to fill out the disc. The last track is eminently heroic but borrows very directly from the finale of Beethoven's Fifth and was a mistake. It is utterly incongruous despite the morse code references to the letter V in the first movement of the symphony. The dedication of the disc is 'to resistance fighters - past, present and future'. No doubt sincerely meant it rings hollow here in music for a fluffily entetaining NBC TV miniseries. The album would have stood quite happily without it.
This disc provides the music for the V miniseries and sequels up to but not including the second half of "V The Final Battle" in October 1984. After that the better known (but here less impressive) Dennis McArthy took over. It is not clear why this happened but the notes do mention that Joe Harnell was suffering from heart problems so that may have been the reason.
The recording is from an analogue source and this CD is the first time the score has been heard in stereo. NBC were broadcasting in mono in the early 1980s. Recommended with a measure of warmth. I make no great claims for the music but (borrowings and all) it has a certain freshness lacking in the McCarthy disc.

Robert Barnett
---
THE DISASTER MOVIE MUSIC ALBUM City of Prague PO/Nic Raine and Paul Bateman Silva Screen FILMCD301 [75:56]

Crotchet (UK)
Amazon (USA)
Soundstone (USA)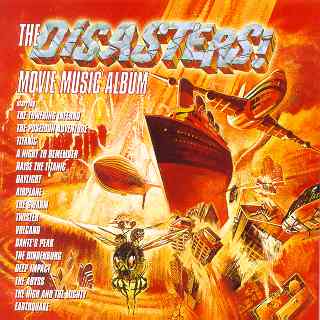 Silva Screen's reputation for film music anthologies continues to grow. They cut the cake many ways. Some anthologies collect different scores by one composer (usually in two disc sets). Others offer thematic medleys such as War, Pirates, Monsters, Romance (the latter two their best) and here Disaster Movie music.
You never quite know what to expect with their selections. Alongside the Horners, Silvestris, Williams and Goldsmiths one also gets Alwyn's Night to Remember, Tiomkin's High and Mighty and Elmer Bernstein's Airplane suite. Towering Inferno (now a denizen of Sunday afternoon TV) has a punchy sophisticated big city score with little snatches of William Schuman and Copland, a dash of Dynasty, some Alex North (a composer I am becoming increasingly interested in) and a slice of music from ITN's News at Ten. John Williams' score is big and brassy; confident and just a little heartless.
After fire comes water - a sequence of extracts from five watery grave movies. This launches and sinks (and rises) with Titanic. James Horner's score for the recent wildly successful Titanic (film and score) is represented by a 4:20 excerpt. This, I am afraid, is a shadow of the atmosphere of the OST though it is perfectly respectable. John Williams returns with the prelude to Poseidon Adventure. This is darker than Inferno. It is portentous and has its impressive moments especially in its dynamic closing pages ending in calm. Alan Silvestri's heavenly choir dominated The Abyss is very well done by the Crouch End Chorus. The ardent heavenly atmosphere aims for and achieves a measure of exaltation.
William Alwyn's discography is extended by a 2:35 slice (the main title) of A Night to Remember (another tale of the Titanic). This is both grand and sombre in approach. The oceanic sequence ends with John Barry's 8:27 suite from Raise the Titanic. This may have been a clinker in the cinema and broken a few studio bank balances however the music stands out in this company. Barry has always been good in marine subjects.
Daylight (1996) is a story of motorists trapped in a collapsed road tunnel and of their rescue. Randy Edelman reaches for sadness, sincerity and calm then reaches for epic heights in a curving romantic theme with many a Finzian twist and Nymanic turn. The end credits are bedevilled with trendy drum noises: processed, spitting and clicking at you in an ultimately annoying way with little to commend.
I saw Twister in the Warner Brothers Cinema in Leicester Square (London) in 1996 and loved it. Like many of these films it is high calorie low sustenance material (just the opposite of the earnest, elevating, appalling and viscerally exciting Saving Private Ryan) but it packed a giant jolt. Special effects, visual and aural, amaze and transfix. The music by Mark Mancina mixes mid-Western hoe-down and Deerhunter peacefulness with a peppy beat.
John Williams' love theme from Earthquake is cocktail piano stuff, sophisticated Richard Clayderman material - all lilac tuxedos, cummerbunds and fluffy cravats. Just a bit too civilised and dated to be completely interesting but it is done as it should be: with utter conviction.
John Frizzell wrote the score for Dante's Peak (1997) although the main theme is the work of James Newton Howard. The 5 minute extract here is a rhapsodically pastoral interlude.
Alan Silvestri returns for the score for Volcano (1997). Rasping louring brass depict the sizzling march of the lava as it inexorably engulfs Los Angeles. The music is solidly propulsive. The next track from the film is called Cleansing Rain. It has a magical, washed-clean, morning-after-the-storm and sun-breaking-through splendour. If this is a cinematic cliche it is well-judged and propelled here.
I have heard the two tracks from The Swarm (1978) before in the Jerry Goldsmith compilation reviewed by me a few months ago. The music has some of the stabbing, buzzing and gritty urgency of Herrmann in North by North-West. Dies Irae puts in an appearance yet again. Interesting to be able to compare this score with the late Wilfred Josephs' work on the film Killer Bees. The end credits of the Goldsmith score draw on the Planets as well as on Copland's and Roy Harris's Third Symphonies. A grand score. Deep Impact (1998) has a disaster striking from space in the form of a giant comet. James Horner's extract (The Wedding) from his OST is not about colossal effects and slaughter but a small scale heart-on-sleeve essay rising to a serious, stolidly-pacing romantic theme. A solo piano and refrigerator-cool woodwind touch in the gentler highlights. Horner's work is to be watched, heard and collected.
David Shire's music for The Hindenburg (1975) is dominated by vocalising soprano and a priest-like trumpet part. There is an effortless airiness about the music. The soprano's part has echoes of Richard Strauss in various of his orchestral songs. This is not out of keeping with a film telling a story centring around a German airship.
The High and the Mighty is super symphonic big band music (New York Under the Stars stuff). Tiomkin tackles this with aplomb and a heavy glossy chrome style. Finally we get the super-serious music for the spoof Airplane (1980). Elmer Bernstein borrows a little (well quite a bit actually) from John Williams' Jaws but this is all part of the joke. Listen to the carolling, cross-calling and hallooing French horn choir at 2:00. This a treasurable moment. The choir vocalises around aah-ooh, aping the horn chorus. Proceedings are wound up (in various senses) with borrowings from the 1812 Overture.
Generous playing times (a subject of continuing skiamachy between myself and David Wishart of Silva) are assured. The notes are written with charming tongue-in-cheek by Mr Wishart. Beyond style the information is good with dates of films and leading players given throughout. Given the predilection of Silva for printing notes over pictures it is a pity that although this looks nice it does not help legibility. The performances by an orchestra once slammed as off-key and crudely provincial are really well engaged and in-style.

Robert Barnett
---
Compilation: The World of the Cinema EMPORIO EMPRCD 815 Selections from: The James Bond Movies; The Sound of Music; That's Entertainment; Schindler's List; An Officer and a Gentleman;

Forrest Gump; The Pink Panther; The Sting; Robin Hood Prince of Thieves; Sleepless in Seattle (When I fall in Love); Beauty and the Beast; Hook; The Sting.

Crotchet (UK)
Amazon (USA)
Soundstone (USA)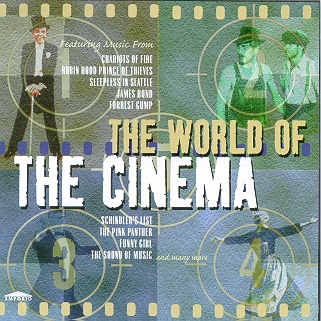 I really cannot recommend this selection of exploitative arrangements of well-known film themes The arrangements although often reasonably well played by uncredited orchestra(s)/ensemble(s) are at best very satisfactory and at worst a poor shade of the original. Visitors to this site, who are informed film music fans, will clearly have the original film OSTs in their collections so it is difficult to imagine an audience for this material. There is only a flimsy four-page booklet with practically no information at all and a poorly designed over-busy front page which repels rather than attracts.I foresee this CD featuring strongly in remainder bins.

Ian Lace

---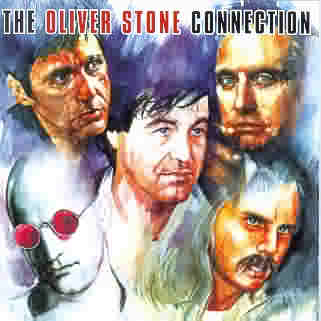 This is an unusual CD; many will find it absorbing; a few might feel it's rather indulgent. Oliver Stone describes how and why he chose the music for many of his films. His commentary is reproduced in the booklet so that for repeated hearings you can programme them out. The first CD is mainly concerned with selections from artists such as Yolocamba Ita; Smokey Robinson; Don McLean; Peggy Lee; Jefferson Airplane and The Doors for such films as Salvador and Platoon. Stone makes the comment that songs and music was important to the men in Vietnam - "music was a survival item, it was as important as your rifle..." Interestingly, for the film The Doors, we learn that Val Kilmer who played Jim Morrison had a very good voice which could in many ways emulate Morrison. The film's sound track ended up with a seamless mix of Kilmer and Morrison. CD 1 includes an intelligent and intriguing 8½ minute track - The End - from The Doors.
The second CD for me is the most interesting for it includes some fascinating material in Stone's comments on the symphonic music used in such films of his as: Heaven and Earth (An unusual and beautifully exotic score by Kitaro); Salvador with George Delrue's love theme; Wall Street (Stewart Copeland); U-Turn (Ennio Moricone); and JFK (John Williams). Stone also explains why he picked Barber's Adagio for Platoon - the serenity of the music to contrast with the visual images of the horror of war.

Ian Lace
---
Return to:
© All rights retained
---