---
November 1998
Discs on these pages are offered for sale. There is also a selection of on-line retailers here.
Please support this web-site by buying discs through us.
Every effort is made to make sales links to the correct disc but, in the end, you must take responsibility for checking that what you are purchasing is what you want.
***********************************************************************

EDITOR'S CHOICE - FILM MUSIC CD OF THE MONTH November 1998

***********************************************************************
CINEMA CAFÉ The European Film Music Album The City of Prague Philharmonic with instrumentalists soloists and singers; conductors: Nic Raine and Paul Bateman SILVA SCREEN filmxcd 302 2CDs [155:41]

Crotchet (UK)
Amazon (USA)
Soundstone (USA)
Jean de Florette; Cyrano de Bergerac/Petit; Mon Oncle/Barcellini and Romand; Playtime/Lemarque; Betty Blue;Camille Claudel/Yared; Un Homme et Une Femme; Bilitis/ Lai; La Reine Margot/Bregovic; Last Tango in Paris/Barbieri; Emmanuelle/Bachelet and Roy; Diva/Catalani - La Wally; Il Postino/ Bacalov; La Dolce Vita; Amacord/ Rota; Cinema Paradiso/ Morricone; Death in Venice/ Mahler - Adagietto 5th Symphony; The Tin Drum/ Jarre; Black Orpheus/ Bonfa; The Hairdresser's Husband/ Nyman; Fort Saganne/Sarde; Opera Sauvage/Vangelis; Providence/Rozsa; Subway;La Femme Nikita; Le Grand Bleu; Atlantis/Serra; Jules et Jim; Day for Night/Delerue;"Z"; Phaedra/Theodorakis; Antonia's Line/Sekacz; The Double Life of Veronique
Vocals: A Man and a Woman: Mary Carewe and Keith Ferreira; Emmanuelle: Keith Ferreira; Ebben: Lasley Garrett; Phaedra: Haris Alexiou; The Double life of Veronique: Charlotte Kinder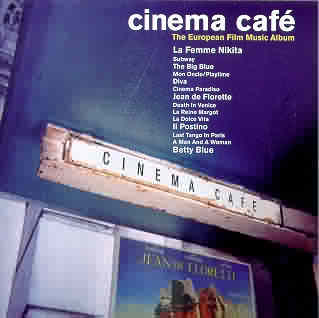 This is a most impressive collection, generous (nearly 80 minutes of material on each CD) and intelligently selected. A really wide variety of music, very well performed is recorded in stunning sound. It is gratifying to note that most of the orchestrations and arrangements have been made by the composers of the original film music themselves; where this has not been possible (mainly because some of the composers are now deceased), the work has been done most sensitively so that we hear music that accurately reflects what we heard in the cinema.
There are so many haunting melodies in this collection: Pierre Bachelet and Herve Roy's theme for Emmanuelle; Francis Lai's theme for A Man and a Woman with its catchy "da-ba-da-ba-da-ba" lyrics (followed by the stirring dramatic music, from the film, which was adapted for BBC's Panorama signature tune); Enrique Banclov's lovely theme for Il Postino; Ennio Morricone's music for Cinema Paradiso that so beautifully caught the atmosphere of childhood innocence and fondly remembered events surrounding the cinema and its projectionist in the little Italian town; Nino Rota's delightful Amacord music; and Luis Bonfa's beautiful score for Black Orpheus and so on.
Amongst the delights are: Catalani's aria from La Wally, sung here by Lesley Garrett, featured in Diva; and Mahler's Adagietto from his Fifth Symphony as used in Death in Venice, passionately performed by the Prague Philharmonic. There are some very striking inclusions. I was very impressed with Maurice Jarre's colourful music for The Tin Drum (a sardonic tale about an adult-within-a-child obsessed with his toy drum set against a backdrop of the Nazis' rise to power). This fascinating score features some very unusual instrumentation including a Fujara - a kind of Polish didgeridoo. Another compelling and unusual score is that for La Double Vie de Veronique which is a striking setpiece for solo soprano, mixed choir and orchestra. Yared's score for Betty Blue is a gem too and how well it fits Beineix's film of Betty's descent from wild exuberance into madness. The two Jean-Claude Petit scores are splendidly played: Jean de Florrette with its clever harmonica interpolations into Verdi's Force of Destiny (so aptly chosen for this intense rural drama) and the proud, swaggering opening music for Cyrano de Bergerac counterbalanced by the music that speaks of Cyrano's noble self-sacrifice and unrequitted love.
There is something for everything in this splendid collection. For guitar music fans, there is the gently beguiling music for two guitars from La Reine Margot working against the general blood-letting of that film. For the younger listeners there are four cues of electronic/rock music for films of Luc Besson scored by Eric Serra. For older listeners and Holywood film music fans there is the music of Miklos Rozsa for Providence - the truly lovely "Twilight Waltz" and the Finale music.
I have just one or two minor criticisms: I missed the essential joie de vivre that Hugh Wolff and the London Sinfonietta brought to their Nonesuch recording of Delerue's music for Jules and Jim (but no complaints about the Prague players' rendition of the more neo-Baroque music for Day for Night. The other is the inclusion of Nyman music for The Hairdresser's Husband - but that's just me - I have a deaf spot for this composer's work!
A very firm recommendation. This should be a best seller.

Ian Lace
and Rob Barnett's review of this release:-
Congratulations to the always innovative Silva Screen people for spotting a gap in the catalogue and filling it. Not only is this album an enterprising lacuna-filler it does so with distinction, artistic acuity and a generous spirit. European film music has been a Cinderella in the cinema music world. The concentration has been on Hollywood and a certain snobbism has set in to the detriment of many attractive European talents. Of course certain European composers have been adopted by Hollywood and Generation 1 of the Californian composers included people such as Korngold who came to Hollywood in the 1930s. Composers such as Delerue have also made an impact in Hollywood but I still have the impression that they fight an uphill battle against the central Hollywood tradition.
These two well-filled discs offer a cross-section of European film music touching on the familiar (A Man and A Woman) and the largely unfamiliar (Black Orpheus). Of course the diligent follower of continental films will have been able to catch many of these in the UK on Channel 4 and BBC2.
Jean de Florette (Petit) has music which perfectly caught the shimmering heat and suffocating tragedy of the storyline. The Mon Oncle - Jacques Tati Suite is charming and light-footed. Francis Lai's music for A Man and a Woman opens with that famous music forever associated with the romance of the night-rain bombarded windscreen of the drive towards his lover. The Lullaby by Bregovic from La Reine Margot is a Deerhunter type guitar serenade.
The next group of tracks is called Sex in the Cinema. Gatto Barbieri's music for Last Tango in Paris (the complete OST of which was recently reviewed by me for this site) was lost in the hoo-ha about the film. It is in fact perfectly attractive music - not at all sleazy. Here I feel the music does not have quite the punch found in the OST album (Ryko) or maybe it is just that I rather miss grainy sound of the OST. We return to Francis Lai's not very inspiring keyboard synthesised music from Bilitis. The song from Emmanuelle is charmingly done but is a very slight thing.
The soprano aria from Diva is given with full battle honours and is touchingly done without (thank heavens) any bluster. Cosma's Promenade Sentimentale from Diva is a sensational little moonlit walk of a piece combining a Satie-like concentration (Gymnopedie) with Debussy's Clair de Lune. Gabriel Yared's suite from Betty Blue (dir Jean-Jacques Beineix) starts nonchalantly and then finds its feet in the direction of Eric Serra's synthesised approach. A pity!
The next five tracks (12-16) are from the Italian Cinema. Bacalov's music from Il Postino is delightfully Mediterranean in feel: a smooth accordion, mandolin, guitar and a close-up clarinet with orchestra. Nino Rota's music for La Dolce Vita is charm personified with a 1940s-style vibraphone dance (13) which is amongst the most imaginative tracks in the set. Ennio Morricone can be relied upon to produce music of touching depth as he has most recently in the music for Lolita. The track (14) from Cinema Paradiso is not an exception. The film Death in Venice made Mahler's Fifth Symphony's Adagietto world-famous. Here the Prague players give it an interpretation well worthy of the world's best. Then back to Rota and an urbanely light-hearted suite from Amarcord, in step with the Dolce Vita music. Lastly on this first disc comes Maurice Jarre's music from The Tin Drum. This is strange music which you feel is leading you on deeper and deeper into someone's surreal and unnerving world.
Disc 2. Petit's music for Cyrano de Bergerac is sorrowfully regal with a hint of Lully but without being old-fashioned. In the end-title section we catch more of the emotional charge of the story. The terracing of sound is extremely well caught in this recording with depth of sound-stage and placement of instruments particularly well done. The Deer-Stalker-like solo guitar gavotte of Bonfa's Manha de Carnival (Black Orpheus) initially has the qualities of the famous Myers piece but soon becomes more lively, introducing drums and full orchestral strings in a suave dance which melds Latin celebration with regret.
A three movement suite from Michael Nyman's music for The Hairdresser's Husband is well-suited to a tale of nostalgia, childhood fantasies lived out and then snatched away. The music has that smooth gentleness we are used to from Nyman evolving into Finzi-like serenades throbbing like a heart-beat. I also noticed the relationship of the music on track 4 to Nyman's fantasy for saxophone and orchestra 'Where the Bee Dances'. I know the film quite well and found the performance caught the mood of the film and the original soundtrack very accurately. Track 5 in this three track suite reflects the sense of loss and a dreamlike relaxation or contentment in loss. See the film. You may even develop an interest in Moroccan music and the hilariously serious dancing of the Hairdresser's Husband himself.
The Banquet is a waltz from Camille Claudel by Gabriel Yared. This is a slightly eerie Grand Hotel-type waltz with similarities to Stephen Sondheim's waltzes from A Little Night Music. Philippe Sarde will be known for his masterful open air score for Tess. In Fort Saganne we get a miniature cello concerto which is largely contemplative. Opera Sauvage had a score by 'Chariots of Fire' man, Vangelis and frankly this is more of the same; not one of my favourite tracks.
Next we get the Valse Crepusculaire/Finale from Rózsa's score for Providence. The commanding twilight waltz (with a smidgin of Beethoven) is for solo piano and small string ensemble. It would keep happy company with Richard Rodney Bennett's music for Murder on the Orient Express. The finale boils up into a much more typical Rózsa passionate climax. All the hallmarks are there … and very welcome too.
After the romance and passion of tracks 6-9 the following four tracks comprise music by Serra from the films of Luc Besson. Subway has a rock beat. La Femme Nikita uses what sounds like synthesised samples from a Caribbean steel band. The track is preferable to Subway but is repetitive without having a great deal to say. Le Grand Bleu serves up more synthesised bland noises offset by a really nice saxophone solo (or a sampled facsimile). Atlantis (a suite) is the last of the four Serra tracks. Serra's predilection for synthesised sounds shows strongly. He can create magical results and we get some of this in Atlantis although whenever a rock beat intrudes the effect disappears.
I was glad to get back to the natural orchestra with the next three tracks all for Georges Delerue's music from Truffaut's films. Tracks 14/15 are from Jules et Jim. The style is akin to Poulenc's in knockabout charming mode though Vacances [15] has more repose. Then comes the Chorale from Day for Night ,like an eldritch Handel/Nyman creation.
Theodorakis (whose symphonies I would love to explore) represents the Greek cinema in two tracks. The theme from Z is well known. The theme is a meeting of and El Cid. Then comes his music for Phaedra. The suite opens very quietly and then introduces a breathy chanteuse, a solo guitar over cool strings and then a majestic El Cid-type climax.
Dutch cinema is shown off by Ilona Sekacz's music from Antonia's Line. Ms Sekacz wrote oodles of music for BBC Radio 3 and Radio 4 productions but her reputation became much more prominent with the music for this film and with the pastoral score for Mrs Dalloway reviewed by me about six months ago. Antonia's Line is in much the same attractive though not riveting style. This track is licensed from the OST album.
Next and finally we hear the Concerto in E-minor is from The Double Life of Veronique. In the film the music is referred to as being by the composer 'van den Budenmayer' who is in fact the real-life composer Zbigniew Preisner. This is a 5 minute piece for solo soprano [Charlotte Kinder] (à la Symphony of Sorrowfull Songs), the Crouch End Festival chorus and orchestra. It has a majestic poise close to Fauré, ethereal and pure. This has made van den Budenmayer's music something of a Holy Grail among some film music fans. Preisner has completed a Requiem (for the director Kieslowski) which is due to be performed in London before too long. I wonder if there will be van den Budenmayer echoes in that work.
The set is packed with great tracks and succeeds so well because of its rich and freshly compiled variety. I look forward to volumes 2 and 3. If you are feeling jaded with the production-line scores which cross our screens then give this collection an airing. You are unlikely to dislike it and will find new doors opened to you. One of Silva's best.

Rob Barnett
---
Erik NORDGREN (1913-1992) The Classic Film Music : The Bergman Suites Slovak Radio SO/Adriano MARCO POLO 8.223682 [53:39]

Women's Waiting (1952); Smiles of a Summer Night (1955); Wild Strawberries (1957); The Face (1958); The Garden of Eden (1961)

Crotchet (UK)
Amazon (USA)
Soundstone (USA)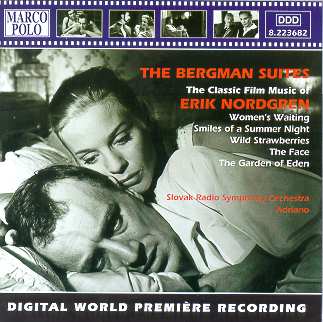 With this CD another step is taken towards recognising European film music as just as significant and distinctive as its counterparts in the USA.
No praise is too high for Marco Polo's enterprise and production values. The dedication and, more to the point, utterly committed enthusiasm of Adriano is evident in the performances and the notes. The notes (almost twelve pages in English) are exhaustive to the point of being exhausting (and that is not a complaint). The author is Adriano who as well as being delightfully informative is also self-effacingly grateful to his collaborators and to Klaus Heymann The booklet is graced with stills from the various films represented. The notes are in English, French and German.
These Bergman films may well have been seen on satellite or cable. Certainly a number of them (I recall seeing Smiles and Wild Strawberries) have been shown on British TV (Channel 4) and BBC2.
Erik Nordgren is not the same person as the Finnish composer Pehr Henrik Nordgren. This Nordgren studied at the Stockholm Royal Academy of Music. His compositions include a clarinet concerto (1950) and another for bassoon (1966). His collaboration with Ingmar Bergman, recorded on this disc, spanned seventeen scores. Nordgren also wrote music for films by Alf Kjellin, Alf Sjoberg, Gustav Molander, Lars-Erik Kjellgren and Jan Troell (The Emigrants, 1972). Tragically their collaboration ended when Bergman married the Finnish pianist Kabi Laretei (a name well known to me as soloist in the Nystroem Piano Concerto). Bergman found himself absorbed in music through his wife and Nordgren and Bergman drifted apart. The Garden of Eden was their last collaboration.
What of the music? This has that icy, reserved yet utterly devastating Northern beauty which is found in the smaller-scale Sibelius and especially his theatre music. Mixed in with this element and providing an anarchic and occasionally unwelcome contrast is Nordgren's penchant for raucous Galops and Marches - rustic and worldly. Another element is his use of the harp to illuminate texture and to project a theme.
Women's Waiting (6 tracks - a theme and five variants) opens in Gallic-style harp filigree. This is overlain with energetic writing for the strings. If you have ever heard the Concerto for Strings by Herbert Howells you will have some impression of the sound. The harp is a serious player in this track. The second track is a dark serenade but it is still a serenade - Sibelian and romantic. The third and fourth tracks sound like refugees from Sibelius' Fourth Symphony - wisps of tune wander amid a bleak landscape occasionally brilliantly lit by an excoriatingly bright sunlight. Track 5 has a clip-clop charm laced with more cool romance. The finale has Poulencian brass calling out like nightmare escapees from the suave night-life of 1920s Paris. The tick-tocking background soon asserts itself and to a solo violin melody an exhaustion settles on the landscape.
Smiles of a Summer Night is famous because Stephen Sondheim made his name with A Little Night Music and his musical is based on the Bergman film. The orchestra is bigger in sound and presence than the score for Women's Waiting. The first movement has that keen-edged mix of longing and joy. The march which follows [8] is stern but delivered alla turca with little bells under marcato high woodwind seeming to have stepped from the pages of Nutcracker. The Galop is less French than Italian - Rossini in fact - slightly pompous and definitely absurd. Track [10] is more of the same - very operatic or more accurately operettic! Dangerous Wine [11] is a deft essay for the solo harp winding, curving, falling and floating. This is spendidly woven music. Crisis is painted in unrelieved drabness. The Menuet is a Josef Haydn pastiche. Gavotte is not far away stylistically from Menuet - full of pomp and even a little pomposity.
These ancient dance forms had attractions for Sibelius also (cf King Christian II and Pelleas). With The Park we return to a more impressionistic world and even a little heroism in a burnished contribution from the French horns. More in the same flow comes in the final Escape which ends in a cheeky little gesture.
Wild Strawberries (3 movements) in Emotions sounds like a cross between Sibelius, RVW and Gerald Finzi until bell tolling and clock ticking disturbs the atmosphere and then a quick gambolling theme enters delivered by the woodwind and the strings enter again like Vaughan Williams' Fifth symphony. Memories is elegiac with so many of the elements of English impressionism that one catches one's breath. Still and all there is a chilly Scandinavian element which marks the music out as slightly but distinctly different. Clocks ticking and time passing are summoned up in the last track of the sequence: Dreams. The pilgrimage is through a surreal landscape which often seems threatening and closes in a violent dark awakening.
The Face (3 movements) opens in the track Swindle and Deceit with dull drums, shuddering tambourine and a guitar figure which slaps you full in the face. The guitar gradually takes on a more lyrical role partnering the harp - clearly a favoured instrument in Nordgren's palette. March is another vulgar and brazen effort with more than a hint of Sousa and a soupçon of Poulenc and Satie. The Galop follows the same approach but is more nearly evocative of France than the Galop from Smiles.
Secret Chambers of the Heart is the first track of The Garden of Eden. Here we are back in Sibelius territory. This is the Sibelius of the perfect miniatures (Valse Triste) and the incidental music (Belshazzar) rather than the symphonies. A meltingly lovely duo for harp and flute is to be found from 2:00 onwards on track 23. This rises in triumph into an excoriatingly romantic moment for full orchestra. The last movement Small Town Affairs is more Galop-March style music - fluffy and direct - a necessary contrast to the romance which Nordgren can articulate with heart-disturbing acumen.
Nordgren appears in two Bergman films: Wild Strawberries and Not to Speak of All These Women. In the latter he plays a cellist who dies of a heart-attack during a private concert.
I do hope that the musical material for Seventh Seal (currently missing) will reappear and that it can be recorded.
This was Adriano's 20th disc for Marco Polo and his eleventh in the Classic film Music series. I look forward to the next and the next and the next ...
A warm recommendation for this disc which is rewarding and out of the ordinary.

Rob Barnett
---
Havanola/Hugo Frey; Singin' the Blues (Till My Daddy Comes Home)/Con Conrad and J Russel Robinson; From Now On /George Gershwin; Jazz-O-Mine/Harry Akst; Just Snap Your Fingers at Care/Louis Silvers; Whip-Poor-Will/Jerome Kern; Rialto Ripples/George Gershwin; Waitin' for Me/ Pinkard; Buzzin' the Bee/ Pete Wendling and Jack Wells; Darling/ Chris Schonberg; For Your Country and My Country/Irving Berlin; Kangaroo Hop /Melville Morris; Passtime Rag No.3/Artie Matthews; Chinese Blues /Oscar Gardner; Whispering/John Schonberger; Arrah Go On I'm Gonna Back to Oregon/ Bert Grant.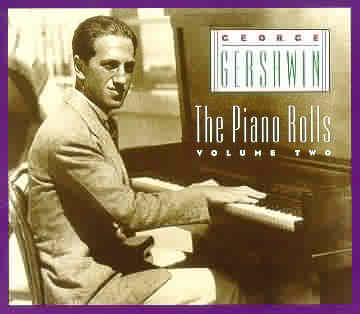 Readers may remember that I reviewed Volume I of the Nonesuch recordings based on Gershwin's performances captured on paper - the piano rolls. Just to recap from last month's review about the way this was done:-
"The coded information on Gershwin's piano rolls has been converted to computer floppy discs for use in playback on a 9-foot Yamaha Disklavier. This is an oversimplification of the technical feat which is fully explained in the very thorough booklet notes. The Disklavier piano is a high-quality full-sized concert grand which produces a most impressive richness of sound and dynamic range which until now has been unusual for piano rolls recorded for CDs."
This volume is mostly made up of material written by others However this should not deter Gerswhin fans from experiencing the sheer dazzle and dexterity, the sparking virtuosity and vivacity of Gershwin's readings and the sophisticated harmonisations of the tunes. Take for example the way Chinese/impressionist riffs break into"Just Snap your Fingers..." and how he evokes the received notion of the "mysterious East" in "Chinese Blues." The recordings date from January 1916 to 1920. One of the earliest inclusions is Gershwin's own "Rialto Ripples" which was Gershwin's first published instrumental. While all the tunes are pleasant - jazz and rag orientated - many will probably be unfamiliar; perhaps the best known tune here is "Whispering" Paul Whiteman's hit of 1920; Gershwin wraps an intricate web of Spanish rhythm around this old favourite. This fascinating album needs no recommendation to Gershwin fans. Enjoy

Ian Lace
---
George GERSHWIN Rhapsody in Blue; Concerto in F; An American in Paris André Previn (piano) and conducting the London Symphony Orchestra EMI CDM5 66891 2

Crotchet
Amazon (USA)
Soundstone (USA)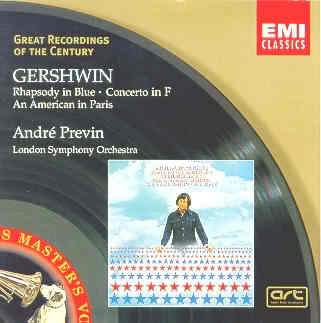 I have always loved this recording and I welcome it back to the catalogue most warmly. This fabulous recording was first released in 1971. It is one of the first releases in EMI's new series, "Great Recordings of the Century" - and these performances certainly qualify for that superlative. The collection is superbly produced and engineered by the renowned team of Christopher Bishop and Christopher Parker, and it features André Previn at peak form in the days when he was in London producing such classic recordings as his critically acclaimed cycle of Vaughan Williams symphonies, his complete Rachmaninov 2nd Symphony, and a blistering Walton 1st Symphony that is still the yardstick when judging rival versions. This, for me, is the way to play Gershwin. The slightly understated Gramophone criticism, of the day, said: "...the disc has great virtues...Previn plays well, as you would expect, and there is virtuoso playing from the LSO..." The CD booklet notes are in the form of an appreciation of these performances by Brian Morton and it is worth quoting a salient paragraph -
"...Even the most sceptical of critics is prepared, at least, to pay lip service to the American's genius, even if only as a 'popular' composer. What Gershwin certainly is, however, is badly performed. The concert works require a touch that is not within the orthodox canon. Chords are not there to be played whole and uncoloured, but broken. There should be ambiguities in the tonality, hung notes, phrases splayed athwart the pulse. There should be no right angles, no straight edges." (The bold italics are mine to emphasise this point).
Previn, with his versatile background of jazz, show business and film music, as well as conventional concert music, was the ideal interpreter of Gershwin bringing a freshness, spontaneity and above all a sparkling joie de vivre to these interpretations. Just listen to the opening of the Rhapsody in Blue, for instance: the sheer joy of the clarinet's wail complete with the cheeky little twist in its tail, is counterbalanced by emphatic timpani and a really saucy answering call from the trumpet played "in the hat". Previn convinces the London Symphony Orchestra to play as if they were born to the jazz idiom and they play their hearts out for him giving him, as the Gramophone critic says, virtuoso performances. The big tune of the Rhapsody that everybody remembers seems to take on an extra dimension under Previn. I cannot ever before recall being reminded of that bitter sweet feeling or a yearning - almost a mourning - for lost times - that feeling that Delius captured in his Paris.
As for An American in Paris, well, for me, this performance is the one. You might have to listen for a lifetime to hear a better performance than this. This American... is delighted to be in Paris, for him Spring is in the air. (In some other readings I get the impression it is Autumn.) Again there is that attractive devil-may-care spirit, the deliciously vulgar, witty turns of phrase. The big romantic tune first appears with a sardonic edge, its cynical, world-weary - the sort of picture you might imagine of a know-it-all, seen-everything-before Yank before he succumbs to the charm of the capital of romance. (But see what Gershwin, himself, said of his idea of what the American was doing in Paris in my review of the Michael Tilson Thomas recording below.)
Of the Piano Concerto it is worth quoting Morton again..." Consider the extraordinary opening... In most performances it is presented like a portal to some grand classical statement, shiny and unblemished, faux-Corinthian. Previn approaches it with sympathetic freshness. It's immediately clear that this language is modern American, and far from 'classical'. Even the familiar contention between soloist and ensemble has a different function here. The piano not only plays within and against the group, but also across its angles.. the magnificent trumpet passage in the slow middle section, played here by Howard Snell, has an edge of raw intensity, alluding to the spirit of the blues without using blues intervals in a remotely orthodox way..." My comments in the preceding paragraphs apply equally well to Previn's view of the Concerto. He penetrates to the very soul of this brilliant music - so often associated with the brash vivacity, and the sentimentality of New York. In the outer movements, he propels the music so that it bounces along strongly; his reading is crisp but articulate Listen how movingly he shapes the lovely soulful melody at about 6:00 in the first movement. As for his performance of the lovely Adagio - Andante con moto second movement; it is a revelation, a complete joy: the sympathetic playing of the LSO is sublime and Previn's cadenza is a study in hushed concentration and acute sensitivity.
A classic recording that must be in every Gershwin lovers library

Ian Lace
---
George GERSHWIN An American in Paris; Concerto in F*; Catfish Row Suite with scenes from Porgy and Bess; Second Rhapsody for Piano and orchestra**. Garrick Ohlsson* (piano); Michael Tilson Thomas** (piano) and conducting the San Francisco Symphony Orchestra

RCA RED SEAL 09026 68931 2CDs:

Crotchet (UK)
Amazon (USA)
Soundstone (USA)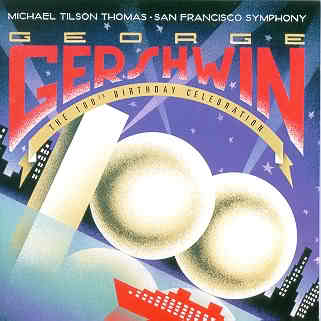 I have always been impressed with Michael Tilson Thomas's recordings of Gershwin that he made for CBS Masterworks (now Sony) in the 1970s and early '80s so I was eagerly looking forward to this new double CD set with the San Francisco Orchestra. His view seems to have matured and sobered somewhat over the years.
The fist CD contains some unusual material and so its value is, accordingly, considerable. First we have an over 40 minute performance of Gershwin's Catfish Row Suite specially augmented, for this special 100th Birthday Celebration with four of the original songs from Porgy and Bess. The opening number is a laid-back, nicely understated and languid "Summertime" which is sung by Audra McDonald a lovely velvet-toned high soprano with a great sense of the song's line and its expressive opportunities. Her expressive talent is given even more opportunity as she bewails her loss in "My Man's Gone Now." Even more expressive and very impressive is the authoritative oaken voice of Brian Stokes Mitchell (a young man to watch on this evidence) singing, first, Porgy's aria "Bess, You is My Woman Now" and then a slyly, oily Sportin' Life singing "There's a Boat Dat's Leavin' Soon..." In this, towards the end, he is in danger of being just that bit too expressive, treading a tightrope and just succeeding in staying this side of being over the top. The Hurricane music promises excitement but just misses delivery - I felt the strings needed just that bit more volume and bite to balance the gathering fury in the rest of the orchestra.
Completing CD1 is a performance of the original version of the Second Rhapsody. (I applaud the inclusion of this sadly underrated work rather than yet another Rhapsody in Blue.) The Second Rhapsody was first published in a version for two pianos and not until the early 1950s, well after the composer's death in 1937, did it come out in an orchestra-and-piano version that was an "improved" edition that simplified much of Gershwin's orchestration. The original parts were subsequently destroyed. In 1982 Michael Tilson Thomas, helped by Ira Gershwin, made a new set of parts from George's original manuscript, which was preserved in the Library of Congress. This is the version we hear and Tilson Thomas has added a cadenza he has written in the Gershwin style. Readers will remember that originally the music appeared in a 1931 movie, Delicious. In the film, a composer, with a Russian accent, introduces his "New York Rhapsody" at the piano with the following dialogue: "It begins like we all see the city first: the great towers almost in the clouds. Down below, in the long furrows, human seeds trying to grow to the light. And noise: riveters drumming in your ear from every side...And this is the night motif: night silencing the rivets."...
This evocation must have impressed Gershwin for his first title for this work was Rhapsody in Rivets. I was quite taken aback by this version; it sounds rather different, tougher, grittier and darker-toned, than the version of the Second Rhapsody we normally hear. It takes some getting used to but I am looking forward to returning to it and really getting to know it.
Tilson-Thomas's An American in Paris, which opens CD2, cannot rival the Previn version reviewed above; but it is lively enough and it has some nice contrasts, interesting nuances and the big romantic tune is most captivatingly played. The notes reminded me of Gershwin's (admittedly rather bland) description of his American's visit to Paris: The bustling first section represents "him strolling about the city, he listens to various street noises, and absorbs the French atmosphere.." and later "perhaps after strolling into a café and having a few drinks, he suddenly succumbs to a spasm of homesickness". This description fits the work's main romantic blues melody and the Latin treatment that punctuates it. Eventually, as Gershwin says, "having left the café and reached the open air, the American has downed his spell of blues and once again is an alert spectator of Paris life."
I was delighted by Garrick Ohlsson's sprightly yet graceful reading of the Concerto. He shows a keen insight into jazz nuances which he infuses intelligently and aptly into his performance. Tilson Thomas gives him a sympathetic accompaniment with some arresting touches including an inclination to follow long held chords with short sharp staccato ones to give an appropriate edginess to this work.

Ian Lace
---
George GERSHWIN The Best of George Gershwin (Nonesuch Gershwin recordings compilation with new additions) SONY SM2K 60661 2 CDS

Crotchet (UK)
Amazon (USA)
Soundstone (USA)
CD1 [76:45]: Rhapsody in Blue/Bernstein cond and piano; An American in Paris/Bernstein; Piano Concerto (Allegro agitato)/Previn/Kostelanetz; Prelude No.1/Katia & Marielle Labèque; Strike up the Band/ John Williams /Boston Pops; Symphonic Picture: Porgy and Bess/ Ormandy; Overture: Girl Crazy/ Michael Tilson Thomas
CD2 [74:08] Jazz and Songs: 20 numbers from such artists as: Miles Davis; Mel Torme; Benny Goodman Sextet; Billie Holliday; Ella Fitzgerald; Chet Baker; Duke Ellington; Stephane Grappelli; Fred Astaire; Erroll Garner and the Woody Herman Orchestra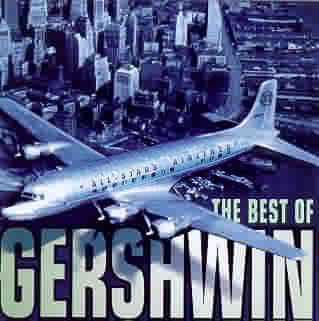 This is another very attractive Gershwin collection.
Bernstein as pianist and conductor in Rhapsody in Blue is wayward, nothing unusual in that; making his own personal statement. As pianist, he begins thoughtfully, he is almost restrained; then he shifts gears and dashes away, but what he continually offers us, is the unexpected little turn of phrase, the trenchant little nuance or flourish. As conductor, he encourages characterful brass snortings through various mutes and a really soulfully-indulgent big tune which some might say borders on the exaggerated. Rodney Geenberg in his book, George Gershwin, reviewed elsewhere on this site, rates this performance highly, listing it amongst his recommended recordings. He also lists Bernstein's brash but always interesting and, again, personal view of An American in Paris - there's plenty of excitement and it's full of character and colour. Previn, as pianist, and Kostelanetz in only the concluding movement of the Concerto in F, offer plenty of attack and gusto.
John Green's arrangement of Strike Up the Band played by film composer John Williams and the Boston Pops Orchestra is an exuberant celebration, especially enjoyed by the brass and percussion sections. The Labeque Twins are equally exuberant in their two piano rendition of the Prelude No.1. I was generally very impressed with Ormandy's version of the Robert Russell Bennett suite from Porgy and Bess. It has heart and warmth - a beautifully balanced reading with very fine ensemble playing and a nice feeling for jazz nuances. The playing of "Bess You is My Woman Now" is heart-stoppingly beautiful and the storm music is very thrilling putting the new Tilson-Thomas recording reviewed above in the shade. I just wish the rendition of "Summertime" did not make me feel as if Ormandy was taking a patronising view about coloured speech patterns.
Finally, on this first CD, there is a magnificent Girl Crazy Overture from Michael Tilson-Thomas with so many catchy tunes such as "Embraceable You", (They're Playing Songs of Love) "But Not for Me" and "I Got Rhythm". I am surprised that Sony have not reissued the splendid CDs of Gershwin's music that this conductor made on the former Sony label, CBS Masterworks, for the centenary celebrations this year.
The second CD comprising twenty songs and jazz numbers will be welcomed or not according to taste. Personally I liked most of them. Traditional, mainstream and progressive jazz treatments are represented. There is Miles Davis's own unique way with "Summertime" and toe-tapping infectious contributions from the Benny Goodman Sextet ("I Got Rhythm") and Stan Getz ("Who Cares?") I loved the close-harmony singing of the L.A. Voices and the instrumentals of Supersax in "Embraceable You" - schmaltzy yes, but I don't care, I found it delectable. The same comment goes for the Hi-Lo's "Of Thee I Sing." Ahmad Jamal offers some nice touches that made me smile in his version of "They Can't Take that Away from Me" and I was impressed with the chocolate brown tones of the extended six minute arrangement of "Bess You is My Woman Now" from Tommy Flanagan (piano), Ron Carter (bass) and Roy Haynes, while Erroll Garner, fingers flying over his eight minute, "The Man I Love" variations, is just incredible. I loved Ella Fitzgerald's cheekily expressive "Nice Work if You Can Get It" but then Ella is renowned for her Gershwin Song Book (again praised by Greenberg). Fred is well, Fred Astaire, incomparable; and Peggy Lee is also memorable with Benny Goodman's orchestra in "How Long Has This Been Going On" even though she cannot displace Audrey Hepburn's special way with this number in the film Funny Face. I also loved the gravelly but great Tony Bennett, he has a great way with "They All Laughed..." I was not impressed with the flat singing of Mel Tormé in "Isn't it A Pity?" he loses all the opportunities that the singers grasp in this song in the stage production of Pardon My English reviewed on this site last month. I was equally unimpressed with Billie Holiday's "The Man I Love", a disappointment that surprised me knowing her reputation. Another surprising disappointment was Duke Ellington's rendition of "Summertime", a most peculiar reading with some very odd percussion sounding like DIY gone mad. But, all in all, this CD is a pleasure; and I would rate the whole set -

Ian Lace
But Rob Barnett is not so impressed -
What we have here are two slices of the Gershwin's music. The first is a very attractive CD of Gershwin's concert works. The artists are all top-flight and in evident sympathy with the idiom. Bernstein is both pianist and conductor in Rhapsody in Blue which is played with slickness, understanding and a sly and knowing sleazinesss which seems just right. This carries over into An American in Paris. I could have happily done without the other pieces in favour of having the whole of the piano concerto; as it is all you get is the third movement played by André Previn with André Kostelanetz and his orchestra. The Labèque sisters play a two piano arrangement of Prelude No. 1 - all suitably dynamic. The overtures from Strike Up the Band and Girl Crazy are well done. Lastly we have a slightly under-sprung version (Ormandy and the Philadelphians possibly slightly out of sympathy with the music?) of Robert Russell Bennett's Symphonic Picture of Porgy and Bess. Give me the Gershwin suite any time. All in all a very satisfying collection with one or two missed opportunities. The second disc has twenty generally uninspiring jazz versions of Gershwin songs from a wide-cross section of generation. Here we can hear Aretha Franklin, Ahmad Jamal, Tony Bennett, Ella Fitzgerald; Mel Torme and best of all Billie Holliday. With the exception of the Holliday and Fitzgerald tracks I found little to attract a second hearing. A case of missed opportunities.
Rob Barnett
---
| | | |
| --- | --- | --- |
| Bernard HERRMANN The 7th Voyage of Sinbad John Debney conducts the Royal Scottish National Orchestra VARÈSE SARABANDE VSD5961 [58:46] | | |
| | | |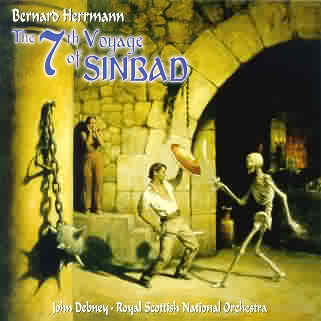 What an extraordinarily inventive mind Bernard Herrmann had! His imaginative scoring was miraculous - however did he work out how many instruments he would need to get the exact sound he required: the number of harps to produce the underwater atmosphere in Beneath the Twelve Mile Reef; or the number of horns in On Dangerous Ground?
The exotic Arabian Nights adventure, The 7th Voyage of Sinbad, the first of the four Bernard Herrmann/ Ray Harryhausen collaborations, gave Herrmann the opportunity to give his imagination full rein. Previously he had experience scoring Far and Middle Eastern subjects with Anna and the King of Siam (1946); Five Fingers (1952); King of the Khyber Rifles (1953); and The Man Who Knew Too Much (1955). Working on some of these projects he had become familiar with such styles as the Javanese pelog scale (evident here in the cue "The Egg").
Parts of the score for ' Sinbad were lifted from music he wrote earlier for diverse projects including CBS radio material; the colourful "Bagdad" music, so vividly evoking dust and heat, the busy bazaars, and the allure of dancing girls, was originally written around 1934 for an unfinished project: Egypt: a tone picture.
A normal size orchestra is used but with an expanded percussion section. High strings in romantic-tender-vulnerable mode are used to portray the Princess and her plight (she is miniaturised and kidnapped) and groups of brass, wind, and percussion instruments are used for evoking the monsters: the Cyclops, the dragon and the Roc; and in the celebrated Duel with the Skeleton in which Herrmann makes clever and appropriate use of the xylophone. Some of the music is ferocious as befits the fights with the huge on-screen monsters, three successive cues are especially so: "Dragon and Cyclops"; "The Crossbow"; and "The Death of the Dragon"; with really raw and guttural timbre; percussion, piano, horns, clarinets, bassoons, trombones and tubas all combining to powerful effect. For much of the score, Herrmann uses a highly repetitive pattern of simple triads and motivic figures, the material passed from instrument to instrument and subtly modulated; the ear is attracted by timbre rather than theme. Additionally, Herrmann creates striking atmospheric effects - how well he evokes Sinbad's ship becalmed or labouring through "The Fog"; and I was impressed with the cue "The Genie's Home" which employs celeste and (I think) xylophone; it is as if you are listening to running water - magically tinkling raindrops dripping at regular but opposing tempi, beautifully juxtapositioned. But I could cover pages describing so many of the 37 short cues. (This present recording is the first extended presentation of the score since the soundtrack album was compiled in 1958. Bernard Herrmann, himself, conducted the National Philharmonic Orchestra in a suite from the film score. It is now available on London phase4stereo CD443 899-2)
John Debney and the Royal Scottish National Orchestra give stunning performances and they are served with excellent, detailed, wide perspective sound.

Ian Lace
---
Bernard HERRMANN Orson Welles at the Movies: Citizen Kane; The Magnificent Ambersons Tony Bremner conducting the Australian Philharmonic Orchestra ATM CD 2008

Crotchet (UK)
Amazon (USA)
Soundstone (USA)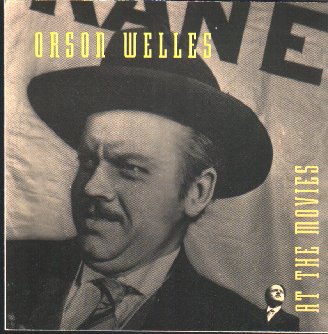 This Australian CD is well worth seeking out. The two scores are classics of Herrmann's earliest film days in the 1940s. Both are eclectic and extremely tuneful works recalling music which he either knew from score or which would have been in his active CBS Symphony Orchestra repertoire. He was a conductor of questing and receptive character. This shows here both in the vivid influences and in the many tributaries which flowed into and out of the furnace of his imagination.
While Kane is sumptuous, dark, grand, nostalgic and powerful, Ambersons has a touch of angst but much that is urbanely rather than wildly emotional. Kane is Gothick - rich in incident. The extremely fine performance brings these qualities out. It is very good to hear this music at fuller length than the brief suite by which most people know the music from the RCA Gerhardt Classic Film Music series. The Dies Irae theme is heard or sketched in several times. Ms Illing is in good voice though not quite a match for the young Kiri Te Kanawa in the now elderly but still rich Gerhardt analogue recording.
Track 1 is gloomy but sweet. A cool flute parts the storm clouds. This is acidically Gothick achieving immediacy and impact without the twelve-tone palette. Sibelius is clearly an influence. If the Torn Curtain score is too inhumanly chilly Kane represents a couple of degrees greater warmth. Track 3 has marked Finzian resonances. Track 4 mixes, in raucously cocky march mood, the voices of Kurt Weill and Shostakovich. Dies Irae puts in another appearance and then we get a march out of the Prokofiev pocket-book. Track 5 returns to the cheeky little march we heard in Track 4. This dissolves into a charming miniature waltz sequence. The next track has a prominent solo violin in what develops into an icy slate-grey serenade. Track 7 is the famous music depicting the sweet and then decaying relationship between Kane and his new wife. This is redolent of Palms and Grand Hotel. The fluttering flute is every bit as good as Gerhardt's on RCA/BMG.
Tension is deftly built and sculpted in repeating harp motif in Track 8. There is a hint of A Late Lark (Delius) and the Finzi Clarinet Concerto although the Herrmann pre-dates the Finzi work by almost a decade. This is a most impressive track. After a mysterious Baxian opening an explosive march strides in exuding confidence. It starts in Prokofiev style sounding for all the world like a refugee from Prokofiev's Classical Symphony and stops along the way to give us a reminiscence of Mahler. Salammbo's Aria is presented by orchestra and conductor for all it is worth (arguably more). Rosamund Illing is extremely good but without the creamy triumph of Kiri te Kanawa's young voice. The aria may well be known to you but the layer cake (gateau I should say) of Reyer, Delibes, Massenet is wonderfully confected. Orchestrally this does not have quite the whip-crack sharp definition of Gerhardt. This is followed by a multi-tracked segment which is a montage of Illing's voice presented in a multi-image kaleidoscopic mirror ending in a down-the-sinkhole vocal effect at the end. Track 11 (Xanadou) is heavily tense and clouds drift across the moon. Track 12 gives us more Prokofiev voicings. The next sequence returns to a sour curdled Weillian style. There is a decadence here melting into Grand Guignol. I caught myself thinking of the atmosphere of the horror stories of de Maupassant and especially The Horla.
"Glass Ball" has a hollow tread deep in the foundations. Old age has caught up with Kane. In the finale there is a sense of late fulfilment in the horns which play quietly surging briefly to a climax. However skulls stare out of the casements.
The Magnificent Ambersons is a very different film. It portrays domestic tensions and oppression in a late nineteenth century style. The music is refined and occasionally Palm Court material although psychological tensions are always well voiced. The music has a Gallic accent. Landaus click and canter through cobbled streets and metalled lanes. It is all quite urban and urbane. Poulenc comes to mind and Prokofiev also and this hits you with force at the start of track 16 with a brilliantine trumpet solo straight from the Russian composer. There is a wonderfully vitreous sleigh ride at track 17 - a highlight of the disc. Track 18 is quite modernistic - all percussion, bells, clanking and bell noises with some reminiscences of the previous track. First Nocturne sounds uncannily like Finzi - straight out of the British composer's Introit for solo violin and orchestra. Track 20 is a dark tale which becomes yet blacker in the next three tracks. Track 24 is the second letter scene and here the wind principals dance slowly around a stately sad theme which might have been for a Dead Infanta. The Second Nocturne treads the same twilight path as the First with a lead solo role for principal cello. Then follow two reveries cut from the same trunk as the Nocturnes although the second drifts lazily down into nightmare drowned depths. The Elegy is shabbily haunting, conjuring up drifts of skeletal leaves. End title returns to palms and civilised evening dress and touching base with Mahler's Adagietto.
This is an extremely recommendable disc which is well worth finding. It merits a prominent company licensing the tapes for easier distribution in Europe and USA.

Rob Barnett
---
| | | |
| --- | --- | --- |
| Bernard HERRMANN Taxi Driver (1975) OST Tracks 1-13 composed and conducted by Herrmann Tracks 14-18 composed by Herrmann and arranged and conducted by David Blume ARISTA 07822-19005-2 [61:33] | | |
| | | |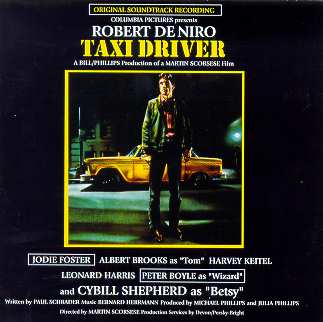 Strongly recommended. Here at long last is the complete musical soundtrack of Herrmann's last film. It is one of his most distinctive scores. Various pirate label discs have been in circulation but I would expect that this CD tops them in its sound quality and certainly in its breadth of music included. The technical side seems excellent with a very distant hiss which is only to be expected from analogue tapes. It is just perceptible when listening with headphones. Otherwise the sound quality is very impressive.
First impressions of this score centre on the sleazily seductive side of the music. It is only with repeat hearings that other dimensions float to the surface. There are plenty of obsidian undercurrents and nightmare subterranean seas in this work. There is a certain manically driven quality to the music and strata of despair and catastrophe.
The saxophone (a musical counterpart of Bickle) is a mellifluously sexy disenchanted troubadour. Its centre-stage role should not blind us to masterly touches such as gritty little harp figures as hard as shards of steel (compare the Octopus music in Beyond the Twelve Mile Reef) as well as a jazz drum-kit placing the drama in the city - loneliness surrounded by people. The deep brass and woodwind are also evident occasionally throwing up reminders of White Witch Doctor. The drumbeat has a wild-eyed martial air charting the pressure on Bickle who is increasingly oppressed by the corruption of things around him. Harp, drum and sax play extremely significant roles in all this music. The sax is the prima donna and it is played with an audacious falteringly bubbly tone and pacing.
The insert is very informative with superb notes by Martin Scorsese. The fullest documentation is given for the music tracks linking them in great detail to individual takes. It is a pity that once again the insert comprises a single sheet folded four times. It will never last.
The last four tracks are David Blume's arrangements of Herrmann's materials. This is Herrmann neatly gutted and presented without the tangy dark side or much flavour. It sounds like Edmundo Ross or some sophisticated dance band from Come Dancing; bland stuff I am afraid. I did not like these tracks. You may.
Track 12 is called "Diary of a Taxi Driver" and features Herrmann's music with Robert de Niro's voiceover taken direct from the soundtrack. You can cut the atmosphere with a machete! (c)

Robert Barnett
---
| | | |
| --- | --- | --- |
| Jerry GOLDSMITH The Sand Pebbles Jerry Goldsmith conducting the Royal Scottish National Orchestra VARÈSE SARABANDE VSD-5795 [43:28] | | |
| | | |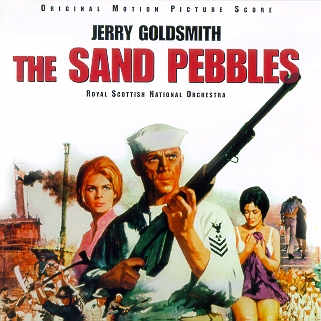 The Sand Pebbles, released in 1966 starred Steve McQueen, Candice Bergen and Richard Attenborough with Richard Crenna. It was an action drama set in China in 1926, a time when the country finds itself on the brink of revolution. Into this turbulent environment sails a small U.S. gunboat, the U.S.S. San Pablo, to patrol the Yangtse river. Its crew members refer to themselves as the "sand pebbles".
For this Twentieth Century Fox film, Jerry Goldsmith wrote one of his most memorable and exotic scores. The famous love theme, which was turned into a song - "And We Were Lovers" - with lyrics by Johnny Mercer gave Goldsmith some anxious moments, "I battled for weeks until I finally said: 'I can't wait any longer.' So I sketched out a melody that I intended to use in the first cue. Well before long what I had originally written started to take an entirely different shape. All of a sudden it became a pretty tune. The process was really magical and the theme went on to become a commercial success."
From basic two-note and four-note patterns Goldsmith weaves a colourful score that captures the essential Chinese atmosphere and the enfolding drama of rebellion and the two parallel love stories. The score opens momentously with the Overture, a bold brass fanfare that ascends into a wild shriek, a foreboding of impending conflict and tragedy; then come a few bars to set the Chinese and Yangtse setting before the famous love theme enters. The Main Title music is permeated with an insistent repeated wooden block/drum motif as the music moves slowly from the serene to agitated and threatening. "Getting Aquainted" begins with a beautiful calm Chinese setting and again there is that wooden block, insistent rhythm, beneath the love theme played slowly and coolly as engineer Jake (Steve McQueen), meets a young missionary Shirley Eckert on board a steamer destined for San Pablo. The love theme flowers hauntingly in the later cue "Jake and Shirley".
Coplandeque rhythms inform the early part of Repel Boarders cue superseded by snarling brass chords underlined by percussive piano as the San Pablo lies under siege. "Changsha Dock" is another scintillating cue; the atmospheric scoring combines variations of the four-note love motif with seductive, far eastern orchestrations.
Kevin Mulhall, who has written the informed and articulate booklet notes, reports that of "Death of a Thousand Cuts" for the scene in which bilge coolie Po-han is tortured to death Goldsmith had commented. '...the cue is one of my favourite pieces...it really tears your heart out...' Mulhall goes on to say : "The torture is left unscored. The music enters after Jake, in direct violation of the cease-fire shoots Po-han out of compassion. Goldsmith's music stresses the emotional and political consequences of the event...The composer's ability to create immediate expression from such small musical units and quiet dynamics is both impressive and affecting."
"My Secret" is another impressive cue. Beginning violently with another strongly rhythmic drum, block and piano passage, the music quietens to introduce a secondary more plaintive love theme associated with Frenchy Burgoyne (Richard Attenborough) and Maily (Marayat Andrianne). It comments on the complexity of Chinese/American relationships at the time. I must also mention the exquisitely beautiful romantic music in the form of variations on the themes for the two romances, for "The Wedding" underscoring the forbidden marriage of Frenchy and Maily; and the lovely moving music for "Frenchy's Death" suggesting a transcendence for Frenchy who will live on through Maily's unborn child.
Very strongly recommended

Ian Lace
---
| | | |
| --- | --- | --- |
| Jerry GOLDSMITH Planet of the Apes/Escape From The Planet of the Apes OSTs - orchestra conducted by composer VARESE-SARABANDE VSD5848 [67:42] | | |
| | | |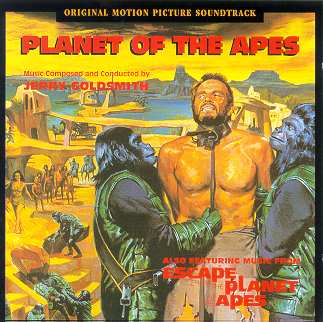 Varèse Sarabande have done it again. They have resurrected, in fine sound, a classic score of the 1960s. In doing so they have not lazily gone to the OST LP and reissued those tracks but have assembled additional material. Not content with 50 minutes of music from the 1968 film they fill in with a suite from the 1971 sequel. Tracks featured on the original LP have been extended with supplementary material from the audio elements of the 35mm film.
The music is a strange amalgam of American symphonic music of the 1950s (Schuman and Sessions) with ominous jungle noises - chittering and clanking. Goldsmith sports quite a range of percussion (including steel plates) and it is used with classy originality (especially noticeable in the case of what I take to be miniature cymbals). The ram's horn would benefit from more prominence if the soundtrack is ever re-recorded. However it makes its exotic and commanding presence well and truly felt in The Hunt (Track 7). Jacob Gimpel plays the urgent piano solo part in the No Escape track. This style of music was soon adopted by countless US TV series. Mission Impossible leapt to mind several times.
The Suite from the 1971 film is more commercial (the merest splash of Starsky and Hutch 'blaxploitation' music) although still urgent and nervy. The percussion is innovative with highlights provided amongst other things by Caribbean metal band drums. Among the effects is what sounds like a milled coin rolling across a roughened metal plate: menacing! For contrast there is a cool and loving but brief pavane for guitar and flutes (5:50).
The album is launched with Alfred Newman's familiarly brassy Twentieth Century Fox Fanfare. The booklet notes are in English only (multilingual efforts are very much the exception with film music discs) and are by Jeff Bond. The booklet and sleeve are decorated with stills from the film and artwork from the original film posters.
Recommended for Goldsmith fanciers and as an ikon score for the late 1960s and early 70s. Goldsmith can be bland but these scores are in fact quite salty. They shake and shoal with glittering and glimmering sounds. Even so they are not attention-holding as a straightforward listening experience.

Rob Barnett
---
Franz WAXMAN Taras Bulba OST- music conducted by the composer RYKO RCD 10736 [44:10]

Crotchet (UK)
Amazon (USA)
Soundstone (USA)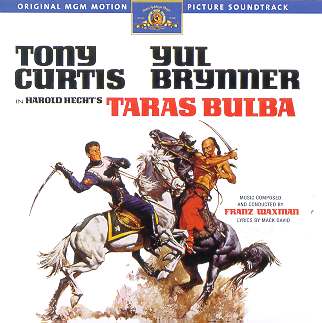 Taras Bulba is one of Franz Waxman's most popular scores and, indeed, "The Ride to Dubno" has long been a concert favourite. I remember that it made a fitting climax to Charles Gerhardt's outstanding RCA Classic Film Scores tribute to the composer (RCA GD 80708); the performance by the National Philharmonic Orchestra was truly hair-raising and it had the benefit of superb analogue sound engineered by the late Ken Wilkinson. So it is good to have the complete score at last on CD - and conducted by the composer! There is much to admire. In fact Bernard Herrmann thought of it as "the score of a lifetime." Christopher Palmer, writing in his book The Composer in Hollywood, (an obligatory read for all fans of film music), said it was : "...a young man's music in its exuberance, dashing colours and whiplash energy...It was one of Waxman's last (he died in 1967) and best scores." Palmer also observed that "The Ride to Dubno" - "...is mightily impressive - Ravel might have likened it to his Bolero, "orchestral tissue without music...it is a virtuoso showpiece."
Taras Bulba (1962), directed by J. Lee Thomson, fresh from his The Guns of Navarone success, starred Yul Brynner in the title role with Tony Curtis as his son, Andrei, seduced away from duty by the charms of the lovely Christine Kaufmann as Natalia, the daughter of a Polish aristocrat, and enemy and usurper of the Cossacks under Taras Bulba.
"Here was a subject that demanded the flavor of the proud and unconquerable spirit of Ukrainian Cossacks of the 16th Century combined with the harmonic and rhythmical palette of contemporary music", Franz Waxman had said of this score. As luck would have it Waxman had been in the Soviet Union conducting major orchestras just before writing this score and when the tour took him to Kiev, one of the oldest cities, in the heart of the Ukraine, he was able to take the opportunity to study the folk music of the area.
The basic patterns of "The Ride to Dubno" are expanded and developed in "The Battle of Dubno and Finale," a long cue of nearly twelve minutes duration, to provide music of considerable excitement and tension (one section at 3:15 uses, to great and unusual effect, swiftly moving flutes and piccolos in their highest register arcing over an increasingly tense low string ostinato). At the end of the battle, the tension drains away and is replaced by slow mournful figures for the death of Andrei, who had fought on the side of the Poles and was killed, in battle, by his father. In an affecting episode, at about 9:15, violins comment consolingly as cellos sadly intone the romantic music associated with the love of Andrei and Natalia had flowered fully in the cue "No Retreat." It is one of Waxman's most beguiling tunes and it is heard as a vocal in the track "The Wishing Star."
Another major theme is presented as an attractive and simple tender lullaby for "The Birth of Andrei." "Sleighride" offers a glittering scherzo-like treatment of the love theme, romance a-cantering through icy landscape (even with twittering bird comment). This is a delicious miniature. The harsh opening cadences of "Chase at Night" remind one of the music of Holst before more relaxed, witty, music associated with student pranks. "The Black Plague" is a dark, swirling, fugal construction suggesting increasing confusion and panic; it develops into a grotesque almost nauseous funeral march with slithering strings and woodwinds over a persistent hollow snare drum ostinato.
Altogether a very impressive score and one of the best issues from Ryko to date

Ian Lace
- and Rob Barnett adds -
The most complete recording of Franz Waxman's score for Taras Bulba is available on the Rykodisc CD for the first time. Waxman died in 1967 five years after completing this score and it is amongst his last. It shows no sign of weariness. In fact it brims with vitality, imagination and occasionally a touching poetry. The film was directed by J Lee Thomson and was planned as a spectacular follow-up to the commercially extremely successful Guns of Navarone (1961). The film was shot in the Argentinean Matto Grosso and the sense of open space comes over very strongly unfailingly echoing the Russian steppe. The score was initially to have been commissioned from Bronislau Kaper but Kaper had to decline because of his immersion in the score for Mutiny on the Bounty. Kaper recommended Waxman. The score became Waxman's 12th Oscar nomination.
The notes make it clear that this is not the original soundtrack. For this we can be thankful because that was recorded with a reduced orchestra. What we have here, if I read the implication of the notes correctly, is a full orchestral recording produced as part of the promotion of the film and issued on LP. There are eleven music tracks. The 8th track is "The Wishing Star" a gooey vocal version of the theme which is better passed over. The American accent is so at odds with the subject matter of the film. This is a pity as the film often appears and sounds quite authentic notwithstanding Tony Curtis's accent!
The overture is what you would expect - a vigorous precis of the score in its dynamism and poetry. The second track is a gentle lullaby for the birth of Andrei. There are no cross-references to Janacek's Taras Bulba; I wonder if Waxman knew the piece. The third track is a sleighride which has much snowy glitter and skittering strings and high woodwind counterpointing a theme a couple of removes from Lara's Theme from Dr Zhivago. A Chase at Night depicts hunt for Taras's sons in the Polish capital. Here the strongest influence is apparent; that of Dmitri Shostakovich. Bear in mind that the score dates from 1962 and that, by coincidence, in the year of its commission Waxman had been invited by the Soviet Government to conduct the major symphony orchestras of six cities of the then USSR. The biting satirical edge, razor-honed, dominates the more dynamic episodes of which this is the first. This could easily be from the same pen as the composer of the angry fast movements of Shostakovich 10-12. In fact The Ride to Dubno has an uncanny resemblance to the scherzo from Shostakovich Symphony No 11. This is commented on by Christopher Palmer in his notes to the RCA/BMG Gerhardt recording of selections from the Waxman films. Track 5 is a return to the gently rocking lullaby of track 2. The next track is also sleepy or more accurately contented and self-mesmerised. It follows in the great tradition of Russian symphonic music from Borodin to Tchaikovsky, Glazunov to Rachmaninov.
Then (track 7) comes the famous Ride to Dubno (aka The Ride of the Cossacks). This is a turbulent orchestral scherzo display-piece. According to John Waxman it has been played as a free standing concert piece in halls from Boston to Berlin; Brisbane to Osaka. It is one of Waxman's most striking inspirations. I saw the film recently on television and while it must lose a lot from sacrificing the wide-screen there is no denying the cumulative power of this music read with the gathering of the Cossack hosts as they stream together in little groups and then coalesce into a massive sabre wielding horseback horde sweeping across the Steppe. The music is a sort of brash Bolero or like the (in)famous counterpart movement in Shostakovich Symphony No 7. The barking French horns reminded me of Bernard Herrmann. In the film there is a rather crude edit in the music which is largely hidden by the drumming of the hooves but it is good to hear the piece played as it is fully extended and with a big orchestra.
Track 8 goes back to that lullaby theme with a touch of Korngold and gallons of schmaltz when the voices arrive accompanied interestingly by a harpsichord - yet another eager little touch.
The Black Plague ghoulishly accompanies visions of the pestilence which sweeps the Polish city besieged by Taras (Yul Brynner). Taras's Pledge is music played tactfully in the background to Taras's tragic-heroic speech. The theme is an authentic Ukrainian folk-song. The longest track is the Battle of Dubno and Finale. This opens with reminiscences of the Dubno Ride and Khachaturyan's Violin Concerto as well as the Sabre Dance (great favourites in the USA from the mid-1940s onwards). The horns are exhilaratingly and acidically brash. Dies Irae puts in an appearance at 3:10. At 06:00 you can hear a member of the orchestra leaning back in their chair. This dissolves into the romantic lullaby theme which gradually darkens into hesitation and tragedy. Briefly the music recalls the more triumphant moments ending in the usual Hollywood sunburst.
The notes (by Jeff Bond, the composer and John Waxman - the composer's son) are first class, and are on the usual single large sheet of glossy art paper folded five times. The composer's notes include music examples. The illustrations include both colour and monochrome photo stills from the film and from location filming in Argentina. The promotional note indicates that the disc has additional music beyond that included on the original LP. I cannot comment on this as I have not heard the LP.
This is an enhanced CD with a film clip playable in full motion video on a suitably kitted out Quick-Time installed PC.
The sound quality is not sumptuous but has plenty of mordant impact without being objectionably shrill. It seems to be in true stereo although I cannot guarantee that. The recording is quite close-up as you would expect from a 1962 LP and there is the inevitable barely discernible hiss of a vintage analogue recording.
Recommended.

Rob Barnett
---
MORE>>>> November reviews Part 2
Return to Film Music on the web
© All rights retained
---