GEORGE GERSHWIN (1898 -1937)
This year, on 26th September, we celebrate the centenary of the birth of George Gershwin. Gershwin was one of the first composers to write an original movie score, at the beginning of the 'talkies' era. He wrote music, which was eventually to be incorporated into his Second Rhapsody, for a forgettable 1931 film entitled Delicious. Gershwin's music was used in a number of Hollywood films in the 1930s notably for the RKO Fred Astaire/Ginger Rogers musicals. Gershwin's life story was filmed by Warner Bros under the title, Rhapsody in Blue (described by Clive Hirschorn in his book The Warner Bros Story [Octopus 1979] - as 'fanciful to the point of absurdity...the screenplay was a veritable sardine-tin of clichés...), it included a complete performance of the title piece by Paul Whiteman and his Orchestra plus a number of the composer's immortal songs. (Robert Alda [father of Alan] was woefully undercast as Gershwin.) Gershwin's music was used exclusively in MGM's musical masterpiece, An American in Paris (1951), directed by Vincente Minnelli and starring Gene Kelly, Leslie Caron, Oscar Levant, Georges Guetary and Nina Foch.
As we go to press a new profusely illustrated 240 page biography has arrived for review from PHAIDON PRESS - George Gershwin by Rodney Greenberg (semi-softback bargain price:$19.95 and £14:99). A review of this book will appear on this site soon.
Here are two of the latest Gershwin albums:-
**************************************************************************

EDITOR'S CHOICE - FILM MUSIC CD OF THE MONTH - May-June 1998

***************************************************************************
| | | |
| --- | --- | --- |
| George GERSHWIN The Authentic Gershwin Vol 4 - The Hollywood Years Jack Gibbons (piano) ASV CD WHL 2110 [67:55] | | |
| | | |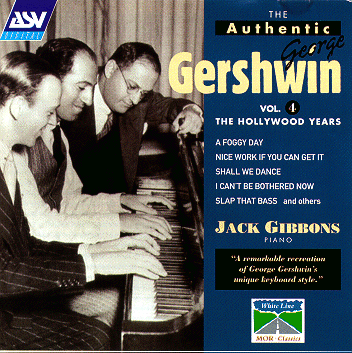 This is the fourth volume in a series which has won Jack Gibbons and ASV considerable acclaim. Gibbons, described by one critic as "THE Gershwin pianist of our time", specialises in recreations of Gershwin's own piano improvisations, reconstructed note-for-note from Gershwin's original recordings made in the 1920s and 30s. Gibbon's reconstructions have been described by Edward Jablonski (Gershwin's biographer and long-time friend of the Gershwin family) as "exciting and uncanny, a remarkable recreation of Gershwin's unique keyboard style"
Appositely, this 1997 album consists of Gershwin's music for the world of films and in particular for two Fred Astaire and Ginger Rogers movies: Shall We Dance and A Damsel in Distress. From the informative notes, lucidly written by Gibbons himself, we catch a glimpse of Gershwin's genius on the wing for we learn that the now much-recorded piano sketch, "Walking the dog", from Shall We Dance was composed right on the set when Gershwin watched Fred and Ginger walking dogs of all shapes and sizes on the deck of the liner. One of the highlights of Shall We Dance is the elaborate dance-sequence in "They All Laughed" (also included here) which featured four variations beginning with a tongue-in-cheek accompaniment to Fred's pseudo-ballet steps and ending with one of Fred and Ginger's most exhilarating tap sequences. Also included from the film is the haunting "They Can't Take That Away from Me"; while from A Damsel in Distress we have sparkling renditions of: "A Foggy Day (in London Town)" and "Nice Work if You Can Get It" plus the take-off of things English in "The Jolly Tar and the Milkmaid" and the parody of an English madrigal, "Put Me to the Test." Included in this programme of 20 delectable numbers that will raise your spirits and get your feet a-tapping are: Girl Crazy Overture, "Love Walked In" (from The Goldwyn Follies 1937) and the witty send-up of the Viennese tradition - "By Strauss" (The Show is On 1936). Outstanding

Ian Lace
---
George GERSHWIN By George - The Ultimate Birthday Tribute George GERSHWIN Artists include: Peter Donohoe, Martin Roscoe, Richard Rodney Bennett and Andrew Litton (pianists); Ruthie Henshall (vocalist); The Royal Philharmonic Orchestra conducted by Andrew Litton and Henry Lewis; The Picadilly Concert Orchestra conducted by Rony Weiss. 2 CDS CARLTON CLASSICS 30368 01297 [145:53]

Album includes: Rhapsody in Blue (Jazz version and version for two pianos); Piano Concerto in F (2nd movement only); Cuban Overture; An American in Paris; Piano transcriptions from The Gershwin Songbook for one and two pianos and vocal; Porgy and Bess (two piano transcription of Fantasy)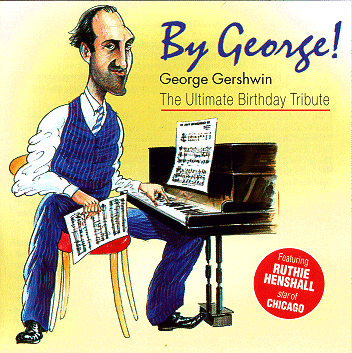 It has to be said, at the outset, of this collection (mostly of reissues), although in an attractive 2CD package and at an equally attractive bargain price, that it enters a highly competitive market with many outstanding alternative versions of many of these works from conductors and artists such as André Previn, Michael Tilson Thomas, Leonard Bernstein, Sarah Vaughan, Ella Fitzgerald and Earl Wild (see Gramophone Good CD Guide for top recommendations). Nevertheless, there is much to enjoy here.
The first CD opens with a gutsy, vibrant authentic period-sounding, jazz version of Rhapsody in Blue from the Royal Philharmonic Orchestra conducted with commendable panache and versatility from the piano by Andrew Litton (but why was he not credited as the pianist in the CD booklet?) We then have a tantalising glimpse only of the Piano Concerto in F with just the second moody-bluesy movement (the cue timing published is way out by the way) nicely realised by Janis Vakarelis with the RPO this time conducted by Henry Lewis who also conducts the same orchestra in An American in Paris which has plenty of character and atmosphere and is appropriately, by turns, tender, slinky and exuberant. The least persuasive track on the whole album is the Cuban Overture dourly played by The Budapest Symphony Orchestra, while the most attractive tracks on CD1 are the five devoted to Andrew Litton (again conducting from the piano) and the RPO playing very beguilingly, numbers from The Gershwin Songbook.
The second CD is dominated by two-piano versions of Rhapsody in Blue and the Porgy and Bess Fantasia played by Peter Donohoe and Martin Roscoe with plenty of spirit and sensitivity but for some perhaps, with a shade too much elegance; occasionally I would like to have heard a little more raw zip. The duo are totally in tune with each other, however, and their readings are nicely shaded and cleanly articulate with nicely judged and expressive pauses. Amazingly, at some points their playing deceives the ear so that you get the distinct impression that another instrument has crept in to back them up. The three Preludes - jazz inspired but in quieter mood, are played thoughtfully by Alicia Zizzo who also gives us the seldom heard Melody No.32 'Irish Waltz'. Richard Rodney Bennett plays a brilliant idiosyncratic "Jazzbo Brown Blues" from Porgy and Bess. Ruthie Henshall, the star of Chicago,gives smokey-voiced yet rather simpering renditions of "Summertime", "Oh, Lady be Good!" and "Someone to Watch Over Me". Summarising, a set worth considering especially at the price.

Ian Lace
---
| | | |
| --- | --- | --- |
| Nellee HOOPER etc. William Shakespeare's Romeo + Juliet Music from the Motion Picture in two volumes CAPITOL/20thCENTURY FOX/EMI PREMIER Soundtracks 7243 8 59871 2 | | |
| | | |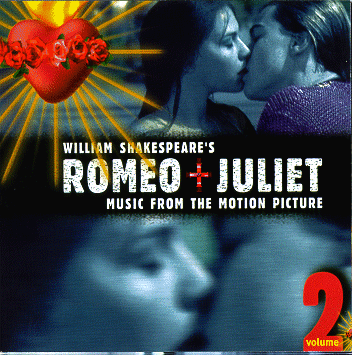 Well, this is the film music that the BAFTA judges chose over Titanic!
Those readers who can recall the treatment of H.G. Wells's The War of the Worlds on disc will know what to expect here for this Shakespeare in modern dress. It is an extraordinary mix of rock and pop, synthesisers, electronic and acoustic instrumentation, vocals and secular and liturgical choral items, Celtic pipes, sound effects - such as police car sirens and pistol shots - and dialogue. The interesting thing is that it works. It propels the on-screen action and imbues the screenplay with atmosphere appropriate to its characters and settings. There are some unconventional but interesting touches: vibrant Latin American rhythms for the ball sequence, for instance - a far cry from Prokofiev! Heavier pop, rock figures are used to illustrate the rivalry between the gangs. There are quieter reflective moments of course, principally to do with the classic romance. "Introduction to Romeo" blends the more assertive, cockier, masculine aspects of the character as suggested by the more raw pop rhythms with softer more caring romantic feelings as suggested by strings and woodwind an interesting melting-pot-of- a-track if one forgets the forgettable DiCaprio declamations. The love theme and the mainly string-based music for the Balcony Scene is hushed and ethereal, delicate and fragile reminiscent of Vaughan Williams or Finzi - it is as if the music is trying to cocoon the characters from the harsh realities of the conflict raging outside. Mercutio's Death cue is elegiac, then Fauré-like in its Requiem sweetness with choir, strings and brass over isolated, rock-rhythm drum underpinnings. The Death Scene is quite affecting - gentle and luminous with a soprano soloist intoning a prayer for the dead over ascending string chords that lead to a huge ecstatic climax after which Wagner's Liebestod from Tristan and Isolde is quoted. Whether this album has sufficient to hold the attention as music over repeated hearings is to mix my metaphors in the ear of the listener!

Ian Lace
---
| | | |
| --- | --- | --- |
| Nino ROTA Romeo and Juliet OST (1968) Silva Screen FILMCD200 [56:20] | | |
| | | |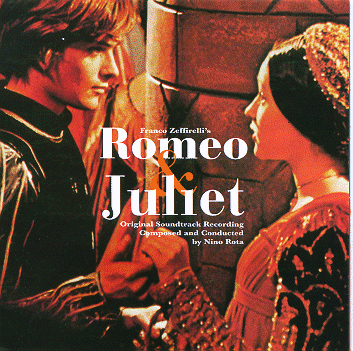 Rota's Shakespeare Romeo and Juliet score is an ikon of 1960s film music. Its theme was, at the time, played to death, turned into musak and underscored by many arrangements and songs using the big theme. The music in fact makes a much better impact in this collection than in the rerecording on Silva Screen's Screen Romances CD (also reviewed on this site). There is 53 minutes of music if we ignore the song on track 6.
The score has an aching tenderness and if it is seen as a onetheme score it is certainly a plum of a theme. The theme is so good it need not be ashamed in the company of the great classical pieces inspired by Shakespeare's story of doomed adolescent love. Rota (19111979) might well have had a look at Prokofiev's Romeo and Juliet ballet and at Respighi's dances for the semiarchaic courtly material. There is however much more to the score than the big theme. The fanfare (track 1) is exhilarating with much antiphonal bouncing between the speakers. Track 11 has horns in full hunting flight for the Tybalt/Mercutio deaths also in track 15 0:30. Track 11 could happily join a collection of exciting horn scherzos from film: Waxman, Herrmann, Thomas Newman all wrote effective little pieces in this vein.
Track's 3's luteevocation on guitar is a highlight and this brings us back to the many and varied treatments for the love theme whether heard singing on oboe and then on cor anglais or scorching its way forward on strings. One can easily visualise the violins leaning hard into their instruments to produce the tortured highline sound we hear. This is wonderfully played though I am bound to say that I found the monk's voices in track 9 less than convincing. I wonder if this has ever been performed as a ballet. The last three tracks run to 15 minutes and each views the big theme as if from a different vantage point. The theme is quite durable and stands up well to this level of exposure. This CD has been produced by transfer from the OST analogue master tapes using Sonic Solutions No Noise software. The result is very natural. I cannot imagine this being a case of aficionados wanting to hold on to their original LPS because of the 'better' sound.
There is a slightly cheesy song (lyrics by Eugene Walter) sung in troubadour character by Glen Weston. This serves as a periodpiece reminder and grates a little in the context of the other tracks. The song (heavily reliant on the big theme) did rather well at the time and it is better to have it here than to have lost it though it might have gone more happily at the end of the CD.
Contrary to Silva Screen's usual exemplary record neither orchestra nor conductor are identified. David Wishart's notes are helpful reminding us of Rota's other films. The ones for Fellini are notable: La Dolce Vita, Juliet of the Spirits, Satyricon (not Satiricon as in the notes), Amacord and Casanova. In addition he wrote sweeping epic scores for War and Peace, Waterloo, The Leopard and Death on the Nile. His music also graced The Godfather and La Strada.

Rob Barnett
---
| | | |
| --- | --- | --- |
| 70th Academy Awards Nominated Score James NEWTON-HOWARD My Best Friend's Wedding. Music from the Motion Picture Various artists WORK/COLUMBIA/SONY 488115-2 [46:38] | | |
| | | |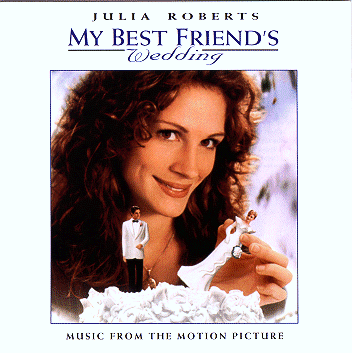 This review was written as the film began its video release. James Newton Howard has carved a reputation in the front rank of Hollywood film composers. His credits include: Prince of Tides, Wyatt Earp, Dave, The Fugitive, Grand Canyon, Waterworld and another movie which starred Julia Roberts, the excruciatingly awful Dying Young - redeemed only by Newton-Howard's haunting score. You have to search pretty hard through this CD's booklet to find any mention of the music that won Newton-Howard his 1998 Oscar nomination but there it is track 13 right down at the bottom of the listing - a six minute suite of music linking the many source songs used in the film. Having seen the movie, I was struck how well it performs its function for this rather appealing little romantic comedy in which Julia Roberts plays the peevish bad girl who spends much of the movie trying to stop nice girl Carmen Diaz marrying her (Roberts's) best friend. Newton-Howard, like the late Georges Delerue, excels in easy listening, romantic music and here he gives us a relaxed score which frequently sounds like Russian ballet music and nods towards Glazanov. At other times perky rhythms evoke Tom-and-Jerry-like capers for the chase sequences as Roberts, towards the end of the film, chases after Diaz to persuade her that it is she, Diaz, that her best friend really loves. The rest of the CD is made of some of Burt Bacharach's classic numbers such as "I Say A Little Prayer", "Wishin' and Hopin'" and "I'll Never Fall in Love Again" together with Jerome Kern's "The Way You Look Tonight" (sung beguilingly by Tony Martin), and the strangely catchy Exciters number, "Tell Him". I confess that I enjoyed this album very much. Well, you can't be serious all the time!

Ian Lace
---
MOVIE PIANO CONCERTOS: WARSAW CONCERTO and other Piano Concertos from The Movies Philip Fowke, (piano); RTE Concert Orchestra conducted by Proinnsias O Duinn
Naxos 8.554323 [74:18]



RICHARD ADDINSELL Warsaw Concerto 9:07(Dangerous Moonlight, 1941)
JACK BEAVER Portrait of Isla 4:42(The Case of the Frightened Lady, 1940)
MIKLOS ROZSA Spellbound Concerto 11:58(Spellbound, 1945)
NINO ROTA The Legend of the Glass Mountain 4:01(The Glass Mountain, 1948)
RICHARD RODNEY BENNETT Theme and Waltz 5:46(Murder on the Orient Express, 1974)
HUBERT BATH Cornish Rhapsody 6:04(Love Story, 1945)
BERNARD HERRMANN Concerto Macabre 12:00(Hangover Square, 1945)
CHARLES WILLIAMS The Dream of Olwen 5:01(While I Live, 1947)
LEONARD PENNARIO Midnight on the Cliffs 5:39(Midnight on the Cliffs, 1956)
Recorded in the National Concert Hall, Dublin, on 25/26 September, 1995.
Music notes: Philip Lane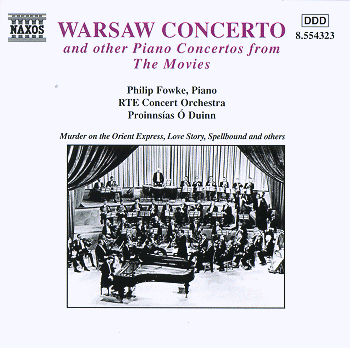 These 'pocket' concertos all in the span of a concert overture are souvenirs from an era when film held the high ground in the public's affection. Their brief duration was no doubt in part dictated originally by the playing time of the 78 and by not placing a strain on the listening public. Without video or sophisticated television the romance of the large screen, Technicolor and overpoweringly romantic music carried all before it. Rachmaninov's piano concertos are the stylemodels for these concertos especially the second (revealed and immortalised for many by Brief Encounter) although I would not rule out the influence of the third.
In the concert music field other works also caught the fever of the times. Moeran's Rhapsody No. 3 for piano and orchestra a concerto in all but name (available on Chandos CD) draws on the spirit of these miniconcertos. This was prefigured in the late 1920s by Walton's much earlier Sinfonia Concertante which has suffered sad neglect because he failed to call it a piano concerto.
The Warsaw Concerto is given a very deliberate performance which milks the music for all it is worth. Portrait of Isla (1940) has Jack Beaver in Baxian mode though not quite as complicated. A nice track altogether. This concerto is not Rachmaninovinfluenced. The Rózsa Spellbound Concerto is glorious and here is gloriously played. I am not sure about the sound of the theremin. It should sound smoother and more unearthly. The debonair end of the concerto rather evokes Bax's Morning Song. Rota's Legend is rather overblown and is in superior company here. Bennett's music is heard here with its theme rather than the Orient Express standard music. This begins in drenching romantic waves but dissolves into a jazz age softshoe shuffle and then drops into the famous La Valselike train music. The crackle and pacing of this performance is splendid but outpointed by the Marcus Dods account with the CBSO (possibly available EMI CD).The Dods performance does not have the Theme section! Bath's Cornish Rhapsody takes us straight back to the passiontormented Rachmaninov territory but with a dash of Elgar! I had wondered whether there would be any Bax references (remember his tone poem Tintagel) but nothing in earshot.
The Concerto Macabre by Herrmann has been recorded before. Some will recall Joaquin Achucarro's recording on RCA/BMG and that is excellent as you would expect from the Classic Film Scores series. More recently there was a recording on Koch which I have not heard. The Herrmann concerto has something of Liszt's Totentanz and it has to be said that it stands head and shoulders above the other works here. Listen to the playfulshudders in the piano figuration at 2:10. The theme is a Herrmann gift. It has a chilly beauty all of its own. There seems every likelihood that Herrmann, a devoted Anglophile, had heard or seen the score for Bax's Saga Fragment and Winter Legends. The stamp of both Bax works lies on the shoulders of this piece. At 8:49 the romantic theme is punched out to stunning tragic effect. Charles Williams' Dream of Olwen is a superior tender little piece with a little more of Tchaikovsky, Chopin or Schumann than of Rachmaninov. There is a little barnstorming but very little.
To end we get Leonard Pennario's evocativelytitled Midnight on the Cliffs. This is wavetossed music without having the strongest of themes. This piece however sums up the whole genre both in the music and the title. Pennario is much better known as a concert pianist than as a composer but knowing the hyperromantic concertos from the inside certainly seems to have helped him step naturally into the world of gloomydoomy passion.
The documentation for this issue is exemplary (as might have been expected from Philip Lane) with full details for each composition, discographic information and film background. Proofreading could have been better. Leith (not Keith) Stevens is the composer of the score for the 1956 film Julie. The insert misspells Rozsa's name as 'Rosza' throughout. The conductor Proinnsias O'Duinn's name is incorrectly spelt on the CD though it is accurately shown elsewhere. (I have ignored the accents to keep web display simple).
This is a four star collection, generous in timing and selection and to cap it all it is at bargain price. It is highly recommended. OK so it is so much romantic gloss but if you just relax and give in it yields dividends. Recording quality is excellent and performances are tender and heavensstorming as prescribed.

Rob Barnett
PS Let me make a few recommendations from the concert field for anyone who really warms to these film concertos but has steered clear of concert works. Try the E J Moeran Rhapsody for piano and orchestra, William Walton's Sinfonia Concertante, Rachmaninov's piano concertos 2 and 3 and, on Hyperion, Joseph Marx's Romantic piano concerto [also reviewed this month].
And another perspective on the same CD:-
Here are sturdy, romantic performances of the British "weepies" that were so popular in the 1940s at Naxos's bargain basement price. All the old favourites are here beginning with Richard Addinsell's Rachmaninov-like Warsaw Concerto composed for Dangerous Moonlight (1941). Philip Lane who contributes the often illuminating notes reminds us that arranger/orchestrator Roy Douglas (RVW's amanuensis) helped in its creation. Lane omits the fact that the star of the film Anton Walbrook was an accomplished pianist himself so it was he who we see playing the work in the film.(By the way I recommend the Addinsell collection on ASV again highlighting the Warsaw Concerto - splendidly played in better sound by Martin Jones.) Hubert Bath's Cornish Rhapsody from Love Story (1945) and The Dream of Olwen from While I live (1947) by Charles Williams (the man who wrote the music for Dick Barton) are also given the full treatment. I was delighted to see Nino Rota's lovely theme for The Glass Mountain (1948) included: another piece of British romantic tosh with composer Michael Denison forsaking a terribly correct Dulcie Gray for inspiration and romance with sexy Valentina Cortese in the Dolomites.
Another interesting inclusion is the somewhat darker (in parts) Portrait of Isla from The Case of the Frightened Lady (1940) - with Marius Goring as another deranged, schizophrenic pianist terrorising the Isla of the title. Another insanely, murderous pianist played, by the under-rated Laird Cregar, was the central figure of the American film Hangover Square (1945). Bernard Herrmann, very much an Anglophile, contributed a very angular, pounding, Lisztian score for the film's Concerto Macabre which certainly lives up to its name. In the film's hair-raising climax Laird plays it in a burning theatre while all the orchestra players leave one-by-one leaving him to play on his own as the flames engulf him. Yet another disturbed character portrayed by Gregory Peck was the main character in Hitchcock's Spellbound with music by Miklós Rózsa which was assembled into the Spellbound Concerto also featured on the CD and noted for the inclusion of the theremin to denote Peck's amnesia and "psychopathic" confusion. Another powerful, evocative work which suggests the pounding of the sea against the cliffs and related emotional turmoil comes in the shape of Midnight on the Cliffs, Leonard Pennario's impressive music for Julie (1956) in which matinée-idol Louis Jourdan, incredibly, plays, against type, yet another pianist with blood on his hands menacing sweet innocent Doris Day. The remaining item is the rather jolly theme and waltz from Murder on the Orient Express by Richard Rodney Bennett. A nice undemanding collection with a little adventurous content.

Ian Lace
---
| | | |
| --- | --- | --- |
| Thomas NEWMAN. Oscar and Lucinda OST - album also includes choral works by Bruckner and S.S. Wesley; and a reading by Ralph Fiennes of an extract from Peter Carey's book) SONY SK60088 [44:08] | | |
| | | |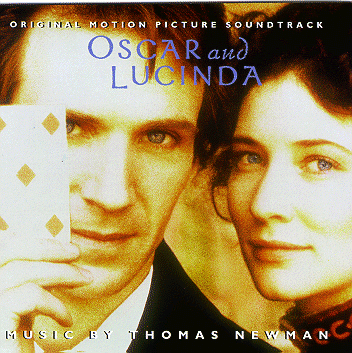 This is a colourful and very varied score of kaleidoscopic variety and imagination. Impressions come flooding in. The gamelan is a clear influence and no doubt the vitrious sounds equate with the glass cathedral which plays an important part in the plot. Hovhaness (say in his Majnun Symphony) is also evoked especially in track 5 'Rumors' and in the mystical track 26 'Aqua'. The motoric strings which pitch in with such energy in many of the tracks have a Tippettlike drive and exhilaration. Track 9 is a great hunting horn scramble and is perhaps the finest track here with Holstian and Vaughan Williamslike echoes in evidence. Perhaps this track could make a companion to Waxman's Ride to Dubno (Taras Bulba) the hunting horn nightmare hunt of Herrmann's On Dangerous Ground. Oddly enough we hear little on this CD of the muchvaunted influence of Copland. There is threat and violence in The Murder of the Blacks (Track 11) and a wailing dismal threnody in Prayer Wounds (Track 19). The richlyconceived orchestrations, key to the success of this score, are by Thomas Pasatieri.
Tracks are short, the longest being track 16 (The Church of Glass) at 3'50" and Track 26 (Aqua) 4'10". The tracks are on a rough average just over a minute in duration. The documentation is pretty flimsy. In the usual orgy of designpriority, pictures take up most of the panels of the sixsided folded insert. However we do get useful discography information about the location and date of the OST recording even if the contract orchestra remains anonymous. Is this, I wonder, the first soundtrack album to include a reading from the novel. It is an interesting move though clearly dictated by (in terms of time alone) the shortness of the musical measure. Attractive music but perhaps with the exception of track 9 not classic stuff.

Rob Barnett
and another viewpoint of the same album:-
Thomas Newman is the youngest son of Alfred Newman who headed the music department of Twentieth Century Fox during Hollywood's Golden Age. He studied with David Raksin and has won acclaim gathering Academy Award nominations for his Little Women, The Shawshank Redemption and Unstrung Heroes scores. (His other scores include: The People vs Larry Flynt, How to Make an American Quilt, Up Close and Personal, The Player, Scent of a Woman and Fried Green Tomatoes. When I asked John Williams (see article an Interview with John Williams on this site) whom he admired most of the new generation of film composers, his response was - Thomas Newman. Newman's music for Oscar and Lucinda makes very satisfying listening. It works on many levels and supports on-screen action, atmosphere and emotions very well. The inclusion of the Bruckner and Wesley anthems are apposite. The music for the allegorical church of glass is most imaginatively and sensitively conceived speaking of its cool shimmering beauty set in crystal translucence, shafts of light prisming through; but there are hints, too, of a sharper beauty that can pierce like, on a more mundane level, the sound of a finger running round a glass's rim. Elsewhere you are aware of the setting of a wild, vast expanse of Australian outback. Romance, the heroic pioneering spirit and a deep sense of reverence are all contained in 55 minutes of varied, imaginative music. A most interesting score.

Ian Lace
---
| | | |
| --- | --- | --- |
| Ennio MORRICONE Lolita OST MILAN 52318-2 [61:39] | | |
| | | |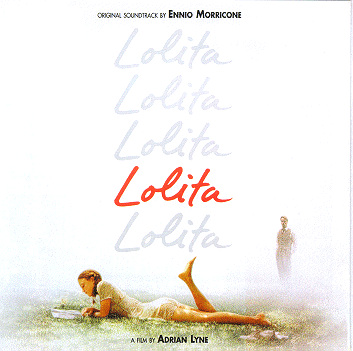 Morricone's reputation for writing atmospheric film music is secure. The Clint Eastwood / Lee Van Cleef spaghetti westerns from the 1960s were made by music of gripping effect which has burnt its way into the memory. In filmcontext the various popular songs featured on this CD are no doubt effective enough. For the purposes of hearing this release you can programme them out unless you are looking for an outandout souvenir of the film.
Prior to hearing this CD I happened to watch Once Upon a Time in America. There the Morricone score used a dreamdance of great tenderness and introspection. That tranced inwardness is found in most of the music here. Morricone makes used a of a repeated piano cell and uses it adroitly to build tension. The orchestral sound is distinctively his own and, according to the sleeve, is conjured up by blurring string entries. The entry of strings is apparently staggered so that players join one by one creating a phase effect similar in some ways to the Mantovani and cascading strings. The original music is written, arranged, orchestrated and conducted by Morricone so we know that we are getting what he wants us to hear. The repeated cell is of course a Herrmann hallmark but one does not automatically think of Herrmann in hearing this score.
If there is a complaint it is that the first five tracks are all very similar in sound. In Requiescant a choir is used with the orchestra Ligeti style with many scattered points of light flickering through the track. Track 13 'Quilty' uses banjo. cimbalom, bluesstyle violin and zither. The 'Once Upon a Time in America' parallels are strong in the first five tracks and in track 14. The saxophone puts in an effective appearance in track 20. One other musical crossreference which struck me more than once was Gorecki's Symphony of Sorrowful Songs. There is a strong suggestion of schmaltz here but Morricone treads the line between open hearted emotionalism and vulgarity like a master.
Morricone fans will want this and will be ahead of this review to the shops. For the more general film music fan I would expect that a good Morricone anthology might be preferable. Satisfying (without the popular songs that make up a fair proportion of this CD) but not consistently compelling. So far as packaging is concerned it is still rather obsessed with presentation (which is attractive) rather than substance but the information given is useful. It is good to hear something about the composer's technique.

Rob Barnett
---
There are More>>>>>>>
May-June Film Music Reviews Part 2
Return to:
---

COMPETITION WIN a CD of your Choice

---
Search the Crotchet database from here
Discs on these pages are offered for sale. There is also a page of search engines from a selection of on-line retailers here.
Please support this web-site by buying your discs here.
Disclaimer: Every effort is made to make sales links to the correct disc but, in the end, you must take responsibility for checking that what you are purchasing is what you want.
Some of these discs were not actually available for sale at the time of posting but a link has been made in anticipation of their forthcoming availablility.
Return to Film Music on the Web
e-mail Len Mullenger len@musicweb.force9.co.uk
---