| | | |
| --- | --- | --- |
| | Film Music on the Web | |
Music Webmaster Len Mullenger
---
June-July 1998 (Contd)
| | | |
| --- | --- | --- |
| John BARRY Out of Africa Joel McNeely conducting the Royal Scottish National Orchestra VARÈSE SARABANDE VSD-5816 | | |
| | | |


Barry is breathtakingly prolific. Out of Africa stands out from the distinguished crowd and gains the accolade of a fresh recording. This was made in Glasgow on 18 February 1997 and is most attractively done glowing, in fact. All credit to the RSNO and to Joel McNeely who (with his Eastman and Interlochen credentials) clearly glories in the Hansonian moments in this score.
What about the music? This is a dreamily undulating and sorrowing score, dominated by sumptuously mellifluous string writing. The problem is that the unrelieved consonance and lack of jagged extremes and tragedy (though the story is not short of tragedy!) is a weakness. Listening to the music alone, without distraction, is an almost 'Mills and Boon' experience. And yet ... there are some wonderful moments. Listen to the matchlessly succulent French horn work in tracks 12 and 18. There is an unidentified but touchingly prominent choir in track 13. Overall a smoothly romantic score aristocratic and apt to the film but, in the final analysis, lacking as an exclusive listening experience. It is not boring but it is too much of a good thing. A great memento of the film (though shorn of the ethnic tracks) it also includes cues not on the OST release. A fine accompaniment to the film and as background music to a car journey or a meal but not compelling by itself. And I do not intend these comments as condemnation. Far from it!
A pity that the CD is very shortmeasure (even shorter when you consider the presence of 7 1/2 minutes of the adagio from Mozart's clarinet concerto). There was room here for another Barry score. VS must be rebuked for that and for their reticence in not declaring it. You can, of course, tot up the track timings on the back of the case. I take my timing from the CD machine readout.
The booklet notes are, however, absolutely exemplary. What a contrast with so many film music CDs which are superficial and/or triumphs of picturesque design in a field where notes and recording details are often abysmal or only marginally better than abysmal. This is an example to others of first class documentation: plenty of background on everyone involved.
Overall then an excellent production of a score which works very well in the context of the film. A fine memento of the film and topnotch incidental listening.

Rob Barnett
---
| | | |
| --- | --- | --- |
| Elliot GOLDENTHAL Sphere OST VARÈSE SARABANDE VSD-5913 [35:38] | | |
| | | |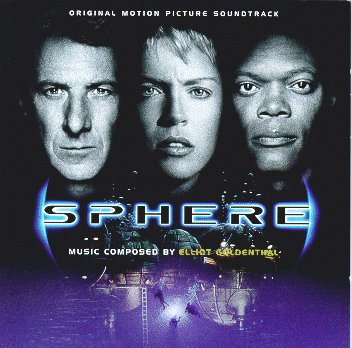 Another highly original score from one of the most impressive talents working in the genre today.
Elliot Goldenthal is best known for his music for Alien 3, Batman Forever, Cobb, Demolition Man and Interview with the Vampire. This new score is for another sci-fi picture, starring Dustin Hoffman, Sharon Stone and Samuel L. Jackson, about an alien craft submerged in the ocean depths. Goldenthal uses a huge orchestra to extraordinary effect - astute harmonies and quirky, very colourful orchestrations, employing a large range of exotic percussion instruments and frequently using flutes, piccolos and double basses at the highest and lowest extremes of their registers. His writing for brass is especially effective particularly in the quieter cue "Wave" which, with its horn and string music, nods in the direction of Wagner. The music is in turns heroic and downright hair-raisingly frightening (the "Terror Adagio", "Fear Retrieval" and especially "Manifest Fire" cues) considerably enhancing the effect of the on-screen drama. The evocations of the dark splendour and eeriness of the ocean depths with its hidden mysteries is most convincing. Goldenthal fuses acoustic and electronic instrumentation intelligently (the latter most sparingly) and it is a testimony to his imaginative skill that in a cue like "Visit to A Wreckage" that it is difficult to know where music ends and sound effects begin. Often Goldenthal creates a unique sound world like that of "Water Snake" with its slithering twisting wailings and odd-sounding staccato beats. Darkly impressive and definitely not bedtime listening.

Ian Lace
---
| | | |
| --- | --- | --- |
| JAN A P KACZMAREK Washington Square (1997) OST Wilanow String Quartet, National Philharmony Orchestra/Krczesmir Debski VARÈSE SARABANDE VSD5869 [48:57] | | |
| | | |


Kaczmarek is a new name to me. Put that down to my ignorance. I checked the somewhat sketchy booklet and learnt that he is one of Poland's premier composers with 30 films or documentaries to his quiver. His other bigger films include Bliss and Total Eclipse. Sony Classical are in contract with him to record three CDs of his orchestral works. This is no mean feat and he will be the envy of many composers.
On the showing of this music I remain unimpressed. There are some nice touches associated with the mixed orchestral and string quartet textures. Everything is tuneful but for me it lacks distinction or memorability. Is this again a case of film music which probably complements the film with great style (which is what the composer intended surely) but which alone does not hold the attention? I think so. The music sounds like a pastiche of Mozart updated with elements of Sibelius' Valse Triste and Prokofiev's Classical Symphony. Strings are to the fore and usually in musing introspective gear. There are quite a few vocal tracks which feature soloists and in one case a boy's choir.
A low profile score matched by sketchy documentation typical of the film music CD industry but not of Varese Sarabande. VS presumably had to go with what they were sent. No doubt a memento for anyone struck by the film but I would not rate it highly. Again short measure.
Rob Barnett.

---
Peter MAXWELL DAVIES
Mavis in Las Vegas; Ojai Festival Overture; Carolisima: Serenade for Chamber Orchestra; A Spell for Green Corn; The MacDonald Dances; An Orkney Wedding, with Sunrise. Sir Peter Maxwell Davies conducting the BBC Philharmonic, Scottish Chamber Orchestra and the Royal Philharmonic Orchestra COLLINS CLASSICS 15242 [70:41]


This (largely reissued) anthology of the lighter Maxwell Davies is down to a TV film associated with PMD's visit to Las Vegas. The 'Mavis' of Mavis in Las Vegas is PMD who gained that name due to a hotel clerk's error during his stay in the neon gambling metropolis in the desert.
Ojai is in California. The Ojai Festival Overture (5:28) recalls Kabalevsky's ebullient Colas Breugnon. Other crossreferences include Copland's Outdoor Overture, Danzon Cubano and El Salon Mexico (Copland was one of PMD's mentors and a friend). It would also be happy in the company of any number of carefree British overtures (e.g. William Mathias Dance Overture) and belongs, in years to come, on one of those Lyrita compilations of British Overtures.
Mavis in Las Vegas (13:03) is a brighteyed score. The quiet tinkling of the opening bars sounds for all the world like some Herrmann fantasy film score but very soon the mood changes. In 'sashays' a blowsy brassy Hollywood musical theme representing Mavis, Mexican band music can be heard. A star vaulting violin melody recalling Malcolm Arnold in Symphony No. 5 or Andrzej Panufnik is heard at 5:30. There is a tequilasoused dance at 8:00 and later some bejewelled Liberace work for the piano. At 11:10 a contented tune looks out and up beyond the fabricated glitter to something enduring though still joyously Hollywoodian. This exuberant piece would go down a storm at the Proms preferably coprogrammed with Samuel Barber's Souvenirs for orchestra.
Carolisima (19:16) is the toughest work on the disc. A serenade for chamber orchestra, it was written as a surprise for a birthday. The work opens with a solo violin ambling gently along. This is caressing music, soon echoed by the orchestra. Soon a tougher mood is asserted and until 9:12 (the return of the ambling theme) the music is amongst PMD's less immediately accessible music.
A Spell for Green Corn (19:37) is a pendant to his more fearsome violin concerto (late 1970s) premiered in Orkney with Isaac Stern. It has a very quiet (almost inaudible) reflective opening. This is Lark Ascending territory but soon dispelled by equally sweet Scots fiddle music: skirling and snapping. The NW of Scotland is well known for its unison string orchestras. That Tartan tradition is also hinted at here with affection. The subject of the piece is the CrofterFiddler 'preparing' the field before planting seed by playing the fiddle up and down the furrows. At 5:10 a saxophone accompanies the soloist in a very touching interlude. Beethoven (6:00) rubs shoulders with Arnold's Scottish Dances and even Bax (6:30). There is a quietly touching episode where a flute weaves around the violin tune. At 18:00, after some Graingerian shudders, an epic aspiring tune rises and subsides in violinistic sparks and glistening orchestral whoops. A slightly sozzled richly jewelled tapestry.
Orkney Wedding with Sunrise (12:59). Let the wild ceilidh begin! A dervishspinning Bartokian figure launches this Graingeresque (Strathspey and Reel and The Warriors) fantasy. Scottish skirl is never far away from this wild and woolly celebration. The music glances towards common folk roots elsewhere: Spain, Hungary and Norway. Once again the festivities taken on a Copland wild west Rodeo edge. Macilwham's bagpipes stalk aristocratically through revellers collapsed and revellers dancing. This is a raucous, reeling and boozy score.
This disc reminds us that PMD is a manyfaceted composer who has written film and light music as well as heavensbattering symphonies. There are parallels here with Malcolm Arnold. Who knows it may be that perfect miniature creations such as his Farewell to Stromness a lullabylament for solo piano may come to mean more to people down the ages than any of his largerscale works.
This is a compilation of previous recordings. It is a pity that is not declared or hinted at other than in the variety of orchestras involved. Dates and locations of recordings are regrettably absent. The recordings are recent and fine. All in all an extremely enjoyable, memorable, generous and involving collection.
Rob Barnett

---
| | | |
| --- | --- | --- |
| | Michael KAMEN - Film Music Kate Bush; Seattle Symphony Orchestra; London Metropolitan Orchestra conducted by Michael Kamen DECCA LONDON 458 912 2 [48:32] | |
| | | |


Robin Hood Prince of Thieves - Overture and Maid Marian at the Waterfall. Mr Holland's Opus - Rowena. Don Juan Demarco - Dona Ana. Circle of Friends - You're the One. Crusoe - Marooned. Highlander - There Can Be Only One. The Next Man - Magic City. Die Hard - Tagaki Dies. Edge of Darkness - Nuclear Train. Brazil - Brazil
Here we have twelve tracks drawn from eleven of Kamen's films. A number of them represent miniconcertos for solo instruments. This anthology offers plenty of variety and shows that the composer can handle a nice spread of subject matter. Sound is nicely balanced: not too distant; not oppressive. The 'new orchestrations' may worry purists but usually they will have the OSTs anyway. The orchestrations are beautifully done and I doubt that they are radically different from the originals.
The two tracks from Prince of Thieves are fine, contrasting a pastoral woodland episode (Marian at the waterfall) with a stirring overture. The big theme reminded me a little of John Williams' Jurassic Park. With Rowena from Mr Holland's Opus we have Michael Kamen himself delivering a soulful cor anglais song a concertomovement. The music winds into Finzi/Howells territory and then becomes sinuously exotic with a dark undercurrent. The cue opens with high strings similar to 'Morning' from Britten's Peter Grimes.
Dona Ana is a 6 minute interlude from Don Juan de Marco. The interlude is a sultry Hispanic fantasy complete with guitar which is very effective indeed and could share a concert with Ravel's Rhapsodie Espagnole, Chabrier's Espana and Bax's Mediterranean. The 4 minute segment from Circle of Friends is a micro piano concerto songful and with bluesy twists. The pianist is the versatile Kamen himself. I had never heard of the Crusoe film. Kamen's music for it is a passionate cello song to an accompaniment of exotic birdsong and jungle music. The 3 1/2 minute track from Highlander is heavy with foreboding but has plenty of heroic drive from the brass.
The Magic City and Die Hard tracks were the only ones which seemed flat in this excellent company and I was not struck by the vocal final track 'Ary Baroso' from Brazil (1985). The Winter Guest track entitled "Stromness" was not especially Orcadian in its feel but it has a blindingly touching French Horn contribution from Hugh Seenan. Horn aficionados must hear this track; a touch of Burgon's music for Brideshead in this music, I fancy. The star track was the 6:02 minutes Nuclear Train from the Edge of Darkness TV serial. This is a joint effort with Eric Clapton. Tomoyasu Hotei's electric guitar solo and the claustrophobic 'broken bottle' sounds of the Seattle SO are electrifying. Again this amounts to a pocketconcerto for electric guitar. I wonder if Mr Hotei was present for the recording or whether he was recorded and mixed in separately.
Booklet notes are good. No date for recording but otherwise data is pretty thorough. The only real grouse is that 48:46 is indefensibly short value on a compilation CD. You can understand (but not forgive) it on a single film CD where the film does not have enough music to fill the disc. Film music fans should not have to put up with this. The music is excellent, well recorded and stands up very happily separated from the visuals it supports. Strongly recommended.

Rob Barnett.
---
| | | |
| --- | --- | --- |
| | Michael KAMEN (lyrics Alan Rickman) The Winter Guest Michael Kamen (piano); Liz Frazer (vocalist) and instrumentalists VARÈSE SARABANDE VSD-5895 [31:03] | |
| | | |


Kamen in typical wistful, poignant, ultra-slow mode. The Winter Guest marks Alan Rickman's directorial debut and stars mother and daughter actresses, Philida Law and Emma Thompson as, respectively, a mother struggling through a bleak Scottish landscape to comfort her daughter who is grieving for her late husband. Their antagonistic relationship which is at the core of the film (which also portrays three other relationships), explores the conflict between the need for comfort and the desire for independence. Kamen's music is heavily Scottish-inflected. It is sparingly scored mostly for piano with often isolated instrumental accompaniment from acoustic and electronic instruments. The whole score has a feeling of improvisation (Kamen often works in the field of pop music) and although it suggests isolation and chill, both emotional and climatic, very well, the music, in general, lacks bite and variety, there is little tension, little feeling of conflict even though it might have suited its primary purpose to support the film. There is an occasional flash of inspiration such as the subtle use of synthesisers to evoke an icy sheen in the cue "On the Ice". Liz Frazer sings "Take Me With You" quiveringly above a surging string accompaniment - the only crescendo to speak of in the whole CD. I was amused to read the title of the last cue - "Wanker" (I kid you not). Away from the screenplay this score is pleasant enough and undemanding as unintrusive background music for a dinner party and later, perhaps, as an alternative to counting sheep.

Ian Lace
---
| | | |
| --- | --- | --- |
| ROBERT MELLIN and GIANPIERO REVERBERI The Adventures of Robinson Crusoe orchestra not identified conductor Reverberi. OST SILVA SCREEN FILMCD705 [76:34] | | |
| | | |


This is a feast for those into sixties TV nostalgia. It is also for those, who having enjoyed the British Light Music series on Marco Polo, might have wondered if there were counterpart examples of French light music.. This television series made by FrancoLondon Films in black and white and shown in the US in 1964 and the UK in 1965 (BBC Children's Hour) comprised 13 episodes.
The music for the opening titles and the opening theme uses a memorable undulating tune evoking the forward rush and falling back of the waves on the sand. This is given many treatments throughout the disc. Amongst the most touching is the violin and viola duet in track 8. You may get a little tired of it by the end of the disc.
The music relies heavily on a string orchestra with percussion of various hues and varieties including bongos. There are parts for drumkit, harp, piano, woodblock, harpsichord, a small woodwind and brass consort and what I am sure must, judging by its bubbly tone, be a Hammond organ. The rhythm section sounds very dated and soupy but very much in style. The balance is quite 'sixties' with a most unnatural upfront sound, all entirely faithful to the originals. The longest track (29) at 6:58 comprises a suite reprising earlier tracks. Overall the music is pleasant very pleasant rather than gripping. Recommended for nostalgiacs and light music enthusiasts especially anyone who has enjoyed the music of Ronald Binge.
The recording is made from sensitively restored tapes of the original soundtrack. Occasionally the rough edge of more than thirty years vintage takes its toll but this all adds to the charm. The
documentation is good though I would have liked to know who the artists were who recorded these tracks or at least the location of the recording studio. Some of this music has been issued previously on CD by Silva Screen but the present release contains more than 30 minutes of extra music from tapes which came to light after the original release. NOTE: For those wanting to recapture the complete experience the series is available on 4 video volumes on the Sound and Media label.
Rob Barnett

---
| | | |
| --- | --- | --- |
| CARL DAVIS Phantom of the Opera Music for the 1925 silent film City of Prague Philharmonic/Carl Davis Channel 4 Silents Presentation/SILVA SCREEN FILMCD193 [66:29] | | |
| | | |
Carl Davis has developed something of a speciality for writing music for silent films. He is a practised hand and has done sterling work in bringing these 'lost' films to a new and appreciative audience able to bask luxuriantly in a replica of the experience of the 1920s: sumptuously decorated theatres, fine film prints and live orchestral music. Many of course will come to know these films through television broadcasts (preeminently Channel 4 who have done wonderful work in this area) and video.
Davis can draw adroitly on many styles. I recall his superb score for Far Pavilions and the pastoral splendour of the violaled score for Hardy's The Mayor of Casterbridge. In more recent times he has written scores for Pride and Prejudice and Coming Home both of great artistic accomplishment, directly effective and apt to plot and mood. The score for Phantom is very different though just as much in keeping with the film. Phantom is now much better known for the Lloyd Webber musical which has swept the world and continues to enjoy commercial success. Davis's score inhabits much the same world.
As expected all the elements of melodrama are present: alternating tenderness and violence; peaceful and quiet music is disrupted by mountainous fortissimo passages. The organ, that most, awesome of instruments plays its part as do the percussion. The music is a very skilful pastiche drawing on Massenet, Gounod and Tchaikovsky. SaintSaens' organ symphony may have been in the composer's mind for track 4. Track 6 leans on the example of Berlioz in his more pastoral moments. Track 8 sounds very much like Tchaikovsky and Glazunov. Tracks 10 and 12 use the cancan in a frothy Parisian style.
The CD booklet is excellent a shining light in the often disappointing field of film music CD projects. The notes are full and describe the fascinating reconstruction process for the film. The composer is profiled and given a page to describe his approach to the music. While we are told that Gounod's Faust was central to the film we are not told about the original (1925) music which accompanied showings of the film. This strikes me as a shortcoming but one which is a minor blemish.
Without the images which it accompanies the music is undemandingly entertaining rather than compelling. The CD is recommendable as a souvenir of an enterprising project and one which I hope Channel 4 will develop with more lost films of the 1920s.
Rob Barnett

---
Return to:
June-July Film Music Reviews Part 1
---

COMPETITION WIN a CD of your Choice

---

Search the Crotchet database from here
Discs on these pages are offered for sale. There is also a page of search engines from a selection of on-line retailers here.
Please support this web-site by buying your discs here.
Disclaimer: Every effort is made to make sales links to the correct disc but, in the end, you must take responsibility for checking that what you are purchasing is what you want.
Some of these discs were not actually available for sale at the time of posting but a link has been made in anticipation of their forthcoming availablility.
Return to Film Music on the Web
e-mail Len Mullenger len@musicweb.force9.co.uk
---