February 1998
---
---
**************************************************************************

EDITOR'S CHOICE - FILM MUSIC CD OF THE MONTH - FEBRUARY 1998

***************************************************************************
NINO ROTA Film Music:

The Godfather / 8½ / The Leopard / La Dolce Vita / Rocco and His Brothers / Orchestra Rehearsal Riccardo Muti / Filarmonica della Scala (Milan) Sony SK 63359 [70:35]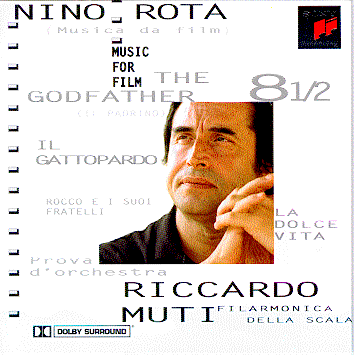 These are cracking performances of important film scores from a major internationally renowned conductor. It is also an intelligent and adventurous programme. Muti emphasises all the sweep and grandeur, the passion and terror and the humour of these colourful scores. The opening suite comprises music that was used as leitmotivs in The Godfather and Godfather II. The Immigrants music represents not only the immigrants' heart-rending homesickness for the lost fatherland but also their hopes for a brighter future. The well known Godfather's Waltz is included with its nervous rhythms and sinister heavy bass drum ostinatos - it was heard whenever there were killings! Then there is the dark-seamed jazz cue The Pickup and the Love Music laced with strumming mandolins and guitars. Rota's earlier score for Visconti's Rocco and his Brothers (1960) is an interesting comparator, for it is clear pre-echo of the Godfather music. Music from three Fellini films are included: the melancholy trumpet melody from the nightclub scene in La Dolce Vita, the quirky music from 8½ with its clownish, rather pathetic woodwind figures crushed by strident brass motifs; and themes from Orchestra Rehearsal which is a showcase for all departments of the orchestra with music in many varied moods.
The highlight, for me, of this disc is Rota's inspired score for Il Gattopardo (The Leopard), the 1961 Visconti film made in Italian and English and starring Burt Lancaster. This score is one of my top-ten, all-time favourite film scores and I was not disappointed by Muti's passionate reading, particularly of the noble Main Title theme and the thrilling music which underscores the battle scenes in the film. We are given 23 minutes of splendid music in this suite. The booklet notes inform us that Visconti wanted a romantic symphony to adapt, cut and rework according to the demands of the film's plot about the consequences for the local ruling classes of Sicily of Garibaldi's invasion. With Rota's help, Visconti began a long fruitless search which ended only when Rota tinkered on the piano a movement from a symphony he had written in his youth. It had been abandoned in a drawer but that fragment became the "symphony" for The Leopard. It is presented on this CD for the first time in its entirety, uncut and free from the time constraints imposed by the synchronisation with the images.
The equivalent EMI Il Gattopardo suite from the Orchestre Philharmonique de Monte-Carlo conducted by Gianluigi Gelmetti, in a slightly inferior performance and in less spectacular sound, lasts only half this time but the CD does contain Nino Rota's music for War and Peace, Waterloo and La Strada EMI CDC 7 54528 2
But do not hesitate to buy this new Sony release. It is excellent.

Ian Lace
**************************************************************************

EDITOR'S CHOICE - FILM MUSIC CD OF THE MONTH - FEBRUARY 1998

***************************************************************************
| | | |
| --- | --- | --- |
| KING KONG Max Steiner Premier Digital Recording of the Complete 1933 Film Score William Stromberg/Moscow Symphony Orchestra Marco Polo 8.223763 [72:19] | | |
| | | |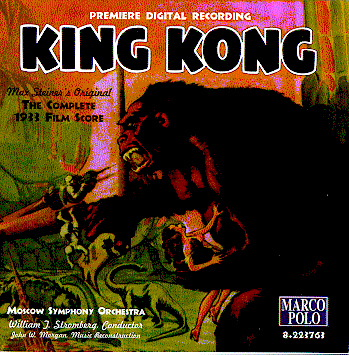 As quoted in the introduction to this month's review pages, BBC TV recently paid tribute to this historical ground-breaking score by saying that it followed in the tradition of Wagner in the use of leitmotivs to delineate the major characters, their feelings and the often perilous situations they meet. Indeed, Max Steiner himself said when he was complimented as the man who invented movie music - "Nonsense. The idea originated with Richard Wagner. Listen to the incidental scoring behind the recitatives in his operas. If Wagner had lived in this century, he would have been the Number One film composer." Steiner was being unduly modest for this magnificent early 1933 score, for King Kong, is generally accepted as having created the precedent for music composed for films of the Golden Age of Hollywood. (For the record, it followed another Steiner score which also ran throughout an entire film Bird of Paradise [1932]).
Marco Polo have clearly realised the importance of this recording. They have published a first class booklet to go with it containing tributes to Steiner and King Kong from Steiner's widow, Louise Klos Steiner (who played in his studio orchestras); from film composer Danny Elfman; visual effects genius, Ray Harryhausen; fantasy and science fiction writer, Ray Bradbury; and modern SFX expert, David Allen. There are revealing articles on Steiner himself and how he resourcefully used the limited resources of the RKO Radio studio orchestra to realise the complexities of his scores (players would rush around the stage doubling up on instruments). There are also detailed notes on this reconstruction by the man responsible - John Morgan - a very fine achievement. Fascinating pictures and full cue notes complete this sumptuous production. The only jarring note is the inappropriate, specially commissioned cover design. You have to look closely to register the fact that Kong has torn an aeroplane apart (probably the original artwork suffered in the reduction?) - and it is set against a jungle background and not New York - and Fay Wray was a blonde for heaven's sake!
But what about the music? Generally, this is a thrilling and spirited performance from a huge orchestra and the quality of the majority of the music is of a very high order; it stands up very well independently of the film. Steiner had a genius for creating music that heightened atmosphere and dramatic tension. His music was able to bestow an almost uncanny realism. Take the music for the Elevated Train sequence for instance. With snare drum, saxophones, trumpet played "in the hat" and pulsating strings he creates a very vivid picture of the New York train speeding to its doom at the hands of the demented Kong - no synthesiser support necessary! There is music in a wide variety of moods from the humour of The Little Monkey Escapes to the terror of the arrival of King Kong and the jubilant King Kong March (worth the price of the CD alone). It is a pity that poor engineering lets one or two of the tracks down. The balance in the Aboriginal Sacrifice Dance is at times most odd - the strings are too recessed. This is a shame because this sequence is very exciting. At times in early cues the brass might have had more bite and a heavier pedal (possibly the inclusion of an organ part?) would have made Kong's first entrance that much more awesome. But these are relatively minor points and they are not sufficiently serious to detract me from making this recording one of my two recordings of the month.
For those who do not want the full score, the Charles Gerhardt seven minute suite on RCA Victor GD80136 with other Steiner scores is first class.
But most Steiner fans will relish this new recording.

Ian Lace
---
| | | |
| --- | --- | --- |
| James Horner TITANIC OST Sony SK63213 [72:31] | | |
| | | |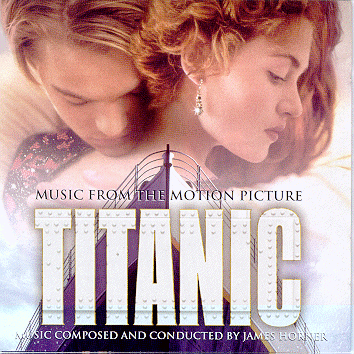 This new album adds more lustre to James Horner's growing portfolio of outstanding film scores which includes: Aliens, The Rocketeer, Field of Dreams, Patriot Games, Clear and Present Danger, Braveheart and Legends of the Fall.
Everybody knows by now how Titanic confounded the critics who poured scorn on it while the film was still in production. Titanic has created box office history by being the first to pass the $1billion ticket sales mark and it has gathered critical as well as popular favour rather, one imagines, for the awesome computer-aided special effects than for the romance between Leonard DiCaprio and Kate Winslet. The latter is celebrated with the theme song My Heart Will Go On sung by Celine Dion on the final track of this CD to boost its popularity into the popular charts (it has sold 5 million copies already and is at the top of the UK charts - an unusual phenomenon for a mainly orchestral recording). The song, with quite inane lyrics, is more of an incidental bonus. The real film music enthusiast will be drawn more to the excellent and often thrilling music which forms the core of this score - the central six tracks underscoring the voyage and sinking of the great ship. Horner is a master at enhancing on-screen atmosphere, drama and suspense. For Titanic, he uses a huge orchestra with a huge percussion section including snare drum, bass drum and anvil plus an array of treble percussion instruments augmented by synthesisers used sparingly and cunningly to add to the excitement and tension. In the cue Hard to Starboard, for instance, the urgent rhythm of the snare drum is a warning - almost Morse-code like - of imminent danger, and heavy ostinatos of the bass drum and anvil etc evoking the huge engines pounding and pushing the ship towards disaster; and, in Sinking, the music only too vividly conjures up pictures of panic and frenzy as people crush to escape, and of rending metal before the great hulk disappears below the waves. Elsewhere much of the scoring uses Irish pipes and Irish folk-song inflected music to wistful and romantic-dramatic effect - presumably to evoke the Titanic herself (does Horner think of her as the true heroine?) since she was built in Ireland - as much as the fate of the Winslet and DiCaprio characters (who are American). There is also a reference back to Horner's own music for The Rocketeer used as a sort of aspirational motif in the departure from Southampton sequences and recalled almost as a gentle requiem in the spectral An Ocean of Memories cue that shows subtle influences of Debussy and Ravel. The sound is stunning: the dynamic range and sound perspectives are very impressive. This score should favour Horner for an Academy Award.

Ian Lace
---
| | | |
| --- | --- | --- |
| John Williams AMISTADOST DreamWorks DRD 50035 [55:53] | | |
| | | |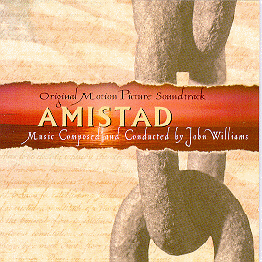 This is the fifteenth Steven Spielberg film that John Williams has scored. The film comes from Spielberg's own new Hollywood studio, DreamWorks - hence the CD label title. Amistad is a true story of the slave trade in the nineteenth century. It tells how 53 Africans, abducted into slavery, broke free aboard the slave ship La Amistad bound for the American plantations and killed most of the white crew and ordered the remainder to sail them home. Instead they were recaptured by an American ship and taken to New England, imprisoned and tried three times. Former US President, John Quincy Adams (Anthony Hopkins in an Oscar-nominated and mesmerising performance) pleaded their case in the Supreme Court.
John Williams has already demonstrated his skill in scoring for voices - one only has to recall his impressive Exsultate Justi from Empire of the Sun. This Amistad score makes extensive and telling use of wordless choruses. Straight away, Williams evokes the slaves yearning for their homeland in Dry Your Eyes Afrika - which is an infectious, ebullient and life-affirming paean. It is scored with a variety of African drums effectively employed in rich cross-rhythms, as well as a full modern "western" orchestra supporting the chorus in authentic-sounding African music. Droning voices and exotic orchestrations conjure pictures of Sierra Leone, 1899 and The Capture of Cinque. Towards the end of this cue we are introduced to Cinque's theme which dominates the score. It is written in the tradition of Williams's poignant music for Schindler's List - music that speaks once again about the suffering of an oppressed people. Much of the material relates to scenes in America where the music assumes a more homespun, American heartland flavour (with more than a nod towards Copland) but with a heroic, plea for freedom and justice flavour about it too. Williams uses horns and a solo trumpet in heroic mode admirably played by Tim Morrison reprising the sort of role he played in Williams's score for Born on the Fourth of July. But it is the African-inflected music which lingers in the mind. I particularly liked the cue Cinque's memories of home, sweetly nostalgic - almost a lullaby with a solo voice humming over soft percussion taps suggestive of gently beating rain; so restful and hypnotic. Only one little quibble surely the engineers could have eliminated the noises of breathing of vocalists and woodwind players? But this is one of John William's best scores for a long time.

Ian Lace
| | | |
| --- | --- | --- |
| Jerry GOLDSMITH L.A. ConfidentialOST Varèse Sarabande VSD-5885 [30:03] | | |
| | | |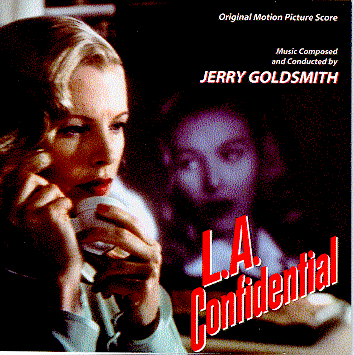 The playing time of this CD of the 1998 Oscar nominated score for L.A. Confidential may be only 30 minutes but the music is such a powerful and relentless assault on the senses that in this case it is definitely a question of quality ruling over quantity. Goldsmith was given the task of composing a score that would weave together a dozen or so songs chosen by the film's director Curtis Hanson (himself nominated in the Best Director section of the 70th Academy Awards) to evoke the time period in which the story takes place. Goldsmith succeeds admirably, his score is timeless and therefore helps the audience to forget period connotations and concentrate on the convolutions of the drama. There is much staccato, dotted rhythm music, heavily accented almost metallic. It is hard and relentless. The textures are often dense and polytonal. Two mesmerising and sinister, two-and-four note motifs dominate the score. Even the "romantic" elements seem remote and detached like the Kim Bassinger character, slinky and smooth as black satin. The orchestration is dominated by trumpet parts that echo the trumpet playing of Chet Baker and Bobby Hacket in the chosen songs. Subtle but telling use of synthesisers is made in support of an array of bass acoustic instruments including percussive parts for two pianos to convey the brutality, menace and a sense of secrets within secrets, the L.A. confidentiality of the screenplay; the cue Shootout is so realistic it makes one's hair stand on end. The only short relief is in the triumph of sorts in the final cue The Victor. The performance is excellent and the sound is stunning. Impressive but exhausting.
Ian Lace
---
From Nonesuch comes a new series of film music albums commencing with four albums: one a new score, and three significant historic albums - all three smartly packaged with exemplary and scholarly but readable booklet notes. They are:-
| | | |
| --- | --- | --- |
| Philip GLASS KundunOST conducted by Michael Riesman Nonesuch 7559-79460-2 [60:03] | | |
| | | |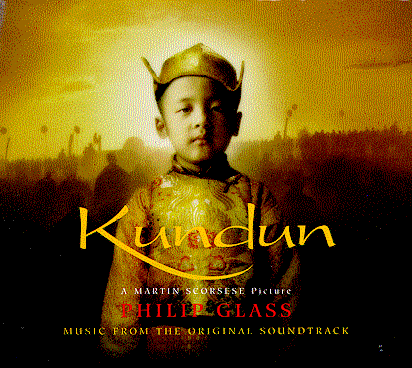 It is interesting to compare Philip Glass's minimalist score for this Martin Scorsese film about the life of the Thirteenth Dalai Lama with John Williams's score for Seven Years in Tibet reviewed below. Glass's approach is quite different he prefers bass instrumentation - bass percussion and woodwind in particular. He uses Tibetan horns and cymbals bass clarinet and contrabassoon with the voices of Gyuto Monks and Monks of the Drukpa Order integrated with the instrumentation to achieve a deep, sometimes remote mysticism. It all sounds remarkably authentic which of course it isn't. Only in the last cue Escape to India do the voices have an independent line.
As Scorsese says in his cover note, "In Kundun we found the ideal subject for a special collaboration [because of Glass's] Buddhist faith and deep understanding of Tibetan culture..." This score is rich in invention and variety. Every track is different in content if not in minimalist style. Caravan Moves Out, Reting's Eyes, Chinese Invade, Lhasa at Night and Escape to India are especially imaginative and arresting cues. Those wary of minimalist music can be assured that it rarely becomes tedious, Glass will inject some interesting modulation or new instrumental idea before this happens. An intriguing score

Ian Lace
---
| | | |
| --- | --- | --- |
| LEONARD ROSENMAN East of Eden Rebel. Without a Cause John Adams/London Sinfonietta Nonesuch Film Series 7559-79402-2 [50:23] | | |
| | | |
Leonard Rosenman's music for the two James Dean films were landmark scores for they marked a radical departure from the lush romantic scores typical of Steiner, Korngold and the other pioneer writers of original film scores working in the studios during the Golden Age of Hollywood in the 1930s, 40s, and early 50s. (See Part II of the article History of Film Music on this web site.) Instead Rosenman introduces a harsher, bleaker view - music laced with dissonances and dark-toned jazz to delineate character and create atmosphere. His scores represent something of a halfway house between the Romanticism of the past and the pop styles of the future. Rosenman was undoubtedly one of the most thoroughly schooled musicians ever to work in Hollywood. He studied with Roger Sessions after a few months private tuition from Arnold Schoenberg. Later he studied with the Italian composer Luigi Dallapiccola at Tanglewood.
Interestingly it was James Dean who approached Rosenman first for piano lessons and who later introduced the composer to Elia Kazan who asked him to write the music for East of Eden. Rosenman immediately insisted on being on location with the actors to soak up the atmosphere and to compose as the film progressed (in fact, in some instances, the actors had the unusual experience of being able to act with Rosenman's music in the background, which helped them enormously - the norm, until then, had been that a composer was never allowed near a film until the shooting had been completed).
Rosenman's score for East of Eden (1955) offsets the pastoral and the comfortable homespun as typified by the well-known main theme melody, direct and innocent, with starker dissonances symbolic of filial disobedience, Dean's search for his lost mother and the mother's seamier brothel trade. Nicholas Ray's portrayal of misguided and troubled American youth, Rebel Without A Cause (1955), inspired an equally rebellious score from Rosenman. Rosenman's gritty score embraced both the big band jazz sounds of the era and music reminiscent of Bartok and Stravinsky to create a considerably disturbing atmosphere that heightened the dramatic tensions of the screenplay.
John Adams and the London Sinfonietta embrace all the disparate styles in these remarkable scores with considerable aplomb - from raw energy to quiet delicacy. This CD is a must for all interested in the history of film music.

Ian Lace
---
| | | |
| --- | --- | --- |
| TAKEMITSU Film Scores: Rikyu/José Terres*/Black Rain*/The face of Another*/ Harakiri/Banished Orin/Kaseki (The Fossil)/Empire of Passion/Dodes'kaden/Woman in the Dunes Original soundtracks * John Adams conducts the London Sinfonietta Nonesuch Film Series 7559-79404-2 [55:25] | | |
| | | |
Toru Takemitsu was a great film fan. In an average year he saw at least 300 films and managed to remember nearly all of them. This album contains a representative sample of the music from the 93 film scores he composed from 1957 until his recent death in February 1996. The films listed above will not be familiar to many western moviegoers but they will have the opportunity to evaluate these ten selections on their merit as music away from the screenplays. They will not be disappointed. This is music that continually surprises. It is daring; it ravishes and disturbs the ear. It traverses a tremendous range of styles and embraces some extremely unusual sound effects and instrumentation.
The extensive suite from Rikyu includes western baroque music, poised between the liturgical and the secular, contrasted with traditional Japanese forms, minimalism and music as though written for some fantasy. At times, it is softly dreamy at others nightmarish with massive sustained pedal points and explosive outbursts. Empire of Passion is equally disturbing - a kind of Gothic horror score the orchestration and harmonies suggesting swirling mists and screeching bats. Woman in the Dunes employs a wind machine and sound effects suggesting not only shifting sands but also weary feet trudging through them.
On a lighter note Takemitsu offers light as air romance in melodies that could have been penned by Georges Delerue in Dodes'kaden with its exotic Latin American instrumentation and Kaseki which adds guitar and harpsichord to exotic woodwind. I was delighted by the vividly evocative music for Banished Orin which seemed to transport me to some rain forest: layers of woodwind and block etc over lute and shimmering lower strings suggesting colourful birds and other jungle creatures.
A stimulating collection

Ian Lace
---
| | | |
| --- | --- | --- |
| GEORGES DELERUE Music for films of Truffaut. Two English Girls/Jules and Jim/The Soft Skin/Such A Gorgeous Kid Like Me/Love at 20: Antoine and Colette/The Woman Next Door/Shoot the Piano Player/Day for Night/The Last Metro/Waltz for François Truffaut Hugh Wolff/ London Sinfonietta Nonesuch Film Series 7559-79405-2 [55:56] | | |
| | | |
Georges Delerue (1925-1992) was born in northern France. As a child, he suffered from ill-health and from the effects of a bicycle accident injury. He studied at the local conservatory but was discriminated against because of his humble working class background; however, his talent and tenacity won through. He was accepted into the Paris Conservatoire where he studied under his mentor, Darius Milhaud, whilst supporting himself playing piano in bars, dance halls, theatres and even at funerals. In 1959 he contributed some music to the score for Hiroshima, Mon Amour - his first work in the genre. He composed operas, ballets, sound-and-light shows and chamber pieces. He is best remembered, though, for his more-than-200 film scores including the eleven collaborations with François Truffaut. Both men shared many characteristics but none was more important than their mutual fascination with love in its many forms. The 23 selections that comprise this collection are played with conviction and panache, and real devotion to the letter and spirit of the originals, by Hugh Wolff and the London Sinfonietta.
The collection includes the masterly score, full of Gallic charm and wit, for Jules and Jim which proceeds from the exuberance of the circus-like music of the Main Title theme and the well-known jolly Vacances cue to the more melancholic and darker music of Catherine (with its subtle Ravelian influences) as the inevitable tragedy follows. The harpsichord which figures prominently in this score is also used to great dark, dramatic effect in Delerue's intense score for The Woman Next Door - the sort of highly emotional music full of turmoil and suffering that Max Steiner would write for Bette Davis. Lighter music underscores Two English Girls and Such a Gorgeous Kid Like Me where you have the kind of sweeping lush romantic melodies that Delerue would later compose for such Hollywood films as Beaches and Steel Magnolias. Shoot the Piano Player is a jazz-based score mixing romance and menace as the shy pianist hero is pursued by gangsters; and Baroque music is pastiched very effectively in the Chorale of Day for Night. A charming collection which has paid repeat visits to my CD player.

Ian Lace
---
| | | |
| --- | --- | --- |
| JOHN WILLIAMS SEVEN YEARS IN TIBET John Williams Soloist Yo-Yo Ma (cello) Sony SK 60271 [65:53] | | |
| | | |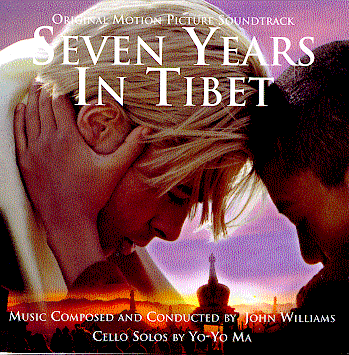 After highlighting the violin (with Itzhak Perlman) in his score for Schindler's List, John Williams now turns to the cello and Yo-Yo Ma to accentuate the introspective and meditative qualities of his music for Seven Years in Tibet. This Tri Star movie, which gathered mixed reviews, stars Brad Pitt as the controversial Austrian Olympic athlete, Heinrich Harrer, who abandoned his pregnant wife to conquer Himalayan peaks. Caught in the Second World War conflict and imprisoned as a POW by the British, he escaped across the Tibetan plateau to seek spiritual enlightenment in Tibet's holy and forbidden city where he formed a special friendship with the Dalai Lama, then a boy of eleven.
The story presents Williams with a splendid opportunity not only to create a richly evocative score but also to compose what is in effect a mini Cello Concerto. The opening film title cue introduces the main theme, a typical Williams sweeping romantic melody which Yo-Yo Ma then most sensitively develops gently and pensively in sympathy with the film's theme of transformation and redemption. John Williams has already shown us, in Empire of the Sun, for instance, how effectively he can produce an "authentic oriental" sound. This skill in harmony and orchestration is manifest again in his adroit use of bells of many descriptions, gongs, tam-tam, blocks, celeste, and other exotic percussion instruments and pipes etc to create the atmosphere of the land on the roof of the world. The ethereal mysticism of The Fortess of Solitude that was a highlight of Williams' score for Superman is also recalled in the cues Reflections and Premonitions. There is also excitement aplenty in Invasion - relentless pounding ostinatos passed around a variety of bass instruments, brass, string and percussion. Although I would hesitate to claim that this is top drawer Williams - the score does have its longueurs - even second-drawer-down John Williams is superior to the work of many others and this album will not disappoint his many fans. The sound is excellent.

Ian Lace
---
| | | |
| --- | --- | --- |
| JAMES BERNARD Nosferatu - A Symphony of Horrors Nic Raine/City of Prague PO Silva Screen FILMCD192 [63:14] | | |
| | | |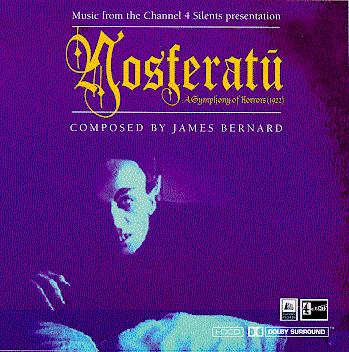 This new score for the 1922 F.W. Murnau German classic horror film will command even greater attention after its showing on UK's TV Channel 4 in January. Bernard was born in Pakistan in 1925. He studied with Howells at the Royal College of Music. Briefly (1950-51) Britten's amanuensis assisting him with Billy Budd, Bernard described his year with Britten as "a wonderful baptism as a working composer." Tonal music came naturally to him but at a time when it was not wanted in many circles. He wrote instead for radio and it was as a result of his score for The Duchess of Malfi that he was recommended to Hammer Films who commissioned a number of scores starting with the music for The Quatermass Xperiment (1955). There were to be more than 20 Hammer scores (a selection of which is to be found on Silva Screen FILMCD174 and 714). He also collaborated with Paul Dehn in the musical Virtue in Danger produced at The Mermaid and Strand Theatres in London in 1963.
Bernard's score for Nosferatu is fully symphonic and in keeping with the edgy, neurotic atmosphere of the film. There is a great deal of tense and dark music with moments of variety, if not relaxation, provided by Hutter's innocent music and the swirling romanticism of Ellen's fine theme (obstinately memorable) on the strings. The music is tonal with occasional reminiscences of Janácek. The booklet reflects great care in design; a feature of this company's CDs though I wish we could be told something about the score originally used when the film was shown in the 1920s. Another fine souvenir of a film offering music attractive in its own (undemanding) right.

Rob Barnett
---

COMPETITION WIN a CD of your Choice

---

Search the Crotchet database from here
Discs on these pages are offered for sale. There is also a page of search engines from a selection of on-line retailers here.
Please support this web-site by buying your discs here.
Disclaimer: Every effort is made to make sales links to the correct disc but, in the end, you must take responsibility for checking that what you are purchasing is what you want.
Some of these discs were not actually available for sale at the time of posting but a link has been made in anticipation of their forthcoming availablility.
Return to : 1998 reviews
e-mail Len Mullenger len@musicweb.force9.co.uk
---