Music on the Web
Music Webmaster Len Mullenger
---
Christopher Thomas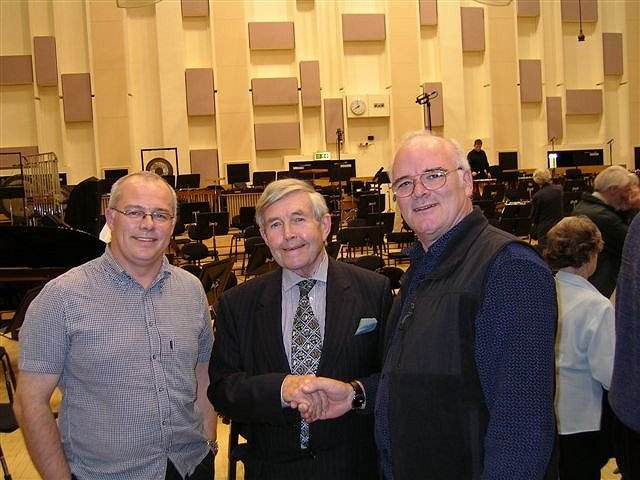 Chris Thomas, Arthur Butterworth MBE and Len Mullenger October 2003 at the premiere performance of Arthur Butterworth's fifth symphony, BBC Manchester.
Christopher Thomas was born in Swansea in 1966, subsequently living in Cheshire for five years until his parents settled in Coventry in 1977. His earliest musical memory is, at the age of four, being captivated by the theme from the television drama series Family at War. It was not until nine years later that he discovered this majestic theme to be from the first movement of Vaughan Williams' Sixth Symphony, sparking on ongoing interest and passion for the music of Vaughan Williams as well as twentieth century British music generally.
He cites his two other formative musical events as starting to play the trombone at the age of eleven and his discovery of contemporary music, largely through a compulsive interest in the classical record collection at Coventry Central Library. In this way he was able to acquaint himself with a wide range of twentieth century music, his inquisitive musical nature prompting him to seek out composers whose names were unfamiliar to him. One of his earliest finds in contemporary music was the music of Oliver Knussen, in particular his Symphony No. 3, which he regards as one of the landmarks of British music in the last fifty years.
His instrumental playing and early attempts at composition resulted in an offer to study bass trombone and composition at Trinity College of Music although he opted instead to pursue a non-musical career in estate agency. This has remained his day job (and paid the bills!) ever since. At around the same time he began to expand his trombone playing, ultimately spending a number of years in top level brass bands. During this period he toured Europe, participated in numerous radio and television broadcasts (including regular performances on Radio Two and Radio Three) and recorded several records and compact discs.
These days his playing is on a freelance basis and takes in numerous orchestras, ensembles and shows. He combines this with writing and reviewing which he has taken up in earnest over the last five years. He lives in the village of Berkswell around five miles from Coventry with his wife Karen (who complains constantly about his ever growing compact disc collection which is threatening to take over the house!) and daughter Caitlin who was born in February 2001.
---
Return to:

Classical Music on the Web
contributors page
---