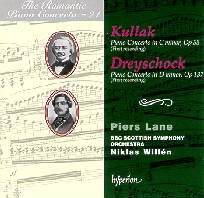 Another Hyperion winner! This series of Romantic Piano Concertos now reaches its twenty-first issue and this time we have two composers who are all but unknown. Theodor Kullak's big-boned and warm-hearted Concerto is musical enough and reminds one of Chopin and Schumann mixed into one. An overlong Allegro is full of heroic flourishes and dizzying keyboard virtuosity matched by an accompaniment that keeps the orchestra in the background rather like a piano symphony with obbligato orchestra!
The Adagio has some memorable melodies although it is ultimately rather indistinct and plain in content. All is resolved in a dashing Finale of whirlwind virtuosity with the painist almost hanging on for dear life throughout and finishing with a suitably barnstorming ending so typical of the concertos of those days! Piers Lane is up to all the challenges of the work and he is accompanied with gusto by Willen, but ultimately I felt that this was more a library work than a serious challenge to Beethoven!
Dreyschok's Concerto is altogether less interesting but still deserves slightly wider currency. Lane compares it to Mendelssohn in the booklet notes and it is indeed rather gossamer like in character. None of the three movements outstays its welcome and there are some quite memorable tunes permeating the musical canvas. I enjoyed the Allegro vivace that concludes the work greatly and was quite mesmerized by Lane's virtuosic and poetic ability to breath life into the notes. In future years we shall in no doubt be talking of this pianist in the realms of Glenn Gould, Van Cliburn or Emil Gilels.
Lane also writes some extensive notes and his narrative dwells on the charming anecdotes of the American heiress, Amy Fay. There is not much to say about the concertos themselves but Lane amuses himself (and readers) with detailed biographical descriptions of both composers, this makes fascinating reading. I wouldn't compare these works to previous favourites such as Dohnanyi, Brull, Paderewski or Medtner, rather they are similar to the note spinning to be found in the Henselt Concerto. As mooted earlier, the BBC Scottish Orchestra and Niklas Willen are persuasive advocates of the music and with the usual Hyperion enterprise on offer, who will really care?