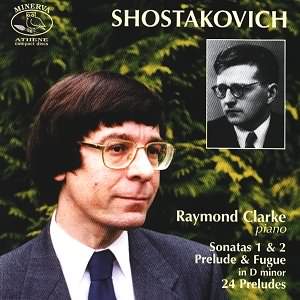 Hearing this CD reminded me that just before my one and only all-to brief encounter with Shostakovich, newly resplendent in his Oxford University Honorary Doctorate regalia at the post-Encænia bash in 1958, I took the anxious precaution of asking Isaiah Berlin whether talking music or studiously avoiding doing so would be best calculated to oil the conversational wheels with this famously tense and nervous composer. Berlin unhesitatingly recommended the former approach as the way to open him up.
So I weighed almost straight in, asking him why he had scored that four-square 4/4 folk tune in the second movement of his First Symphony (fig. 6, bar 2) in 3/4 even though he switched to 4/4 for the tutti repeat (fig. 21). He knitted his brow for a moment or two and then, with a shrug, said 'I forget', thus leaving this minor but intriguing enigma unresolved. It seemed in its small way symbolic - but of what?
The real enigma, however, is best exemplified by the undoubted excellence of the tautly structured, disciplined Fifth Symphony, notwithstanding that notorious epigraph at its head: 'A Soviet artist's answer to just criticism' (pointedly omitted from the Boosey & Hawkes edition, no doubt to spare the Pavlovian embarrassment of the Western liberal intelligentsia). It, of course, looks even more cravenly servile following so closely on the heels of the anarchically capricious Fourth Symphony - the first performance of which had been aborted a year earlier, an episode which presaged the iniquitous Zhdanov inquisition into modern Soviet music in 1948.
But where did the innermost Shostakovich stand? My own hunch has long been that Solomon Volkov skewed the 'Testimony' (1979) in such a way as to pander to the received opinions of the Western intelligentsia in representing Shostakovich as an out-and-out dissident at heart. But is it not more probable, life being a continuum, that he vacillated between orthodoxy and apostasy, like, say, a precariously devout medieval Roman Catholic recoiling at the horrors, inter alia, of that Inquisition?
In his near-contemporaneous account of the infamous Zhdanov inquisition, 'Musical Uproar in Moscow' (1949), Alexander Werth rightly makes much of the fact that Shostakovich and his colleagues, Prokofiev among them, were up against the likes of Fadayev, the notorious alcoholic party hack, and envious third-rate rivals such as Khrennikov, who were on to a good thing: so Shostakovich's utterances have to be treated circumspectly. He also reminds us in his down-to-earth way that Shostakovich and his fellow students have dabbled in modish Western modernism as exemplified by, for example, Hindermith, 'Les Six' and Alban Berg. My own belief is that Shostakovich, deep down, was a musical conservative, the uniqueness and originality of whose œuvre were firmly rooted in his infinitely complex psyche, and that even let off the leash he would never have been tempted by cerebrally contrived technical innovation such as serialism.
Well, now, musical executants, in contrast to composers, are not all that often adept with words. But Raymond Clarke is right up there with Berlioz, Schumann and Wagner when it comes to stylishly lucid prose and I warmly commend his copious analytical notes to all.
His pianistic technique is both adroit and secure, but it is his insight and judgement as an interpreter which really gives this invaluable CD its impressive sense of authenticity, as Clarke picks his way through a veritable minefield of subtle and hazardous intricacies: the juxtaposing of conventional harmony and iconoclastic dissonance in the First Piano Sonata, written when Shostakovich was just twenty years old, a year after that astonishingly precocious First Symphony; the elusive, sometimes satirical allusions to his own works and those of other composers in the Second Piano Sonata; the 'in-jokes' and deliberately 'trivial' passages in the Twenty-Four Preludes; and the abrupt mood-swings which pervade these pieces as a whole.
Clarke's sense of structure and development is particularly evident in the third movement (passacaglia) of the Second Sonata, as the ground bass changes its shape, in contrast to the ones in the third movement of the First Violin Concerto and even more so in the fourth movement of the Eighth Symphony, where it remains doggedly unchanged. Similarly impressive is his rendering of the fugue in the last of the Twenty-Four Preludes and Fugues (the only one on this CD), the graceful, relaxing opening 'moderato' of which likewise contrasts diametrically with, for instance, the furious dramatic intensity of the fugue in the second movement of the Eleventh Symphony.
An interesting feature of Shostakovich's music is that the chamber works are the more idiosyncratic while the symphonic ones tended to follow the current ukase - the Fourth Symphony being a spectacular exception! And we should always remember that Shostakovich's monumental musical output and the tyranny that dogged him were, paradoxically, interlinked products of the same historical turmoil.
This is indeed a magnificent disc. Buy it!
See previous reviews
Reviewer
John Veale
Performances

Recording

---
---
Reviews carry sales links
but you can also purchase
from: