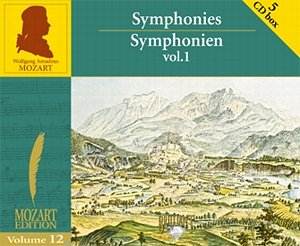 BUY NOW
Crotchet £19.99 AmazonUK AmazonUS
For the symphonies in this complete Mozart edition, Brilliant Classics brought in the newly-formed Mozart Akademie Amsterdam, led by Jaap ter Linden. This group plays on original instruments, and benefits from ter Lindenís vast experience is the early music movement. The symphonies here are far from the over-instrumented versions most listeners are familiar with, and show Mozartís symphonic music in a very interesting light. Subtle, spirited playing by the Mozart Akademie, together with sprightly tempi in the fast movements, give this set an energetic tone.
The earlier works, while less musically dense and complex, give hints of what Mozart would become. The first disc of this set contains 5 early symphonies - together with symphony number 45 - which show the earliest examples of this form. The symphony was still young at this time; Haydn had just started composing his 104 masterpieces. Mozartís early symphonies are a bit simplistic and limited, but interesting nevertheless. Witness the delightfully pastoral sound of the 4th symphony in D major; itís naïve melodies capture an almost childish sound.
The Molto allegro of symphony no. 14 shows Mozartís music in its vigorous form. The orchestra is incisive and energetic in the rapid string parts, and has an excellent rounded sound in the solo parts. The flutes are restrained, but the overall energy is concentrated and lively.
The opening movement of symphony no. 30, also a Molto allegro, represents another Mozart - here he is the regal and forceful with the sound reinforced with timpani and strong rhythmic impetus. Again, the orchestra maintains a pleasing balance and texture.
The recording of these works is admirable, the orchestra is well-balanced, and the overall dynamics are well judged. The sound remains intimate, due to restrained use of reverb.
All in all, this is another enviable volume in Brilliant Classicsí Mozart Edition. The overall sound of the orchestra is well contrived, and the texture produced by use of original instruments gives this music a sound much closer to the baroque than the romantic. At this bargain price, it is certainly worth having.
Kirk McElhearn

Wolfgang Amadeus MOZART (1756 - 1791)
Mozart Edition Volume 12
Symphonies Vol. 1
CD1
SYMPHONY No. 1 in E flat major KV 16
1. Molto allegro 6'00
2. Andante 5'03
3. Presto 1'34
SYMPHONY No. 4 in D major KV 19
4. Allegro 2'28
5. Andante 3'46
6. Presto 3'03
SYMPHONY in F major KV 19a
7. Allegro assai 5'12
8. Andante 4'42
9. Presto 1'25
SYMPHONY No. 5 in B flat major KV 22
10. Allegro 2'51
11. Andante 2'06
12. Molto allegro 1'21
SYMPHONY No. 6 in F major KV 43
13. Allegro 5'36
14. Andante 5'13
15. Menuetto & trio 1'57
16. Allegro 3'44
SYMPHONY No. 45 in D major KV 45
17. Molto allegro 2'43
18. Andante 1'58
19. Menuetto & trio 3'43
20. Molto allegro 2'44
Total time: 67'20
Mozart Akademie Amsterdam, Jaap ter Linden
Recordings: August-December 2001, Doopsgezinde Kerk Haarlem
CD2
SYMPHONY No. 8 in D major KV 48
1. Allegro 4'31
2. Andante 3'37
3. Menuetto & trio 3'52
4. Molto allegro 3'23
SYMPHONY No. 9 in C major KV 73
5. Allegro 3'16
6. Andante 3'42
7. Menuetto & trio 3'03
8. Molto allegro 2'09
SYMPHONY No. 10 in G major KV 74
9. Allegro-andante 5'30
10. Allegro 2'13
SYMPHONY No. 12 in G major KV 110
11. Allegro 6'24
12. Andante 4'02
13. Menuetto & trio 4'01
14. Allegro 1'51
SYMPHONY No. 13 in F major KV 112
15. Allegro 5'22
16. Andante 3'09
17. Menuetto & trio 2'12
18. Molto allegro 2'22
Total time: 62'22
Mozart Akademie Amsterdam, Jaap ter Linden
Recordings: August-December 2001, Doopsgezinde Kerk Haarlem
CD3
SYMPHONY No. 14 in A major KV 114
1. Allegro moderato 7'49
2. Andante 4'23
3. Menuetto & trio 3'32
4. Molto allegro 4'42
SYMPHONY No. 15 in G major KV 124
5. Allegro 5'30
6. Andante 4'35
7. Menuetto & trio 2'13
8. Presto 2'04
SYMPHONY No. 16 in C major KV 128
9. Allegro maestoso 4'44
10. Andante grazioso 5'25
11. Allegro 3'57
SYMPHONY No. 17 in G major KV 129
12. Allegro 6'23
13. Andante 5'29
14. Allegro 2'53
Total time: 63'46
Mozart Akademie Amsterdam, Jaap ter Linden
Recordings: August-December 2001, Doopsgezinde Kerk Haarlem
CD4
SYMPHONY No. 20 in D major KV 133
1. Allegro 7'18
2. Andante 5'49
3. Menuetto & trio 4'04
4. Allegro 5'42
SYMPHONY No. 21 in A major KV 134
5. Allegro 7'16
6. Andante 5'14
7. Menuetto & trio 3'16
8. Allegro 5'00
SYMPHONY No. 22 in C major KV 162
9. Allegro assai 3'40
10. Andantino grazioso 2'56
11. Presto assai 1'47
SYMPHONY No. 23 in D major KV 181
12. Allegro spiritoso 5'26
13. Andantino grazioso 1'58
14. Presto assai 2'11
Total time: 61'44
Mozart Akademie Amsterdam, Jaap ter Linden
Recordings: August-December 2001, Doopsgezinde Kerk Haarlem
CD5
SYMPHONY No. 27 in G major KV 199
1. Allegro 6'40
2. Andantino grazioso 4'50
3. Presto 6'18
SYMPHONY No. 28 in C major KV 200
4. Allegro spiritoso 7'23
5. Andante 7'44
6. Menuetto & trio 4'18
7. Presto 5'24
SYMPHONY No. 30 in D major KV 202
8. Molto allegro 6'04
9. Andantino con moto 5'11
10. Menuetto & trio 4'16
11. Presto 4'54
Total time: 62'56

Mozart Akademie Amsterdam, Jaap ter Linden
Recordings: August-December 2001, Doopsgezinde Kerk Haarlem

BRILLIANT CLASSICS 99730 [approx 317 minutes]