DRUMS COMPOSERS
(The 'Drums: the corps of drums or the drum and flute band descended from fife and drum)
by Richard Powell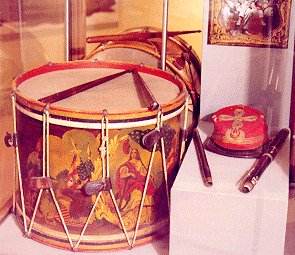 "Oh, soldier, soldier, won't you marry me, with your musket, fife and drum?"
Drum and fife have long been a part of European history, coming together first in Switzerland and moving, almost tourist-like, to the British Isles about 1513. It was Henry VIII who appears first to have introduced the fife to the English army after his sheltering in the middle of a hired Landsknecht "hedgehog" of pikes at the Battle of the Spurs in 1513. Henry's musical ear could not have avoided the Landsknechts' massed fifes and drums beside him directing the battle. Until then, the records shew no fifers with English infantry; (held at Kew they were compiled by Thomas Wolsey, his almoner, the later Cardinal and Chancellor of all England). However, a company fifer and a drummer appear on the rolls for subsequent campaigns of his reign. (The Landsknecht were Swiss mercenaries).
These two instruments were used by the infantry and artillery of Britain's armies; the drum, in particular, being used to signal tactical direction to companies. In contrast to some European armies, Britain has no known record of the fife's battlefield service. It was used as a time-keep when off the battlefield but that comes later. By the middle of the 18th century the drum was being replaced by the bugle's clarion sound as drum signals were hard to discern from gunpowder. There were though, other tasks. By now drum and fife regulated the soldier's day in camp or quarters, there being few watches in evidence and by now the fife was a popular addition to everyday life. We are told that, following the addition of hautbois (oboes, though of a more powerful sound than today), the fife's popularity waned for a while but it had returned by this stage.
The hautbois and other new, European instruments led to what we know today as the military bands; (brass, wind and percussion). Fifes and drums eventually united into a "band" which came to be known as the corps of drums, or customarily, "the 'Drums". The technicalities of military bands playing and their being paid for by the regiment led to military bands initially being staffed by civilian players, usually from France or Germany (depending on our enemy of the day!). All Drummers, (the appointment of all in the 'Drums, regardless of whether blowing a fife or beating a drum), Trumpeters and the later Pipers and Buglers were and remain to this day, soldiers first.
By the mid-1700s though, parade grounds were a patch of land where tree trunks were low enough to perform, rather than the more grand areas current imagination conjures to the fore. As a consequence, all marching was to the "ordinary step", which reaches us as the slow march. It was Frederick the Great's instruction to have his men taught what he called "cadence marching" at a quick tempo from which we British learned. Later, it was the push, on Spain's better roads, against Napoleon that allowed British troops to be in step on the line of march when campaigning. This, in turn, had fifers and pipers adapting dances and songs of the day to cheer the marching and, in time, to the composition of those quick marches that are so beloved today.
So, what of music played by drum and fife? Well, as above, early tunes were quite simply those played at the time, of the "folk" or what we would now call "traditional" music genre. Early fife books reflect this very clearly, as indeed do those for the light music of the great highland bagpipe. There was also though, music known to soldiers as the Drum and Fife Duty. Of this, other than the Alarm, which was common to both, the "Duty" of English and Scottish regiments differed but its task was the same, to provide a series of drum and fife pieces ("calls") to prompt administrative reaction in a battalion. The might call men from slumber at Reveille and Rouse or summon the Duty Man to collect rations to be cooked in barrack rooms; (for which the tune was The Roast Beef of Old England!).
Emerging as bands or corps of drums, these were the mainstay of youth movement music in these isles right until about the 1960s. More, as the fife became a keyed instrument and later a corps of drums flute, so it was inevitable that composition also developed and, from across the decades, the more popular British souls include those below. A couple of these show just how difficult it is to find information about these music-men whose lives are considerably under explored.
Drum Major Albert Shrimpton Born in 1890 to George and Lucie Shrimpton in the parish of St Peter's, south London he was named Albert Edward. He joined the Coldstream Guards at the age of 14, on the 14 Sep 1903. Prior to this he was a tea taster for the Mazzawattee Tea Co., of Cold Blow Lane, London. He had until then, belonged to the 2nd Battalion Queen's West Surrey Regiment, Army Cadet Force.
Generally understood to have been a naturally gifted musician, he is thought to have written his first march at about the age of 18, when a Lance Corporal. Contemporaries report that he would sit at a table in Wellington Barracks (opposite Buckingham Palace) and churn out a march in an afternoon. If short of cash, he would swiftly sell this to Potters for some £3 at a time when his daily pay might have been 6 pence, and this he shared amongst his friends. Somehow, soldiering does not change!
After service with The Bedfordshire Regiment he returned to the Coldstream Guards soon to become Drum Major (1 Mar 1912). In peace-time he ran the "Lilywhites", a Coldstream Guards pierrot troupe. A lively, comic and talented man he married Agnes Annie Williams in St Matthew's church, Stoke Newington on the 19 July 1914. Having been Mentioned in Despatches in the first world war and having earned the Meritorious Service Medal, he left the Guards on the 3rd Sep 1921 from the rôle of Company Quartermaster Serjeant. He served in the Home Guard for WW2, later running a garage and taxi service around Chelsea.
Albert Shrimpton died in 1964, leaving a son (Ronald) as a warrant officer in the Queen's Regiment. His many compositions include several to be heard today: Ariel Review, Irish Guards, Albuhera, Kelly's Eye, Scarlet Parade, Silent Victor, The Silver Trumpeter, The Drums and Fifes, The Imperial Eagle, The State Drummer, South Wales Borderers and Red Plume.
W. Pannell Little is known of Pannell (whose initial may well be A.) but with the march Lamb and Flag, suggesting the Paschal Lamb used as their badge, he may have served as a Regular or Territorial member of the Queen's Royal Regiment (West Surrey). He writes, perhaps, in the style of cake-walks which were so popular in the 1920s and his popular compositions include: A Trip to Ohio, Brooklyn Belle, Lamb and Flag, Majestic, Manu et Corde, McGregor frae Greenock, Peasmarch and Rangoon.
William H Turpin Another of whom little is known, it appears that William Turpin lived in Holborn working as a carter for a railway company. A contemporary of his tells that he practised in a hall behind St. Pancras railway station. If so, this was very much in the style of the large number of London based corps of drums, both civilian and military, though they were all based on men of either the Regular or Territorial Army. There is also a belief that Turpin was a trombone player in the Covent Garden opera band but Covent Garden could find no evidence of this. We hear he often composed his marches sitting in the corner of a pub (not far removed from Mozart's sometime way), and his chirpy little Dinah's Delight may have been dedicated to barmaid Dinah, when to a, "What do you think of my new march?"; gave the obvious retort, "I think it's delightful Bill".
More recent researches found a photograph of the Wapping Catholic Boys Brigade dated 1906. Could these be the "Boys of Wapping" and "Children's Love" children? It seems that his last march may be Hotspur, dated about 1915. In 1915 a WH Turpin of the London Irish Rifles was killed at Loos and, as Turpin wrote a march called Wiry Willie, might this have been for a son? The disastrous influenza epidemic of 1918 that killed 18 million people included a WH Turpin of Holborn. So, Turpin may have died in the 1918 influenza epidemic. Among his work, the bold march Galanthia is certainly the best known and a hand-written part inscribed in manuscript, "To the 2nd Tower Hamlets Volunteers 1903" exists to this day. Of his more than one hundred published works, these remain popular: The Bank Guard, The Boys of Wapping, The Borderers, Broadway Hustler, Children's Love, Danny from Bandon, Controversy, Dinah's Delight, For Flag and Empire, Guards Review, Hotspur, Household Brigade, Galanthia, Le Tambour Major, La Festive and Roehampton.
Drum Major/Bandmaster Tom Birkett* The late Tom Birkett was born in 1917 in Whitehaven, Cumberland. He joined the Coldstream Guards on the 28th September 1936 at Caterham and as a former brass band cornet player, found himself a Drummer just as soon as his Drum Major heard him play a bugle. First promoted to Drum Major of the 3rd Battalion in 1945, he had only played transcriptions of marches played by the band; (he was later to lead a 50 strong corps of drums in the 2nd Battalion). It was against this schooling, he found himself having to reform the 3rd Battalion 'Drums for all the inherent parades marking the end of WW2. His main problem was the lack of printed music, so he ruled staves on to plain paper and began composing; something he had never previously tried!
After his army service he became Drum Major, later Bandmaster, to the Central Band of the RAF (the 2 year course for which he passed in 12 months!). Having written Out The Escort, (Armoury House), when serving in Malaya and leaving his many popular arrangements to one side, his more popular marches include: The Adjutant, Second Battalion, Hazelmere and The Quartermaster (Major Edwards). Tom took up the pen again around 1991, so Major Powell, Pineglen, Buttons in Twos, Coldstream Star and several others arrived for circulation in March 1992, with Buttons in Twos now having enjoyed an airing on HM The Queen's Birthday Parade.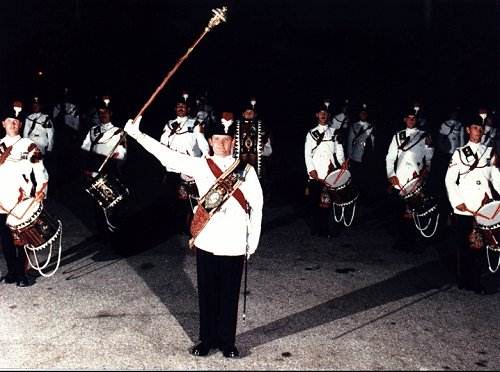 RJP