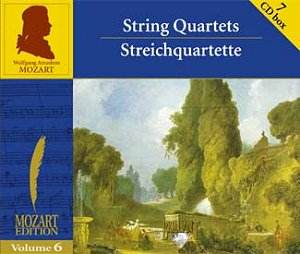 Brilliant Classics continues with this sixth volume of its complete Mozart set. This volume, containing seven CDs, features Mozartís string quartets, some of the finest and most popular of the composerís music. They are performed by two fine quartets: the Sonare Quartet and the Franz Schubert Quartet of Vienna.
The Sonare gets to perform the first twelve quartets (as well as the early work KV 802 tacked on to the final disc as an "appendix"), which represent an early period for Mozart in this form. Mozart here goes through two stages - the first six quartets are in three movements each, and the next six each include four movements. Compositionally, Mozart grew between the two, with the second six quartets being far more mature. Mozart imitates Haydnís methods, without reaching the same summits of technique and musicality. His fugal finales are quite interesting, yet sound more like the pyrotechnics of a young composer than the masterworks of his model, Haydn. The Sonare Quartet performs this music with grace and taste, and the balance among the instruments is very good. Some of the movements sound a bit hurried; their not playing repeats in the andantes of quartets KV 168 and 169, for example, considerably shortens these works. The former is 1.50 in this version, compared to 5.34 in the recording by the Quartetto Italiano. Nevertheless, this is a satisfying recording, one that is more than worth its budget price.
The Franz Schubert Quartet of Vienna performs all of the later quartets, from the six "Haydn" quartets onward. Like the Sonare, this quartet has a very good sound, and is perhaps a bit more cohesive. The works they play belong to a much more mature period of Mozartís work. In the "Haydn" quartets, Mozart was entering a new world. Some say that these works surpass even Haydnís quartets, though that is debatable. In any case, Mozart here gives a sample of what quartet writing really is - the dense counterpoint, the subtle nuances and dynamics, and the rich melodies. These works are much more massive than the early works - with increasingly long movements, reaching 14.35 in the andante of the A major quartet KV 464. Mozart experimented with huge, sprawling forms, and managed to tame and control them.
The recordings of these works are excellent, giving a fine balance between intensity and sparkle, with a good, though at times overly dense sound.
This set stands out as perhaps the best so far in Brilliant Classicsí Mozart series. With two accomplished quartets, performing some of Mozartís most intense compositions, this bargain set is a must-have.
Kirk McElhearn
Wolfgang Amadeus MOZART (1756 - 1791)
CD1
STRING QUARTET in D major KV 155
1. Allegro 3'33
2. Andante 3'38
3. Molto allegro 1'26
STRING QUARTET in G major KV 156
4. Presto 2'45
5. Adagio 5'04
6. Tempo di Minuetto 3'42
STRING QUARTET in C major KV 157
7. Without tempo indication 5'11
8. Andante 3'40
9. Presto 1'49
STRING QUARTET in F major KV 158
10. Allegro 3'26
11. Andante un poco allegretto 4'00
12. Tempo di Minuetto 5'15
STRING QUARTET in B flat major KV 159
13. Andante 4'25
14. Allegro 5'12
15. Rondo, allegro grazioso 2'38
STRING QUARTET in E flat major KV 160
16. Allegro 3'11
17. Un poco adagio 4'33
18. Presto 3'01
Total time: 66'29
CD2
STRING QUARTET in F major KV 168
1. Allegro 4'20
2. Andante 1'50
3. Menuetto 2'37
4. Allegro 2'04
STRING QUARTET in A major KV 169
5. Molto allegro 3'39
6. Andante 3'20
7. Menuetto 3'04
8. Rondeaux, allegro 2'10
STRING QUARTET in C major KV 170
9. Tema con variazioni 4'42
10. Menuetto 2'56
11. Un poco adagio 2'15
12. Rondeaux, allegro 3'05
STRING QUARTET in E flat major KV 171
13. Adagio-allegro assai-adagio 5'12
14. Menuetto 3'03
15. Andante 2'14
16. Allegro assai 2'11
STRING QUARTET in B flat major KV 172
17. Allegro spiritoso 4'15
18. Adagio 2'36
19. Menuetto 3'12
20. Allegro assai 2'54
STRING QUARTET in D minor KV 173
21. Allegro ma molto moderato 5'04
22. Andantino grazioso 3'16
23. Menuetto 4'10
24. Allegro 3'08
Total time: 78'32
CD3
STRING QUARTET in G major KV 387
1. Allegro vivace assai 7'49
2. Menuetto & trio: allegretto 8'01
3. Andante cantabile 8'12
4. Molto allegro 6'00
STRING QUARTET in D minor KV 421
5. Allegro moderato 8'00
6. Andante 6'43
7. Menuetto & trio, allegretto 4'04
8. Allegretto ma non troppo-piu allegro 10'29
Total time: 59'18
CD4
STRING QUARTET in E flat major KV 428
1. Allegro non troppo 7'51
2. Andante con moto 8'49
3. Menuetto & trio, allegro 6'38
4. Allegro vivace 5'45
STRING QUARTET in B flat major KV 458 "The Hunt"
5. Allegro vivace assai 8'56
6. Menuetto & trio, moderato 4'30
7. Adagio 7'40
8. Allegro assai 7'03
Total time: 57'21
CD5
STRING QUARTET in D major KV 499 "Hoffmeister"
1. Allegretto 10'16
2. Menuetto & trio, allegretto 3'37
3. Adagio 8'17
4. Molto allegro 5'27
STRING QUARTET in D major KV 575
5. Allegretto 8'00
6. Andante 5'02
7. Menuetto & trio, allegretto 6'30
8. Allegretto 6'26
Total time: 53'25
CD6
STRING QUARTET in D major KV 155
1. Allegro 3'33
2. Andante 3'38
3. Molto allegro 1'26
STRING QUARTET in G major KV 156
4. Presto 2'45
5. Adagio 5'04
6. Tempo di Minuetto 3'42
STRING QUARTET in C major KV 157
7. Without tempo indication 5'11
8. Andante 3'40
9. Presto 1'49
STRING QUARTET in F major KV 158
10. Allegro 3'26
11. Andante un poco allegretto 4'00
12. Tempo di Minuetto 5'15
STRING QUARTET in B flat major KV 159
13. Andante 4'25
14. Allegro 5'12
15. Rondo, allegro grazioso 2'38
STRING QUARTET in E flat major KV 160
16. Allegro 3'11
17. Un poco adagio 4'33
18. Presto 3'01
Total time: 66'29
CD7
STRING QUARTET in B flat major KV 589
1. Allegro 6'21
2. Larghetto 7'59
3. Menuetto & trio: moderato 7'29
4. Allegro assai 3'59
STRING QUARTET in F major KV 590
5. Allegro moderato 9'27
6. Andante 7'30
7. Menuetto & trio, allegretto 4'30
8. Allegro 5'31
Total time: 52'46


Sonare Quartet
Jacek Klimkiewicz, violin I
Laurentius Bonitz, violin II
Hideko Kobayashi, viola
Emil Klein, cello
Marius Nichiteanu, viola
Franz Schubert Quartet of Vienna
Florian Zwiauer, violin I
Helge Rosenkranz, violin II
Hartmut Pascher, viola
Vincent Stadlmair, cello
Rec: July 1989 and April 1991 (Sonare), 1994 (Franz Schubert Quartet).
BRILLIANT CLASSICS 99718 [approx. 7 hours 28 min.]