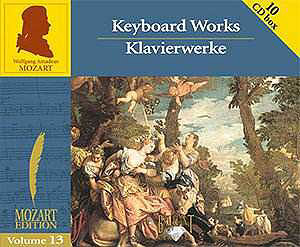 BUY NOW
AmazonUK £11.99 AmazonUS
Brilliant Classics have not finished surprising us with their complete Mozart edition. This set, which contains all of Mozartís keyboard works except for the piano sonatas, is played on period instruments by excellent musicians, all of whom have a vast experience with these instruments. From the fortepiano to the harpsichord, including organ, clavichord and glass harmonica, this is a delightful set. Where else can you find a complete recording of this music on period instruments?
While Mozartís variations could be called light music, being based mostly on popular songs, themes and movements from other works, the performances here by Bart van Oort and Pieter-Jan Belder on fortepiano take this lightness and put it centre-stage. Their delicate playing, together with the beautiful sounds of the instruments, make these three discs a delight.
The three discs of Klavierstücke contain a variety of miscellaneous pieces. Andantes, minuets, allegros, and the occasional fantasia or prelude. All these "small" works (some more than ten minutes long, nevertheless) show a lesser-known facet of Mozartís work. In these miniatures, one can hear the building blocks of Mozartís longer works, though few of these pieces have the same depth as his piano sonatas. But these three discs also feature a variety of instruments, which add to their interest - works for organ, but also works for keyboard played on harpsichord, clavichord, pianoforte and tangentenflügel. For those who appreciate these instruments, this is an additional reason to get this set.
Mozart invented four-hand music for the piano. Originally, little Wolfgang wowed audiences by playing together with his father Leopold. But, later, Mozart composed several pieces for four hands - most for two people on one piano, but a few for two pianos as well. This genre later became popular - partly for social reasons, since it allowed young men and women to create harmonies together - and many composers wrote music for four hands. The three discs here with four-hand and two-piano music contain works from Mozartís youth as well as works written throughout his career. Once again, this music is delightfully played on fortepiano, by Bart van Oort and Ursula Dütschler, and, while these are not Mozartís finest compositions, these three discs provide a great deal of listening pleasure.
The final disc includes Mozartís organ music. While Mozart was renowned as a brilliant organist, even when very young, he did not compose much music for the instrument. The handful of works on this disc show that he could have gone much further with music for the organ, but, alas, as we know, he died too young.
This is one of the best sets in the Brilliant Classics Mozart Edition. The use of period instruments certainly adds to this, and the performers are all excellent. Yet again, at this budget price, this set is worth far more than its cost. While this set does not contain Mozartís deepest music, it is certainly full of hours of enjoyable works.
Kirk McElhearn
Wolfgang Amadeus MOZART (1756 - 1791)
Mozart Edition Volume 13
Keyboard Works [approx 521 minutes]
CD1 Variations Vol. I
1. Nine variations on the arietta "Lison dormait" from the opera "Julie" by Nicolas Dezède, KV 264 (1778) 14'20
2. Twelve variations on the French song "La belle Françoise", KV 353 (1778) 14'11
3. Twelve variations on the Romance "Je suis Lindor" from "Le Barbier de Seville" by Beaumarchais, music by Antoine-Laurent Baudron, KV 354 (1778) 15'13
4. Eight variations on the choir "Dieu d'amour" from the opera "Les Mariages Samnites" by André-Ernest-Modeste Grétry, KV 352 (1781) 11'16
5. Six variations on the aria "Salve tu, Domine" from the opera "I filosofi immaginarii" by Giovanni Paisiello, KV 398 (1783) 6'47
Total time: 62'17
Bart van Oort, fortepiano
Instrument: fortepiano after Walter ca 1795, by Chris Maene, Ruiselede, 2000
Recording: 27-29 November 2001, Doopsgezinde Remonstrantse Kerk, Deventer; September 1997 Hervormde Kerk Rhoon (track 5)

CD2 Variations Vol. II
1. Six variations on a theme from the Clarinet Quintet (KV 581) KV Anh. 137 9'01
2. Ten variations on the aria "Unser dummer Pöbel meint' from "La Rencontre imprévue" by Christoph Willibald Gluck, KV 455 (1783-84) 12'52
3. Twelve variations on an Allegretto, KV 500 (1786) 8'39
4. Nine variations on a Menuet by Jean-Pierre Duport, KV 573 (1789) 13'34
5. Eight variations on the song "Ein Weib ist das herrlichste Ding" from the Singspiel "Der dumme Gärtner" by J. Schack or F. Gerl, KV 613 (1791) 13'58
Total time: 58'32
Bart van Oort, fortepiano
Instrument: Fortepiano after Walter ca 1795, by Chris Maene, Ruiselede, 2000
Recording: December 2001-January 2002, Remonstrantse Doopsgezinde Kerk Deventer.
Producer & engineer: Arts Music Recording Rotterdam

CD3 Variations Vol. III
1. Twelve variations on the French song "Ah, vous dirai-je, Maman", in C major KV 256 (1781-1782) 12'17
2. Eight variations on the Dutch song "Laat ons juichen, Batavieren!" by Chr. E. Graaf, in G major KV 24 (1766) 5'38
3. Seven variations on the Dutch song "Wilhelmus van Nassau" in D major KV 25 (1766) 6'24
4. Twelve variations on a Menuet by J.C. Fischer, in C major KV 179 (1774) 18'53
5. Eight variations on "Come un'agnello" from "Fra i due litiganti" by G. Sarti, in A major KV 460 (1782) 3'58
6. Six variations on "Mio caro Adone" from "La fiera di Venezia" by Antonio Salieri, in G major KV 180 (1772) 7'33
7. Five variations in F major KV 54 (Anh 138a) 5'20
Total time: 60'05
Pieter-Jan Belder, fortepiano
Instrument: fortepiano after Walter 1795, by Gebroeders Kobald, Apeldoorn, 2001.
Recording: 31 August 2001, Remonstrantse Doopsgezinde Kerk Deventer (KV 24,25,179,460)
18 October 2001, Maria Minor, Utrecht (KV 180, 256, 138a)
Producer & engineer: Arts Music Recording, Rotterdam

CD4 KLAVIERSTÜCKE VOL. I
1. Andante in B flat major KV 15ii 3'22
2. Klavierstück in F major KV 33 1'06
3. Molto allegro in G major KV 72a 1'25
4. Andante in C major KV 1a 0'24
5. Allegro in C major KV 1b 0'15
6. Allegro in F major KV 1c 0'39
7. Menuet in F major KV 1d 1'22
8. Menuet in G major KV 1e 0'53
9. Menuet in C major KV 1f 1'01
10. Menuet in F major KV 2 0'42
11. Allegro in B flat major KV 3 1'03
12. Menuet in F major KV 4 1'24
13. Menuet in F major KV 5 0'57
14. Allegro in C major KV 9a (5a) 2'32
15. Allegro in F major KV 15a 1'19
16. Allegro in F major KV 15m 1'22
17 Menuet in C major KV 61g II 2'07
18. Menuet in D major KV 94 (73h) 1'18
19. 8 Menuets KV 315a (315g) 15'07
20. Sonatensatz in G minor KV 312 (189i, 590d) 5'37
21. Capriccio in C major KV 395 (300g) 4'56
22. Fugue in G minor KV 401 (375 e ) 4'43
Total time: 53'11
Bernard Foccroulle, organ (1,2,3,22)
Guy Penson, clavichord (4-9, 15-16), harpsichord (10-14,17-18, 20), Tangentenflügel (19, 21)

Recording: May, June, July 1991

CD5 Klavierstücke Vol. II
1. Praeludium und Fuge in C major KV 394 (383a) 10'05
2. Marche in C major KV 408/1 (383 e) 3'30
3. Fantasie in C minor KV 396 (385 f) 8'09
4. Fantasie in D minor KV 397 (385 g) 5'37
Suite in C major KV 399 (385 i)
5. Ouvertüre 4'05
6. Allemande 5'09
7. Courante 2'40
8. Sonatensatz in B flat major KV 400 (372 a) 4'44
9. Marche funèbre, del Sigr. Maestro Contrapunto KV 453 a 1'55
10. Fantasie in C minor KV 475 11'59
11. Rondo in D major KV 485 6'11
Total time: 64'25
Luc Devos, pianoforte (1-4, 8-11)
Guy Penson, harpsichord (5-7)
Recording: May, June, July 1991

CD6 Klavierstücke Vol. III
1. Sechs Deutsche Tänze KV 509 8'53
2. Rondo in A minor KV 511 9'57
3. Adagio in B minor KV 540 12'25
4/5. Allegro & Allegretto in F major KV Anh. 135 1'56
6. Menuet in D major KV 355 (576 b) 3'28
7. Andantino in E flat major KV 236 (588 b) 1'43
8. Eine kleine Gigue in G major KV 574 2'02
9. Andante in F major KV 616 7'09
10. Adagio in C major KV 356 (617 a) 4'40
Total time: 57'31
Luc Devos, pianoforte (1-7)
Bernard Foccroulle, organ (8-9)
Dennis James, Glassharmonica (10)
Recording: May, June, July, 1991

CD7 KEYBOARD WORKS 4-HANDS Vol. I
Sonata in D major KV 381 (1772)
1. Allegro 5'42
2. Andante 8'23
3. Allegro molto 4'18
4. Fugue in G minor KV 401 (1782) 3'38
Sonata in F major KV 497 (1786)
5. Adagio-allegro di molto 12'22
6. Andante 13'30
7. Allegro 7'46
Total time: 55'41
Bart van Oort, fortepiano (primo)
Ursula Dütschler, fortepiano (secundo)
Fortepiano after Walter ca 1795, by Chris Maene, Ruiselede, 2000
Recording: 12-14 December 2001, Maria Minor, Utrecht (KV 381)
11-13 July 2001, Remonstrantse Doopsgezinde Gemeente, Deventer (KV 401, 497)

CD8 KEYBOARD WORKS 4-HANDS Vol. II
Sonata in C major KV 19d (1765)
1. Allegro 6'19
2. Menuetto 3'11
3. Rondeau, allegretto 5'31
4. Fantasy in F minor for mechanical organ, KV 608 (1791) 9'11
5. Andante & Variations in G major KV 501 (1786) 7'48
Sonata in C major KV 521 (1787)
6. Allegro 13'20
7. Andante 6'40
8. Allegretto 8'11
Total time: 60'02
Ursula Dütschler, fortepiano (primo)
Bart van Oort, fortepiano (secundo)
Fortepiano after Walter ca 1795, by Chris Maene, Ruiselede, 2000
Recording: 11-13 July 2001, Remonstrantse Doopsgezinde Gemeente Deventer (KV 19d,608,501)
12-14 December 2001, Maria Minor, Utrecht (KV 521)

CD9 Sonata in B flat major KV 358 (1773-74)
1. Allegro 5'39
2. Adagio 6'52
3. Molto presto 4'10
4. Adagio & Allegro for mechanical organ in F minor, KV 594 (1790) 9'01
5. Fugue in C minor for 2 pianos, KV 426 (1783) 4'14
Sonata for two pianos in D major KV 448 (1781)
6. Allegro con spirito 11'30
7. Andante 9'29
8. Molto allegro 6'37
Total time: 57'36
Bart van Oort, fortepiano (primo: KV 594,448)
Ursula Dütschler, fortepiano (primo: KV 358, 426)
Fortepiano after Walter ca 1795, by Chris Maene, Ruiselede, 2000
Fortepiano after Johann Schanz, by Thomas & Barbara Wolf, 1983
Recording: 11-13 July 2001, Remonstrantse Doopsgezinde Gemeente Deventer (KV 358)
12-14 December 2001, Maria Minor, Utrecht (KV 594, 426, 448)

CD10 ORGAN WORKS - ORGELWERKE
1. Sechs Deutsche Tänze KV 509 8'53
1. Fantasie in F minor KV 608 10'05
2. Fantasie in F minor KV 594 11'12
3. Andante in F major KV 616 7'24
4. Ouverture in C major KV 399 (385 i) 4'45
5. Eine kleine Gigue, KV 574 1'39
6. Adagio in C major KV 536 (617 a) 3'09
7. Fugue in G minor KV 154 (385k) 2'47
8. Fugue in E flat major KV 153 (375 f) 2'42
9. Fugue in G minor KV 401 (375 e) 4'53
Total time: 48'39


Martin Haselböck, organ
Domorgel zu Brixen/Tirol, Austria
Recording: September 1989, Dom zu Brixen


BRILLIANT CLASSICS 99725 [approx 521 minutes]