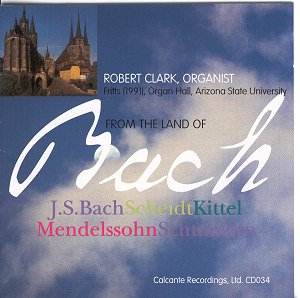 FROM THE LAND OF BACH
Organ Works by:-
J. S. BACH (1685-1750), Concerto in G Major after Johann Ernst BWV 592, - S. SCHEIDT (1587-1654), Passamezzo SSWV 1071, - J. C. Kittel (1732-1809), Grob en Preludien: 1. Prelude in E-Flat Major 2. Prelude in E-Flat Minor, - J.S.Bach Prelude and Fugue in E Major BWV 566, - R. SCHUMANN (1810-1856), Six Fugues on B-A-C-H, Op.60 1. No.4, Mässig doch nicht zu langsam 2. No.5, Lebhaft, - J. S. BACH, Two Chorale Preludes 1. Valet will ich dir geben, BWV 736, 2. Herzlich tut mich verlagen BWV 727, F. B. MENDELSSOHN (1809-1847), Sonata no.3 in A Major.


Robert Clark, Organist
Organ Hall, Arizona State University
Organ by: Paul Fritts and Co., 1992.
Recorded: January 2000, Arizona State University, Temple, Arizona.


CALCANTE RECORDINGS CAL CD034 [60.08]