Wolfgang Amadeus MOZART (1756 - 1791)
Serenades & Divertimenti for Wind Instruments
Mozart Edition vol. 3
CD1
DIVERTIMENTI KV 439b (KV Anhang 229) Nos 1-3 for 2 Clarinets & Bassoon.In B flat major
DIVERTIMENTO No. 1
1. Allegro 4'15
2. Menuetto 3'04
3. Adagio 2'40
4. Menuetto 2'35
5. Rondo 2'35
DIVERTIMENTO No. 2
6. Allegro 2'20
7. Menuetto 3'51
8. Larghetto 2'59
9. Menuetto 3'58
10. Rondo 3'56
DIVERTIMENTO No. 3
11. Allegro 4'30
12. Menuetto 4'49
13. Adagio 3'57
14. Menuetto 5'29
15. Rondo 4'22
Total time: 55'26
Recording: Spring 2001, Hervormde Kerk Rhoon
Producer & Engineer: Arts Music Recording Rotterdam
Artistic supervisor: Henk de Graaf
Henk de Graaf, clarinet
Jan Jansen,clarinet
Johan Steinmann, bassoon

CD2
DIVERTIMENTI KV 439b (KV Anhang 229) Nos. 4-6 for 2 Clarinets & Bassoon
DIVERTIMENTO No. 4
1. Allegro 3'54
2. Larghetto 3'21
3. Menuetto 3'00
4. Adagio 2'10
5. Allegretto 2'29
DIVERTIMENTO No. 5
6. Adagio 2'55
7. Menuetto 2'45
8. Adagio 2'11
9. Romance 2'35
10. Polonaise 1'14
DIVERTIMENTO No. 6
11. Rondo, larghetto 3'20
12. Voi che sapete (from Le Nozze di Figaro) 2'22
13. Non piu andrai (from Le Nozze di Figaro) 3'25
14. La ci darem la mano (from Don Giovanni) 2'37
15. Vedrai, carino (from Don Giovanni) 3'12
total time: 41'32
Recording: Spring 2001, Hervormde Kerk Rhoon
Producer & engineer: Arts Music Recording Rotterdam
Artistic supervisor: Henk de Graaf
Henk de Graaf, clarinet
Jan Jansen, clarinet
Johan Steinmann, bassoon
CD3
SERENADE for 8 Wind Instruments in E flat major KV 375
1. Allegro maestoso 7'45
2. Menuetto 4'09
3. Adagio 5'51
4. Menuetto-Trio 2'47
5. Allegro 3'53
SERENADE for 8 Wind Instruments in C minor KV 388
6. Allegro 8'42
7. Andante 3'44
8. Menuetto-Trio 3'49
9. Allegro 6'20
Total time: 47'02
Recording: Spring 2001, Hervormde Kerk Rhoon
Producer & Engineer: Arts Music Recording Rotterdam
Artistic supervisor: Henk de Graaf
Henk de Graaf, clarinet
Jan Jansen, clarinet
Remco de Vries, oboe
Katty Halvarson, oboe
Johan Steinmann, bassoon
Hans Wisse, bassoon
Martin van de Merwe, horn
Jos Buurman, horn

CD4
DIVERTIMENTO in E flat major KV 166
1. Allegro 3'12
2. Menuetto 2'54
3. Andante grazioso 2'39
4. Adagio 1'17
5. Allegro 2'00
DIVERTIMENTO in B flat major KV 186
6. Allegro assai 1'40
7. Menuetto 2'04
8. Andante 2'38
9. Adagio 2'51
10. Allegro 2'11
DIVERTIMENTO in E flat major KV Anhang 226
11. Allegro moderato 3'24
12. Menuetto 5'20
13. Romance 3'40
14. Menuetto 3'02
15. Rondo 4'45
DIVERTIMENTO in B flat major KV Anhang 227
16. Allegro 2'57
17.Menuetto 2'37
18. Adagio 3'04
19. Menuetto 2'41
20. Finale 3'08
Total time: 58'06
Recording: Spring 2001 Hervormde Kerk Rhoon
Producer & engineer: Arts Music Recording Rotterdam
Artistic supervisor: Henk de Graaf
Henk de Graaf, clarinet
Jan Jansen, clarinet
Remco de Vries, oboe
Sandra Zoer, oboe
Ron Tyhuis, english horn
Irma Kort, english horn
Johan Steinmann, bassoon
Dymphna van Dooremaal, bassoon
Martin van de Merwe, horn
Jos Buurman, horn
CD5
DIVERTIMENTO in F major KV 213
1. Allegro spiritoso 4'16
2. Andante 2'26
3. Menuetto 0'22
4.Contredanse en rondeau 1'22
DIVERTIMENTO in B flat major KV 240
5. Allegro 4'23
6. Andante grazioso 3'08
7. Menuetto 2'17
8. Allegro 4'02
DIVERTIMENTO in E flat major KV 252
9. Andante 4'27
10. Menuetto 2'31
11. Polonaise 2'11
12. Presto assai 1'31
DIVERTIMENTO in F major KV 253
13. Tema con variazioni (Andante) 9'02
14. Menuetto 2'44
15. Allegro assai 10'55
DIVERTIMENTO in B flat major KV 270
16. Allegro molto 5'35
17. Andantino 2'12
18. Menuetto 2'44
19. Presto 1'45
Total time: 61'36
Recording: Spring 2001, Hervormde Kerk Rhoon
Producer & engineer: Arts Music Recording Rotterdam
Artistic supervisor: Henk de Graaf
Remco de Vries, oboe
Irma Kort, oboe
Johan Steinmann, bassoon
Hans Wisse, bassoon
Martin van de Merwe, horn
Jos Buurman, horn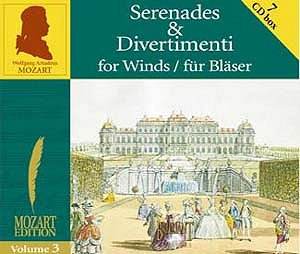 This third volume in the Brilliant Classics complete Mozart edition includes the many serenades and divertimenti that Mozart wrote for wind instruments. In Mozartís time, there was a need for music that could be played outdoors, that would carry well in open air. Works for wind instruments were written for this context, and, as can be seen here, Mozart composed a great deal of music for this idiom.
Some of these works are relatively well-known, such as the 'Gran Partita' Serenade, and are among Mozartís finest works. This performance of the Gran Partita is subtle and energetic, with the ensemble, The Chamber Orchestra of Europe, coming through with excellent texture and a delicious sound. The playful melodies and intricate harmonies are all well-balanced.
Mozart wrote six divertimenti for 2 clarinets (actually for basset-horns, a variety of clarinet) and bassoon, which are delightful pieces in five movements that show a wide range of harmonies among the instruments. These attractive works have an interesting sound. Stylistically similar to string trios, they use the specific tones and sounds of these wind instruments to create a very beautiful atmosphere. While not among Mozartís finest works, and melodically somewhat "predictable", these "little" pieces are truly enjoyable, and one can hear the pleasure the musicians have in performing them.
The Serenades KV 375 and 388 were composed in 1781 and 1782, and are scored for two oboes, two clarinets, two horns and two bassoons. Somewhat darker works than the divertimenti, they are also much more complex melodically. The movements are longer, with the Allegro of the second serenade being almost 9 minutes long. Yet there is still an energetic, joyous menuetto in the first serenade, which is as delightful as any of Mozartís string quartet menuets. Once again, the performances are fine, with excellent sound and texture among the instruments.
Discs 4 and 5 contain a variety of divertimenti for wind instruments. These works are all enjoyable, yet do not reach any melodic summits. Again, they are a bit predictable, providing enjoyment without being exceptional. The disc with notturni, adagios and horn duos contains a few interesting works, including the Divertimento in C major KV 188, for 5 trumpets & 4 timpani, which is a brief work in the form of fanfare with drums. But the duos for two horns are a bit annoying; they sound like the hunting horns heard in European cities from time to time to celebrate something, and are not very musical.
The Serenade Gran Partita stands out as the real masterpiece in this set. Many of the other works are agreeable, even delightful, such as the divertimenti for 2 clarinets and bassoon. But the sound of these works tends to be a bit too similar from one disc to another. One should not listen to all of these works in sequence, but the attractive sound of the wind ensembles who recorded these works is certainly a nice change from the usual string orchestra.
This is another set which, for its price, is truly a bargain. While not all of the works are truly interesting, the performances are excellent. Those buying the complete set will not be disappointed, but others who are not really aficionados of this music may find it a bit tedious after a while.
Kirk McElhearn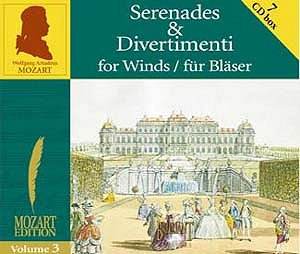 CD6
NOTTURNI Adagios - Horn Duos
1. ADAGIO in B flat major KV 411 6'12
2. ADAGIO in F major KV 580a 5'04
Henk de Graaf,clarinet
Laura Rijsewijk, clarinet (track 1)
Jan Jansen, basset horn
Diede Brantjes, basset horn
Romke Jan Wijmenga, basset horn
NOTTURNI, for Soprano, Alto, Bass, 2 Clarinets & Basset Horn.
3. NOTTURNO in F major KV 346 'Luci care, luci belle' 1'39
4. NOTTURNO in E flat major KV 438 'Se lontan ben mio tu sei' 1'40
5. NOTTURNO in F major KV 439 'Due pupille amabili' 1'02
6. NOTTURNO in B flat major KV 549 'pi non si trovano' 2'58
7. NOTTURNO in F major KV 436 'Ecco quel fiero istante' 2'00
8. NOTTURNO in G major KV 437 'Mi lagnero tacendo' 3'48
Clara de Vries, soprano
Jos Scholte, alto
Bas Ramselaar, bass
Henk de Graaf, clarinet
Laura Rijsewijk, clarinet
Jan Jansen, basset horn
12 DUOS FOR TWO HORNS KV 487
9. Allegro 0'54
10. Menuetto 2'40
11. Andante 2'17
12. Polonaise 1'06
13. Larghetto 1'11
14. Menuetto 3'28
15. Adagio 1'51
16. Allegro 1'24
17. Menuetto 2'21
18. Andante 1'14
19. Menuetto 2'17
20. Allegro 1'33
Martin van de Merwe, horn
Jos Buurman, horn
DIVERTIMENTO in C major KV 188, for 5 trumpets &
4 timpani
21. Andante 1'45
22. Allegro 1'05
23. Menuetto 0'58
24. Andante 1'28
25. Menuetto 0'35
26. Gavotte 0'40
Ad van Zon, trumpet in C
Simon Wieringa, trumpet in C
Frank Steeghs, trumpet in C
Andre Heuvelman, piccolo trumpet
Arto Hoornweg, trumpet in D
Jacco Groenendijk, trumpet in D
Randy Max, timpani
total time: 53'16
Recording: Spring 2001, Hervormde Kerk Rhoon
Producer & engineer: Arts Music Recording Rotterdam
Artistic supervisor: Henk de Graaf
CD7
SERENADE for 13 Wind Instruments in B flat major KV 361, 'Gran Partita'
1. Largo-allegro molto 9'56
2. Menuetto 9'21
3. Adagio 5'15
4. Menuetto, allegretto 5'08
5. Romanze, adagio 9'11
6. Tema con variazioni 9'39
7. Rondo 3'32
Total time: 52'05
Recording: 1985 Forde Abbey, UK
Producer: John Boyden
Licensed from ASV Ltd. UK
Artistic supervisor: Henk de Graaf
Wind Soloists of The Chamber Orchestra of Europe, Alexander Schneider

BRILLIANT CLASSICS 7CDs 99716 [approx. 6 hours 10 min.]
Superbudget
BUY NOW
Crotchet £23.50