BACH's SONS
C.P.E. BACH: Berliner Symphonien
Kammerorchester C.P.E. Bach, Hartmut Maenchen
C.P.E. BACH: Cello Concertos
Balasz Mate, cello; Concerto Armonico
C.P.E. BACH: Flute Concertos
Machiko Takahashi, flute; Concertgebouw Chamber Orchestra
JOHANN CHRISTIAN BACH: Symphonies
Concerto Armonico
JOHANN CHRISTIAN BACH: Sinfonia Concertante
London Festival Orchestra, Ross Pople
WILHELM FRIEDEMANN BACH: Orchestral works
Kammerorchester C.P.E. Bach, Hartmut Haenchen
JOHANN CHRISTOPH FRIEDRICH BACH: Symphonies
Neues Bachisches Collegium Musicum, Glaetzner

CD1
CARL PHILIPP EMANUEL BACH (1714-1788)
Berlin Symphonies
Symphony for 2 oboes, 2 horns, strings & b.c. in E flat major Wq179
1. Prestissimo 4.21
2. Larghetto 3.59
3. Presto 2.52
Symphony for 2 oboes, 2 horns, strings & b.c. in F major Wq 181
4. Allegro 3.21
5. Andante 4.17
6. Allegro assai 3.13
Symphony for 2 flutes, 2 horns, strings & b.c. in C major Wq 174
7. Allegro assai 3.13
8. Andante 3.43
9. Allegro 2.03
Symphony for 2 flutes, 2 horns, strings & b.c. in F major Wq 175
10. Allegro assai 3.32
11. Andante 3.52
12. Tempo di Menuetto 2.50
Symphony for 2 flutes, 2 oboes, 2 horns, strings & b.c. in E minor Wq 178
13. Allegro assai 4.19
14. Andante moderato 3.27
15. Allegro 3.37
total time: 53.02

Kammerorchester Carl Philipp Emanuel Bach, Hartmut Haenchen
Recording: Christuskirche Berlin, 1985

CD2
CARL PHILIPP EMANUEL BACH (1714-1788)
Cello Concertos
Cello Concerto No. 1 in A minor Wq 160
1. Allegro assai 10'29
2. Andante 7'52
3. Allegro assai 7'15
Cello Concerto No. 3 in A major Wq 172
4. Allegro 6'30
5. Largo con sordini, mesto 7'28
6. Allegro assai 5.08
Cello Concerto No. 2 in B flat major Wq 167
7. Allegretto 8'10
8. Adagio 8'59
9. Allegro assai 6'35
Total time: 68.58
Balázs Maté, cello
Concerto Armonico, Péter Szüts
Recording: 1995
CD3
CARL PHILIPP EMANUEL BACH (1714-1788)
Flute Concertos
Flute Concerto in B flat major Wq 164 (original oboe concerto)
1. Allegretto 7.55
2. Largo e mesto 8.06
3. Allegro moderato 5.42
Flute Concerto in D minor Wq 22
4. Allegro 8.00
5. Un poco andante 7.25
6. Allegro di molto 7.12
Flute Concerto in E flat major Wq 165 (original oboe concerto)
7. Allegro 6.36
8. Adagio ma non troppo 7.04
9. Allegro ma non troppo 5.57
Total time: 64.27
Machiko Takahashi, flute
Concertgebouw Chamber Orchestra, Roland Kieft
Recording: 1993

CD4
JOHANN CHRISTIAN BACH (1735-1782)
Symphonies
Symphony in G major Op. 6 No. 1
1. Allegro con brio 8.53
2. Andante 4.22
3. Allegro assai 3.48
Symphony in D major Op. 3 No. 1
4. Allegro con spirito 4.04
5. Andante 4.21
6. Presto 2.29
Symphony in C major Op. 3 No. 2
7. Allegro 3.18
8. Andante 5.58
9. Allegro assai 2.06
Symphony in E flat major Op. 9 No. 2
10. Allegro 3.50
11. Andante con sordini 3.54
12. Tempo di Menuetto 3.36
Symphony in G minor Op. 6 No. 6
13. Allegro 3.50
14. Andante piu tosto adagio 8.14
15. Allegro molto 2.57
Total time: 67.57
Alfredo Bernadini,
Pierluigi Fabretti, oboes
Sçndor EndrÜdi, Tibor Maruzsa, horns
Imre Mohl, bassoon
Concerto Armonico, Péter Szüts
Recording: 1991
CD5
JOHANN CHRISTIAN BACH (1735-1782)
Sinfonia Concertante 1-4
Sinfonia Concertante in G major for 2 violins & cello
1. Allegro 6.13
2. Andante 4.10
3. Menuetto 5.30
Sinfonia Concertante in E flat major for 2 clarinets & bassoon
4. Allegro assai 6.38
5. Larghetto 4.11
6. Menuetto 5.41
Sinfonia Concertante in A major for violin & cello
7. Andante di molto 7.43
8. Rondeau, allegro assai 5.35
Sinfonia Concertante in E flat major for 2 violins, 2 violas, 2 oboes, 2 horns & cello
9. Andante 8.20
10. Menuetto 4.34
Total time: 59.34 London Festival Orchestra, Ross Pople Recording: 1994 Licensed from ASV, UK
CD6
WILHELM FRIEDEMANN BACH (1710-1784)
Orchestral works
Sinfonia in F major (Dissonant)
1. Vivace 4.19
2. Andante 3.06
3. Allegro 3.25
4. Menuetto I & II 2.28
5. Sinfonia in F major un poco allegro 7.33
6. Sinfonia in D minor: Adagio-allegro e forte 9.20
7. Allegro e maestoso 3.42
8. Andante 2.40
9. Vivace 3.02
10. Sinfonia in D major3.17
11. Sinfonia in G major 3.08
Suite in G minor BWV 1070
12. Larghetto-un poco allegro 4.51
13. Torneo 2.13
14. Aria, adagio 3.13
15. Menuetto alternativo-trio 4.38
16. Capriccio 3.49
Total time: 65.17
Kammerorchester Carl Philipp Emanuel Bach, Hartmut Haenchen
Recording: 1993, Christuskirche Berlin

CD7
JOHANN CHRISTOPH FRIEDRICH BACH (1732-1795)
Symphonies
Symphony in B flat major
1. Largo-allegro 8.46
2. Andante con moto 6.46
3. Minuetto 4.29
4. Rondo, allegretto scherzando 3.52
Symphony in E flat major
5. Allegro 3.06
6. Andante assai 6.08
7. Allegro assai 3.38
Symphony in C major
8. Allegro di molto 4.21
9. Andante 7.51
10. Allegro assai 6.26
Total time: 55.34


Neues Bachisches Collegium Musicum, Burkhard Glaetzner
Recording: Leipzig 1992


BRILLIANT CLASSICS 99785 [approx. 7 hours 15 min.]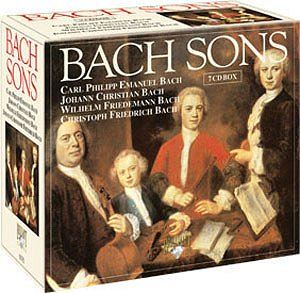 BUY NOW
AmazonUK AmazonUS
Johann Sebastian Bach came from a long line of composers, and maintained this legacy through several of his sons, who followed in his footsteps to become fine, and even excellent composers. While none of them equaled their father's masterpieces, two of them, Carl Philipp Emanuel and Wilhelm Friedemann, became well-known for their works. This set contains seven CDs by four of Bach's sons, and shows the wide variety of music that he influenced directly.
Carl Philipp Emanuel Bach is slowly becoming recognized as a first-rate composer. While his reputation was excellent during his lifetime, it paled over the centuries in the shadow of his father, and in that of the great composers who followed him. But recently, his works have become rediscovered, and some major recording projects are underway to present his vast production to listeners. While not the equivalent of his immediate followers, Mozart and Haydn, he may, one day, be seen as a composer whose work is not far from these two great names.
The first CD of this set contains five of CPE Bach's nine Berlin Symphonies, These works are full of energy and novelty, and many contrasts between the fast and slow movements. Scored for flutes, oboes and or horns, together with strings and basso continuo, these symphonies use the winds to great effect. There is a great deal of melodic invention in these works, and a wide variety of emotions. The slow movements in these works are often masterpieces of subtle, pastoral melodies. The performances on this disc are quite good, with the orchestra maintaining an excellent balance among the instruments, even though the strings can be, at times, a bit heavy.
The second disc contains three cello concertos by CPE Bach. These works have much longer movements than the symphonies on the first CD - from 5 to over 10 minutes. The musical development is richer here, especially in the slow movements, such as the moving Largo con sordini, mesto of the third concerto. Some of the melodies in this movement recall the allemandes and sarabandes of the elder Bach's solo cello suites. While the performance is quite good, cellist Balázs Maté plays in a somewhat romantic manner, which clashes with the note "on authentic instruments" which appears on the CD. But the tutti sections of the fast movements are played with great vigor and energy, and the overall sound is quite enjoyable.
The third disc is dedicated to CPE Bach's flute concertos, and presents three of these. Like the cello concertos, these are the basic fast-slow-fast form, and are scored more for a melodic flautist than a virtuoso. This is very attractive music, almost Mozartian in its subtle grace. Machiko Takahashi is a fine flautist, playing on a modern instrument, and the orchestra has excellent balance. This is "light" music, compared to the energy and effects Bach uses in his symphonies, but offers a relaxing musical experience.
The fourth CD in this set contains five symphonies by Johann Christian Bach. This music is attractive, but relatively simplistic, especially when compared to CPE Bach's symphonies. This is very nice music, full of efficient melodies, but with no surprises and little originality. Bach uses the horns and winds to nice effect, however, giving these works an interesting tone. Johann Christian Bach's works continue on the fifth disc, which contain four sinfonia concertante, each scored for a different set of instruments. This is a dense recording, played on modern instruments, with little depth or clarity. The music here is more interesting than the symphonies, but is facile and lacks any major distinction.
The sixth CD contains all of Wilhelm Friedemann Bach's extant orchestral works. This son died in poverty in Berlin is 1784, and was one of the first composers to try to make a living as a freelancer. His music was daring for its time, but is largely forgotten today, and would be totally so if he were not his father's son, since so little of his work was actually published. These works show a tone that is very different from, say, Johann Christian Bach, whose music seems to be designed to not disturb. Wilhelm Friedemann took risks, as in his Sinfonia in F major (Dissonant), which was certainly a challenge for 18th century ears. Several of the works on this disk are sinfonia from cantatas, that is, overtures or preludes for larger vocal works. Also included on this disc is the Suite in G Minor, BWV 1070, that was long believed to be by his father.
The final disc contains symphonies by Johann Christoph Friedrich Bach. Like the music of Johann Christian, this music is little more than a savant imitation of the current musical style, and has little originality.
The main interest in purchasing this bargain set is to discover the sons of the great Bach and hear how their father's music influenced them. CPE Bach was indeed an excellent composer, and his music is very interesting. Wilhelm Friedemann's music is also distinctive, but the two discs by Johann Christoph are largely forgettable, and the disc by Johann Christoph Friedrich Bach is essentially forgettable. Nevertheless, this is a good bargain for those wanting to discover this music, but somewhat lacking in overall musicality.
Kirk McElhearn